Blog Posts

by Daniel Webster
A little rundown on how to find Arkies & Friends at Dreamforce 2017
Arkus @ Dreamforce 17
It's finally here, and the Arkus Team is ready to rock. Below is a rundown of all the places Arkies (that's us), our clients, and our friends will be during Dreamforce 2017. See you on the floor!
Clients
We love to see our clients present and share their success with the rest of you Salesforce-loving folks. This year (RED) is presenting again, this time on Pardot.
Friends
Here at Arkus, we are big supporters of our friends at PepUp Tech, an organization dedicated to enabling underrepresented groups to learn and engage computer science and technology. This year they're having a fundraising event at a karaoke bar, so come on down and sing your heart out for a great cause!
Products
It seems like admins really love cloning other users because this year our free AppExchange product, Clone This User, is being featured once again in a session.
Arkies
This year we've got quite a few Arkies making an appearance at sessions, "Ask the Expert" Booths, and even a 5K Run. Come out and say "hello."
Jason, DF17 Job Fair, Monday, 11/6 6 PM, Moscone West and 5k Fun Run, Wednesday, 11/8 6 AM, Embarcadero
Amy, Admin Best Practices - "Ask the Expert" Booth, Monday, 11/6 3:30-6pm, Moscone West, Admin Meadow
Justin, DF17 Job Fair, Monday, 11/6 6 PM, Moscone West, 5k Fun Run, Wednesday, 11/8 6 AM, Embarcadero, and Girlforce Breakfast, Wednesday, 11/8 8AM
Scott, Extend Salesforce - "Ask the Expert" Booth, Wednesday, 11/8 7:45 AM - 10 AM, Admin Meadow
Sam, Community Cove, Community Events table, Monday, 11/6 10 AM - 1 PM, Moscone and D&DF17 (LIVE! Fundraiser for ExtraLife/Children's Miracle Network), Wednesday, 11/8 11-1
CloudFocus Weekly Podcast
And last but not least, Jason and Justin will be podcasting all throughout the conference. Catch up with them on Twitter @JustEdelstein and @JasonMAtwood.
If you'd like to catch up at the conference, feel free to comment below, on the Salesforce Success Community, on our Facebook page, or directly at me on Twitter @djwebster.

by Scott Searle
Community Banks will have a full agenda this year at Dreamforce.
Dreamforce 17 for Community Banks
With the recent announcement of the Financial Services Cloud for Retail Banking, this year's Dreamforce agenda is packed with over a dozen sessions directly related to retail banks. If members from your bank are heading out to Dreamforce next week, here are several sessions you will not want to miss.
Financial Services Keynote: Build Loyalty by Unlocking Your Firm's Full Power
Dreamforce is loaded this year with product and industry keynote speeches, but this one is a must for all community banks. I have attended this for the last three years, and not only is it a great way to get a glimpse of how other banks are using Salesforce to streamline operations and improve client experience, it is also a great place to meet other bankers or say "Hi" to your fellow Community Bank User Group members.
Retail Banking: Accelerate Innovation to Be the Bank Your Customers Love
If you are coming to Dreamforce to learn more about the Financial Services Cloud for Retail Banking, this is the session for you. Hosted by Anthony Morris from Salesforce and speakers from City National and SunTrust Bank, you will surely get a glimpse into the future of the Financial Services Cloud. Take this Trailhead module in advance to prepare for this session.
Retail Banking: How to Engage Customers 1-to1 Beyond the Branch
This is a great session for banks that are considering using Marketing Cloud to help to create targeted 1:1 journeys with their clients. This session also ties in nicely with the Trailhead session listed above.
Banking's Future: How Banks are Innovating with the Salesforce Platform
Were you successful at convincing someone from your IT department to join you at Dreamforce this year? If so, then this is the session for them. Join the guest speaker from TD Bank to see how they are developing apps on the Salesforce platform to help create the Bank of the Future.
The Financial Services Cloud Advantage: Grow AUM with Relationship Intelligence
Before the announcement of the retail banking add-on, the Financial Services Cloud was designed specifically to help Wealth Management firms get a better understanding of their complex relationships. This session offers several speakers from top Wealth Management firms who will talk about how they are using Financial Services Cloud to help improve the experience of every client.
Digital Mortgage: Borrowers Can Finish the Process from Start-End in 16 Days 
As someone who has both worked as a mortgage underwriter for several years and has gone through the mortgage process several times, I know all the complexities and steps it takes to get a mortgage to go from application to closing. These two sessions will offer a glimpse into the many ways mortgage departments can use Salesforce to help manage the mortgage loan application process.
Building a Commercial Lending Powerhouse at TD Bank
I have also worked as a commercial lender in the past, and if you thought a mortgage was complex, wait until you apply for a commercial loan. With multiple departments from origination to underwriting, and then from loan operations to post closing, the commercial loan process is filled with more inefficiencies than any other area of a bank. This session offers a demo from TD Bank on how they used nCino to make their loan process more efficient.
If you are unable to attend or you miss a session because realize you can't possibly walk from the Hyatt down to the Intercontinental in 5 minutes, no worries, all sessions are recorded and can be viewed online several weeks following Dreamforce.
Do you have any other sessions you are excited about attending this year? Drop them in the comments below or tell us all about it on Twitter, on the Salesforce Community, Facebook, or chat with me @ScottTSearle. See you at Dreamforce!

by Ashley Leifer
Dreamforce has something for everyone. If you're an Administrator, there is a lot in store for you this year. Let's take a look at what Dreamforce '17 has to offer.
Dreamforce 17 for Administrators
Although Dreamforce this year is kind of later than usual, at this point it is quickly approaching. Have you thought about your agenda? What sessions are important to you as an Administrator? Now that the Agenda Builder is live, and I must say, it's better (hello Einstein) than last year's version, it's a great place to start.
But wait, hold on, and take a step back. Before you dive into selecting Keynotes, Product Keynotes, and Sessions in the agenda builder, it's a good idea to evaluate your current skill set.  What can you say you confidently know well? Where are the gaps in the knowledge you are either interested in learning more about, or skills you will be called upon in the near future to execute on in your day job as an Administrator?  I personally like to take advantage of Dreamforce as an opportunity to seek out the features and functionality I know little about. Either because I'm starting to see a trend in inquiries related to these topics in my everyday world, or because I'm just interested in the topic in general.
Once you've done a bit of soul searching, it's time to tackle the Agenda Builder!
First, sort by Trail Map as a top sort option, then filter by the Role of a Salesforce Administrator.  That will give you a very abbreviated list to start with that includes Sessions and Keynotes (Salesforce for Admins).  Once you've selected what may interest you through that filter, you may want to open it up to 'All Sessions' and use the filters, such as Roles, Category, Industry, and Level, etc…to find additional Keynotes and Sessions that fit your Dreamforce education goals. There's a filter for Location which can be helpful as well since the Session locations can be several city blocks away from each other so pay attention to walk time between Sessions.
I have to give a shout out to Mike Gerholdt who has written a few blog posts to help out Administrators. His general post related to getting ready for the Agenda Builder links to this great Quip Admin Track Cheat Sheet for Sessions. That list alone has 107 great Sessions for Administrators. His other blog post targets the Administrators Dreamforce game plan and bullets steps to have a more effective and successful Dreamforce experience.
There is always the Admin Meadow, where you can learn about the latest features and jump into informative talks at the Admin Theater. This is a great place to squat between Keynotes and Sessions and perhaps get to know and collaborate with other Admins.
I highly recommend attending the product keynote sessions as well.  Those are hosted by the Salesforce Product Managers and Evangelists who know of all things Salesforce now and planned for the future.
As always, wear comfortable shoes, bring layers (it's San Francisco after all), pace yourself, and enjoy all that Dreamforce has to offer!
Do you have other recommendations for Admins at Dreamforce '17? Please feel free to comment below, on our Facebook page, or directly at me on Twitter @LeiferAshley or in the Success Community or Power of Us Hub. 

by Jason Atwood
After a decade going to Dreamforce, here are 10 tips to get you through your first or your tenth.
10 Years of Dreamforce Tips
1. Book Early
Ok, this is clearly a tip for Dreamforce 18 but for those of you who are staying in a hotel by the airport, learn your lesson. Keep up to date in the Success Community and when Dreamforce hits, get in there and register. That day. Don't be late or you will be staying in a van down by the river.
2. Leave Time to Talk
There are hundreds of sessions to go to and while the pull of FOMO might get your agenda packed, make sure you leave time to explore, network and get your Trailhead on. Some of the best times I have had at Dreamforce are just catching up with colleagues.
3. Fuel Up
Food, coffee and drinks will come and go quickly, so take them while you can. Someone offers you a sandwich and a bottle of water? Take it. It might be another 12 hours before you get another chance to eat or drink.
4. Pack Light and Leave Room
Make sure your suitcase has at least 25% room to fit in all the SWAG you will grab at Dreamforce. Don't be that rookie checking the extra bag on the way home and having to explain to the boss why you just couldn't leave the extra-large Astro doll and had to pay the fee.
5. There is an App for That
Yes, the Dreamforce event application (for all your major platforms - TBD) is a must download before getting to San Francisco. Not only is it packed with maps, sessions and schedules it can help you connect with others. Need to know where to go to register? There is an app for that. Need to fill out the session survey? There is an app for that. Need to get to the keynote on time? There is an app for that.
6. Power Up
No matter how big your cell phone battery, or how well charged it was overnight, it is not going to make it through a day at Dreamforce. Between the bad cell signals, crappy wifi, and constant tweeting be prepared to bring your own battery for one, if not two, charges. If you don't have a battery at least bring cords and plugs so you can sit in a beanbag, relax and charge.
7. Dress to Last with Layers
To dress for success is the saying, but success is surviving Dreamforce so dress first and foremost for comfort. The days turn into nights and you are almost always on your feet or sitting in rows of other people. San Francisco can be cold one moment, and hot the next so dress in layors. Leave everything heavy from books to laptops behind in the hotel, the more you carry, the more you will regret it. Make sure to test out a good pair of shoes with support before getting on that plane and remember you can always do laundry in the hotel.
8. Bigger is Better?
As Dreamforce gets bigger and bigger, it gets more and more spread out and the lines will get longer. Get to where you need to be earlier, get a lay of the land and add 30 minutes to anything you want to do for travel from place to place. Scheduling sessions back to back is going to be tough if it takes you 25 minutes to get there.
9. Plan a Lunch
One of my favorite things to do a Dreamforce is to go for lunch with the other Arkies (yes, that is what we call ourselves) or some of my favorite Salesforce employees. With over a 100,000 people in town, don't leave this till the last minute and make a reservation in advance.
10. Don't Miss Keynotes
I will always regret not being able to see Steve Jobs do a live Apple Keynote. The next best thing is a Marc Benioff keynote with all the bells and whistles (Coke carrying drones anyone?). No matter how tired you are, get out of that hotel and come witness the best in the business bring down the house.
Whether you are a first timer or a lifer, Dreamforce is a blast and a blur all wrapped up into one. If you have tips or tricks for Dreamforce survival feel free to leave them in comments below, on our Facebook page, the Trailhead Community or tweet them to me at @JasonMAtwood.

by Peter White
Salesforce Winter 18 brings with it some nifty email related features and functionality, including the highly requested ability to send "List Email".
You've Got Mail - from Salesforce
This post is dedicated to the official retirement of AOL Instant Messenger's Yellow Running Man. Yes, it's official; AOL Instant Messenger (AIM) is being retired in mid-December. What does that have to do with list email you say? Hang in there; she's coming around the corner. This Salesforce release puts another nail in the Classic coffin, as it most certainly will sway the influence of anyone pondering whether to transition to Lightning Experience. It also delivers another slew of community requested Ideas, evidence that developing on the revamped platform with Lightning Components and Salesforce DX has enhanced the development experience.
List Email
You may recall that Justin Edelstein touched upon List Email in his post "Salesforce Winter 18 - Filled Lightning Experience Gaps." Let's dive in and see for ourselves. Users with list email and mass email permissions will have the ability to send an individualized email to each recipient instead of one email to the entire group directly from a list view without having to deal with that Mass Email wizard. Individualized being that users can utilize email templates and merge fields to customize each email. The catch - this change applies to Lightning Experience only.
The user experience is the icing on the cake. Load one of your curated list views, select the recipient records, click the "Send List Email" button and off you go.
Email Content Editor
The Send List Email content window opens, from which you can insert, create, or update a template or simply craft your subject and message. Bonus points for the much improved Lightning email template experience; it's as smooth as butter.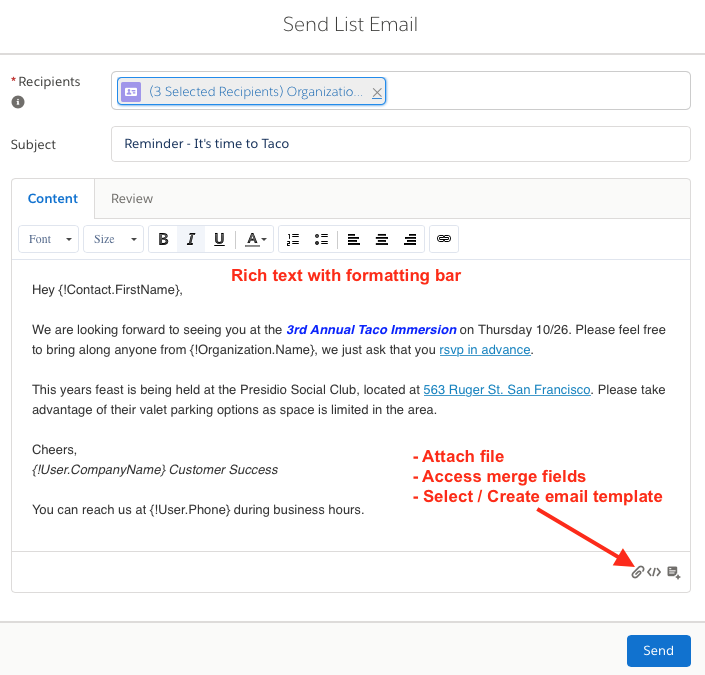 When you are satisfied with the look, you can save as an existing or a new template. So many choices, stay with me because it gets better. Click the "Review" tab, and you see the content in all its glory! You are also able to view each recipient message or perform a spot check, if you are working with a large list. Time for a bonus. Winter 18 means "No More Errors for Empty Email Merge Fields". Quality Assurance for the win -- no more "test" messages to yourself. I know. You've got mail; it's coming I promise.
Status Views
As they say on the infomercials - but wait, there's more! For each recipient, you are able to see that the message was sent within the recipient's activity timeline, and it even identifies itself as a list email. Winter 18 also brings the ability to filter on the list emails with "Filter More Ways in the Activity Timeline". And lo and behold, check your inbox because you've got mail! I really like the attention to detail (ATD) here, as the developers named the sender "Salesforce List Email" and the activity subject is prefaced with "List Email:". Smart, easy to filter and locate.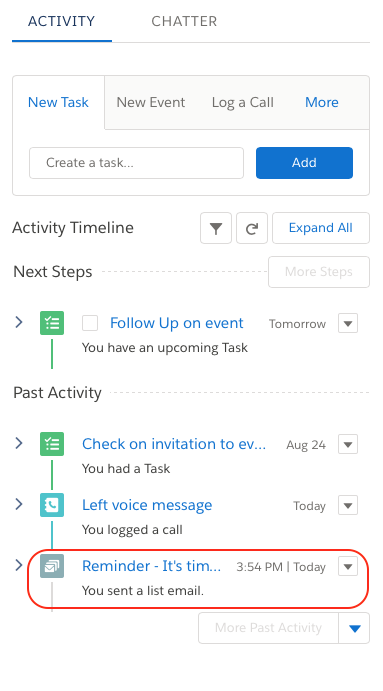 Click on the message link in the timeline and you are taken to yet another well designed page that contains the message sent and the status by recipient. I swear it's magic.
Click the Details tab to view the summarized details. Are you standing and applauding yet? That's a well designed user interface. While I haven't developed reporting for this feature as of this writing, I do like the new report builder (see "Winter 18 Lightning Report Builder") and look forward to its future.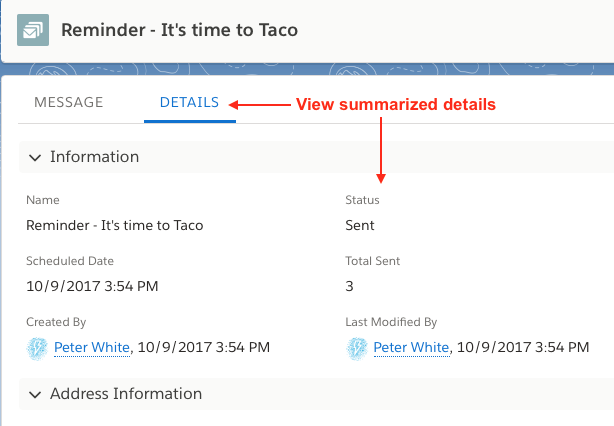 As Paul Rand said, "Design can be art. Design can be aesthetics. Design is so simple, that's why it's complicated."

What has your experience been? Want to share your thoughts or opinions? Please feel free to reach out on the Arkus Facebook page, in the comments below, in the Success Community, or to me directly via Twitter at @sfdcclicks.