Blog Posts

by Ashley Leifer
Salesforce continues their promise to deliver on Ideas from the Community in the Spring '17 release.
Salesforce Spring 17 Ideas Delivered
Once again Salesforce has delivered on Ideas. This release accounts for 71,400 points delivered; that's right, I counted up all the points. As you can see in the release notes, Salesforce is focusing more and more on Lightning Experience. Although you'll notice a lot of 'Lightning Experience Only', they are still accounting for feature adjustments in Classic as well. Let's dive in and take a look at the Ideas delivered with this latest release:


Lightning Experience
Take More Actions from the Global Actions Menu  - The Global Actions menu now displays nearly all global actions from the Salesforce1 and Lightning Experience Actions section of the global publisher layout. Salesforce says 'nearly all' because it doesn't support standard chatter actions like Post, File, Poll, etc… The Idea delivered was Allow customization of the Global Actions Menu in Lightning, 480 pts.
Detect and Merge Duplicate Companies and Contacts in Lightning Experience - Ah duplicates, duplicates...There's a Lightning component called Potential Duplicates which you can add to the Account or Contact pages using the Lighting App Builder. As long as you have enabled duplicate and matching rules for Accounts and Contacts and permission to merge records in Salesforce Classic, you can deduplicate up to 3 records. Many Ideas were delivered with a collective point count of 22,240, some of which include:
Knowledge: Say Hello to Lightning Knowledge (Beta) - This works just like any other object in Salesforce including the benefits of standard objects. Lightning Knowledge is best for organizations new to Knowledge or for existing organizations that can easily consolidate to one article type, have few data categories, and use single-language mode. The Idea delivered was Workflow Rules and Email Alerts for Knowledge with 3,300 pts.
Streamline Your Screen with a Unified Knowledge Home Page and List Views - Unlike the two tabs in Classic, Lightning Knowledge has one centralized home page. It has the list view feature we're all accustomed to with other objects; custom and standard. Ideas delivered include:

Both Lightning Experience and Salesforce Classic
Run Flows with a Lightning Skin (Generally Available) - I'm super excited about this one and agree with the title of the Idea delivered; Screen Layout in Visual Workflow / Flow Should Not Suck, 320 points. Flows are very useful, however, the historic UI and navigation has left something to be desired. All you have to do is go to Process Automation Settings and enable Lightning runtime.
Manage Duplicate Person Accounts - Now you can manage duplicate rules for Person Accounts just like you can for Contacts, Leads, and Business Accounts. It's nice to see Person Accounts getting more attention. The Idea delivered was Enable Duplicate Management for Person Accounts with 3,590 pts.

There's a lot of really good feature and enhancement suggestions continuing to come out of the IdeaExchange. Do you have other favorite Ideas delivered in this latest release I didn't mention? Please feel free to comment below, on our Facebook page, or directly at me on Twitter @LeiferAshley or in the Success Community.

by Peter White
Diving into enhanced functionality with the Salesforce Spring 17 Release.
Salesforce Spring 17 Release Deep Dive
The upcoming Spring '17 release contains a plethora of goodies as evidenced by the 485 pages of release notes. Yes, that is an overwhelming amount of information to peruse; I always lean on our Success Community group "Release Readiness & Feature Adoption" to guide me through the maze. For this post, I focused on enhancements that are "game changers," and this release contains more than a few.
List Views
It should be noted that while the awesome feature "List Views in Lightning Experience Default to the Last One Viewed" has been pulled from this release, it's indeed something to remain excited about for the near future. It's a bummer, but rest-assured that we still have a couple of goodies to enjoy.
Yes, we love our list views, and now we finally can roll through edits and mass actions without having to open the records. End user productivity will soar, and smiles will fill the room, when this rolls out to the masses.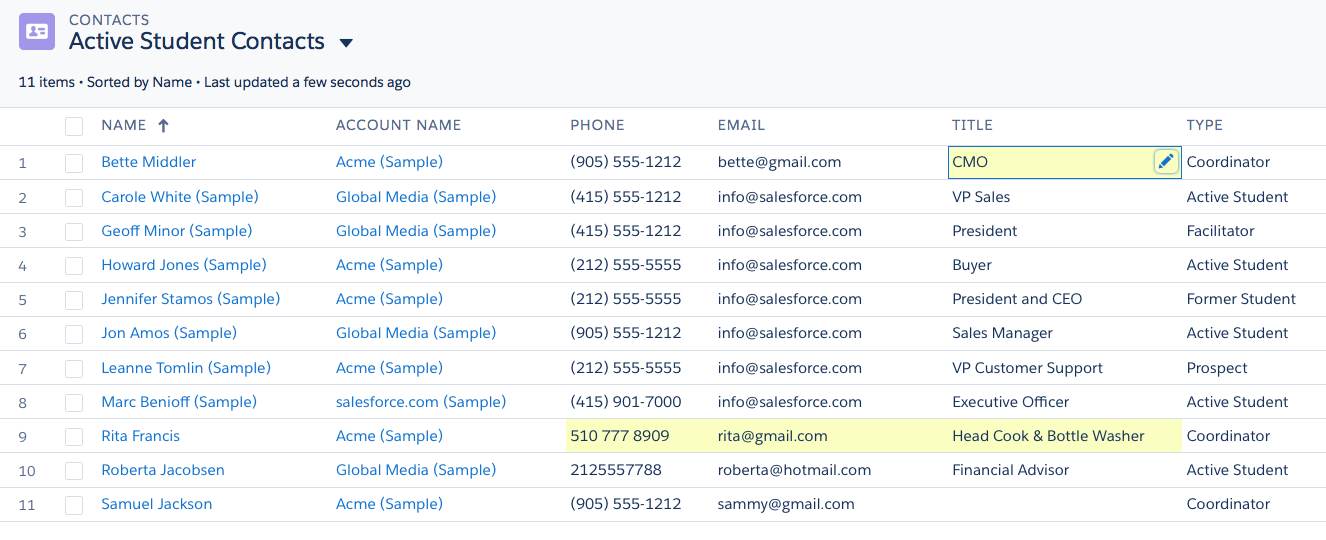 Kanban All The Things!
Stop the presses, there's more! Now your users can see the Kanban View Everywhere and make their own Kanban view as well. This allows users to select the fields for creating columns and summaries. How we love the visuals and the capability to change record values via drag and drop. But wait - that's not all. Using subtabs, users can easily switch between record types in their Kanban view.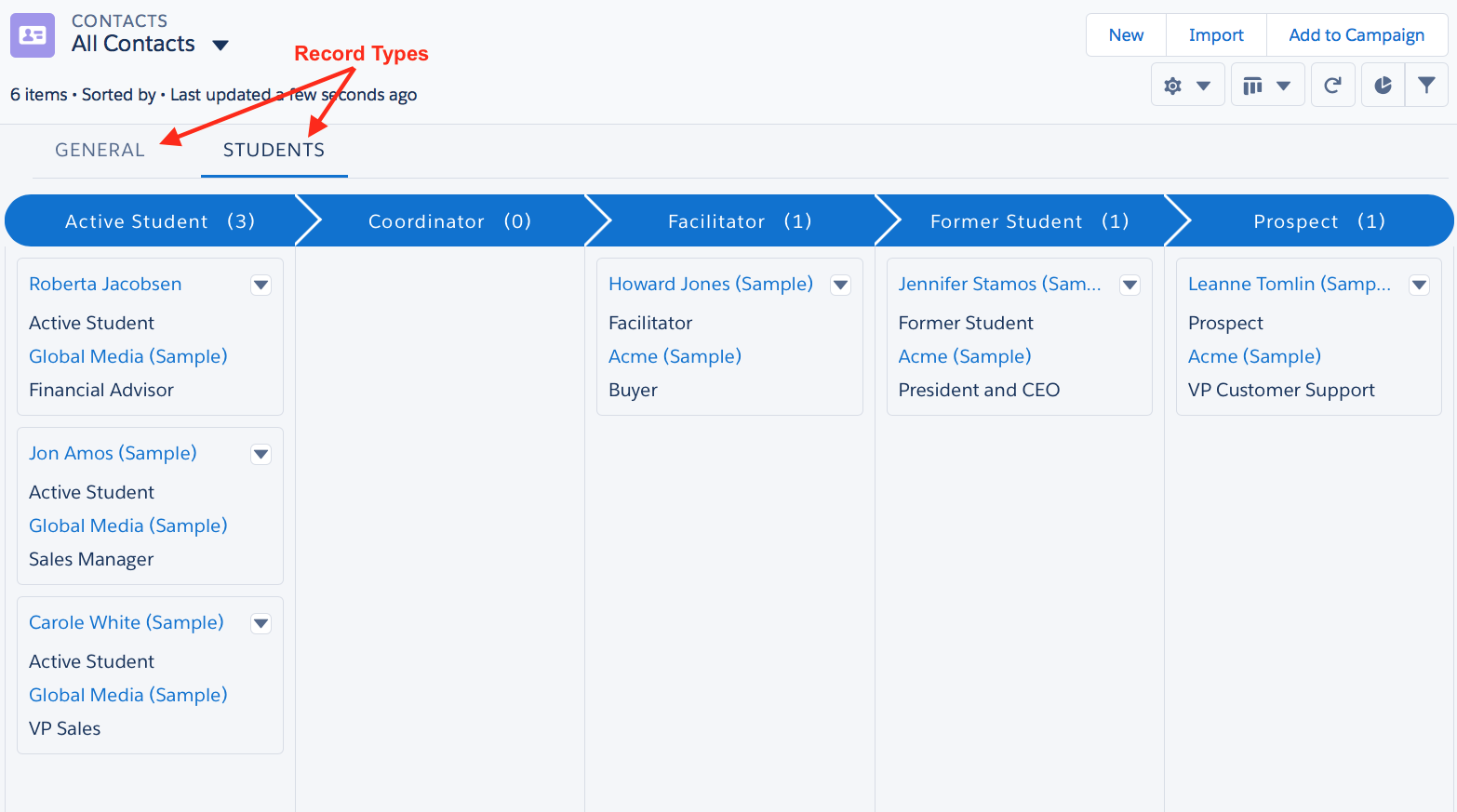 The Kanban view isn't available on a few objects, such as Knowledge and Tasks, yet you can now Kanban custom objects! Say what??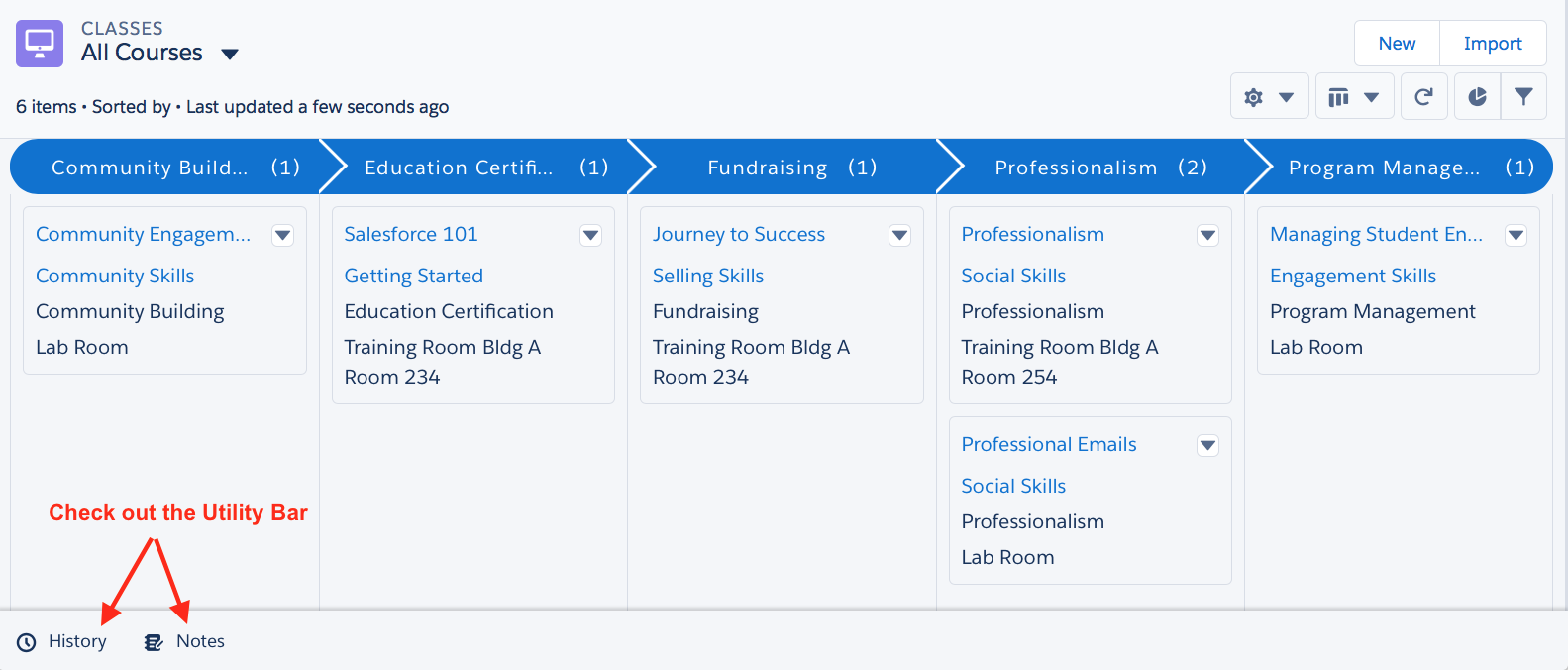 Step Up To The Utility Bar
The utility bar provides your users easy access to their favorite productivity tools, as shown above. Just a click away, users can create or view their Notes, as well as quickly get to History and Recent Items. This functionality builds upon the power of Lightning Components. You can add a utility bar to any Lightning app, including standard and console apps.
Play Favorites
Have your browser bookmarks become an unwieldy mess? Yes, mine too. Along comes Favorites to save the day, letting you quickly access important records, lists, dashboards, and other frequently accessed pages. Even better than bookmarks, they are available no matter which browser or computer you use to log into Lightning Experience.
Console Apps For The Win
No longer limited to Sales or Service, Lightning Console Apps (beta) will provide your users even more productivity, as they will have easy access to multiple related records at once. You create a Lightning console app the same as creating any Lightning app, and like the Sales and Service console, you can customize the color and branding. Don't forget to add those cool Lightning Components to its utility bar as well.

Spring '17 brings us the ability to build robust applications with a cleaner user interface, drag and drop record updates, and access to common components that will result in happy and productive users. Get ready to fine-tune existing configurations and quickly implement new ones with the features in this release.
There are so many enhancements, what are some of your favorites? Want to share your experiences or opinions? Please feel free to reach out on the Arkus Facebook page, in the comments below, in the Success Community, or to me directly via Twitter at @sfdcclicks.

by Amy Bucciferro
The Spring 17 Release brings some exciting new developments to the Communities product.
Spring 17 for Salesforce Communities
There was a time, not that long ago in fact, where the term Salesforce Communities sent me running to hide under the nearest rock. But the more I work with the product and the more features that come out with each release, the more I find myself singing its praises and eager to leverage the tool for a variety of use cases. Collaboration is the name of the game and Communities are truly a way to collaborate in a… well, you know.
Navigation
One of the more frustrating aspects of working with Communities is all the hopping around you have to do to configure and manage different aspects of the community. I gave a training recently to administrators of an organization rolling out a new community. After two detailed hours on the ins and outs of Community Management and Community Builder, the only question I got at the end was "can you show us how to navigate between all of these things one more time?" Community Workspaces to the rescue! A clean, logical home base for community administrators and moderators to jump between settings, dashboards, builder, etc. with ease. I'm really looking forward to this one, but surprises are not always fun, so it's the admin's call on turning this feature on or off.
Design
As someone who is decidedly not a web designer I am grateful for the existence of Community Builder, but in many cases feel the pangs of its limitations when it comes to finer customization. In answer to this Salesforce seems to be going down a path with Community Builder and templates to include design level features more like one might expect with a website management tool. For example, in the last release we got Theme Layouts and now we get Theme Layout Types, essentially giving us easy to manage wireframes for sets of pages within the community. They're also taking some pain out of managing branding images with a basic asset library, and giving us the seemingly basic ability to nest menu items, because sometimes it's the little things that really make your day better.
We also get something that resembles dynamic content in that it can take into account a user's location to show them a different page variation. I would want to test this one with care, though, as it seems as though it may be difficult to unpack exactly what a given user would see, as page variations also consider profile and record type. And another little gift for the marketing-minded--Google Analytics integration for community templates. This will be a big deal for companies that want to monitor their content across all web presences, making the community more seamless for reporting with an organization's regular website.
Features
At the same time as the template experience becomes more like a modern web tool, the features of what users can do inside the community are becoming more like Salesforce. Users will now be able to edit records inline in the community and, if they have the appropriate permissions, create list views and mass edit from list views. Community users can also now leverage Tasks, and my personal favorite, send direct messages within the community. This last one I know will be a big deal for organizations that want an easy way to have private exchanges with users without going to email.
There's one new feature I'm wary of--the ability to create new records from lookups. The release notes do not give us much insight into exactly what this will mean and if we can turn it off. This brings about nightmares of Quick Create's skipping of layout required fields, as well as loss of little controls that come from capabilities like removing the New button from list views. I guess we'll see.
Last, but far from least, is now the ability to use Visualforce in template-based communities. This removes a huge barrier to leveraging the templates and in many cases the Communities product in general. Previously if you wanted the level of functionality Visualforce can provide, the only option was pretty much building the whole community in Visualforce. While people have done some really awesome stuff this way, the advantages of template-based communities are growing, and this can provide a bridge for those wanting to take advantage of the no-code templates but include existing beautifully-coded Visualforce key to their use case.
This is by far not an exhaustive list of all of the new stuff coming out around Communities in the Spring 17 release. For a full list, including an entire section on Chatter-related improvements I didn't even touch upon here, be sure to spend some quality time with the release notes and feel free to share your favorite features below, on the Salesforce Success Community, on our Facebook page, or directly at me on Twitter @ifitfloats.

by Justin Edelstein
It is below freezing, but here I am writing about Spring 17. This release kind of snuck up on me, but once again here is my (not so) rapid reaction - this time sold as a "preview".
Salesforce Spring 17 Release Notes Reaction
The Spring 17 release of Salesforce is packed full of Lightning features. There are even mentions of Einstein, Marketing, and vertical clouds like Health & Financial Services. I am going to focus on a handful of features that I feel will impact the users' experience primarily in Lightning Experience, with a little nugget for all those who still want to talk true to the core.
This feature is a long time coming. For all those who are using web-to-lead forms, this is a very welcome little addition. The reCAPTCHA widget will improve data quality around leads collected from the web. Anyone who fills out a web-to-lead form will be required to check a box before they can submit the form. This is the fairly standard reCAPTCHA widget, which I'm sure you've both seen and used already, where you confirm that you are indeed not a robot. Oddly enough the example in the release notes looks like total spam with the name John Smith and a phone number of 555-123-4567, but that's just a fun example.
This is the portion of the blog post where I start to talk about Lightning Experience. I must say, with this release the thought of moving to Lightning Experience is becoming more and more appealing to me. Finally an "app" in Salesforce really starts to mean something. Allowing different record pages based on the app that a user is in, or even based on the record type or profile of the user logged in, creates a unique experience based on where a user is within the application. For example, if a user is in their sales app, the Account record page could have a different look and feel than if that same user was in their Vendor Management application. In the past, apps were just a series of tabs across the top for navigation; now apps really are starting to hold some weight within the platform. Definitely a welcome addition and I'm sure ISVs are rejoicing with this change as well.
Favorites have long been a go to of mine within the Chatter tab. I've favorited many a list view to see Chatter on specific records. Never, though, was there a way for me to say to Salesforce, "here are a number of records that I want to access across different objects all the time". Well with Shortcuts that problem has been resolved. Quickly access lists, records, groups, dashboards, reports, and other frequently visited pages in Salesforce. The important part here is that it is page based, not record based. So a list view can be a favorite. To me this helps to replace the Custom Links component on the classic homepage or left navigation. The favorites bar follows you around in the top navigation right next to the global create action.
Ever since I first saw the Kanban view for Opportunities, I thought to myself, wow that is awesome, now I want it for other objects. Salesforce must have heard me and decided to allow for the Kanban view on most objects (excludes knowledge and tasks). In our Salesforce, we manage Projects. I want a Kanban view of all my active Projects. Soon enough I'll be able to get it. I also want it for all of my active Leads. I kinda want it for all list views as a different way to see data that is important to me. Kanban for all!
As you can see, my enthusiasm is really starting to grow for Lightning Experience. A lot of really interesting features are coming, and I can only imagine that there are more on the horizon. Might be time to use the Readiness Check and Features Optimization tool to make sure that our org is ready to move to Lightning!
Please feel free to comment below, on the Salesforce Success Community, on our Facebook page, or directly at me on Twitter @JustEdelstein.

by James Bujold
It's time to get carried away setting some ambitious goals for the new year. Make sure to include some Salesforce goals among your resolutions this year.
My Salesforce Resolutions for 2017
Another year has passed.  Time for some good old fashioned New Year's Resolutions.  I'm sure many of mine are the same as yours.  Give something up I'm addicted to, at least for a bit: coffee.  Learn something new to impress my kids: sleight of hand.  Sign up for a race I may regret: Ragnar.  Those are all fine and good, but I'm also going to focus on upping my Salesforce game in 2017.  Here's the plan.
Blaze a Trail
Trailhead has proven its worth time and again.  It's the Salesforce way of providing training to anyone who cares to know more, push their skills, or dive into the platform for the first time.  This year, it's all about the Superbadges.  If it doesn't say super in front of it, I'm not interested.  Specifically I aim to complete the Apex Specialist, Lightning Experience Specialist, Reports and Dashboards Specialist and Security Specialist all in 2017. What's that you say? Typical unrealistic New Year's resolution hogwash?  I guess we'll see about that.  
Embrace the LEX
Part of the reason the Lightning Experience Specialist Superbadge made the list above is the fact that I have deliberately avoided the, not so new, Lightning Experience (LEX) from the get-go.  Early on, it resembled what Salesforce might look like in a fever dream about overthought UIs and fixing things that aren't broken. For the most part, things have improved, but how much is yet to be 'experienced'. I've been encouraged by my coworkers to give it a shot, so here I go.  I'll agree, not only to nab the Superbadge, but spend some real one-on-one time with the LEX in 2017. It may be slower, but it's the future. Mr. Benioff says so.
Drop Some Answers
My last resolution is to answer at least one unanswered question from the Success Community every week this year. The Answers section of the Salesforce Success Community is exactly what it sounds like- a place to ask questions and get answers from active Salesforce users.  Not only is it a great place to get your questions answered, you can also give back to the community by taking the time to answer questions from other users.  One of the key skills of being an effective consultant is to quickly get to the root of a problem. Reviewing and attempting to answer questions from the community challenges you to interpret the perspective of the user asking the question.  Often you'll be forced to make some pretty hefty assumptions about their org in order to provide an answer or better yet come up with the right questions to ask in response that will lead to the best solution. For admins that are only accustomed to thinking in terms of their own orgs, his would also be a great way to start seeing solutions that are outside the paradigm of that environment.  Plus it's very satisfying to spread a little knowledge.  
These are my Salesforce resolutions for 2017.  For me keeping up with the Salesforce world is essential to my livelihood. Maybe you're the same, or maybe you're new to this whole can of worms. Regardless take a moment to find some areas where you know you can take your skills to the next level.  You won't regret it.
Have you made any ambitious Salesforce resolutions this year? Why not? Share them with me on the Arkus Facebook page, in the comments below, in the Success Community, or to me directly via Twitter at @jpbujold