Blog Posts

by Jason Atwood
For the 7th year in a row, it is time to throw all caution to the wind and make predictions for some cloudy things to happen in 2017.
Cloud Computing Predictions for 2017
Looking back on my predictions for 2016, I was off more than I was on. Hulu did well against Netflix but didn't overtake them at all. Apple didn't get as far into original content as I thought. Maybe I get a half point for the DraftKings and FanDuel merger but lose points for the new Apple Watch that showed up and my longshot which didn't happen.
Predictions abound, so once again I will make my predictions with confidence points.
Salesforce Buys Learning Management System
Nobody would argue that Trailhead isn't great. It is. In fact, it has taken over the branding of the entire company. Bears are attacking server rooms and everyone is going back to the woods. That being said, it isn't a true learning management system and currently is a black box of functionality that nobody but Salesforce can play with. I predict Salesforce buys another company for their LMS technology and staff to bring Trailhead to the next level as a product and with customized trails and badges.
Confidence: 7
Movies Come Home
The movie industry is in a crisis. TV is getting better and better, while the movie experience seems trapped in the 90s, but with more goggles, bigger popcorn, and texting. There has always been this cycle of releasing a movie into theaters, then premium places like hotels, then DVD, cable, etc. What has been missing is the ability to watch the movie the day it comes out, at home. This is coming in 2017. It will cost a little bit more, but you will save on the crappy popcorn and screaming two year old behind you kicking your seat.
Confidence: 10
Apple Releases a Dot
Predicting Apple's new product releases is a little tricky. I have done it before, very badly, but keep on trying. Now with Google Home and Amazon Echo Dot, it seems like there is a missing piece in the Apple home product line. I am predicting Apple will release a Dot-like piece of hardware, shaped in a sphere (an apple anyone?) that has a speaker, and Siri is always listening. It will be accompanied by a great Jony Ive video, and I will buy one.
Confidence: 6
Longest Shot: Amazon Buys Slack
Someone has to buy Slack right? Right? Why not Amazon? Well, all the obvious reasons about them not being in the corporate communication space and that there are much better suitors, but that is why they are predictions. Amazon swoops in and buys Slack, as a way to start building their enterprise software business, and it works. Within 10 years, we are all using Amazon Work to get things done.
Confidence: 2
Do you have some predictions of your own? Head over to the Success Community, post them on our Facebook page or directly to me on Twitter @JasonMAtwood.

by Shannon Carabetta
With over twenty four clients at our NYC HQ, Arkus hosted it's third, most well attended Pro Bono Day yet.
Arkus Pro Bono Day December '16
In addition to our popular break out sessions with our team of project managers, Judi Sohn, Tricia Bergsma, and Tyler Woebkenberg from Salesforce.org and Salesforce.com all volunteered their time for their 1:1:1 model and conducted two workshops highlighting the features of the Nonprofit Success Pack and Wave Analytics.
Nonprofit Success Pack with Judi Sohn of Salesforce.org
Judi Sohn from the Technology and Products team at Salesforce.org provided a demo and general overview of Nonprofit Success Pack. Previous to joining Salesforce, Judi worked for a nonprofit and therefore understands and sees each nonprofit as a unique snowflake that has it's own unique requirements. In her current role, she serves over 30K organizations utilizing Salesforce and works on community programs, strategic grants and Pro Bono programs.
Nonprofit Success Pack (formerly known as Nonprofit Starter Pack) continues to offer open flexible data architecture for every nonprofit. NPSP offers the key building blocks for constituent and donor management. Some other key features include grant management, prebuilt customizable reporting and analytics, program and volunteer management, and is social and mobile ready in eighty countries. Some of the newest features include Lightning Experience, matching gifts, honor/memorial, partial soft credits, in-kind gifts, engagement plans (updated action plans), levels, as well as translations for Spanish, German and Japanese languages.
One very important and exciting new feature is the fact that you can now link engagement plans and levels together. For example, if you create a platinum level engagement plan in order to engage and track, as soon as the calculation runs from gold to platinum, tasks are auto assigned and you no longer have to manually monitor and plug in a new engagement plan.
For more resources you can visit the Power of Us Hub, where you can access a community of over 29K users with over 7K posts per month. 99% of questions posted get answered and weekly office hours are offered. The NPSP Group has over 14K users, and if you need more support, you can visit Github for open source code information.

Wave Analytics with Tyler Woebkenberg of Salesforce
Tyler Woebkenberg, a Solutions Architect with the Analytics Cloud team at Salesforce also generously donated his time and provided a demo and illustrated the real time capabilities of the various tools and benefits of Wave Analytics.
Wave Analytics is a Salesforce visualization platform that offers built-in dashboards, reports, and endless options to filter information for a more collaborative data rich analytic experience. With Wave you are able to leverage both Salesforce data and external data in ways you haven't been able to before. For example, Wave can be linked to a social media feed and create reports.
Tyler featured RED, a foundation that makes it simple for people and businesses to join the fight against AIDS. With Wave, RED has been able to illustrate to corporate partners how portions of product sales go to The Global Fund and understand what has happened from the beginning. The number of people living with HIV can be shown and how many deaths have been averted due to the work of RED. Tyler was able to show how over years, the new estimates of HIV infection are falling.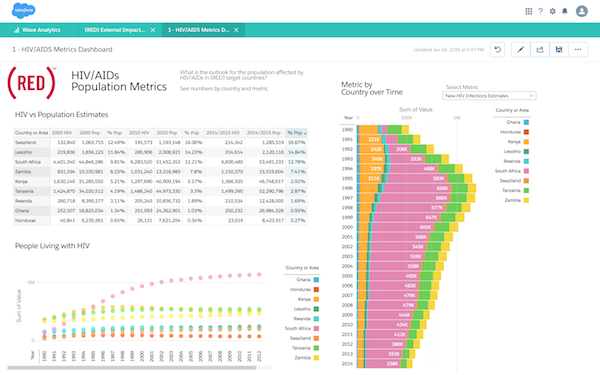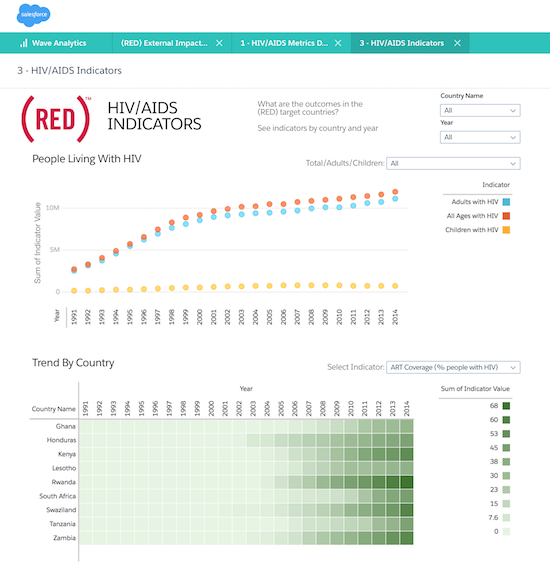 Wave Analytics can be purchased with as little as one license at a heavily discounted rate for nonprofits. You can also access the free Wave iOS app for the iPad and iPhone and Trailhead provides a free developer org so you can try it out as well.
Our Arkus Pro Bono day is so much more than sharing information and helping our clients. It's about spending time together face-to-face to allow for more helpful collaboration and exchange of ideas. At Arkus we believe in educating and empowering our clients, and this day is one way we share in the mission and principles we live in our practice everyday.
What have you done in 2016 to give back? How have you utilized NPSP and Wave Analytics to further along your organization? Please feel free to comment below, on the Salesforce Success Community, on our Facebook page, or directly at me on Twitter @SCarabetta1.

by Amy Bucciferro
Getting your Salesforce organization ready for the new year.
End of Year Salesforce Administrator Checklist
For some of us the end of the year is a slow time where we have a chance to catch up on little tasks and make fancy frosted cookies for the office. For others, this is crunch time, be it with salespeople scrambling to meet their numbers or keeping up with the donations pouring in from the stellar end of year appeals crafted by your non-profit's marketing team. Regardless of what the season brings for you, as a Salesforce Administrator you will want to make sure your organization is in tip top shape for the coming calendar year.
Reports and Dashboards
By best practices, I always try to use relative date ranges in reports, such as THIS YEAR or THIS MONTH, especially for reports that are scheduled. But there are circumstances in when this is just not possible, or when other aspects of a report need to be updated to reflect a new year's criteria. This also comes up when guage components are used to show goals on dashboards. If you've kept your reports and dashboards well organized in folders and with a clear naming convention, it should be easy to find and identify what needs to be updated. If not, this is a great time to do some organizing. The end of the year is also a good time to use your admin superpowers to run a report on reports that includes the 'last run date' and clean up items that are no longer in use by moving them into a staging folder to consider for deletion if no one asks for them back in a given period of time.
Communication Templates
Whether its workflow email alerts using Salesforce email templates, perfectly optimized html templates in your favorite marketing software, or templates leveraged by an integrated document generation tool, you will want to make sure your collateral is up to date and ready for any changes coming in the new year. This could simply be a reference to the year itself in the text, or to pricing, or marketing content that becomes magically inaccurate as of January 1. Be proactive with stakeholders in each department to make sure you're aware of anything you'll need to update based on changes they are planning. Who knows how you'll be rewarded for your smart thinking. (Did I mention cookies?)
Products and Pricebooks
Pricing is often one of those things that changes year to year, and products are added and retired at this convenient breakpoint. Get ahead of this one, because if your organization's pricing structure is complicated or you are using a Configure Price Quote (CPQ) application in conjunction with Salesforce to handle pricing and quoting, updating this could be a multi-step process. Engage sales leadership early to ensure you don't get a panicked call on January 2nd while you're still coming out of the cookie coma.
Give the Gift of Salesforce
While you're thinking about all of the things you can do to get ready for the new year, also take a moment to think about the people who make your job so much fun--the users! Are there some cool features from the Winter 17 release you haven't quite got around to rolling out yet? Other bits and pieces of requests that have been sitting in the development queue? Something you learned about in Trailhead and are excited to implement? Spend some time in the sandbox putting together a nice little present for your users to release early in the new year. Nothing like a fresh start with some welcomed new functionality to remind everyone that you're always working to help them work better.
Do you have anything to add to the end-of-year admin checklist? Are you planning any special presents for your users in 2017? Please feel free to comment below, on the Salesforce Success Community, on our Facebook page, or directly at me on Twitter @ifitfloats.

by Justin Edelstein
Salesforce has revamped it's certifications for technical architects. They now comprise of different levels of certification that span a wide variety of skills and specializations.
Sharing Knowledge About Being A Salesforce Sharing & Visibility Designer
These are called domain specialists. The Certified Sharing and Visibility Designer Certification is a specialization that I like to focus on and will drop a little bit of knowledge here to hopefully help anyone who reads this to obtain this certification.

Sharing and Visibility go beyond Profiles and Roles these days in Salesforce. There is a lot to know about under the covers of how to share and essentially hide pertinent data from specific users at any given moment. I'll describe what I did to prepare for this certification as I armed myself with the knowledge necessary to now call myself a Certified Sharing and Visibility Designer.

Profiles and Roles - Still the King and Queen

Despite what I wrote just one paragraph above, at the end of the day visibility and sharing are largely responsible for what a user in Salesforce can do and what they can see. I like to think of it as a large Excel sheet. The rows in the sheet are records in Salesforce. The columns represent the fields on a given object. The profile acts as a hammer in some cases and the org-wide defaults + role hierarchy act as the scalpel. For example, if a user's profile says they can "view all accounts" and your sheet is full of accounts then the user will see every row. Their profile may also state that they'll never ever see data in column H. Even though the user can see every single row, they'll never see whatever it is in column H.

Here is where things get a little more interesting. If the profile isn't the hammer and just states that a user has Read access on Accounts then we rely a little bit more on our defaults and our roles. By default if accounts are set to private then the user would be able to see Accounts that they own and only ones that they own (or are owned by someone below them in the hierarchy - more on this shortly). Simple so far… Let's introduce roles into the scenario. Roles act as a hierarchy, the higher up the hierarchy the more data the user will see. This is where things get really fun. You can share data with users at the top of the proverbial food chain by putting them higher in the role hierarchy. This is one very simple way of executing, though not always resulting in, the outcome that you are looking for.

Org Wide Defaults and Sharing Rules

Continuing on the above example, if someone isn't supposed to be setup all the way up at the top of the hierarchy just to see Accounts, because perhaps they should only see accounts of a certain type, we can create criteria based sharing rules. These add to the already existing default of private; used to open up privacy to more records based on criteria on a record that is evaluated when a user clicks on the record. Records can be shared based on most things about them and can be shared with Roles, Roles & Subordinates, or even Public Groups. Public Groups add a finer level of flexibility (this is why the sharing is the scalpel in our scenario). A user can be a member of one and only one Role yet they can be a member of many more public groups. Roles can even be nested inside of Public Groups to create an Uber Role if you will. Creating visibility using a private model and public groups is a fantastic way to streamline visibility.

Overwriting Everything for One User

Permissions Sets have long been a favorite feature here at Arkus. They mimic most of the permissions that are available on a Profile but can be assigned to specific users as additions to their existing permissions. Sometimes you will have one or two users who need access to everything. You can create a Permission Set with View All Data at an object level or dare I say Modify All Data at an org wide level to give these types of permissions to very special and specific users at any time regardless of their Role, Profile, or public group membership.

Apex Sharing

For the daring and extremely complex sharing requirements, sometimes you have to resort to Apex custom code to write sharing rules. These are often extremely complex sets of business rules that require custom sharing records to be written on certain records based on criteria that cannot be written in a simple WYSIWYG fashion. For example - if a user is an owner of a record that is related to an Account via a junction object, then give them Read Only access to the Account when otherwise they wouldn't have access at all.

I've Shared Lots of Knowledge

Now that you are armed with all of this knowledge perhaps try to take the next step and go for the Sharing and Visibility Designer certification. If you were to focus on the basics as I've laid them out here then you are likely about 75-80% of the way there. Understanding how data is shared or hidden within Salesforce is key to having a secure environment where users have a excellent experience and management get the proper piece of mind that data isn't visible to everyone while also having the proper visibility set for themselves.

Please feel free to comment below, on the Salesforce Success Community, on our Facebook page, or directly at me on Twitter @JustEdelstein.

by Larry Salvatoriello
Here is a look at the top ten reasons to be grateful for Salesforce in 2016.
Top 10 Reasons to be Grateful for Salesforce in 2016
2016 has been interesting to say the least. A lot has happened and has caused more anxiety and separation then togetherness. Elections, terrorism, and social issues has overshadowed a lot of the good that has happened this year and it's important more than ever to give thanks for the good that has happened. Salesforce for one has not only had a good economic impact but also a tremendous social impact. So, since the holiday season is that one time of year (unfortunately) we look to give thanks here are the top 10 reasons, in no particular order, to be grateful for Salesforce in 2016.
Dreamforce
The largest technology conference in 2016 took place in San Francisco this past October and once again we were treated with a week of education, product releases, entertainment, philanthropy, and spiritual enlightenment. Attendees got the pleasure to hear keynotes and campfire discussions the likes of Melinda Gates, Deborah Dugan, Rep. John Lewis and Billie Jean King.
(RED)
Salesforce always has certain non profits focused on at Dreamforce and offer opportunity to help both in volunteer time and money. This year one of the non profits highlighted was (RED) an organization started by Bono and Bobby Shriver, whose mission is to deliver an AIDS-free generation. The goal set for Dreamforce was $1 Million Dollars. Thanks to the generous contributions of the attendees and the Bill and Melinda Gates Foundation they were able to raise $3 Million Dollars!
Dreamfest
I have to admit I was a bigger fan of the concert in 2015 but you can not complain when you get to see one of the greatest bands of all time U2. We were entertained by a 15 song setlist filled with their greatest hits. I don't think the venue was a big hit but the entertainment definitely was. This concert raised 10 million dollars for UCSF Benioff Children's Hospital. How can you top that next year.
VetForce
Salesforce created VetForce in 2014 to help prepare veterans for a civilian career in IT. Since that time, more than 50 technology companies that have collectively pledged to train 60,000 and hire more than 11,000 veterans and military spouses by 2021.
Chief Equality Officer
This year Salesforce hired Tony Prophet to be their Chief Equality Officer. Though it is sad that a position needs to be in place, it is just another example of Salesforce fighting for more equality at every level and for every person. I hope Tony does a great job and sets a standard for other companies to follow.
#DFGives
Dreamforce raised a lot of money for (RED) but it also impacted local youth and nonprofits.  Attendees helped Project Open Hand, a nonprofit that provides meals with love to critically ill neighbors and seniors, put together 2,000 STEM education kits and 2,000 Food=Medicine bags. More than that, over 400 students from San Francisco and Oakland Unified School Districts joined the festivities for coding classes, workshops, and campus tours.
Pledge 1%
Salesforce was a founding partner of the Pledge 1% movement which is the commitment of companies to pledge 1% of its equity, product and time to philanthropy. I added this to the list because we at Arkus are very proud to have officially made this pledge in 2016 and also to promote it. If you work for a company that hasn't made the pledge, I recommend you talk to someone to help make that happen.
Lightning Experience
The Lightning Experience was the big announcement last year at Dreamforce and though the Salesforce UI needed a facelift, it wasn't ready for primetime. It makes the list this year again because of the progress it has made since it was introduced. All of the releases this year have been Lightning focused and with each day we get closer to a retirement of Salesforce Classic. Feel free to check out our blog to see the progress it has made to date.
Einstein
The big product announcement this year at Dreamforce was the release of Einstein which is the introduction of Artificial Intelligence (AI) to the Salesforce Platform. Our initial thoughts on Einstein can be read here  but it is another great example of Salesforce's dedication to bring new and forward thinking technology to your Salesforce org.
Marc Benioff
From the time Salesforce was a tiny company Marc Benioff had philanthropy integrated into its DNA.  He has raised millions of dollars, built hospitals, lobbied for social reform and has set a standard for how companies should operate. It is my hope that other leaders of this world see what he has done and start to adopt his way of thinking. The world is at a critical breaking point and we need more leaders like Marc Benioff.  
If you think I missed something please feel free to comment below, on the Salesforce Success Community, on our Facebook page, or directly at me on Twitter @Salvatoriello