Blog Posts

by Peter White
Salesforce Winter 18 brings with it some nifty email related features and functionality, including the highly requested ability to send "List Email".
You've Got Mail - from Salesforce
This post is dedicated to the official retirement of AOL Instant Messenger's Yellow Running Man. Yes, it's official; AOL Instant Messenger (AIM) is being retired in mid-December. What does that have to do with list email you say? Hang in there; she's coming around the corner. This Salesforce release puts another nail in the Classic coffin, as it most certainly will sway the influence of anyone pondering whether to transition to Lightning Experience. It also delivers another slew of community requested Ideas, evidence that developing on the revamped platform with Lightning Components and Salesforce DX has enhanced the development experience.
List Email
You may recall that Justin Edelstein touched upon List Email in his post "Salesforce Winter 18 - Filled Lightning Experience Gaps." Let's dive in and see for ourselves. Users with list email and mass email permissions will have the ability to send an individualized email to each recipient instead of one email to the entire group directly from a list view without having to deal with that Mass Email wizard. Individualized being that users can utilize email templates and merge fields to customize each email. The catch - this change applies to Lightning Experience only.
The user experience is the icing on the cake. Load one of your curated list views, select the recipient records, click the "Send List Email" button and off you go.
Email Content Editor
The Send List Email content window opens, from which you can insert, create, or update a template or simply craft your subject and message. Bonus points for the much improved Lightning email template experience; it's as smooth as butter.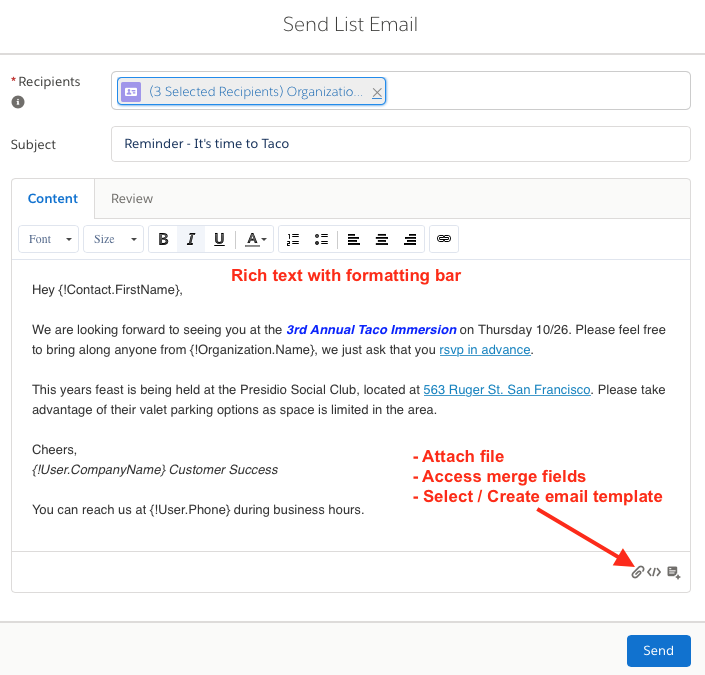 When you are satisfied with the look, you can save as an existing or a new template. So many choices, stay with me because it gets better. Click the "Review" tab, and you see the content in all its glory! You are also able to view each recipient message or perform a spot check, if you are working with a large list. Time for a bonus. Winter 18 means "No More Errors for Empty Email Merge Fields". Quality Assurance for the win -- no more "test" messages to yourself. I know. You've got mail; it's coming I promise.
Status Views
As they say on the infomercials - but wait, there's more! For each recipient, you are able to see that the message was sent within the recipient's activity timeline, and it even identifies itself as a list email. Winter 18 also brings the ability to filter on the list emails with "Filter More Ways in the Activity Timeline". And lo and behold, check your inbox because you've got mail! I really like the attention to detail (ATD) here, as the developers named the sender "Salesforce List Email" and the activity subject is prefaced with "List Email:". Smart, easy to filter and locate.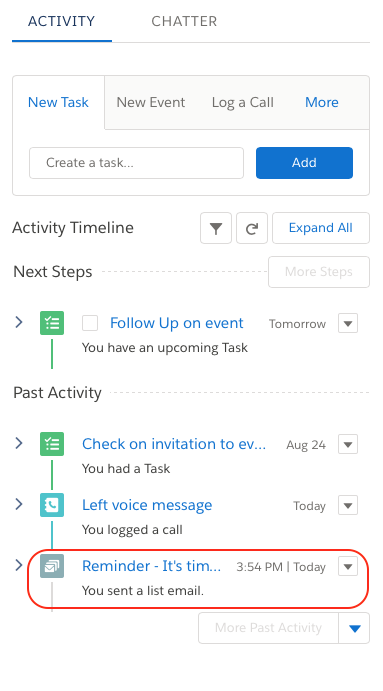 Click on the message link in the timeline and you are taken to yet another well designed page that contains the message sent and the status by recipient. I swear it's magic.
Click the Details tab to view the summarized details. Are you standing and applauding yet? That's a well designed user interface. While I haven't developed reporting for this feature as of this writing, I do like the new report builder (see "Winter 18 Lightning Report Builder") and look forward to its future.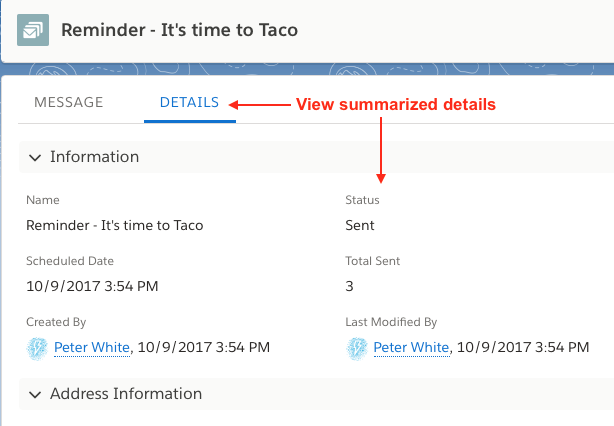 As Paul Rand said, "Design can be art. Design can be aesthetics. Design is so simple, that's why it's complicated."

What has your experience been? Want to share your thoughts or opinions? Please feel free to reach out on the Arkus Facebook page, in the comments below, in the Success Community, or to me directly via Twitter at @sfdcclicks.


by Larry Salvatoriello
Here is a look at the top ten reasons to go to Dreamforce 2017.
Top 10 Reasons to go to Dreamforce 2017
In most recent years, the end of September meant Dreamforce had come and gone but not this year! Starting November 6th and running through the 9th, we get to kick-off the Holiday season with 4 full days of technology innovation, special guest speakers, entertainment and inspiration. There looks to be over 170,000 people (Trailblazers) registered, so hopefully you aren't one of the people who registered late and needs to stay by the airport. For the 6th year in row, here are the top 10 reasons to go to Dreamforce 2017.
#10 New Products! This year's Einstein is...?
Last year Salesforce was all about Artificial Intelligence, with the announcement of Salesforce Einstein. Even though I expect to hear a lot more about that this year, I do expect there be some new product announcements. They more often than not aren't ready for prime time, but they do give you a great glimpse into what is coming down the pike.
#9 Enhancements to Existing Products
Though we all love the new and shiny thing, hearing the enhancements to the existing technology can be just as exciting.  We typically have to hit up the breakouts to hear a lot of them, but we are in store for some nice new efficiencies and enhancements that will save a lot of time and money.
#8 Keynote Speakers
There are few really big names headlining Dreamforce (see below), but there are others that will be great to hear as well. To name a few, Sylvia Acevedo (CEO, Girl Scouts of the USA), Jenna Hager (NBC's Today), Barbara Bush (Co-Founder Global Health Corps), Kasper Rorsted (CEO, Adidas) and Cristina M. Jones (EVP 21st Century Fox) will take the stage to provide insights into business, economics and life in general. There will be more released I'm sure, but this is a great starting lineup.
#7 Dreamfest and UCSF Benefit featuring
Either there is an issue with the event or we are in for a big big surprise! Dreamforce always features big artists, like U2 who played Dreamfest last year, but Salesforce has yet to let us know who it will be. Could it be legends like the Rolling Stones, or maybe it's a newer superstar like Taylor Swift?  Whoever it is I am sure it will be a great time.
#6 Ashton Kutcher
He plays a goofball on TV, but he is definitely not one when it comes to business. He is a co-founder of the venture capital firm A-Grade Investments and has investments in over 60 companies. Some are very prominent and include Skype and Airbnb. I am very excited to see what insights he has to share to us.
#5 Michelle Obama
Anytime you have the opportunity to hear someone speak with direct experience in the White House it's a treat, regardless of what political side you fall on. In addition to being the First Lady for two presidential terms and a very successful lawyer, Michelle Obama has helped so many people with her efforts in children's health, veteran support, higher education and women's rights.  It will be interesting to hear what she talks about.
#4 Networking
If you are going to Dreamforce, you will have one thing in common with the other 170K+ attendees: Salesforce.  What an amazing and easy conversation starter, where you can meet people from around the world and network. This is also a great place to reconnect with old friends. I'm sure many long lasting relationships and new businesses have come from a meeting at Dreamforce.
#3 Marc Benioff and Parker Harris
I say this every year, but how many more times are we going witness two co-founders with such rapport like Marc and Parker entertain and educate us during the keynotes of Dreamforce? Marc is fully committed to making this world a better place, and I can only expect our time is limited before he does Philanthropy full time either via nonprofit work or getting into politics.
#2 Inspired to Learn
Salesforce continues to do a ton of work in helping enable people to learn Salesforce with the continued focus on Trailhead and growth of user groups and certifications. This year you will get access to over 2,700 sessions, hands-on trainings, certifications, and other educational opportunities, such as meeting with product managers or mingling with Salesforce MVPs. If you decided to get in early, you can even take pre conference certification courses.
#1  Inspired to Give Back
This will be my 8th Dreamforce, and though I love to hear about the new products or enhancements, I find myself most excited about the inspiration the event provides me. Every year we are touched by heartfelt stories that leave us crying with joy about how people and technology can do such good.  I always feel inspired to do my part, and Dreamforce inspires me the whole year through.
Another Dreamforce and another top ten reasons to go. Please feel free to comment below, on the Salesforce Success Community, on our Facebook page, or directly at me on Twitter @Salvatoriello

by Daniel Webster
Winter '18 brings big changes to reporting in Salesforce lightning.
Winter '18 Lightning Report Builder
Yes, Winter '18 is upon us and we are rife with Game of Thrones references here at Arkus. With it, we get what, to me, is one of the most exciting beta releases in memory; the Lightning Report Builder. A new, fully Lightningized report builder that even a White Walker would love.
No longer will clicking on "New Reports" take us from our Lightning Experience dream back to the harsh realities of our Classic pasts. No longer.
Below I'll highlight some of the reasons I'm most excited for the Lightning Report Builder, but before that, some clarification. First we need to remember that this is in beta and currently the general release date is unknown. Secondly, while this is available already, there is some leg work you'll need to do in order to use it, including creating a permission set. Have a look at the release notes, where each step is detailed.
Now on with the highlights.
Creating a New Report
The first thing you'll notice is the "New Report" screen has been fully updated. Long gone are the Folders and "+" signs that harkened back to Windows 95. Now you'll have a pane on the left to select your object, which updates the list to the right with specific report types. Of course, you can also use search as I have here with "contacts." I feel better already.
Column Management
The newly designed left pane contains the column names in gray boxes and each contains a small X. That's because you can quickly click the X to delete that column from your report or drag and drop one of the column names to move it up or down on the pane, which also moves the column in the report.
Additionally, you'll notice the "Delete All Columns" function has been added to this pane as a little trashcan icon. One click and all those columns are gone.
Automatic Report Formats
Now to save the best for last: automatic report formats. Yes, now when you summarize by a row, the report automatically will change to a summary report. Then want to summarize by a column? The report automatically changes to a matrix report.
You can simply type in the fields you want to group by in the top Groups section, on the left pane. Choose the field, hit enter, and you have a summary report. You'll then be able to add fields to a Column grouping for a matrix report.
This feature got a standing ovation in my house when it was recently demoed on a webinar (it was just me, and I'm exaggerating but you get the point, this is very cool.)
What You Can't Do
Alas, this is a beta, and some features from Classic report builder haven't made it over quite yet. The largest omissions include Cross Filters, Joined Reports, and Bucketing. I've been told that Salesforce plans to have some of those ready by the general release, but we will just have to see.
There really is much more to see that I wasn't able to cover (like not having to save a report to run it now), and I highly encourage you to play around with it yourself. Regardless of the current limitations, I haven't been this excited for a new release in quite some time. We are entering a brave new reporting world, and I am ready!

Want to talk LEX or Lighting Report Builder? Want to talk about how Game of Thrones Season 7 was actually one of the best seasons yet? Feel free to comment below, on the Salesforce Success Community, on our Facebook page, or directly at me on Twitter @djordanwebster.

by Justin Edelstein
The Salesforce Winter 18 release notes have been out for a couple of weeks now. It's time to take a look at some new features that fill the gaps between Classic and Lightning Experience.
Salesforce Winter 18 - Filled Lightning Experience Gaps
I've been saying all along that, in the move / migration to Lightning, Salesforce should not be aiming at feature parity; rather they should be aiming at feature improvement. In Winter 18 there are quite a few examples where functionality from Classic finally make their way into Lightning Experience but in a way that makes the features better, as opposed to just plugging holes. Let's take a look at a few that I particularly like and one that is pretty net new functionality just for fun.
This feature, otherwise known as Mass Email, is going to be available for all of the person objects (Contacts, Leads, Person Accounts). While the release notes are kind of sparse on details, here's the skinny. Run a list view, click a button to send an email to all or some of the records in the list, and Salesforce sends out an individual email message to all recipients. The email gets tracked in the activity timeline, and all are happy. There is not much mention about user experience, but I would imagine a much more streamlined approach to sending emails in mass. In Classic there was a tool and a wizard that included weird ways to access list views and email templates - by using List Email in Lightning the entire process will be streamlined.
For years in Classic I've wanted the ability to filter a related list. This is a really good start to reaching this feature. In an activity timeline, a user can now filter their activities based on the type of activity it is or a date range. This is very handy for finding that email that a user knows they sent about six months ago.
Don't worry about those pesky date/time fields, if you are just looking to track time, with this handy new field type. Not only is this useful to literally have the option to create a field that is dedicated to just tracking HH:MM, but this also handles some hard to solve use cases around timezones and time tracking in general for Event Management or Project Management. The field type is still in Beta, but I've been a part of the pilot for use with a client, and I can say that the feature is worth its weight in gold when building a solution around scheduling for people in multiple timezones. To support using time in formulas, this beta release introduces the TIMEVALUE and TIMENOW functions, as well as new HOUR, MINUTE, SECOND and MILLISECOND functions.
This isn't exactly a gap that is being closed from Classic; it's actually a long standing product gap that is being addressed. With this feature an administrator can customize a Lightning Page to make certain components appear based on data within a record. An admin would drop a component on a page and then set the criteria for when that component should be displayed. A good example is in this tweet by @jenwlee, with a nice gif to walk through the use case of a rich text field being displayed on an Account when certain criteria are met.
All in all I'm very pleased with the way that Lightning Experience is behaving these days. It's getting faster, it's looking good, and the gaps in the product are being chipped away at. The best part is that Salesforce is innovating here with new and better features to ensure that not only do we get all of our core needs met but that they are met in a more efficient and delightful way. 
Please feel free to comment below, on the Salesforce Success Community, on our Facebook page, or directly at me on Twitter @JustEdelstein.

by Ryan Owens
Winter is coming. What's new with the Salesforce Lightning Experience in the Winter 18 release?
Winter 18 - Let's Talk Lightning
Winter is coming! The Winter 18 Release Notes are out, and Lightning is receiving a lot of love again. This time around, it feels as though the entire release is starting to focus on Lightning. Here are some of my favorite Lightning improvements and additions:
While Lightning definitely has a much more modern look than its Classic counterpart, it occasionally suffered from having too much going on within a page. This led to a lot of scrolling and some difficulty finding what you were looking for. Salesforce looked to address that in this release. Here is the breakdown of the new UI changes:
More information density and less white space, so you can see more of what you need without scrolling.

Improved legibility (using font size and color) to draw attention to what's most important.

Better contrast between foreground and background, making it easier to scan and scroll while staying focused on what you need.
You will also have the ability to set the color and background, inspired by Trailhead. For now, you can choose between blue and neutral gray background. In the future, the plan is to give admins the flexibility to create a customized theme to match company branding. I am looking forward to that.
Tired of seeing things cut off in your list views? Me too. This is a simple, yet very effective enhancement that I think is going to be well received all across the board. List views can now be edited to have text wrap in their column. This could save folks the time of having to individually click into a record to see key information that is captured in a list view.
This feature is also available when looking through search results.
Salesforce search gets smarter with Enhanced Instant Results. Instant Results has always been a feature that I appreciated. Being able to get right to what you are looking for is always nice. Well Instant Results will now recognize misspellings and make spell corrections. Misspelling a word will no longer lead to empty results. Salesforce will recognize a misspelled word and match it with correct spellings of that word.
There are a couple of things to note about Enhanced Search Results. The first is that the spell correction will only work on one misspelled word. When misspelling two or more words, only the first will be corrected. The second is that this feature will only work with Accounts, Contacts, and Opportunities. Maybe we'll see this feature continue to get built out in future releases? I hope so.
Lightning Lead Conversion gets a little buff in this release. Salesforce has looked to make its Lead Conversion process more efficient and provide increased flexibility in what you can do.
Along with the new interface, options include:
Create an Account, Contact, and Opportunity from the Lead data with a single click

Update the values provided from the Lead for each new record

Choose the Record Types of the new records

Set up Duplicate Management Rules to match and relate the Lead to existing Account, Contact, and Opportunity records

See the details of the matched records from the Lead conversion screen

Search for more records to relate to the Lead

Create a follow-up task related to that converted Lead
There are going to be a lot of happy Sales Users with this one. That's a lot of increased flexibility that will lead to increased efficiency, while also limiting duplicate data.
As somebody who operates in Setup quite often, I use the Quick Find functionality a lot. Salesforce is taking us a level deeper in Winter 18 by giving us the ability to 'Search all of Setup'.
Say you know exactly what you are looking to do. You want to edit a certain field on a certain object. In the past, you would have to navigate to the object itself and look for the field. Now, if you happen to know what you are looking for, you can type the name in and select 'Search all of Setup.' Boom. You see the field right there. Click on the field and make your edit. This will significantly cut down on the number of steps needed to find and do things via Setup for admins.
What do you think of the Lighting improvements and additions in Winter 18? Want to share your thoughts? Let me know what you think on the Arkus Facebook page, in the comments below, in the Success Community, or to me directly via Twitter at @RyanOwensRPO.