Blog Posts

by Justin Edelstein
A quick recap and some realizations after volunteering as a lead teacher on the last day of the four day Salesforce BootCamp organized by PepUp Tech and hosted by Monroe College.
PepUp Tech Salesforce Bootcamp - A Rewarding Experience
Rewarding on Every Level
On Saturday, July 22, 2017, I had the honor and privilege of being a lead teacher during a Salesforce BootCamp run by PepUp Tech held at Monroe College in the Bronx. This BootCamp provided the opportunity for people that are generally underrepresented in technology to get a glimpse into what the Salesforce platform can do. It was such a great and rewarding experience to have the chance to tell such a diverse group of students my story and how I went from being a communications and sport management major in college to a successful business owner that implements Salesforce.
It was really fun explaining the different types of jobs that anyone can obtain within the ecosystem. It was even more exciting to see the students' eyes light up when telling my story. It's not often that I get to tell my Salesforce origin story to such an engaged audience who seemed to really take what I was saying to heart. So much so, that when I got home that evening, I had quite a few LinkedIn requests and subsequent conversations. For me this was one of the more rewarding experiences I've been a part of and am very happy I had the chance to share with these students.
The Community Is Strong
The Salesforce Community, or Ohana as it's now transitioning to being known as, is as strong and expansive as ever. I can recall the very early days of having the IdeaExchange and that being the very start of what I consider the community today. The key factor here is everyone comes from different walks of life, different backgrounds, and different educational focuses. Again I was not a technologist; I dare say this all happened to me by accident. With the help of some great people in the community and an opportunity to shine, I was able to take the bull by the horns and turn it into something special. That something special is MVP status in the Salesforce community, a business that hires a diverse group of great people, and a passion for helping others get to where they want to be using Salesforce.
Some of the amazing supporters of @PepUPTech that made the last two weekends of the #Salesforce Bootcamp at @monroe_college a success! pic.twitter.com/mVrm7A4Obm

— Carrie Mantione (@CarrieTech) July 23, 2017
Trailhead is the Path Forward
Trailhead played a big role in the BootCamp. We leveraged it almost exclusively to teach certain elements of the platform and about the ecosystem as a whole. Trails for CRM basics and Data Modeling were augmented with some explanation and real world examples of how the concepts and challenges within the trails would be leveraged as a Salesforce administrator or developer. This was the purpose of the lead teacher -- to bring real world experience and examples to the table and bring some of the lessons in Trailhead to life. The fact that Trailhead even exists is a boon to any individual who wants to get a leg up on learning the Salesforce platform. There are so many trails, at this point it's hard to keep track, and you can learn anything, from the basics all the way up to programming in Apex or Lightning Components. Either way this great community is there, supporting Trailhead no matter what, to answer questions, be supportive, and share with each other. That point was hammered home quite early and often with a statement about "if you can't figure it out, google it" or "post a question in the success community and it will be answered".

What's Next
The momentum that was created was immense. All of the students were really excited about what they learned during the course of the day. The key now is to keep it rolling with Trailhead by completing trails, networking, and working towards getting certified by SalesforceU. Additionally, students will want to continue to work towards their degree, which is still obviously important. Hopefully this exposure and experience with Salesforce will provide some additional options and pathways forward in their career in technology, even those without any coding experience (although when we broke out, a large portion of the students went to the developer path - I think this is because Mary Scotton is more engaging than I am, but that's just me).
As a volunteer, I also feel very compelled to continue volunteering and continuing to lend my expertise to the program as a part of the Salesforce professional community in New York. I intend on keeping this going because selfishly, this made me feel really amazing at the end of the day. It was the feeling that you get when you know you just made a difference in someone's life. For me that is really important; the point of these BootCamps is not only to teach Salesforce concepts, but also to advise and mentor students who otherwise wouldn't get access to this level of exposure to what Salesforce is all about. I personally can't wait for the next opportunity.
Please feel free to comment below, on the Salesforce Success Community, on our Facebook page, or directly at me on Twitter @JustEdelstein. 

by Ashley Leifer
Ways in which to utilize the Salesforce Ohana (family) and other resources to be a successful Salesforce professional.
Utilizing Salesforce Ohana to Become a Successful Salesforce Professional
Working in Salesforce almost every day, all day, I feel my understanding of the platform's architecture, feature, function, etc… is pretty solid. But, Salesforce is a platform that is always evolving and growing, and more times than not I find myself tackling new features, complex client needs requiring creative solutions, and areas of the Salesforce architecture I touch but on only rare occasions. In addition, I am regularly asked to understand and work with a multitude of 3rd party products to achieve a client's goals. Over the years as a Salesforce consultant, I have come to know, rely, and turn to the Salesforce Ohana, Salesforce provided tools, and other resources for resolve. Of course a lot of the time my first step is a good old Google search (making sure 'Salesforce' is in the search words or use 'searchtheforce'). Many times that takes me directly to a blog post, Trailhead, or Salesforce's help library that provides answers pretty quickly. If that doesn't work, or I know what other resource will provide what I need efficiently, I utilize this list of "go to" places.  Of course most Salesforce professionals already know of most, if not all, on this list; I thought it would be nice to compile this 'resource' list as a 'refresher' for those seasoned and an 'introduction' to those new to the Salesforce platform.

Trailhead
Love, love, love Trailhead! Such a great place to learn all about everything Salesforce.  They make it fun as well, with earning points, badges, and super badges. I go to Trailhead to learn about new features and functionality, preparation for certification and understanding of new releases, or to refresh my knowledge on features or processes that I'm a little rusty on or have changed enough over time, something I've perhaps configured for a client a long time ago and have a new request to do so again. Just remember, Trailhead is your friend!
Success Community & Power of Us Hub
The Salesforce Success Community (and Power of Us Hub for the Nonprofit Salesforce.org world) is really where the Salesforce Ohana comes to life.  This is where everyone comes together in the Salesforce community to support each other (customers, partners, ISV partners, and Salesforce employees).  There is such a wealth of information and places to get questions solved quickly or to help solve questions for others and give back to the community (Answers). There are so many groups to follow that can really keep you in the loop and up to date on what's new, what issues others are having, etc…  Groups such as 3rd party products, Releases, Salesforce Cloud products, User Groups, and more. As examples, I follow groups such as Release Readiness & Feature Adoption, Arkus (of course), DLRS, Community Cloud, Sales Community, The Blog Group, and WIT to name a few.
Help & Training Library
As I always tell clients, Salesforce has spent a lot of time and resources thoroughly documenting and collecting a vast library of documentation, articles, etc. for everything inside Salesforce.  You can access this through your Salesforce instance or through the Success Community or Power Of Us Hub. I still love how I can click on 'help for this page' (Classic and in Setup in Lightning) which will take me directly to the Help & Training page relevant for that page in Salesforce. Of course, in Lightning, the "?" Icon for Help & Training is prevalent always at the top right corner.
Salesforce MVPs
They don't call them Salesforce MVPs for nothing; these are people who have gone way above and beyond to support the Ohana.  Many have blogs, podcasts (CloudFocus Weekly), own and manage user groups and community groups.  They know a lot and are great people to follow in the community.
Blogs
I find a lot of very creative solutions through blogs I follow or Google. Of course I have to shamelessly plug the Arkus Blog, but in addition there's Salesforce Ben, Andy in the Cloud, and Salesforce Sidekick to name a few others. Just recently I had a request to come up with a solution for only creating the autonumber under a specific circumstance, I found the solution from a blog post from Salesforce Sidekick.
Salesforce Developer Site, Workbench, & Stack Exchange
If you are a savvy declarative Salesforce professional and build basic code, use SOQL to validate data, write SOQL criteria using tools such as DLRS, etc., then Salesforce's Developer site is the place to go. Workbench (as mentioned in our previous blog)  is a series of tools that allow an administrator to dig into their org - both metadata and data - and do things like find recently deleted records and undelete them or find the source of a flow error by searching through the metadata for the id. One of my colleagues also suggest the Salesforce Stack Exchange. Although I haven't spent a lot of time myself on this site, I have found solutions here in the past from Google searches and it's worth mentioning.

These are just my main list; however, there are so many more resources out there depending on what industry you're in and what your Salesforce needs are, be it simple or very complex. Do you have other great Salesforce resources I didn't mention you'd like to share, other great Salesforce blog sites? Please feel free to comment below, on our Facebook page, or directly at me on Twitter @LeiferAshley or in the Success Community and Power Of Us Hub.

by Larry Salvatoriello
A look into some of the risks associated when deciding on whether to self implement Salesforce.
Risks of Self Implementing Salesforce
As an implementation partner, we are asked questions about why we are needed. Why do we need you to implement Salesforce for us? Isn't it a system that doesn't require code? Yes, Salesforce is a system that does not require code to be written, and yes, you do not need a computer science degree to implement it, but it does require learning. Salesforce provides a ton of resources and a community of folks who are willing to answer and help with your education on the platform. But, if you do not have the time or willingness to invest in that education, you risk the possibility of an unsuccessful implementation.  Before you decide on which route to go, please consider the following risks of self implementing.
Time Cost with Experience
The effort required to implement may not require someone's full time job, but it will require an allocation of time that will impact a person's ability to do their typical responsibilities. Something will need to be sacrificed or delayed in order to do this the right way.  The lesson here is even though you have someone on staff who has experience with Salesforce, it doesn't mean there are no costs.
Time Cost without Experience
If you decide to self implement and do not have experience, it is highly recommended that you have the person you tasked to implement attend training. Add up the person's time spent at training, the time implementing the solution and the cost of training and you might be spending the same amount or more as if you hired an implementation partner. Unfortunately if you don't get training and begin self implementing, then realize you're in over your head, you may still end up needing to hire an implementation partner. And in that scenario, they may find they have to do extra work to undo some of the mistakes you've made which could cost you more.
Extended Timeline
As a consulting firm that has completed more than 700 implementations, we have become quite efficient at it.  Even the simplest implementations will take longer then 6 weeks. Odds are the person you designated to take on the task will not have as much experience as the company you could hire to implement. This will lead to potential stops and starts due to time needed to research how to build out the solution. If this person isn't fully dedicated to this project, you will see delays when they have to stop to handle those fire drills you deny will happen.  Any which way you slice it, the implementation will take longer than if you hired a consulting firm. Lesson learned, be prepared to double the timeline if you choose to self implement.
Poor Adoption
This might be the biggest point to drive home. Whenever you apply any kind of change to an organization, it takes emotional and physical effort. If the implementation is not done properly, you risk poor adoption. If the configuration does not meet the needs of the organization or training isn't done in a way the users understand, they will push back. That leads to distrust of the system, and even if you were to try and right the ship by hiring a consulting firm to fix it, the distrust may be too much to overcome to make it a successful implementation. It will take strong leadership and a strong Salesforce Administrator to properly help the user base get over the hump. The lesson learned here is to ensure the implementation is set up properly and training is well executed to meet the needs of the users; otherwise you risk poor adoption.
There are some key considerations before making the decision to self implement.  It is doable, but you need to realize that it will take proper planning, training, and costs in both dollars and time. Once you have a grasp of the cost, weigh it against the faster option of hiring a partner before making a decision. Feel free to run it by your Account Executive, that is what they are there for. Please feel free to comment below, on the Salesforce Success Community, on our Facebook page, or directly at me on Twitter @Salvatoriello.

by Daniel Webster
How a small quality-of-life change in Chatter can make a big difference to your Chatter feed and your inbox.
Customize Your Chatter Feed with Streams
We've all wished we could organize our Chatter feeds into something a little cleaner and more organized. Wouldn't it be great if I could just see posts from my top accounts in one view? Or focus only on my team's activities for the day? Well, like an Ikea storage bin, Chatter streams will help you stay organized, bring more clarity to your life, and maybe even some digital hygge. But only if you're using Lighting Experience (sorry Classic users, no hygge for you).
What's a Chatter stream?
With the Summer '17 release for Lightning, we're now able to combine Chatter feeds from any object, Chatter group, or user into one feed, called a "stream." Up to 100 can be created, combining 25 different feeds, and viewable only by the creating user. Let's go through some hypotheticals to see how streams can improve our lives.
Let's say you're an Account Manager, and you want to focus on your top accounts. You'll create a new stream called My Top Accounts and add feed items for any account, contact, case, or opportunity record associated with those top accounts to the stream. Any post on your top account, across multiple objects you've specified, will appear in a single view.  
Or perhaps you're a manager and you want to keep up with the activity of your team. You can create a stream called My Team that shows any new posts from users that you specify. Now you don't have to click on each of their user records and scroll through; it's available in one single view.
You can also set up email notifications for these streams, so that any time a new post appears, you get an email. So you can adjust those notifications for posts you don't necessarily care about. Fewer emails, better sense of well-being. Hygge.
How do I set it up?
Streams are already enabled if you are using Lightning Experience (again, if you're still using Classic, you won't be able to use streams).
Go to your Chatter tab in Lightning; on the left pane, you'll see Streams and a "+" to the right of it. Click the plus button, and a new window will appear. Name your stream in the first field, called Stream Name. Next is Records to Follow; in this field you'll see a drop down to the left, where you can select from any standard or custom object, Chatter group or user. If I select People, I can then start typing "Jason," and a user in my org named Jason will appear in the dropdown of selections. I then select Jason, and any posts by him are added to the stream. In the same box, I can also select other members of my team, an object, or Chatter group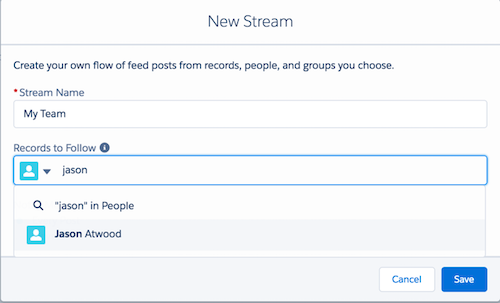 Under that you will see Notify Me, with the options Never or Every Post. This determines your email frequency for this stream. Click Save.
Voila, I have a Chatter feed that will show me posts by Jason and the other records or people I selected.
Alternatively, if you're on any record that you can follow, you simply click Follow, and you will see a dropdown. You'll have the option to either add that record to a stream you've created, to your What I Follow feed, or there is an option to create a new stream directly from the menu.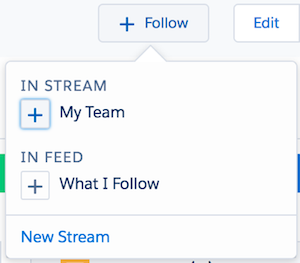 And that's it. Very intuitive and easy to set up, no? That being said, it would be even easier if we could follow records, and add them to streams, directly from a list view. As such, I've created an idea on the IdeaExchange, for you to upvote!
Welcome to the Future
Chatter Streams is a great example of a small quality-of-life update, exclusive to Salesforce Lightning, that I think we will continue to see more of. You may be concerned about switching to Lightning, but Salesforce will continue to make it more and more appetizing, to the point you'll have to search for reasons not to migrate over. And who doesn't want hygge?
Have any thoughts on Chatter streams? Mad I mixed Swedish (Ikea) with Danish (hygge) at the top? Feel free to comment below, on the Salesforce Success Community, on our Facebook page, or directly at me on Twitter @djordanwebster.

by Jason Atwood
A look at incorporating Getting Things Done (GTD) into your family life, from significant others to offspring.
Family GTD
Since Justin and I are doing an entire GTD summer series on CloudFocus Weekly, I thought I would add another twist, talking about doing GTD in the family. Loyal listeners of the podcast will know that I talk about getting my wife and child involved as part of my GTD journey, so here are some of the lessons that I have learned.
A Little GTD is Better Than No GTD
One of the challenges of someone who has the big "ah-ha" moment in GTD is it becomes one of those things you want to share. Sharing is caring after all. Right? Well, not always. Sometimes sharing and oversharing and talking about something constantly can get friends and family to be less interested.  When trying to get your friends and family into GTD, think of it as a long journey that might not just start with "read the book." My suggestion is to start with success and go from there. So when your significant other remarks on your new found calmness, or what a good mood you are in after your Weekly Review, point subtlely to GTD, giving it all the credit. If they show interest, maybe start them on David Allen's 20-minute TEDx talk on YouTube. This is a great intro and isn't as time consuming as reading a 300+ page book. If 20 minutes is too much, try the two minute GTD overview video. If all else fails, maybe point them to this blog post.
Keep It Simple
My lifelong mission to turn my wife and daughter into GTD black belt masters is a great goal but maybe not as realistic as I once thought it was. I have found that if I make some very small suggestions during the right times, they eventually start to take. For example, I have been working with my 12-year-old daughter on just doing some very basic capturing of things to do during the week. A daily todo list, if you will. We review it together, make sure it is complete, and off she goes to do the things she needs to do. We had the same talk about homework from school; write it down in the planner, review it daily, and prosper. My spouse of 14 years is way past capture at this point, so I moved onto the 2-minute rule (if it can be done in 2 minutes, do it instead of writing it down). Once that had stuck after a few years (yes, years) we worked on calendar management and how those are hard landscapes that need to be reviewed at least daily, and in advance once a week. It is amazing how a well-organized calendar can keep a family in sync. 
Be Tool Agnostic
One thing that I have found in my ten plus year GTD journey is that the tool you pick both matters and doesn't matter at all. While I believe that a good tool (hint hint OmniFocus) can get you to that black belt, for the casual GTD practitioner the tools can be overwhelming. For my daughter, we started digital but it just became too distracting, so we went back to good old fashioned pen and paper. For my wife, who might love her iPhone as much as me, the built in Apple Reminders app was good enough. She can capture quickly, review them wherever she is, and is just one tap away from #Done. David Allen has been very consistent in proclaiming that his system is not about the tool; it is about the mindset, and for the family members, this rings very true.
Enjoy The Journey
The last point to spreading the GTD love in your family is make sure not to push it too fast or too hard. It might be frustrating that you are enjoying so much success with your new productivity, but like any new-found passion, not everyone is going to come along for the ride. Think of your family members as passengers on a very long journey, one not measured in days but in years or decades. The key is to let them discover their own levels of success with the system and incorporate the parts that they feel comfortable with. If they have small wins, embrace them. If they slip now and again, gently remind them they have a better way. One of the many beautiful things about GTD is that the principles are timeless and pretty universal; they will work today, tomorrow, and when my daughter is telling my grandkids about her GTD practice <fingers crossed>.
Do you have some family GTD stories, tips or hints? Drop them in the comments below, on our Facebook page, in the GTD group in the Success Community or directly at me on Twitter @JasonMAtwood