Blog Posts

by Samantha Safin
Marketing automation is a powerful tool in your company's CRM strategy, but it can be daunting to select the best option for your needs.
Tips for selecting the right marketing automation
Marketing automation platforms allow companies to create one-to-one communication with all of their prospects, leads, customers, or clients. It expands on the power of a CRM, works with it, and can help connect marketing and sales. It's also a complex and potentially expensive platform that your team will need to learn, so it's important to take the time, learn about your options, and ask the right questions before signing on the line.
Know your database
Most marketing automation platforms are priced based on your database size. How many contact, lead, or client records do you have? This is a good time to start a data review – how many duplicates are in your database today? How clean is your data? Going through a data cleanse before adopting a marketing automation tool will help save you time and money and get you up and running faster. 
Know your strategies
What channels are you using today or want to use in the future? What are your goals? How will you measure success?
These seem like obvious questions, but they are fundamental to ensuring that you make the right choice in any technology. Understanding what channels you use can help prioritize functionality. Knowing your goals and how you intend to measure them help know what sort of reporting you need.
Even things like B2B vs. B2C marketing are things to consider. There are some solutions out there built for account-based marketing (ABM), and there are others that are focused on reaching out to individuals. 
Your database type and size, and your primary strategies are your keys to prioritizing functionality. What do you have to have? What would you like to have? What is something that you'd like to have but are not willing to pay extra for? Take those priorities to heart – color code them, create a matrix, whatever will help you to stick to the list.
Start with a wide net
If your company is brand new to marketing automation, don't limit yourself. Based on your database and goals, there are - guaranteed - more than two options. Be open-minded, review anything you find or hear about. Sometimes there's a single platform that will work for you, and sometimes you can find á la carte options for a suite of solutions.
The wide net will not last long; some options will be clearly too expensive, incomplete, or simply not a good fit. Narrowing it down to five or fewer options will be easier than it may seem.
Dig deep with your top choices
Don't let your potential partners off easy. By the time you start seeing demos, you might be tempted by the shiny features that they highlight. They are designed to be selling points; they are designed to show the coolest, newest features. But unless those coolest, newest features are on your list of priorities, they are not enough to make a decision.
There is a long list of questions you should think about asking, and they will vary depending on your needs, but here's a starting point:
1.     What kind of integration do they have with your CRM? (Expect a delayed integration – anything from 3 to 10 minutes between syncs is normal.)
What information is shared and what is not?

Does the information sync both ways?

What kind of control do you have on the sync - winning values, what fields sync, etc.?
2.     What kind of reports do they provide out-of-the-box? Can you create custom reports?
3.     What other integrations do they offer? (Think webinar platforms, website metrics, blogs, etc.)
4.     How does the platform handle your top channels? (Emails, content, social media, etc.)
Are all channels included in a basic license, or are they separate?

Does the platform provide an avenue into a new channel?
5.     How does the platform help manage things like email deliverability and SEO (Search Engine Optimization)?
6.     Do they have a customer community?
7.     How do they provide support? Are there SLAs (Service Level Agreements)?
8.     Do they provide training for administrators and/or users? Is it free or paid?
9.     Can you customize the platform?
Can you create new fields or objects?

Can you control user profiles?
10.  How often do they update their platform?
If you have many priorities, a complex matrix, or a strict budget, consider running a full RFP (Request for Proposal). Having all your top choices answer the same questions, based on your priorities, makes it far easier to have an apples-to-apples comparison and select the best option.
Beyond functionality
Finally, consider the business itself. Transitioning from one platform to another can be time consuming and difficult, so if possible, pick a partner that you want for the long haul.
You can learn a lot about a company when you negotiate with them. If you have a hard time negotiating price, don't expect that to change when you're a customer. If you go through the sales cycle with only one or two people, you are likely to have a single point of contact as a customer, rather than a tree of options.
Ask for references. Many companies are happy to connect you with a current customer with a similar business model to answer your questions.
Look at their blog – is their content in-line with current marketing trends? If they understand marketing and are providing great content, they understand what marketing automation needs to do.
Selecting any new business technology requires forethought, planning, and time. Marketing automation is no exception to that. The good news is that there are a lot of great options out there. If you take the time to understand and prep your database, list and prioritize your goals and needs, explore options, and then dig into your finalists, you won't go wrong. And then the real work can begin.
Have you recently adopted marketing automation? How did you make your decision? Share your stories and questions in the comments below, on our Facebook page, or directly with me on Twitter @thesafinhold or on the Success Community.

by Larry Salvatoriello
A look at a not so traditional GTD practice called the Yearly Review.
GTD Yearly Review
The productivity philosophy of David Allen has changed my life. His Getting Things Done (GTD) book and the supporting technology of Omnifocus and Evernote have given me the mental freedom to focus on the more important things in life, in addition to a tremendous decrease in anxiety. (For more insight into my GTD practice, feel free to read my previous blog, A Life Well Balanced.) This post is to give you some insight into another part of my process, which serves my intent to unfold the fruits of the GTD labors : the yearly review. I would expect most hardcore followers to believe this isn't necessary, but my intentions go beyond the tactical. In addition to validating that my system works, it gives me the oh-so-often-forgotten opportunity to reflect on what I did accomplish and feel any kind of grateful emotions about them I see fit. This exercise becomes a springboard into how I see my new year shaping up and what new and exciting challenges I wish to face.
Quick Tactical Note: It is my practice to use Evernote to compile lists of potential actions (not committed to) for every aspect of my life that I would like to take in a given year, which I proceed to cross off and mark with dates as they happen during my weekly review ritual. These lists range from how many movie nights we had with the kids to how many times I went paddleboarding in the year.
The Doing
The first step is to go through the technology that supports my practice. I start with going through OmniFocus and Evernote, to make sure nothing slipped (validate and polish my process), drop projects that I don't want to do anymore, and set placeholders for new projects and lists. This lets my ego know I can trust these tools and gives me the mental stamp of approval to keep going.  Once I know I have that in order, I move to physical and electronic paperwork, to shred the unneeded and clean up areas of my office that might have lost the attention they deserved.  This is where I will organize tech cords and maybe even some tools. This process takes some time, but the feeling I get after is well worth the labor.  Once I have organized and shredded, I move my attention to the reflection and planning.
The Reflecting
The most important part of this process is the reflection of what I accomplished the previous year and letting myself sit in a moment of gratitude. I find it is human nature to focus our attention on what went wrong, in order to allow our wondrous ego to come up with new ways to protect us from future failures. I say ask the ego to take time off from survival planning. You would be surprised how much you did accomplish if you took the time to reflect. My year consisted of one big construction project completed and another started, dozens of date nights, movie and game nights, and some amazing trips with family where we explored new states, countries, and museums.
The Planning
After I have a moment to celebrate my accomplishments for the previous year, I turn my attention to setting my goals for the year. I like to set three for each area of my life, and I list them in Evernote, so I can look at them during my weekly review. One I am very determined to achieve is taking on surfing as a summer activity. In addition to the goals I set, I like to create weekly incantations I read aloud that embody the emotional development I look to achieve in the coming year.  This kicks my year off, and then of course I review it often and sometimes change it if I feel the intuitive urge to do so.
So there it is.  A yearly review after a full year of weekly reviews.  The big thing for me this year was how little time it took me to accomplish this.  It basically took a day, when it took almost three about three years ago.  It is a testament to the GTD mastery I have been working towards over the years.  Please feel free to comment below, on the Salesforce Success Community, on our Facebook page, or directly at me on Twitter @Salvatoriello.

by Ashley Leifer
Salesforce continues their promise to deliver on Ideas from the Community in the Spring '17 release.
Salesforce Spring 17 Ideas Delivered
Once again Salesforce has delivered on Ideas. This release accounts for 71,400 points delivered; that's right, I counted up all the points. As you can see in the release notes, Salesforce is focusing more and more on Lightning Experience. Although you'll notice a lot of 'Lightning Experience Only', they are still accounting for feature adjustments in Classic as well. Let's dive in and take a look at the Ideas delivered with this latest release:


Lightning Experience
Take More Actions from the Global Actions Menu  - The Global Actions menu now displays nearly all global actions from the Salesforce1 and Lightning Experience Actions section of the global publisher layout. Salesforce says 'nearly all' because it doesn't support standard chatter actions like Post, File, Poll, etc… The Idea delivered was Allow customization of the Global Actions Menu in Lightning, 480 pts.
Detect and Merge Duplicate Companies and Contacts in Lightning Experience - Ah duplicates, duplicates...There's a Lightning component called Potential Duplicates which you can add to the Account or Contact pages using the Lighting App Builder. As long as you have enabled duplicate and matching rules for Accounts and Contacts and permission to merge records in Salesforce Classic, you can deduplicate up to 3 records. Many Ideas were delivered with a collective point count of 22,240, some of which include:
Knowledge: Say Hello to Lightning Knowledge (Beta) - This works just like any other object in Salesforce including the benefits of standard objects. Lightning Knowledge is best for organizations new to Knowledge or for existing organizations that can easily consolidate to one article type, have few data categories, and use single-language mode. The Idea delivered was Workflow Rules and Email Alerts for Knowledge with 3,300 pts.
Streamline Your Screen with a Unified Knowledge Home Page and List Views - Unlike the two tabs in Classic, Lightning Knowledge has one centralized home page. It has the list view feature we're all accustomed to with other objects; custom and standard. Ideas delivered include:

Both Lightning Experience and Salesforce Classic
Run Flows with a Lightning Skin (Generally Available) - I'm super excited about this one and agree with the title of the Idea delivered; Screen Layout in Visual Workflow / Flow Should Not Suck, 320 points. Flows are very useful, however, the historic UI and navigation has left something to be desired. All you have to do is go to Process Automation Settings and enable Lightning runtime.
Manage Duplicate Person Accounts - Now you can manage duplicate rules for Person Accounts just like you can for Contacts, Leads, and Business Accounts. It's nice to see Person Accounts getting more attention. The Idea delivered was Enable Duplicate Management for Person Accounts with 3,590 pts.

There's a lot of really good feature and enhancement suggestions continuing to come out of the IdeaExchange. Do you have other favorite Ideas delivered in this latest release I didn't mention? Please feel free to comment below, on our Facebook page, or directly at me on Twitter @LeiferAshley or in the Success Community.

by Peter White
Diving into enhanced functionality with the Salesforce Spring 17 Release.
Salesforce Spring 17 Release Deep Dive
The upcoming Spring '17 release contains a plethora of goodies as evidenced by the 485 pages of release notes. Yes, that is an overwhelming amount of information to peruse; I always lean on our Success Community group "Release Readiness & Feature Adoption" to guide me through the maze. For this post, I focused on enhancements that are "game changers," and this release contains more than a few.
List Views
It should be noted that while the awesome feature "List Views in Lightning Experience Default to the Last One Viewed" has been pulled from this release, it's indeed something to remain excited about for the near future. It's a bummer, but rest-assured that we still have a couple of goodies to enjoy.
Yes, we love our list views, and now we finally can roll through edits and mass actions without having to open the records. End user productivity will soar, and smiles will fill the room, when this rolls out to the masses.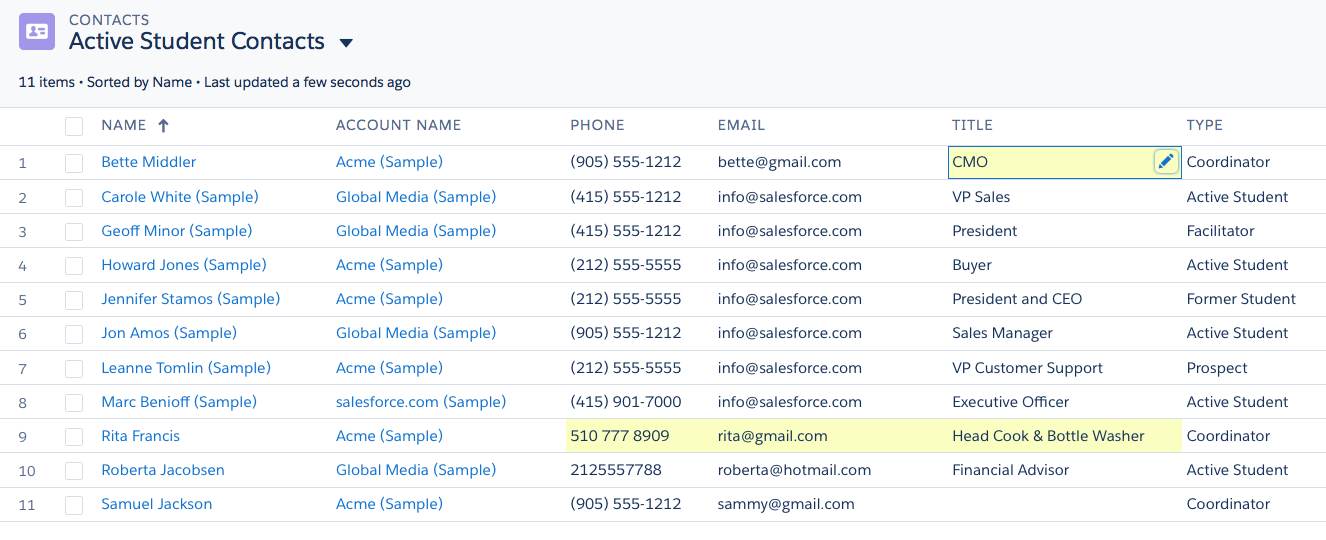 Kanban All The Things!
Stop the presses, there's more! Now your users can see the Kanban View Everywhere and make their own Kanban view as well. This allows users to select the fields for creating columns and summaries. How we love the visuals and the capability to change record values via drag and drop. But wait - that's not all. Using subtabs, users can easily switch between record types in their Kanban view.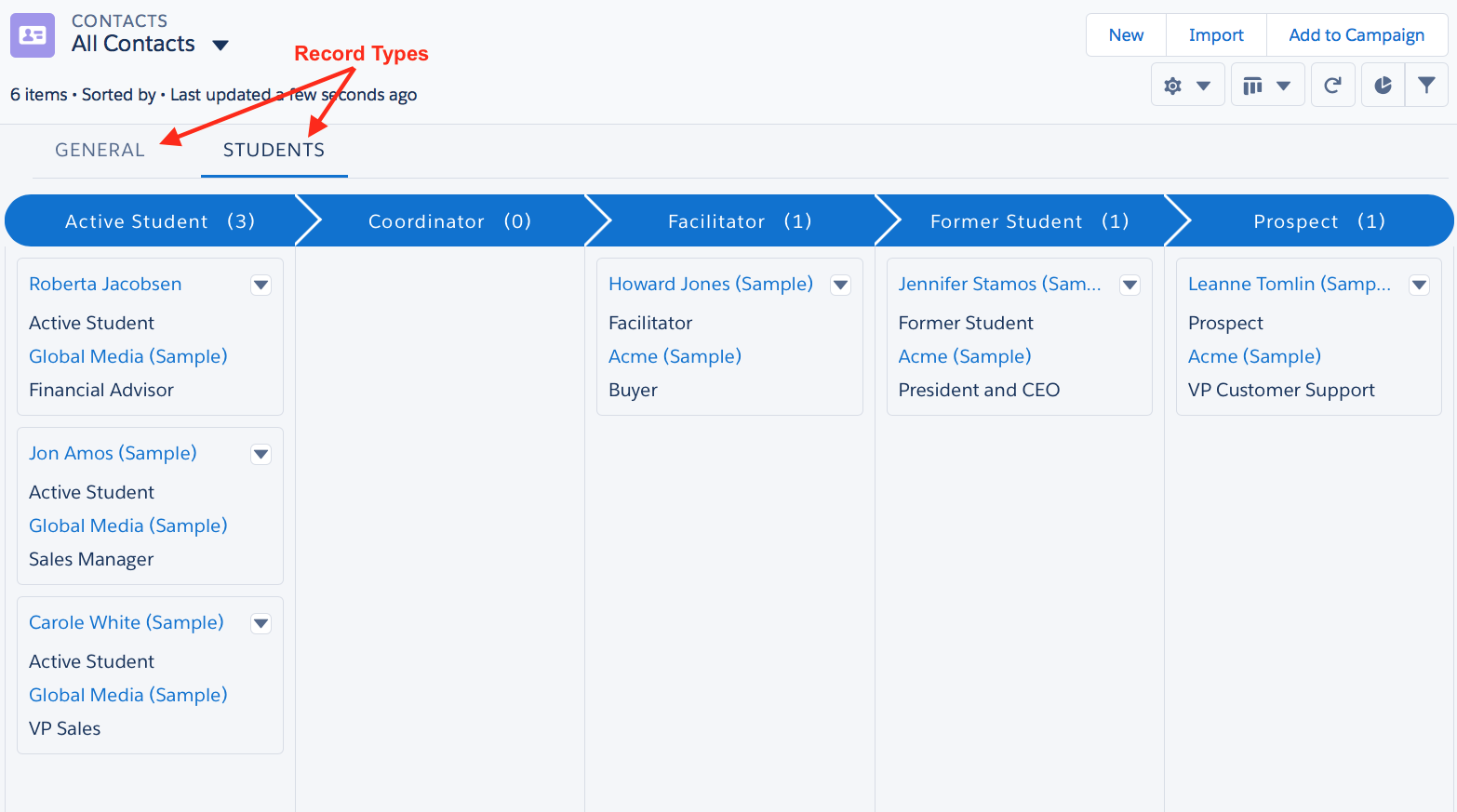 The Kanban view isn't available on a few objects, such as Knowledge and Tasks, yet you can now Kanban custom objects! Say what??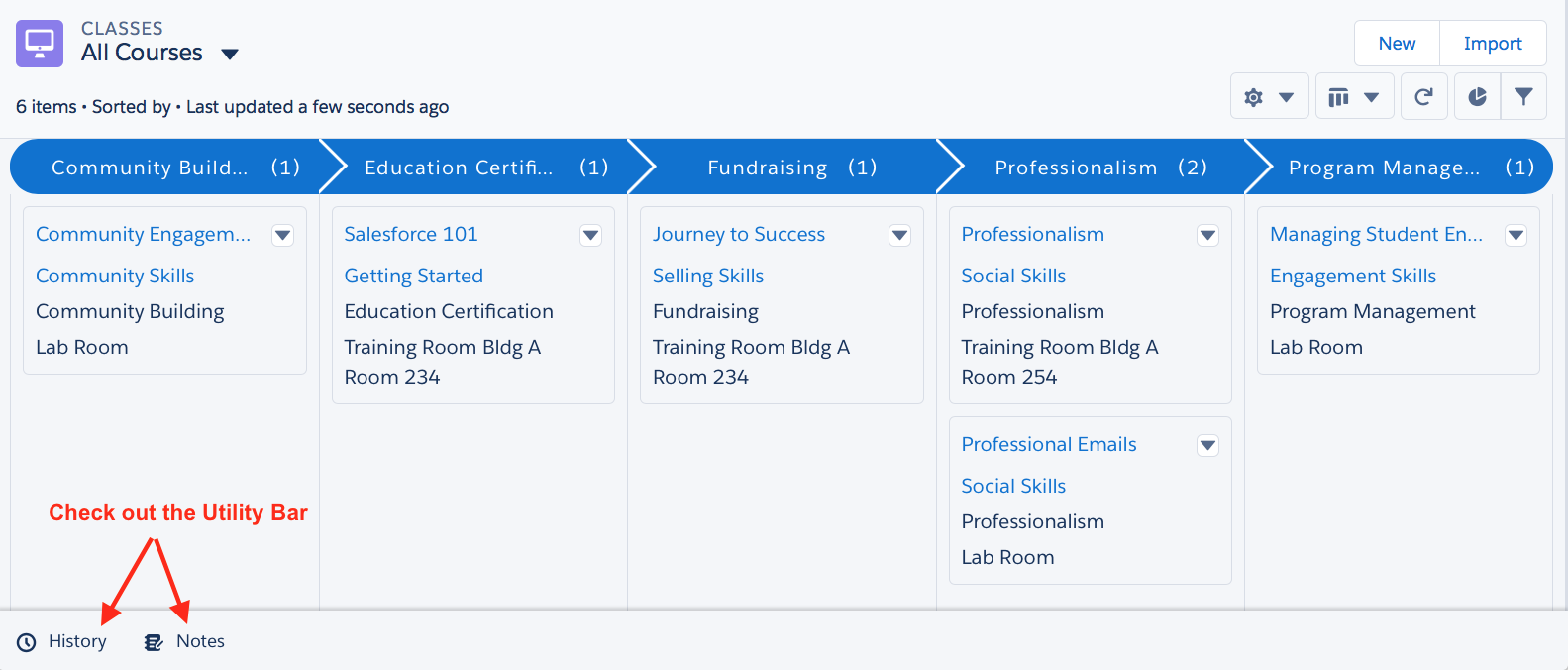 Step Up To The Utility Bar
The utility bar provides your users easy access to their favorite productivity tools, as shown above. Just a click away, users can create or view their Notes, as well as quickly get to History and Recent Items. This functionality builds upon the power of Lightning Components. You can add a utility bar to any Lightning app, including standard and console apps.
Play Favorites
Have your browser bookmarks become an unwieldy mess? Yes, mine too. Along comes Favorites to save the day, letting you quickly access important records, lists, dashboards, and other frequently accessed pages. Even better than bookmarks, they are available no matter which browser or computer you use to log into Lightning Experience.
Console Apps For The Win
No longer limited to Sales or Service, Lightning Console Apps (beta) will provide your users even more productivity, as they will have easy access to multiple related records at once. You create a Lightning console app the same as creating any Lightning app, and like the Sales and Service console, you can customize the color and branding. Don't forget to add those cool Lightning Components to its utility bar as well.

Spring '17 brings us the ability to build robust applications with a cleaner user interface, drag and drop record updates, and access to common components that will result in happy and productive users. Get ready to fine-tune existing configurations and quickly implement new ones with the features in this release.
There are so many enhancements, what are some of your favorites? Want to share your experiences or opinions? Please feel free to reach out on the Arkus Facebook page, in the comments below, in the Success Community, or to me directly via Twitter at @sfdcclicks.

by Amy Bucciferro
The Spring 17 Release brings some exciting new developments to the Communities product.
Spring 17 for Salesforce Communities
There was a time, not that long ago in fact, where the term Salesforce Communities sent me running to hide under the nearest rock. But the more I work with the product and the more features that come out with each release, the more I find myself singing its praises and eager to leverage the tool for a variety of use cases. Collaboration is the name of the game and Communities are truly a way to collaborate in a… well, you know.
Navigation
One of the more frustrating aspects of working with Communities is all the hopping around you have to do to configure and manage different aspects of the community. I gave a training recently to administrators of an organization rolling out a new community. After two detailed hours on the ins and outs of Community Management and Community Builder, the only question I got at the end was "can you show us how to navigate between all of these things one more time?" Community Workspaces to the rescue! A clean, logical home base for community administrators and moderators to jump between settings, dashboards, builder, etc. with ease. I'm really looking forward to this one, but surprises are not always fun, so it's the admin's call on turning this feature on or off.
Design
As someone who is decidedly not a web designer I am grateful for the existence of Community Builder, but in many cases feel the pangs of its limitations when it comes to finer customization. In answer to this Salesforce seems to be going down a path with Community Builder and templates to include design level features more like one might expect with a website management tool. For example, in the last release we got Theme Layouts and now we get Theme Layout Types, essentially giving us easy to manage wireframes for sets of pages within the community. They're also taking some pain out of managing branding images with a basic asset library, and giving us the seemingly basic ability to nest menu items, because sometimes it's the little things that really make your day better.
We also get something that resembles dynamic content in that it can take into account a user's location to show them a different page variation. I would want to test this one with care, though, as it seems as though it may be difficult to unpack exactly what a given user would see, as page variations also consider profile and record type. And another little gift for the marketing-minded--Google Analytics integration for community templates. This will be a big deal for companies that want to monitor their content across all web presences, making the community more seamless for reporting with an organization's regular website.
Features
At the same time as the template experience becomes more like a modern web tool, the features of what users can do inside the community are becoming more like Salesforce. Users will now be able to edit records inline in the community and, if they have the appropriate permissions, create list views and mass edit from list views. Community users can also now leverage Tasks, and my personal favorite, send direct messages within the community. This last one I know will be a big deal for organizations that want an easy way to have private exchanges with users without going to email.
There's one new feature I'm wary of--the ability to create new records from lookups. The release notes do not give us much insight into exactly what this will mean and if we can turn it off. This brings about nightmares of Quick Create's skipping of layout required fields, as well as loss of little controls that come from capabilities like removing the New button from list views. I guess we'll see.
Last, but far from least, is now the ability to use Visualforce in template-based communities. This removes a huge barrier to leveraging the templates and in many cases the Communities product in general. Previously if you wanted the level of functionality Visualforce can provide, the only option was pretty much building the whole community in Visualforce. While people have done some really awesome stuff this way, the advantages of template-based communities are growing, and this can provide a bridge for those wanting to take advantage of the no-code templates but include existing beautifully-coded Visualforce key to their use case.
This is by far not an exhaustive list of all of the new stuff coming out around Communities in the Spring 17 release. For a full list, including an entire section on Chatter-related improvements I didn't even touch upon here, be sure to spend some quality time with the release notes and feel free to share your favorite features below, on the Salesforce Success Community, on our Facebook page, or directly at me on Twitter @ifitfloats.