Blog Posts

by Scott Searle
Maintaining happy customers is an ongoing process for every organization, but you never get a second chance to make a good first impression.
Happy New Customers!
Onboarding a new customer can be complex sometimes, with multiple steps and tasks assigned to employees in multiple departments of your organization. Some of these tasks need to be completed in a specific order before a customer is fully onboarded. Managing and maintaining these tasks can get complicated, and any hold up in the process can make for an unhappy first experience.
With a little planning and use of tools like the Process Builder or custom objects in Salesforce, you can automate these steps or create an onboarding checklist to streamline these processes and improve your customer's first experience.  
Here are some tips to help streamline and monitor your onboarding process:
Map out the Onboarding Process
The first thing your organization should do is map out the entire onboarding process from the customers' perspective. In this step you will want to determine all the tasks that need to be done, what stage of the process they need to be done in, what timeframe they need to be completed within, and which department or person needs to complete this task. Since the onboarding process could be different for each type of product or service offered, you should also map out a process for each one of these.
In order to do this, you may want to do something as low-tech as writing out each task on a sticky note and hanging them up on the wall. I used this technique several years ago trying to streamline the commercial lending onboarding process for a community bank, and we quickly ran out of sticky notes, as well as wall space. With the help of Salesforce, we were able to streamline and automate several steps of this process to help improve the customer onboarding experience, as well as free up some wall space.
Process Automation
After mapping out the onboarding process, you can take all of those steps and put them to action using the Process Builder (which is by far my favorite tool in Salesforce). The Process Builder offers many different actions that can be automated at specific times like assigning tasks to a user, sending email alerts to customers requesting information, updating fields on objects, or posting a message to Chatter.
Each one of those tasks can be automated and triggered off of any field change and immediate actions like tasks or email alerts, as well as scheduled future actions like follow-up reviews or sending thank you cards can be created.
For example, the criteria for this process is started based on a closed/won opportunity where the product is a deposit account.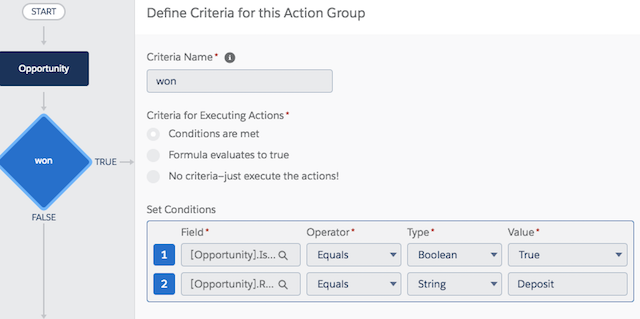 When these particular conditions are met, multiple actions are performed. In this example, a task is assigned to the opportunity owner to perform the necessary KYC checks on the customer.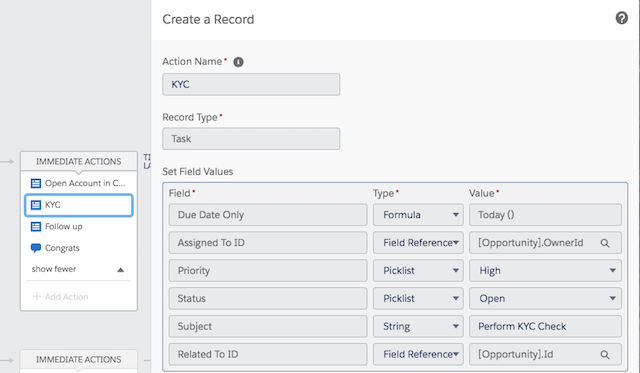 You can learn all about the magic of the Process Builder by going to Trailhead. Here is a good trail to get you starting on building your first process.
Onboarding Object
For more complicated onboarding processes, a separate onboarding custom object may be quite useful. With a separate custom object, you could create checklists with fields showing date completed for each step in the onboarding process. This could help with your automation by notifying the person responsible for completing the next step in the process. Stages can be added to the onboarding object, and with Salesforce Lightning, you can build a Path on your custom object to show guidance on items that need to be completed at that particular stage.
If the onboarding object contains lookup fields to an Opportunity or Account, you could use formula fields to bring in information from those objects, and use these to help generate the onboarding documents needed for your customers to sign (or esign) using tools like Conga, Drawloop, and Docusign, which can all be found on the AppExchange.
Measuring Happiness
When your initial onboarding process is complete, it is important to obtain feedback from your customer to determine their level of happiness with the process. This can be done by sending a survey with specific questions about the onboarding process. Effective surveys should be short and to the point to avoid dropout, and the responses should end up in Salesforce. These responses should be reviewed by the account manager or an individual in charge of your customer experience, and common complaints about your onboarding process should be discussed, with improvements made immediately to help make future happy customers.
Standard customer satisfaction and loyalty metrics like the Net Promoter Score should be used in your survey to determine how your customers felt after the onboarding process. Results from these surveys can be displayed on a dashboard or in a Chatter group for everyone to see. The Process Builder can also help by automatically sending the onboarding survey email template to your customer when an opportunity is marked as Closed/Won, and by notifying the account manager when results of the survey are received.
There are several survey tools on the AppExchange that can help you build integrated surveys with Salesforce.
Happy Customers :)
The most important objective for any business should be to have happy customers. Businesses with happy customers become successful and grow and those that do not quickly perish. Happy customers are your best advocates and turn into a great referral source, which leads to more happy customers, and then to even more happy customers.
Having a streamlined, pleasant, and engaging first experience for any new customer will create a lasting impression and lay the foundation for a long-term relationship.
Do you have any good tips on using Salesforce in your onboarding process? Drop them in the comments below or share them with us on Twitter, on the Salesforce Community, Facebook, or chat with me @ScottTSearle.

by Ryan Boyle
The Women's Center of Jacksonville dramatically increased their impact with a move to the Salesforce.
A Nonprofit Success Story - The Women's Center of Jacksonville
Our Client
The Women's Center of Jacksonville is a Jacksonville-based nonprofit organization offering education, support, and advocacy to survivors and women of all genders and ages. Each year the Women's Center of Jacksonville provides hundreds of sexual assault survivors with support services. The Women's Center of Jacksonville is the only certified rape crisis center in Duval, Baker, and Nassau counties and also offers community education, counseling, referral assistance, bystander intervention training services, and breast cancer education, support, and advocacy at complimentary and affordable prices.
Their Challenge
When The Women's Center opened, they were small enough that each staff member knew all of their clients personally and maintained their own records. As the organization experienced significant growth of services, clients, staff, and funders, so did the need for a client-centric platform that promoted cross departmental collaboration. Their technology infrastructure was unable to support efficient collaboration, and the organization was challenged to capture every client interaction. Additionally measuring and reporting requirements has become increasingly important for nonprofits and funders alike. Administrative overhead was becoming untenable, and the center needed a new platform with a clear user interface to help staff easily capture services delivered, promote collaboration, and ensure accurate data entry.
Their Solution
After evaluating a variety of solutions, The Women's Center of Jacksonville ultimately selected Salesforce with NPSP as their platform and Arkus as their trusted implementation partner. The Women's Center successfully migrated off of ETO, Abila, and spreadsheets, for both human service case management, as well as fundraising and donor management, by adopting Arkus's lean and agile methodology. 
The Results
The move to Salesforce has been a tremendous success for the organization. The service providers now have unduplicated client records, and the organization set up a data model to support "the whole woman" service model already in place. Since they also set up Salesforce for their development team, they can now easily deliver services, capture outcomes, and report back to their funders. The flexibility of the platform has also allowed the Women's Center to leverage powerful 3rd party applications like Classy that has dramatically improved their online fundraising capabilities. If you would like to support the Women's Center of Jacksonville or donate to their cause, please visit their website at: www.womenscenterofjax.org
Want to know more about the implementation or share your thoughts? Let me know what you think on the Arkus Facebook page, in the comments below, in the Success Community, or to me directly via Twitter @RboyleSF

by Jason Atwood
For the 8th year in a row, it is time to look deep into the crystal ball and make some cloudy predictions for 2018.
Cloud Computing Predictions for 2018
Last year I made some pretty crazy predictions, including Salesforce buying a Learning Management System (LMS), Apple releasing a Dot, and Amazon buying Slack. Gotta say, I feel like I get half credit for two of those. Salesforce is all in on Trailhead and is expanding it as an LMS and Apple did announce (but failed to release) the HomePod.
With that great success behind me, let's see what we can cook up this year. Once again I will be adding my confidence points because, well, @JustEdelstein said I should.
Bitcoin Bites, Blockchain Bounds
The Bitcoin insanity over the last few months has been all over the headlines. The price has just skyrocketed to over $15,000 and seems to have a huge trajectory. My prediction is that Bitcoin comes back to the ground and ends 2018 under five thousand dollars but leads to the Blockchain technology becoming a household name. By the end of 2018 there will be Blockchain-backed products from over half of the top 10 major financial institutions.
Confidence: 10
Electric Cars are Driven
Tesla is currently leading the way in electric vehicles, with incredible technology, speed, and a charging network that keeps it all afloat. Next year will be a major year for electric vehicles, where the landslide of car manufacturers will be laying down the plans to phase out gas cars in favor of an all electric roadmap. The writing is certainly on the wall for that one. Next year there will be a jump into the future, with fully autonomous driving cars that will get both the technology and legislation in at least one state to go fully self driving.
Confidence: 7
Apple Doesn't Go to Eleven
Predicting an Apple update to the iPhone is pretty easy; there will be one. Predicting that Apple doesn't update something is risky and going against a 10 year trend. This year I expect Apple to double backwards and release an iPhone 9 and refresh the iPhone X but NOT release anything over that. There will be no 11 in 2018. You heard it here first.
Confidence: 8
Amazon Buys Salesforce
I know, I know. I like to make big merger predictions each and every year, but they almost never come true. This one, though, is for the ages, as the largest cloud-company company in the world uses some of that $20 billion in cash to put down a deposit on Salesforce. Amazon enters the huge enterprise software market, and Salesforce gets almost unlimited scalability on the Amazon cloud. This one might take awhile to get through all the legal sign off, but this will send shock waves through the computing world for years to come.
Confidence: 2

by Ryan Owens
1.4 million people in New York City face hunger every day and many, including a rapidly growing number of seniors, have little to no access to food. West Side Campaign Against Hunger is combatting this with their Mobile Pantry Program.
The Mobile Pantry Program: A Client Success Story
West Side Campaign Against Hunger (WSCAH) is a nonprofit organization based in New York City whose mission is to alleviate hunger and create a culture that promotes self-reliance and works for change. In the basement level of the Church of St. Paul & St. Andrew on West 86th Street, the WSCAH operates a supermarket pantry that serves their customers, allowing them to choose the food they need for themselves and their families.
In October of 2016, WSCAH came to Arkus with the idea of expanding their customer reach by launching the Mobile Pantry Program at their organization. The Mobile Pantry Program is designed to bring food into new communities and serve food to individuals who cannot travel to their brick and mortar food pantry. This new program would essentially bring the pantry to their customers.
Fast forward a year later and Salesforce now serves as the backbone of their Mobile Pantry Program operations by tracking customers along with their household information, relationships, and their pantry participation.
The Mobile Pantry Program
WSCAH works with external organizations scattered throughout Northern Manhattan and the Bronx to create new access points to fresh produce and healthy staples. These external partnering organizations host WSCAH once per calendar month, on a specific day, and refer customers that may need their services. On the specified days, WSCAH arrives with a truck filled with food and sets up a pantry, resembling a farmer's market, for the day. Referred customers then attend the Mobile Pantry event and choose their food, as if visiting a mobile farmers market. In addition to the pantry itself, customers also have access to a variety of resources, such as cooking demos, recipes, and nutrition education.
How Was It Accomplished?
Implementing the Mobile Pantry Program started with customizing Salesforce. It was necessary to develop clear program requirements  and configure Salesforce to meet the program's needs.
In order to compensate for the unique pantry conditions, a logical workflow to the program needed to be developed. It started with scheduling the days that the Mobile Pantry Program would be visiting the organizations. Once that had been completed, the event records could be created inside of Salesforce and organizations could begin sending their lists of referrals. The referral list represents people who will be attending that day's Mobile Pantry event. Upon receiving the list, WSCAH would work to import referred customers and their key information into Salesforce. The import process would automatically create relevant records related to a customer, including a referral to a Mobile Pantry event of a certain date. At that point, there would be a record inside of Salesforce for the program, its events, the customers, and their referrals to those events.
Once there was a record of customers inside of Salesforce, we worked together to develop an automated check-in process, where referred customers would receive a program card that is unique to them and be able to check into the Mobile Pantry by scanning it upon arriving at the event.
The check-in process utilized several third party applications, all created by Scout Inc. It started with TuBarcode, which automatically generates a barcode that contains the ID relevant to the person inside of Salesforce. TuLabel is used to generate the label, which contains the previously generated barcode on one side and WSCAH's branding on the other. TuLabel generates PDFs of each label that can then be printed. These labels will ultimately be the face of the cards. Using an AlphaCard printer, each card is printed. Once the cards have been printed, they are ready to be given out and scanned.
On the day of the Mobile Pantry Event, referred customers attending for the first time receive their card. Once they have received their card, it is theirs to keep and use at future program events.
To compensate for the mobile environment, a tablet logged into Salesforce and a wireless scanning device was decided upon for the check-in execution. When a WSCAH staff member scans a customer's card, Scout's ZapIt application will recognize the barcode and create an attendance record inside of Salesforce for the customer. This attendance record automatically links to both the referral and the event record. Also upon scanning, key information about the customer is displayed to continue a personal, seamless experience.
Once a customer has checked in, they are free to navigate through the Mobile Pantry and make use of its services.
Recurring customers, who would receive separate referrals ahead of each event, would undergo a separate referral import process inside of Salesforce to create referrals for existing customers. From there, they would be free to use their existing card and attend the event. In order to facilitate walk-in customers who had not been referred, a manual entry process was developed to get them recognized in Salesforce and a card created for them.
Results
It has been two months since the successful launch of WSCAH's Mobile Pantry Program. In those two months, WSCAH has reached and served almost 2,000 individuals who otherwise wouldn't have access to their pantry. WSCAH works tirelessly to fight hunger across New York City, and we at Arkus have been grateful to work with WSCAH and assist in expanding their reach and impact with the Mobile Pantry Program. To follow West Side Campaign Against Hunger's initiatives and/or donate to their worthwhile cause, please visit their website at www.wscah.org.
Want to know more about the implementation or share your thoughts? Let me know what you think on the Arkus Facebook page, in the comments below, in the Success Community, or to me directly via Twitter at @RyanOwensRPO.

by Berkeley Baker
If I could go back in time and tell myself a few tips to prepare for a data migration to Salesforce, I would. But since Salesforce has not invented a time machine yet, I'll pass this knowledge on to you.
Tips to Prepare for Data Migration
Many moons ago (2010 to be exact), I found myself face-to-face with Salesforce, which at the time was a new cloud-based CRM I had heard of but never had direct experience with.  However, I was very experienced with Raiser's Edge and Convio from my past experience as a Development Coordinator/Data Services Manager for several non-profits, where data was my main responsibility.  When we migrated to Salesforce, it was a successful migration, but it could have been much easier had I been aware of what was necessary.  Now that I sit on the consulting side of the table, I want to pass on a few tips to help you prepare for an upcoming migration.
Organize Your Data
When I think of data migration, I always think of moving to a new house.  As I prepare to move, I usually need to get boxes, organize my things, label those boxes, and throw out anything that I don't intend to move with me.  Well, a data migration is similar.  You really want to clean up and organize your data before a migration begins.  You will want to make sure constituent and gift records are clean and concise, just to name a couple This can include tedious things such as filtering an Excel file to clean up picklists and values, or even a larger conversation around what should be migrated or left behind.  This could also represent pulling a file of all your constituents and going through that data to correct typos or merge duplicate records.  The reason I recommend doing this before a migration is that nobody knows your data better than you.  I'll be the first to say it's a tough process, but once you move into your new system, it will all be worth it.  This leads me to my next point.
More is More
You normally hear people say "less is more," but in terms of a migration, I believe more is more, as long as it is clean and organized.  What I mean by this is sometimes you have a tendency to choose not to migrate data because you're not sure if you'll need it.  I would advise you to migrate that data anyway.  It's much easier to hide certain fields in Salesforce than to realize you need particular fields that you did not migrate and move that data after the fact.  It's also an understatement to make sure you check with all stakeholders to ensure you are not choosing to leave data behind that may be critical to others.  Obtaining buy-in for a new system really hinges on the premise that all parties involved will have the tools necessary to continue to do their jobs, and access to data is at the core of that.   
Don't be a Hoarder
On the flipside of More is More, you have to be honest and realistic with your data.  If you have records that nobody within the organization understands because they are from 3 migrations ago, it's time to let that go.  I know it sounds funny, but by the same token as above, if your stakeholders cannot find a good use for the data, and nobody knows what the "1999 XXX Excel conversion attribute" means, you might want to save the data storage for migrating that one, or store a copy of that data somewhere else to reference if needed.  You want to make sure that all the data you are bringing over is useful, functional data.  A migration gives you the unique chance to come together internally and make decisions on what is important and what is not.
Plan for Down Time
Another important aspect to consider is what to do with the down time between when your data is actually being migrated and when the new instance will go live.  You will want to implement a cut off time for people to stop entering in new data in the old system.  If you have a large pledge drive or donor event/campaign coming up, you will want to schedule your migration either before or after that time, since it may not be possible to stop data entry during high-volume times.  A good suggestion is to try to schedule your data migration during a slow period for your organization if possible.
Trailhead
My final suggestion is the use of Trailhead to familiarize yourself with Salesforce Architecture.  If I had a better understanding of Salesforce objects and capabilities going in, it would have helped me understand and formulate ideas of how to use Salesforce to shape my data structure.  Some modules that are good to review are Salesforce Basics and Salesforce Basics for Nonprofits.  Going through those modules will help you to begin to understand how objects relate in Salesforce and how to apply those possibilities to your data.
Good Luck!
Data migration is actually one of my favorite parts of a project, especially when moving to Salesforce.  I remember the first time I was shown Salesforce and being blown away with the open-ended nature of the platform and all the possibilities.  Hopefully with preparation and "getting your house in order" beforehand, you will have a great migration.
Do you have any tips or suggestions to help with data migration?  Feel free to comment below, on the Salesforce Success Community on our Facebook page, or directly at me on Twitter @berkeley_t_b