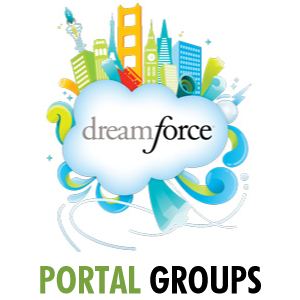 Top Dreamforce Portal Groups and People
We're within three weeks of Dreamforce '12 and the Dreamforce Portal is ramping up with attendees and companies. Let's take a look at the best groups and people to follow.
Dreamforce '12 is rapidly approaching and with less than three weeks until the event, being active and soaking up information in the Dreamforce Portal is a necessity. The Dreamforce Portal is a mix of eager first-time attendees, seasoned veterans, and companies looking to promote their products and services. Here are some groups and people that are worth following.
Remember that All Yourcompany-Name Chatter group? This is the exact same thing, except for the Dreamforce Portal. As we get closer to Dreamforce '12, there is a flurry of activity building in this group. There are many posts that contain insightful information about Dreamforce and everything going on around it in San Francisco. It is definitely worth 10-15 minutes of inspection upon first joining the group. But be wary, as we get closer, you will see more posts from company representatives looking to push their brand, which some Dreamforcers have noted is "spammy" and tag with #OffTopic.
If you are new to Dreamforce this is a great group to post questions you may have and get quick responses from seasoned veterans or first-time returners. If you are an old pro on the Dreamforce scene, you should still participate in this group to help greenhorns and boost the excitement and energy of the event. My favorite questions are what to expect for weather; San Francisco can be quite cold in September.
ChallengeUs is a place to post your questions about Salesforce and the Force.com platform. This group caters to all audiences and is a must-visit to post your thoughts about questions. Whether it be something as simple as picklist values or complex code for a Visualforce element, the wealth of knowledge in this group grows each year as more developers and administrators help out the latest Salesforce converts.
Half the fun of Dreamforce is meeting people and conversing with other Salesforce users. Awesome People is the closest thing to a 100% socially oriented group where users get together to discuss or answer questions, like Garry Polmateer's question about favorite coffee. I enjoy perusing this at the end of my Chatter review because the material is light and best compared to "beach reading". @JustEdelstein tells me that this group started over 2 years ago and was the original "must join" group for Dreamforcers.
Who is Rachel Thornton and why is she posting so often? Rachel is the Dreamforce conference chairwoman and her team at Salesforce heads up Dreamforce, ensuring that all of us have an enjoyable, educational, and cloudy time. There have been many posts about sessions moving on the schedule and quirky issues with Agenda Builder. Rachel and her team have done a great job this year getting stuff prepared.
You may know him by @SteveMo. Steve is the current guru of the Success Portal and a frequent tweeter in the Salesforce community. He has been incredibly active in a number of Dreamforce Portal groups, helping with technical questions in ChallengeUs, preparing newbies in New to Dreamforce 2012, and has newly created the "Who owes me a beer???" group to receive brews from those that had promised it in part of their posts thanking him.
If you have any suggestions about other Chatter groups or personalities in the Dreamforce Portal, send them to me via Twitter @RogerMitchell, to my profile in the Dreamforce Portal, on our Facebook page, or below via Disqus. Happy Dreamforce!