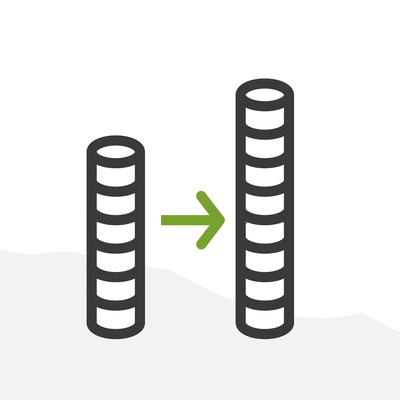 Making Change in Banks - One Spreadsheet at a Time
Prying legacy spreadsheets out of the hands of a banker is not an easy task.
Having high-quality data for risk management and reporting purposes has never been more important for banks in order to comply with the mounting regulatory reporting requirements.
While Salesforce includes standard objects for keeping track of accounts, contacts and opportunities, bank-specific information kept in these legacy spreadsheets can also be included with the creation of a custom object. Custom objects are used to store information specific to any business process and can be linked to other Salesforce objects through lookup relationship fields, reducing the need for typing repetitive data that already resides in another record.
Custom objects can also contain related lists to attach all those emails, calls, meetings, notes, and files that surround a specific record. Custom objects can also have the same security settings as standard objects, limiting who can create, read, edit, delete or view any information specific to that object.
Here are some examples of bank-specific spreadsheets currently in use today which could be turned into useful Salesforce custom objects:
Site Visits
With a Site Visit custom object containing a date field for Inspection Due Date, a Picklist field for Property Condition, and a Text field for Comments, you could easily determine when a site visit is due, select the condition of the property using predefined values, and enter additional notes on the condition of the property. Users of the Salesforce1 mobile app could collect all this data on-site, take pictures of the property, and attach those pictures directly to the Chatter feed of the Site Visit record without having to complete any additional information when he or she arrives back to the office. Add a Status Picklist field, a little Process Builder magic, and when the status is "Completed," another Site Visit can be automatically scheduled and assigned for the next year without any user intervention. If a paper copy is absolutely needed, use a tool like Conga or Drawloop to extract the data into a PDF file.
Loan Underwriting and Portfolio Management
With an Underwriting and a Portfolio Management object, you can keep track of all relevant data around the status of new or existing loan requests. Add a couple of Lookup fields to an Account, Financial Account, or an Opportunity, and your loan officers can easily find the status of a loan in underwriting, check to see if this year's tax returns have been collected, or determine whether or not the covenants have been met for the year. Conjure up another spell using Process Builder and notifications can be sent to supervisors when loan approvals are about to expire or when documents are uncollected after a due date.
Customer Complaints
Ok, maybe not as glamorous as the first two, but the Consumer Financial Protection Bureau requires banks to keep track of complaints and how they are resolved. With a Customer Complaint object, or with the use of Cases, you can keep track of the complaint, log the date it was received, attach the complaint email using Salesforce for Outlook or Gmail Integrations, save a copy of the letter directly to the Files related list, and add any relevant notes around how the complaint was resolved. Close out the case, or add a status field on the custom object, and data around resolution time can immediately be stored using a Formula field. Since most complaints need to be solved within 15 days, you can again use your wizardry skills with Process Builder to send reminder email notifications and make sure the deadline is never missed. 



Collections
Equally as unglamorous as complaints, but another great use of Salesforce is keeping track of collection activities around past due loans, overdrawn accounts, or workouts. Loans that are nonperforming still require a lot of calls to clients, attorneys, real estate agents, title companies, and appraisers, and Salesforce has many built-in functions for logging and scheduling these activities. Information around these activities can be very sensitive and oftentimes should not be visible to everyone, but with the creation of a collections object, those tasks, notes, and files can be visible to a particular profile, the record owner, a public group, or permissions can be granted to specific individuals.
Reports and Dashboards
With all of these spreadsheets in Salesforce, data is easily viewed on one page and extraction becomes easy through the use of Reports and Dashboards.  When that first-day letter from the Fed comes, and your bank needs to start gathering lists of loans originated (or not originated) within a certain time frame, you can quickly run a Salesforce report based on their request, using the data in your newly created custom objects.
Portfolio Managers can have a single view of all covenants made, documents due, annual reviews pending, and year-to-date site visits completed on one dashboard. Department heads can see which underwriter has the capacity to take on a commercial loan for a new client, reducing their wait time. Compliance can easily see adherence to resolution times of complaints, complete with a copy of the actual letter or email sent back to the client to solve the complaint.
Risk management in banking has changed over the past decade, largely in response to regulations that emerged from the financial crisis. With Salesforce, you reduce some of that risk by having secure high-quality data in one place using standard objects like Accounts and Contacts, and by creating custom objects to keep track of all data collected for any specific business need.
Got some tips on breaking down silos of data in your bank, or have some great custom objects you want to brag about, let us know on the Salesforce Community or chat with me @ScottTSearle.