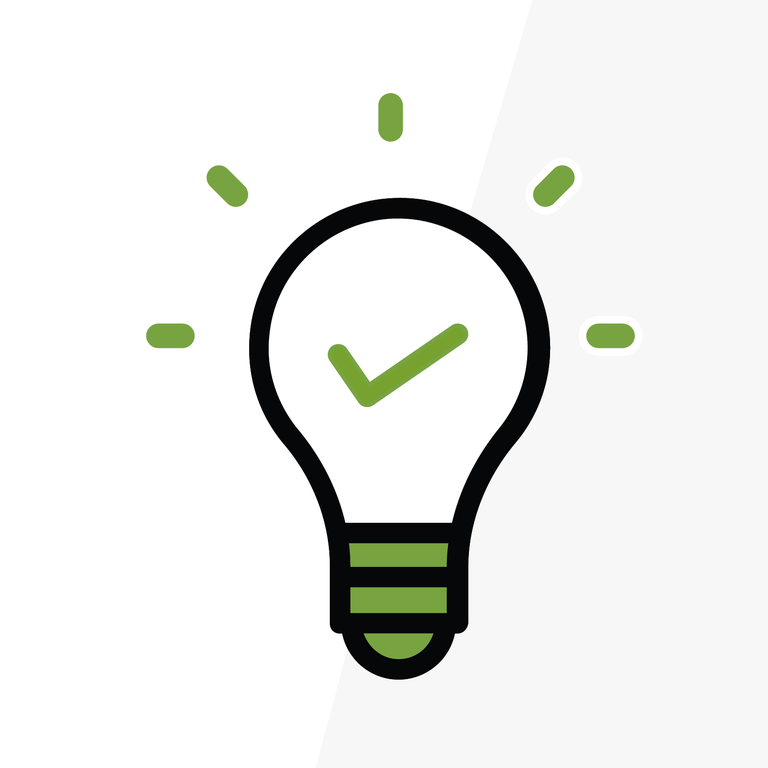 A Review of LinkedIn for Salesforce
A quick review of the premium features in LinkedIn for Salesforce. We try it, so you don't have to.
With the release of Social Contacts in Winter 12 / Spring 12 Salesforce included small buttons on Leads and Contacts that connect to social networks such as Twitter and Facebook that provide in-line information. One of the first included was the still beta version of LinkedIn that can link to the profile of a Contact and bring back their photo, title and location. The basic functionality ends there with a big upgrade button promising "more information". I have been so curious about this feature that I bit the bullet and paid the price.
Installation, Licensing & Setup
LinkedIn is ready to take the title away from Salesforce for having the widest array of confusing licenses. Not only do they have multiple categories for Sales Professionals, Recruiters, and Job Seekers but each category has a group of its own licenses. What is the difference between Pro, Sales Executive, and Talent Finder? Who knows. If you want to use the LinkedIn for Salesforce you need at least Sales Navigator which runs between $50 and $75 a month depending on how you pay.
Once you have paid for the new license you head over to linkedin.com/salesforce where you can get the full instructions on the package install and configuration as well as enable other team members for the license type.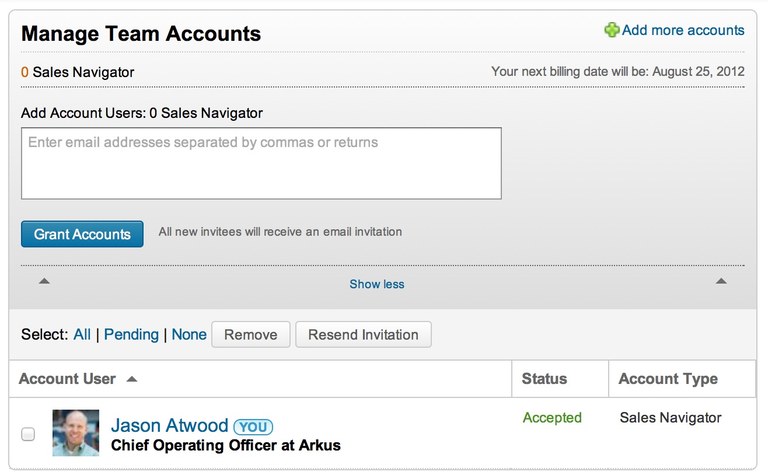 The actual install in Salesforce is a pretty easy process but requires the editing of page layouts so make sure you have that permission before you start.
Limited Functionality
Once installed you will have a new set of VisualForce components on your Leads, Contacts, and Accounts. You get one on both Leads and Accounts and two on the Contacts all of which offer the same basic functionality. Each component uses the name and account to automatically lookup and connect the salesforce record with their LinkedIn counterpart. The Contact/Lead information includes the profile, picture and connections.

The Account information provides a little more, including the company overview, people, and activity provided in three different tabs. That, sadly, is as interactive as it gets as everything you try to do in these inline views brings you over to LinkedIn in a new browser window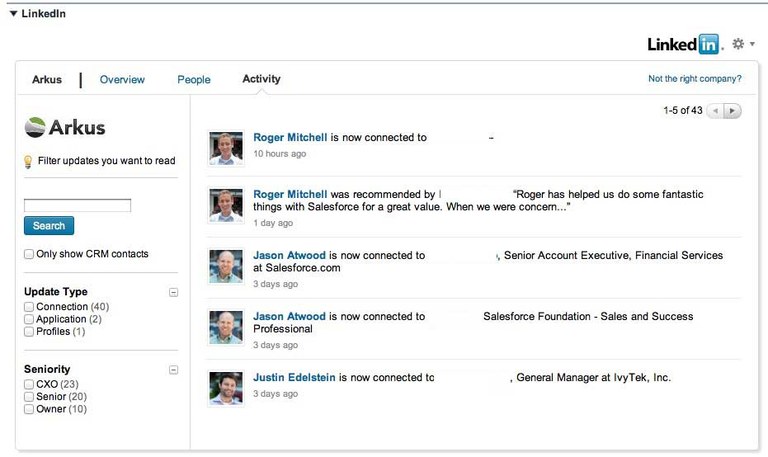 Conclusion
This application is only worth it for people who live in LinkedIn and make their money using LinkedIn to recruit or sell. For everyone else, this basic functionality is not worth the price which could exceed what you are paying for your Salesforce license. The application takes over a ton of screen real estate, doesn't offer any interactivity inside of Salesforce, and most disappointingly leaves the "Upgrade" button under the social contacts which makes no sense. Since it is all a read only view of LinkedIn information with no ability to sync or bring in data, it would be a good free product (eh Redkite?) but is poor pay one.
If you have thoughts on LinkedIn for Salesforce feel free to leave them below, on our Facebook page or hit me up on Twitter @JasonMAtwood.