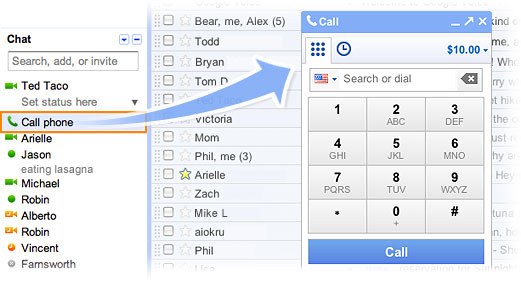 Google Strives to Include Everything Productivity in Gmail
With an exciting new feature launching this week Google was very busy moving more and more productivity apps into their Gmail platform.
With an exciting new feature launching this week Google was very busy moving more and more productivity app into their Gmail platform.

If you are like me, you live in your email. My favorite web based email client is most definitely Gmail. Here at Arkus we run our entire business in the cloud which includes using Google Apps for email and productivity. It's great to have the ability to email and chat all on one page but sometimes that just isn't enough - sometimes you need to actually speak to someone on the phone - I know, so last century. Google recognized this and recently launched Gmail Voice and Video Chat.

With this new service Gmail users have the ability to make calls via the Gmail interface to any phone around the world. Calls are FREE, yes, free to the US and Canada and for low rates to anyone else around the world. It's as easy as clicking the Call Phone link within the embedded Google Chat widget within Gmail. A dial pad pops up and you just dial the number you want to call and use your computer's internal microphone and speakers to make the call.


Google is striving to bring every aspect of communication and collaboration into their suite of products and this is just another step in that direction. They have already launched Contextual Gadgets which helps connect applications and emails using contexts and now they are allowing you to make phone calls directly from their service. 
Perhaps Google will create a brand new paradigm for email even giving the option to replay how the conversation got started so they can catch up to the entire thread - maybe even with the ability to add third party widgets to these emails. Oh wait...they did that already with Wave and are killing it off... As you can tell we at Arkus are a little bitter about Google killing off Wave. You could read more about our coverage of Wave and Google in prior blog posts linked below in the related content section. As Google continues to add more and more feature to Gmail maybe they will reconsider with Wave as it would add a really great feature set to a now really beefed up and feature rich Gmail experience. One thing is certain, Gmail has come a long way over the last few years.