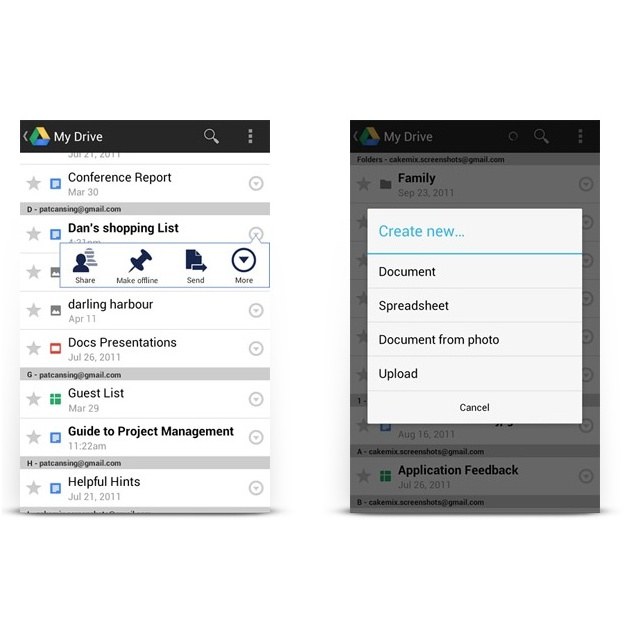 Going Mobile with Google Drive on iOS
While Google and Apple have not always seen eye to eye they both offer great products and in this case mixing the iPhone/iPad with Google Drive is a mixed bag of collaboration.
Hitting the road with your Google Drive is getting easier and easier and here are a bunch of applications to help access, edit and share for the iPad and iPhone.
Authenticator
While you can start your journey down the road of mobile Google Drive usage without two factor authentication, that would be unwise. While being challenged for a second factor occasionally while using Google Drive might seem like a hassle, protecting your data is worth it. To that end, for any of these apps you should have the Authenticator application close at hand.

Free
Google Drive
Google's own Drive application, Google Drive, has come a long way since it was born over a year ago, now with some nice functionality like offline access which allows you to view things while not connected to the internet. Google Drive does have some quirks though, like crashing a lot and putting you in a edit or view mode which can be a little strange to navigate. It also doesn't support tables in Docs or provide an extra passcode for security which are major misses.

Free
Quickoffice
This once pay application was bought by Google and is now offered free to Google Apps users. It allows you to connect up to your Google Drive account and access documents, although always opening them in other applications after downloading them. The benefit for Quickoffice is that it can view/create non-Google (gasp) Office documents like Powerpoint and Excel which is great when you get one of them in email on your mobile device. The Google Docs functionality is pretty limited as it Quickoffice wants to open them in other applications which means it isn't a very stand-alone.

Free
GoDocs
Another entry in the third party race, GoDocs, is a paid application that uses synchronizing to be able to access all of the Google documents such as Sheets, Docs, Slides, etc. Once you click on a document to view it, it downloads to your device where GoDocs gives you a lot of options to share, edit or open in another application. It does allow for editing of Google Docs in the application and supports tables so beats out Google Drive in that area. It also can be set up with a passcode to get into the application which provides an extra layer of security.

$4.99
GDrive
The most highly rated mobile application in iTunes, GDrive is more of a viewer than the others but excels at allowing for connection to many different document services such as Skydrive and Dropbox. It is the best when it comes to accessing and displaying the documents as it is fairly fast with a nice navigation and full screen mode. It too has a passcode feature to keep others prying and can access your mobile photos for uploading as well. If it had an edit mode for Google Docs it might trounce the others.
In the end none of these applications are the magic bullet or dominates in features and functionality over the others. All have good use cases and make life on the road with Google Drive just a little easier than using mobile Chrome or Safari which are pretty limited. The good news is that since three out of the four of them are free, there is no excuse not to download and try them out. While I keep all four handy on my iPad I find myself going back to Google Drive more and more as it looks like it is headed in the right direction.
Do you have some favorite Google Drive mobile applications? Share them below in comments, on our Facebook page or with me @JasonMAtwood.