Salesforce Resources for Students: The Community
Part two of a recent graduate's guide to navigating the Salesforce ecosystem and the resources available to help students achieve success.
In the first post of the series, "Salesforce Resources for Students: Trailhead," I described how to navigate Trailhead through a student lens. Now, in the second installment of the series, I will describe my experience in the community of Salesforce and how to get involved. 
In Salesforce's own words the Trailblazer Community is a place where people can "learn, connect, have fun, and give back together."  The Trailblazer Community serves many different purposes, and you can read more about them in Arkus Project Manager Erin Ramirez's blog post on resources for admins. For this section, I am just going to focus on attending a local Trailblazer Community meetup. 
Regional Groups are located in high-population cities across the world. These groups are a chance for local professionals to connect and meet other members of the Salesforce Ohana. Think of them like a networking event that your career center, college department, or meetup.com might host, but specific for Salsesforce. Attending a local professional group will help you learn from others and gain experience while becoming more connected to your community. This is vital for your personal growth and establishing connections that could help you find that internship or job after graduation. 
I attended my first Charleston Administrators Group meetup in August of 2019. At this point I had been actively pursuing Salesforce for six months and looking at taking my first certification soon. The group specifically advertised that this Saturday meeting would focus on providing insight for the Admin 201 exam. I was anxious about the idea of being the only student among a group of professionals.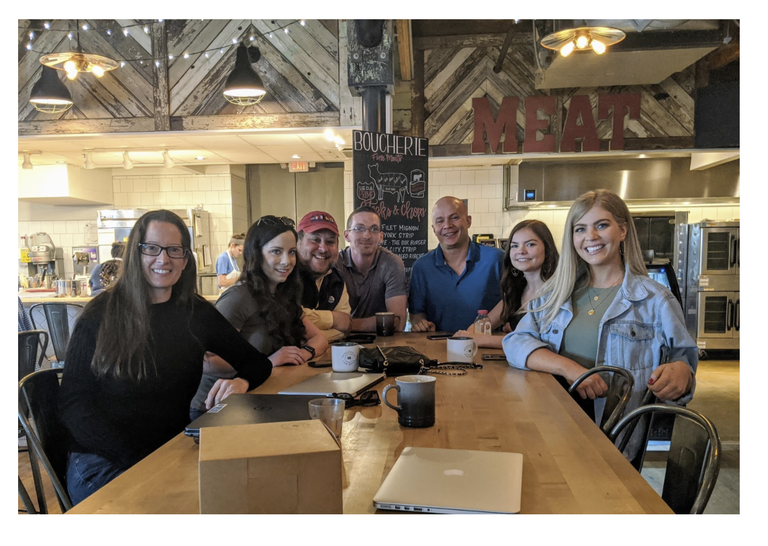 I remember arriving at the designated coffee shop location, ordering in line, and feeling very nervous as I eyed around for the group. It just felt very intimidating to approach the group of six professionals. Yet as I walked closer I was only greeted with the friendliest welcomes. My fears of feeling out of place or too young to be there quickly felt silly as the group only made me feel equal and respected. They told me how impressed they were with my initiative to join the group and with what I had accomplished so far on my journey. Everyone shared their Salesforce experience, provided me with insight on studying, and then continued asking each other questions or sharing recent discoveries. Since then the group has been a constant source of connection, encouragement, and celebration on my Salesforce journey. 
Community Group Tips & Takeaways:
• Join your nearest community group as soon as possible.
• Have fun and don't be nervous attending group meet ups. Everyone is there to encourage, share advice, and build a connection.
• If you'd like to help other students connect to your local community group, consider applying for a Student Ambassador Role.
Seeking an Internship
I began Trailhead in November of 2018 while taking time to help my father with user experience testing for his AppExchange products. As I continued to explore Trailhead over the next few months, I added the experience to my resume. I was hoping to get an internship for the upcoming 2019 Summer and was interested in finding a position that could help grow my Salesforce experience. There were actually no internships posted in my area that involved Salesforce. Unless I could afford to move to NYC or San Francisco, my options were limited in the Southeast. 
However, by pure luck I got a call over Spring break from a top tech company in my city. Once a year my college sends out a resume book to local businesses that contains students' resumes. This company stated that my resume was one of two to even have the word Salesforce on it, and they were interested in bringing me onboard to intern for their Salesforce Admin team. I was ecstatic. 
This was a position that was never even posted on a public platform. The internship was created in the spur of the moment because the company was excited to find a student interested in Salesforce. I began the internship immediately in April 2019 working part time during the school year and full time in the Summer. I'm extremely appreciative for the invaluable experience during my internship, and it only fueled my desire to pursue a Salesforce career.
Internship Tips and Takeaways
• Be specific with what knowledge you have completed and are comfortable with from Trailhead. Achieve a couple trailmixes and superbadges to list them on your resume.
• Join your local Trailblazer Community group ASAP. Your fellow members would be more than willing to help connect you with their network to obtain an opportunity.
• Reach out to your local businesses, big and small. Do some LinkedIn stalking and connect with the right people to send an email or message to professionally inquire about their Salesforce opportunities. Given the company I interned for was unaware there'd even be students in the area interested in Salesforce, you never know where a little initiative and courage could lead you.
There are so many networking opportunities to seek out in the Salesforce Community. Attend and become involved in a Trailblazer Community Group ASAP, and explore all outlets to achieve your dream internship.The sky is really the limit with Salesforce, and I can't wait to tell you about my most exciting Salesforce experience to date in our final piece of the series— Salesforce Contests.
Have you participated in a Trailblazer Group or achieved an Salesforce internship? Tell me about them on the Salesforce Trailblazer Community, or tweet directly at me on Twitter @StallMackenzie.