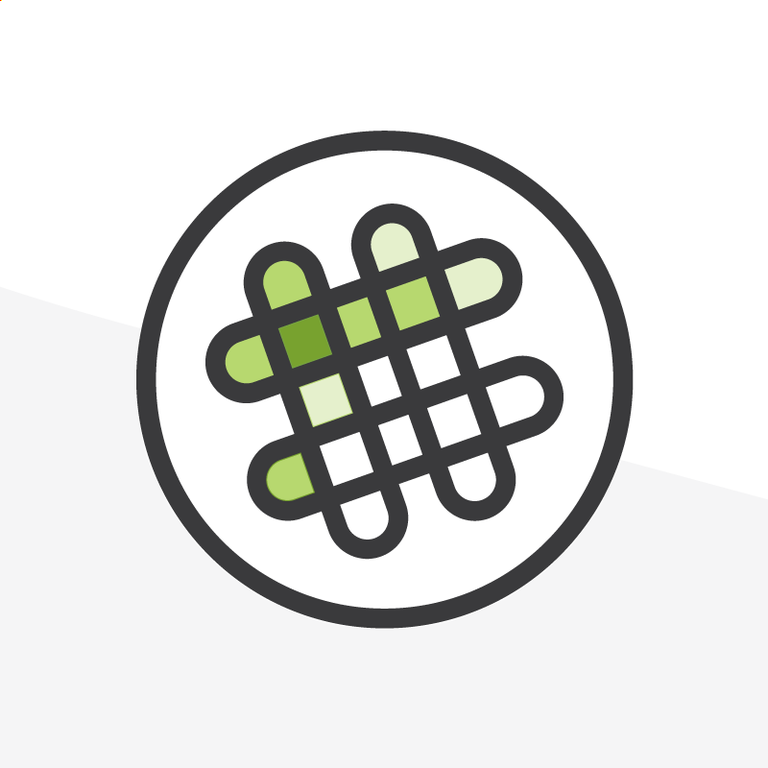 How To Become A Zen Slack-er
Tips and tricks for making Slack a stress-free environment for your work needs.
I have a Slack problem. It started when I worked at a digital advertising firm. There, Slack was our primary form of internal communication, and we simply never logged off. At any point of any day, whether it was during or outside working hours, we were all online and we were all Slacking.
Several People Are Typing
We had channels for everything. Some were productive and related to projects or internal team planning. Some were safe spaces for POC or LGBTQ employees to share articles and discuss serious issues with each other. Others were related to common interest groups, like music, pets, and TV shows. Pretty standard stuff.
But over time, our Slack grew out of control. The emoji menu was endless, we had a reaction for everything. Gritty, the furry orange mascot of the Philadelphia Flyers National Hockey League, made frequent, inexplicable appearances. We began spending more time debating whether hotdogs and Poptarts were sandwiches than doing actual work. It was a constant source of entertainment, and more often than not, a constant source of distraction. 
When I left the company, I had severe Slack withdrawal symptoms. I craved the sweet rush of validation from approving emoji reactions to a witty joke or a perfectly selected meme. After I became a Salesforce consultant and learned that Salesforce had acquired Slack, I knew that it would play a big part in my life again. I feared re-entering the Slackverse and hardly dared to type anything in any channel for months at my new job. Would I descend into emoji and meme madness, the way so many Slack power users had before me? 
To Keep Checking Slack, Or To Keep Slack in Check?
At times, I've considered if I'm not just a fanatic but an actual Slack addict. It's possible I could be—and this isn't a joke. Technology and internet addictions are very real. Many apps are designed to be addictive and keep us engaged, through various stimuli (colors, notifications) and rewards (likes, comments) that trigger short-term boosts of dopamine. It's why so many of us struggle to be apart from our phones on a daily basis.
In my case, I found that taking a step back and approaching my Slack use from a new perspective has helped me work with the platform in a much more balanced way. Additionally, here at Arkus, we are all based in different time zones, and the new reality of remote work means that we're not expected to react instantaneously to every DM and channel notification we get. As a result, I was able to slowly get back into the habit of Slack again, and reach a certain level of zen productivity. Below, I'll share some tips and tricks that will help any Slack novice or experienced user engage with their feeds in a healthy way.
Muting Channels and Direct Messages
Sometimes you just want to get away from the daily chatter, and lucky for you, it's incredibly simple to mute channels and direct messages. All you have to do is right-click on the channel or conversation you want to mute, and select the "Mute Channel" or "Mute Conversation" option in the options menu. Easy as pie.
Organize Your Channels
Recently a coworker blew my mind when she told me that you could organize channels in sections: "Then you can collapse certain sections you don't want to focus on instead of muting them." Of course, I still plan to do both to maximize my zen, but organizing channels into sections makes my Slack workspace much easier to navigate, and much more visually pleasing. As you can see in the example to the right, you can also mute entire sections. Game-changing!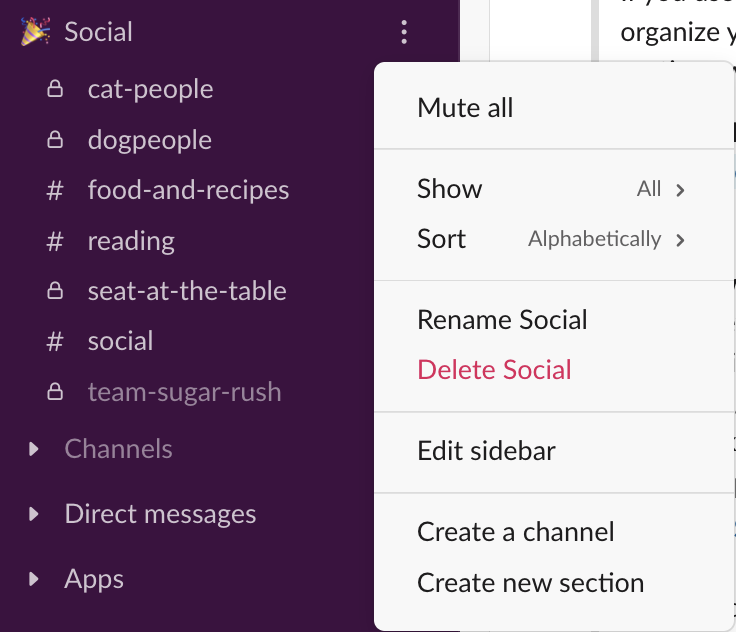 Key Commands
I'll admit that I haven't even begun to master key commands yet. But there are countless shortcuts for quickly navigating through channels, editing messages, and opening threads by just typing a few keys. One very useful shortcut is Command (⌘) + K—this lets you jump from anywhere in Slack to the search bar. For more information on key commands and other handy shortcuts, please refer to the Additional Resources section at the bottom of this blog.
Pinning Messages
You can pin messages to channels, just like you would on a bulletin board. Except these pins are searchable and function like bookmarks for future reference. This can be useful for any posts on best practices, new releases, or even internal announcements such as the dates for conferences and events. But be very discerning about doing this, since it functions as a public bookmark and you will be pinning the message for every person in the channel. Alternatively, you can save messages and files, which will all show chronologically in the sidebar under Saved Items.
Reminders
See a Slack DM, but don't have time to address it right away? Set a reminder for when you can! You can acknowledge the ask, and say you'll need some time to think or plan out your next action. You can also be very specific about the time. When you see the reminder notification, it won't disappear until you acknowledge it. As a forgetful person, this feature has been a lifesaver. It helps me circle back on important project items and conversations.
Edit
You can edit every message you send. I am guilty of overusing this feature, but it comes in handy when you make a typo or want to quickly add on a thought without overwhelming a Slack thread or DM conversation. A gray (edited) note will show up on the final post.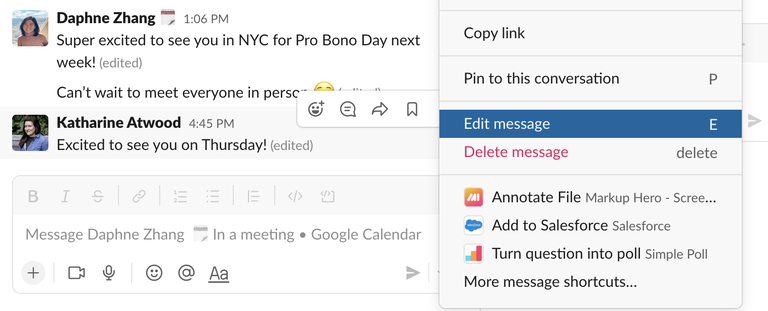 DM Yourself
The first thing I do in a new Slack account is start a conversation with myself. This is where I keep some internal notes for easy reference, though you shouldn't rely on this as your one source of truth. However, it comes in handy if you want to test out any of these Slack features. I always test gifs here before putting them out in public - the shuffle feature can be dangerous!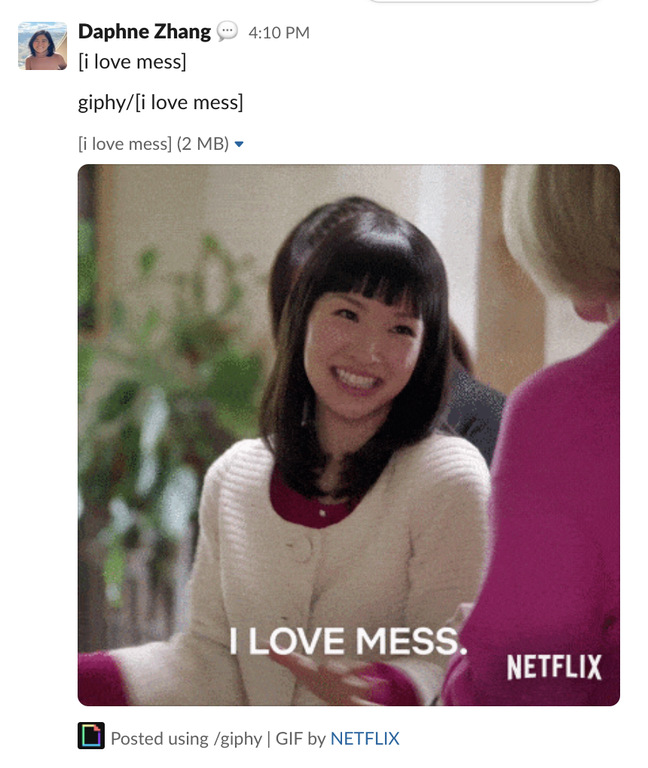 Huddle
This is my favorite feature of all. Huddles are great for team meetings and quick one-on-one voice chats.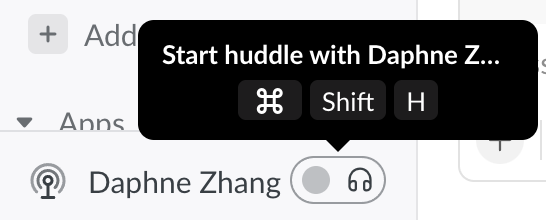 You don't have to navigate to a fussy video conferencing platform, and you can still share screens when collaborating on a project. Just make sure you sign out of the Huddle when the meeting ends or you'll be stuck in elevator jingle purgatory.
Additional Resources:
Have any great tips for how you use Slack? Reach out and share them with me on LinkedIn. Want more tips on how to find zen at work?
Check out the recording of our Arkus Lunch & Learn: Living in a Distraction-Free World, and subscribe to the Arkus newsletter right in the sidebar of this post.