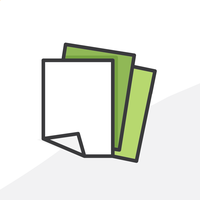 The Do's and Don'ts of Duplicate Management in Salesforce Part III
Take your duplicate management strategy to the next level by following these important do's and don'ts to prevent and reduce duplicate records in your Salesforce org.
Now that you've mastered the basics of duplicate management in Salesforce by following the tips in part I and part II of this series, let's wrap up this series with some advanced strategies you can use to ensure Salesforce remains a reliable source of truth for your organization. 
DO: Consider Using a Third-Party Tool
While native Salesforce duplicate management tools have a lot of great features, they do come with some limitations including the number of objects available, ability to find and merge historical records, and matching across fields such as multiple email addresses on the same record. Consider using a 3rd party solution to step up your duplicate management game.
Below are some of the 3rd party duplicate management tools we've come across most often. Take a look on the Salesforce AppExchange for a full list and be sure to read reviews and do your research before making any purchasing decisions. 
3rd Party Duplicate Management Tools
Apsona Dedupe and Match (free trial available)
A Salesforce native, browser-based application with the ability to merge duplicate records for any standard or custom object and automatically re-parent child records. 
Comes with the ability to backup identified duplicates prior to merging for peace of mind and perform data cleansing for phone numbers, names, states, and zip codes.
One thing to note is that Apsona Dedupe and Match requires Apsona for Salesforce which also has a free trial. Additionally, Apsona comes with many other additional tools such as document generation, advanced report functionality, etc. that you may be interested in down the road.
Cloudingo (free trial available)
One of the most popular duplicate management tools. Has the ability to merge cross-objects and even do cross-field matching which can be highly valuable such as for multiple email addresses on a single record. You can set up automation rules for auto-merging duplicates or review and merge duplicates manually in bulk. Another cool feature is the ability to perform inline editing during merge operations to quickly fix spelling errors and the like. Comes with additional features such as CSV matching, lead conversion, bulk field updates, stale record deletion, and address validation.
DupeBlocker and Dedupe by Validity (free trial available)
DupeBlocker and Dedupe are two separate tools and part of the DemandTools suite which offers 10+ individual data quality modules including duplicate management, data migration management, mass modification, and email verification. DupeBlocker is designed for new duplicates entering the system while Dedupe is for de-duplication of your existing data. These are Salesforce native products with standard, custom and cross-object duplicate management. This tool gives you the ability to set up scenarios with actions (e.g. do not insert, report, auto-merge, redirect, etc.) and customize for specific data or users. Dashboard included to track effectiveness and origination.
DupeCatcher (free but you probably don't need it)
You may come across this tool by Symphonic Source, makers of Cloudingo. This product was released over 10 years ago, before Salesforce's native matching and duplicate rules existed. While the tool continues to work and remains free and fully supported, it offers the same functionality that now comes out-of-the-box with Salesforce. This tool only works with manually entry or web form registration entry and supports filters and rules for Leads, Contacts, and Accounts objects only.
Duplicate Check by Plauti (free version available)
Another Salesforce native app. As of this publication the free version can support up to 5,000 records. This tool offers duplicate management for all objects including the ability for cross-object merges. You can perform manual, automatic, and schedule jobs. Also prevent duplicates during import and data entering through the API, including the ability to merge or convert at point of entry.
ZaapIT (free trial available)
Comes with cross object smart merge jobs, smart convert, duplicate reports, and data import with duplicate management. Many other features including smart tables, grips, and reports, smart related lists with hierarchies, mass convert leads to contacts, edit related lists and tabs. Has some cool features such as bulk formating (e.g. format all names to proper text) and combine values during merge (e.g. combine non-master value with description to avoid data loss). Also comes with the ability to send bulk email and map any address.
Decision-Making Process
Before making any purchasing decisions, Arkus recommends setting up demos with the vendors you are considering to ensure you are fully comfortable with the tool before moving forward. Some vendors offer free trials so you can explore the tool and integration in the context of your workflows and Salesforce environment before making a commitment. You are ultimately responsible for all contracts with third party vendors directly, we do not resell or specifically endorse any products. Don't forget to test any new integrations in a sandbox environment first before installing in production.
DON'T: Forget About Ongoing Maintenance
Now that you have invested the time and energy to set yourself up for success, don't allow complacency to creep in and ruin your progress. Duplicate management, and data quality in general, should never be considered a one-time project. 
This is a great opportunity to start putting together a Data Quality Dashboard where you can combine your duplicate and other data quality reports all in one place. One of my favorite ways to do this is with a "Wall of Zeros" dashboard which consists of a series of metric components displaying the number of rows in each report. The goal is for the total of each report to equal zero, meaning all issues have been resolved. If you'd like to make it even more fun, try turning it into a competition. Check out the free Data Quality Analysis Dashboards app by Salesforce Labs on the AppExchange for some more ideas on data quality metrics to track in your org. Remember to schedule regular notifications via Dashboard subscriptions so you always know where you stand.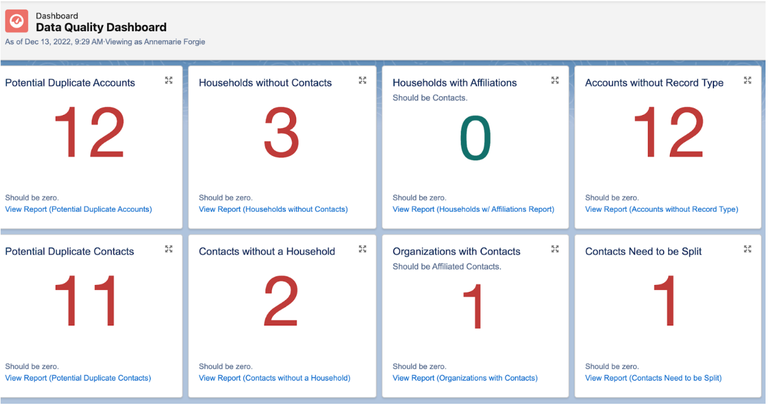 While you're here, don't forget to incorporate other ways to improve data quality into your organization's data management practices. Check out our blog post So Fresh and So Clean: Tools for Maintaining Data Quality in Salesforce for more tips on maintaining clean and accurate data in your organization.
Conclusion
While duplicate records are inevitable, you can significantly minimize the amount of time spent dealing with them by utilizing a third-party solution and staying on top of ongoing maintenance tasks.
Eliminating duplicates on a consistent basis not only increases data quality, but helps build trust in the data across your organization, allowing users to get the most out of your data and helping speed up adoption rates and increase productivity. It's a win-win!
In case you missed them, don't forget to check out part I and part II of this series where we discussed Salesforce native duplicate management tools and best practices for reporting and merging duplicate records in Salesforce.
What are some of your favorite ways to prevent duplicate records? Tell me about them on the Salesforce Trailblazer Community, or tweet directly at me on Twitter @SalesforceAF.