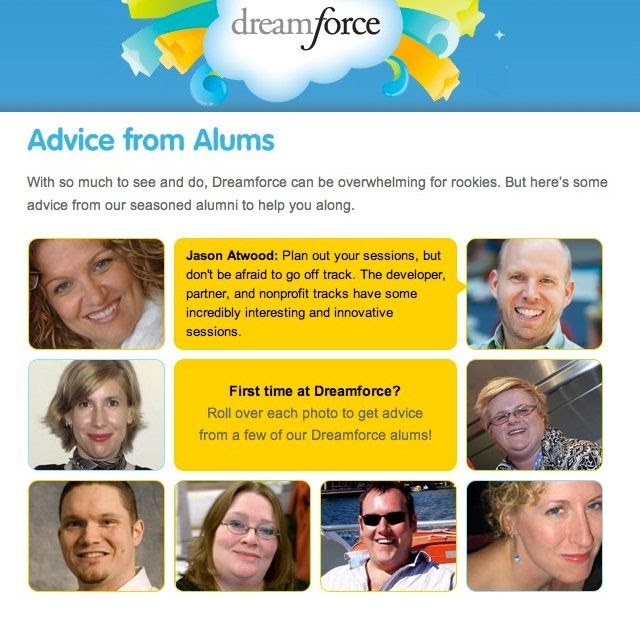 Dreamforce 11 Survival Guide - #DF11
With over a handful of Dreamforces under my belt and Dreamforce 11 just a few days away, it is time to break down a survival guide for the 30,000+ people about to swarm on Moscone.
There is an App for That
By the time you read this, there should be a new Dreamforce application available for Blackberry, iPhone and iPad. It should hook right up to the Dreamforce web app allowing you to follow things and stay in the know with Chatter. Not only does this help before you get to Dreamforce, but the application is a great way to connect with people while bouncing from session to session. It might not be real time, but when you get back home you can follow-up on everyone you followed, no need to collect a bunch of business cards. Check the web app for the latest news on the mobile apps as the rumors are saying they are launching on August, 26th.
Stay Fueled
Living in the clouds is tiresome work and takes a lot of energy. Don't get caught falling from the skies because you ran out of fuel, make sure to hit the breakfast and lunch offerings, the mid-afternoon snacks and all the coffee you can drink. If you time it right, your caffiene level will never dip below half a tank. The tip is to remember that the free stuff is only out for limited times otherwise you will end up paying for that mocha-chocalatta. In a pinch, walk the expo floors and scrounge up some good candy SWAG from mints to chocolate. Don't worry, you will work it off in the mosh pit at the Metallica concert.
Dress to Last
To dress for success is the saying, but success is surviving Dreamforce so dress first and foremost for comfort. The days and nights are long and you are almost always on your feet or sitting in rows of other people. Make sure you are packed light with a good bag that you can sling over your shoulder. Leave everything heavy from books to laptops behind. Test out a good pair of shoes with support before getting on that plane and remember you can always do laundry in the hotel. Everything from the keynote to a consulting company pitch will go over better if you are cool, clean and comfortable.
Not for Noobs
For those attending Dreamforce for the first time, read no further. This is for the people who have been to more than one rodeo. Remember last year and how Dreamforce felt so spread out? That was nothing. This year it will be held in all of Moscone, two hotels and will take over an entire street. Don't just think you will arrive and get to work in "same-old-dreamforce" fashion. Get there earlier, get a lay of the land and add 20 minutes to anything you want to do for travel from place to place.
Whether you are a first timer or a lifer, Dreamforce is a blast and a blur all wrapped up into one. If you have tips or tricks for Dreamforce survival feel free to tweet them to me at
@JasonMAtwood
or hit me up in the Dreamforce Portal App.