Google Hangouts for the Enterprise
A review of using Google Hangouts internally and externally in an enterprise environment.
Talk, meet Hangouts. Google released a massive update to their Google Talk instant messaging service, and their Google+ video calls by merging them to form Google Hangouts, debuting at Google I/O in May. As an avid Googler, I adopted Hangouts immediately and started using the iOS app to chat with friends and colleagues.
Hangouts Everywhere
Before Hangouts, Google Talk allowed users to communicate across desktops and mobile devices, though it lacked an official app from Google on iOS. Third party apps were varying in features and cost, and often resulted in missed messages, or incoherent threads in Gmail. Hangouts simplifies the process, as it rolled out to all users across Google Mail, Android, and iOS on the same day. Enjoying the same experience regardless of device is made better yet by persistent chat threads. If I answer a question in one place, I can pick up the conversation without missing a beat on another device.
Skeptical about how useful this is? Picture the average tech-connected user of IM or texting; it's likely that the user has a work and home computer, a smartphone, and maybe a tablet. Across those 3-4 screens, there is no ambiguity about what the conversation is, as the thread is updated for all of those devices. Similar to Apple's iMessage, but prevents dropped or chronologically misordered conversations.
Video Calls, Sharing Screens
Chatting is not the only area where Hangouts excels; video calls to colleagues and clients is one click away. Below, I am chatting with Justin and can click an icon to launch a video call in a new window. Justin answered from his iPhone and we were able to collaborate around a mind map on the whiteboard wall in his office. Sharing desktops is also dirt simple and can be accomplished with one more click. While video calls from computers to mobiles is not a new feature (and can be found on GoToMeeting or WebEx), Hangouts deeply integrates with mail and calendaring in Google Apps, allowing meeting invitations to include Hangouts, or to launch a Hangout related to a particular email thread.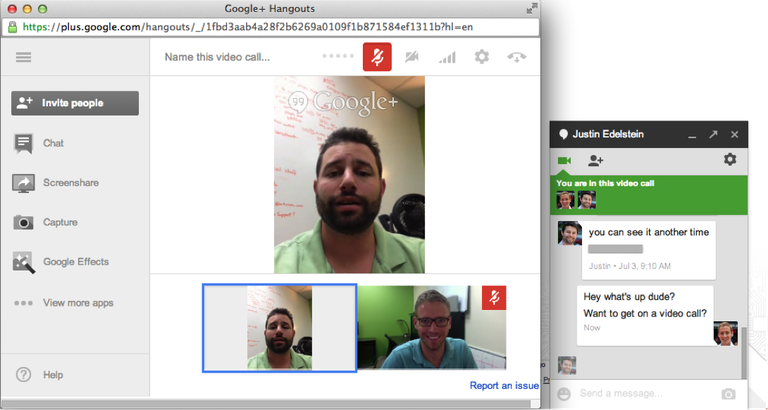 Room to Grow
Google Hangouts solved a ton of problems, and definitely made adoption of their IM platform much easier across BYOD cultures where iOS and Android both run free. Firms that use Google Apps as their collaboration platform will welcome this new update as it allows for seamless integration of chatting between mobile and web environments, and one click video calls and screen shares, but it still has a few features that I would love to see implemented.
Battery life may take a knockout punch depending on your device's notification settings. The best way to mitigate this is by setting notifications to be periodic, or activate a "do not disturb" setting for the device. It might not be related to the app, but the new stream of messages hitting my iPhone has caused it to plunge a bit over the first few days. Another feature rumored before the release of Hangouts was Google Voice integration, which would close the gap between Google and Apple's iMessage protocol. While this may not be in the current release, I would bet the minds at Google are finding a way to integrate the two into a single messaging platform.
Using the new Google Hangouts? Avid Google Talk user and are skeptical about Hangouts? Hit me up on Twitter @RogerMitchell, comments on our Facebook page or below in Disqus and let's chat!