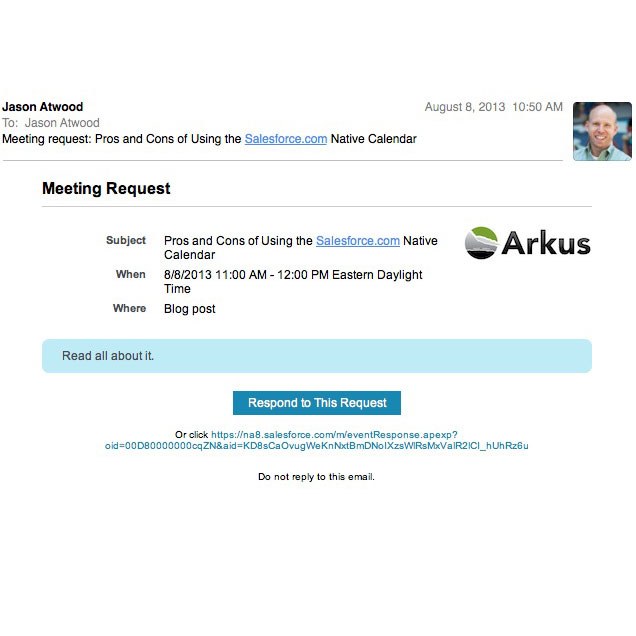 Pros and Cons of Using the Salesforce.com Native Calendar
A discussion about the pros and cons of using Salesforce.com's native calendar as your main work calendar.
When we started Arkus back in 2010 we had to make decisions around a lot of topics. One of the major topics was technology platforms. Obviously since we are a Salesforce.com consulting firm we knew that we were going to use Salesforce.com as our CRM and platform for most data management. Aside from that we made the decision to go with Google for our collaboration and communication suite which at the time included Gmail and Calendar primarily and eventually morphed into the use of Google Drive. Looking back about three years later I can say we made some pretty great decisions.
Within those decisions though were "micro decisions" where there were overlapping features. One of the main overlapping features that we had to make a decision around was which calendar to use - Salesforce.com native calendar or Google Calendar. In the end we chose to use the Salesforce.com calendar as our "golden calendar" and use the Appirio sync product to sync it with Google so that events show up in multiple places. Here are some of the pros and cons from years of experience using the Salesforce.com native calendar as our main calendar as well as some of the reasoning for making our decision.
Pros
The Salesforce.com calendar has the ability to brand your meeting invites. When you get a meeting request from us it has the Arkus logo on the invite as opposed to just a Google logo or a generic looking email as an invite.
Associations within our CRM to who the meeting was with and what it was about. With shared activities being released in Summer 12 we were able to relate a meeting to multiple Contacts as well as an Opportunity or a Project (which we track in Salesforce.com).
Using Salesforce.com's search, reporting, and list view capabilities it's much easier to measure the impact of scheduled meetings as well as aggregating them across the entire company.
The calendar is conveniently located on our homepage of Salesforce.com which is where we do all of our work around managing our clients and prospects - having the calendar data in the same location as the rest of our data is a big plus.
Salesforce.com includes a field called "Last Activity" which populates with the last task or event related to a record, this makes it easy for a user to see when the last time a touchpoint was made with a person by merely utilizing the calendar.
The biggest pro for us is the multiple associations with many people and an Opportunity or Project. The ability to very easily see when the last meeting was held on a stalled Opportunity is a very powerful piece of data that can be utilized for identification and understanding of why that Opportunity is stalled - same goes for Projects in our particular use case. This is was the absolute largest influencer in our decision making process for which calendar to use. I'd add, while the associations to our data remains the most important factor in our decision to use Salesforce.com calendar we have also made some modifications and customizations to workaround some of the following cons which make the product more attractive to us and our use cases.
Cons
While the invitations are nicely branded they are not what people are used to seeing. People are used to getting Outlook invites with an attached .ics file that allows for one click accepting of an event which goes right onto their calendar. With a Salesforce invite you must accept the invitation then take the extra step to download it to your Outlook calendar. This second step can occasionally lead to missed meetings.
There is currently a known issue related to accepting event invitations on the Salesforce.com Success Community that has been open for close to a year. This known issue being open for so long means that the calendar functionality can't possibly be all that high of a priority.
In most calendar applications (Outlook & Google being the most prominent) the person who sends out a meeting invite gets a notification via email that the person who the invite was sent to has taken an action. That action is either an acceptance of the meeting or not accepting the meeting. While this data does show up as a related list on the Salesforce.com event record, it does not notify the person who sent out the invitation via email.
While the Salesforce.com calendar works just fine as a basic calendar with some of the niceties that I mentioned above in the Pros section it is apparent that it isn't updated very often at all. Multi user views, weekly views, and monthly views aren't the most intuitive when you compare it to other web based calendar applications.
Invites to internal people must be users of Salesforce.com which means that in order for you to use Salesforce.com as your enterprise wide calendar and want to be able to invite everyone in your enterprise to a meeting they must have a Salesforce.com license. The workaround here is to create either a Contact record or a Chatter Free user for all your employees but that leads to more overhead in managing users and data.
The biggest con is the lack of time and attention on the feature from the Salesforce.com side. I could argue that a calendar is absolutely core the any good CRM system and for known issues to be outstanding for close to a year is not acceptable and no new features in years being rolled out in any releases is another indication that the calendar is not the highest priority item on the backlog. With all of the cons we still maintain that the ability to relate our calendar events to other pieces of data within our CRM wins out as the killer feature that keeps us using the Salesforce calendar as our main calendar for the enterprise.
Please feel free to comment below, on our facebook page, or directly at me on Twitter @JustEdelstein.