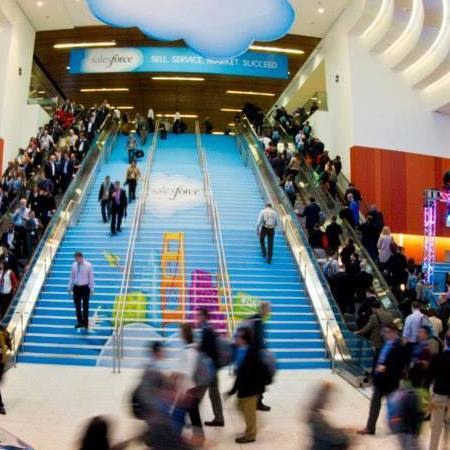 Building Community at Dreamforce 14
Where to focus outside of keynotes & sessions at the Salesforce.com event of the year
My first Dreamforce in 2009 I had no idea what I was in for, but boy was I excited. I had signed up to volunteer the day before things kicked-off, received confirmation of my one-one-one Q&A time in the Salesforce Cloud Zone, and scheduled myself in every available session I could get into. I had no idea that spontaneous happenings, like missing sessions for time in the Dev Zone or dinner with other nonprofit Salesforce.com peeps, would prove to be my most valuable Dreamforce experiences. Even today, I know without a doubt that my career, and very likely even I, wouldn't be the same without these early community-building moments.
Heading into my 6th Dreamforce, I'm still most excited about reconnecting with my colleagues and friends, making new connections and getting excited for more Salesforce goodness. In this post, I'll tell you about some of the things I'm looking forward to from the Community at Dreamforce '14.
The Community at Dreamforce '14, by Salesforce.com
Kicking things off for everyone, attend the Success Community Keynote on Monday at 9am. Hear about the roadmap, get to see community rockstars like Erica Kuhl speak, possibly score Community swag… no promises (um… Safe Harbor), but I wouldn't be surprised. One year's product keynote gave out cloud socks, so it happens.
Once you've gotten the bug with your collective Salesforce.com Community members, head over to the Developer Zone and Administrator Zone in Moscone West. There you get a chance to get deep into coming features, great demos, hands-on product time and other great Salesforce-y-ness. While you're there, be sure to stop by the Podcast Studio where community podcasters will record their content live, including Arkus's own Cloud Focus Weekly podcast. Then of course there's the annual Gala, where the Salesforce Community rushes the stage of some really fabulous & famous music act. It makes for excellent bonding with your Dreamforce friends, new & otherwise. This year it's Bruno Mars and Cake on stage! And there's the networking happy hours in the expo halls at the end of most days, which leads us to our next Community highlight. 
The Community at Dreamforce '14, by Partners
The expo halls are busy, packed, and full of swag and product or service pitches. They are also, however, a great way to find vital parts of the Salesforce.com eco-system and are likely places to build relationships. Sure, there are partners you will hear from after the event & race to hit "unsubscribe" on the email, but there are so many great teams of people building great AppExchange products. And, as an invested Salesforce user, administrator, or consultant, you should know what's out there and who's behind it all. These great folks are also behind some of the fun after the official day is done… Happy hours and Dreamforce parties.
Dreamforce events thrown by partners and Salesforce.com product teams is yet another way to connect with the greater community. There are so many, you'll never attend them all and get ready for more free snacks and drinks, and of course even more swag! Some of the events have bands and concerts of their own. Others come up with clever drinks or locales. The Dreamforce Parties Group in the Success Community will have all the latest on the when & where, not to mention what needs an RSVP.
The Community at Dreamforce '14, by… YOU!
Connecting one-on-one with individuals is by far the richest experience for me. As years have gone by, those first Dreamforce buddies are now pillars of my Salesforce Community. Calling them, tweeting with them, and other moments through the year provide so much bang for the buck of Dreamforce admission. To reach out to a Dreamforce friend for commiseration (like #WhySFDCAdminsDrink), a helping hand, extend the prior year's Dreamforce excitement and bring the power of the Community back to your desk, at a micro-level. Then there's the value of seeing the familiar faces & reconnecting at the next Dreamforce… celebrating your Dreamforce-a-versaries, if you go for that sort of thing.
It's not always easy to go out on a limb and take steps toward that first connection but it's well worth it. As the years go on, these deeper personal relationships can provide job growth recommendations, or even referrals, help to promote a new product or admin opening, and so much more. So use the Dreamforce app to connect with them on the spot. Ask for business cards from the people you talk to and promise to reconnect with them via email or LinkedIn. Take a picture of their badge, with their permission, if they ran out of cards. Do whatever makes sense in the moment & be sure to follow up in the weeks after the event. Even if you're not sure how you'll work together today, you may end up with a treasure trove of new networks and possibly even friends.
That's far from all. Be sure to roam the Success Community Dreamforce groups for all the latest & exhilarating Community happenings. And stop by the Arkus booth, at space N1032, to meet me & all the folks behind the Arkus blogs, Cloud Focus Weekly podcasts, and free apps like The Permissioner and a new Salesforce1-developed product coming at Dreamforce '14.
Don't hesitate to get in touch if you have additional points or things you're excited about, find me on Twitter at @SeriouslyKyla, Arkus in the Success Community, find our Facebook page or comment below!