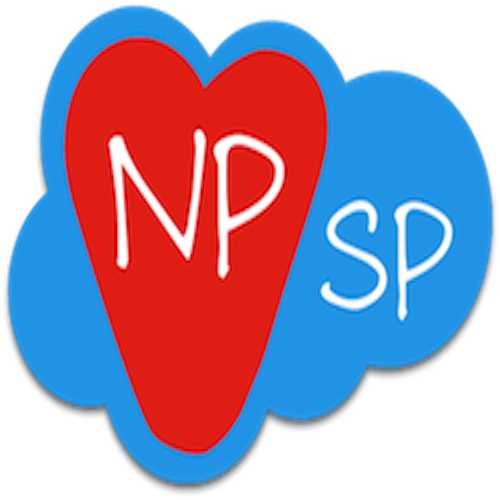 What's New With Salesforce.com's Nonprofit Starter Pack 3.0
A look at the new features and functionality of the Salesforce.com Nonprofit Start Pack (NPSP 3.0)
The Nonprofit Starter Pack historically is a free set of managed packages offered by the Foundation in an effort to get nonprofits started on the Salesforce platform and to better fit individual donors and membership. Salesforce.com is releasing the new version of their Nonprofit Starter Pack, version 3.0 (also known as the development title 'Cumulus') within the next month or so (no exact date has been set) and it will be free.  Currently it's still in an 'extended' pilot stage and you can request to be part of the pilot through the Power of Us Hub.
Some of the main goals for this release are to fix the general structure of the package along with providing an application that's easier to configure and use.  They've also consolidated what used to be six packages into one package that needs to be installed, and (this is really great)…Salesforce.com delivers all future upgrades automatically.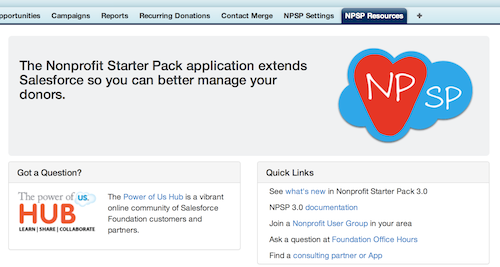 Installation is highly recommended in a sandbox organization first as customization can interfere with the upgrade.  Once you install, go ahead and run the Health Check.  It's a great tool that's included to check for inconsistencies and potentially conflicting customization against the NPSP 3.0 upgrade.  If you get errors instructions are provided to easily fix them.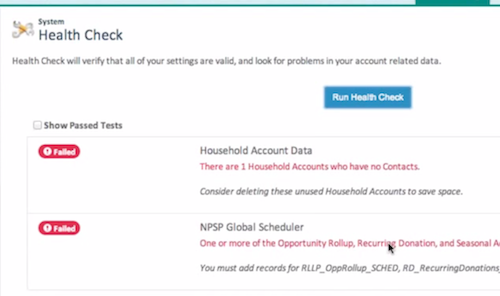 Here are a few of the more notable features and changes coming with this release:
New Household Account Model
Many nonprofits are already using this model but through means of 3rd party applications or custom development. What's created is a Household record type on the Account object to support a more organization/donor model. Inside the settings tab you also have the ability to customize the household naming convention which is nice in case you have multiple households with similar names.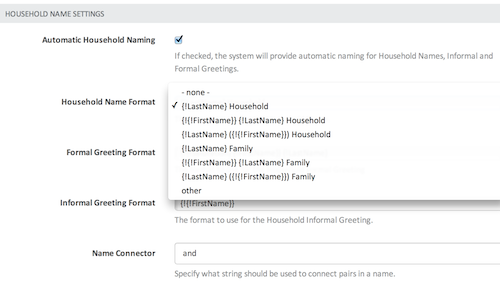 Primary Contacts
A primary contact field is created to identify the point of contact for the household. If you're using the Household Account model, this contact is used as the default for the primary donor on the account.
Primary Affiliations
This is a lookup field to Affiliations on the Contact object. Likewise there is a 'Primary' checkbox on the Affiliation record. It's main purpose is to identify the main association between contacts and accounts.  The checkbox and lookup fields work together in that if a contact is changed on the lookup, the affiliation record will appropriately adjust the checkbox for the new primary contact.
Addresses & SmartyStreet
Using the Household Account model, all addresses are stored at the Account level. The one selected as the primary address will be used on the individual contact records associated with the household. There is, however, an option to override this on the contact record by setting a different address using the new 'Address Override' lookup field. This new address will copy into their Mailing Address fields and won't change if the household address changes at the account level.

Seasonal addresses are also new. This allows for different addresses to be identified as primary based on a duration set for that address.  You know, for those scenarios where you have a winter house in Hawaii and a summer house in Washington.

SmartyStreet is worth mentioning, it's built-in API that can verify and supplement address information. Helpful when you know the address and city but not the zip code.
Centralized NPSP Settings
Finally, for enhanced ease of use and efficiency, is the change to a single location for setting all the NPSP items. They are grouped by function and easy to navigate through (household name customization resides here).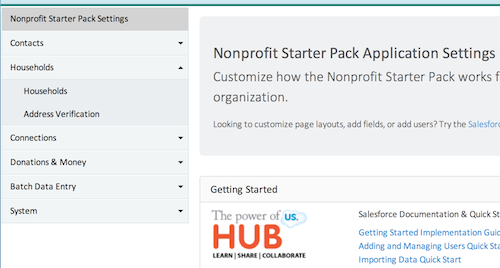 I couldn't end this of course without mentioning mobile; NPSP 3.0 fully supports Salesforce1. For more details, check out the Power of Us Hub online community (simply use your existing Salesforce.com credentials to login).  There are forums dedicated to this topic as well as the full NPSP 3.0 documentation.

Have your own thoughts on the new Nonprofit Starter Pack; likes and dislikes? Please feel free to comment below, on our Facebook page, or directly at me on Twitter @LeiferAshley or in the Power of Us Hub or Success Community.