Customize Your Chatter Feed with Streams
How a small quality-of-life change in Chatter can make a big difference to your Chatter feed and your inbox.
We've all wished we could organize our Chatter feeds into something a little cleaner and more organized. Wouldn't it be great if I could just see posts from my top accounts in one view? Or focus only on my team's activities for the day? Well, like an Ikea storage bin, Chatter streams will help you stay organized, bring more clarity to your life, and maybe even some digital hygge. But only if you're using Lighting Experience (sorry Classic users, no hygge for you).
What's a Chatter stream?
With the Summer '17 release for Lightning, we're now able to combine Chatter feeds from any object, Chatter group, or user into one feed, called a "stream." Up to 100 can be created, combining 25 different feeds, and viewable only by the creating user. Let's go through some hypotheticals to see how streams can improve our lives.
Let's say you're an Account Manager, and you want to focus on your top accounts. You'll create a new stream called My Top Accounts and add feed items for any account, contact, case, or opportunity record associated with those top accounts to the stream. Any post on your top account, across multiple objects you've specified, will appear in a single view.  
Or perhaps you're a manager and you want to keep up with the activity of your team. You can create a stream called My Team that shows any new posts from users that you specify. Now you don't have to click on each of their user records and scroll through; it's available in one single view.
You can also set up email notifications for these streams, so that any time a new post appears, you get an email. So you can adjust those notifications for posts you don't necessarily care about. Fewer emails, better sense of well-being. Hygge.
How do I set it up?
Streams are already enabled if you are using Lightning Experience (again, if you're still using Classic, you won't be able to use streams).
Go to your Chatter tab in Lightning; on the left pane, you'll see Streams and a "+" to the right of it. Click the plus button, and a new window will appear. Name your stream in the first field, called Stream Name. Next is Records to Follow; in this field you'll see a drop down to the left, where you can select from any standard or custom object, Chatter group or user. If I select People, I can then start typing "Jason," and a user in my org named Jason will appear in the dropdown of selections. I then select Jason, and any posts by him are added to the stream. In the same box, I can also select other members of my team, an object, or Chatter group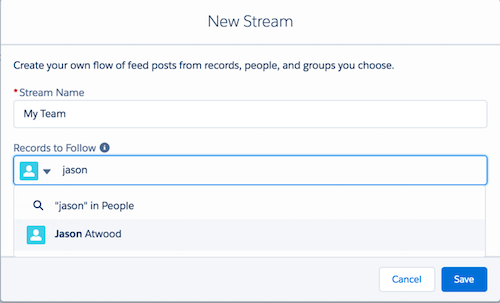 Under that you will see Notify Me, with the options Never or Every Post. This determines your email frequency for this stream. Click Save.
Voila, I have a Chatter feed that will show me posts by Jason and the other records or people I selected.
Alternatively, if you're on any record that you can follow, you simply click Follow, and you will see a dropdown. You'll have the option to either add that record to a stream you've created, to your What I Follow feed, or there is an option to create a new stream directly from the menu.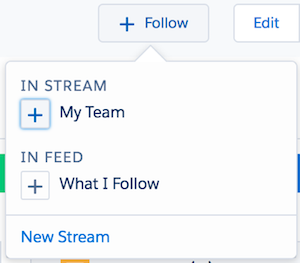 And that's it. Very intuitive and easy to set up, no? That being said, it would be even easier if we could follow records, and add them to streams, directly from a list view. As such, I've created an idea on the IdeaExchange, for you to upvote!
Welcome to the Future
Chatter Streams is a great example of a small quality-of-life update, exclusive to Salesforce Lightning, that I think we will continue to see more of. You may be concerned about switching to Lightning, but Salesforce will continue to make it more and more appetizing, to the point you'll have to search for reasons not to migrate over. And who doesn't want hygge?
Have any thoughts on Chatter streams? Mad I mixed Swedish (Ikea) with Danish (hygge) at the top? Feel free to comment below, on the Salesforce Success Community, on our Facebook page, or directly at me on Twitter @djordanwebster.