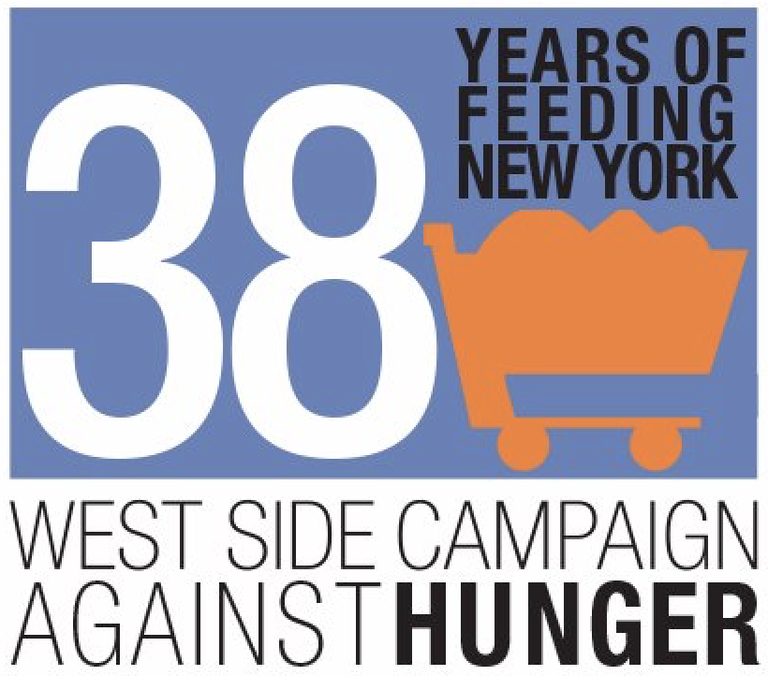 The Mobile Pantry Program: A Client Success Story
1.4 million people in New York City face hunger every day and many, including a rapidly growing number of seniors, have little to no access to food. West Side Campaign Against Hunger is combatting this with their Mobile Pantry Program.
West Side Campaign Against Hunger (WSCAH) is a nonprofit organization based in New York City whose mission is to alleviate hunger and create a culture that promotes self-reliance and works for change. In the basement level of the Church of St. Paul & St. Andrew on West 86th Street, the WSCAH operates a supermarket pantry that serves their customers, allowing them to choose the food they need for themselves and their families.
In October of 2016, WSCAH came to Arkus with the idea of expanding their customer reach by launching the Mobile Pantry Program at their organization. The Mobile Pantry Program is designed to bring food into new communities and serve food to individuals who cannot travel to their brick and mortar food pantry. This new program would essentially bring the pantry to their customers.
Fast forward a year later and Salesforce now serves as the backbone of their Mobile Pantry Program operations by tracking customers along with their household information, relationships, and their pantry participation.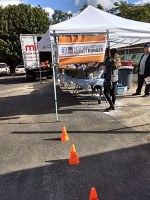 The Mobile Pantry Program
WSCAH works with external organizations scattered throughout Northern Manhattan and the Bronx to create new access points to fresh produce and healthy staples. These external partnering organizations host WSCAH once per calendar month, on a specific day, and refer customers that may need their services. On the specified days, WSCAH arrives with a truck filled with food and sets up a pantry, resembling a farmer's market, for the day. Referred customers then attend the Mobile Pantry event and choose their food, as if visiting a mobile farmers market. In addition to the pantry itself, customers also have access to a variety of resources, such as cooking demos, recipes, and nutrition education.
How Was It Accomplished?
Implementing the Mobile Pantry Program started with customizing Salesforce. It was necessary to develop clear program requirements  and configure Salesforce to meet the program's needs.
In order to compensate for the unique pantry conditions, a logical workflow to the program needed to be developed. It started with scheduling the days that the Mobile Pantry Program would be visiting the organizations. Once that had been completed, the event records could be created inside of Salesforce and organizations could begin sending their lists of referrals. The referral list represents people who will be attending that day's Mobile Pantry event. Upon receiving the list, WSCAH would work to import referred customers and their key information into Salesforce. The import process would automatically create relevant records related to a customer, including a referral to a Mobile Pantry event of a certain date. At that point, there would be a record inside of Salesforce for the program, its events, the customers, and their referrals to those events.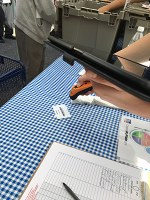 Once there was a record of customers inside of Salesforce, we worked together to develop an automated check-in process, where referred customers would receive a program card that is unique to them and be able to check into the Mobile Pantry by scanning it upon arriving at the event.
The check-in process utilized several third party applications, all created by Scout Inc. It started with TuBarcode, which automatically generates a barcode that contains the ID relevant to the person inside of Salesforce. TuLabel is used to generate the label, which contains the previously generated barcode on one side and WSCAH's branding on the other. TuLabel generates PDFs of each label that can then be printed. These labels will ultimately be the face of the cards. Using an AlphaCard printer, each card is printed. Once the cards have been printed, they are ready to be given out and scanned.
On the day of the Mobile Pantry Event, referred customers attending for the first time receive their card. Once they have received their card, it is theirs to keep and use at future program events.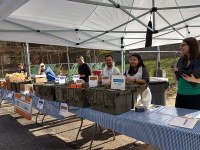 To compensate for the mobile environment, a tablet logged into Salesforce and a wireless scanning device was decided upon for the check-in execution. When a WSCAH staff member scans a customer's card, Scout's ZapIt application will recognize the barcode and create an attendance record inside of Salesforce for the customer. This attendance record automatically links to both the referral and the event record. Also upon scanning, key information about the customer is displayed to continue a personal, seamless experience.
Once a customer has checked in, they are free to navigate through the Mobile Pantry and make use of its services.
Recurring customers, who would receive separate referrals ahead of each event, would undergo a separate referral import process inside of Salesforce to create referrals for existing customers. From there, they would be free to use their existing card and attend the event. In order to facilitate walk-in customers who had not been referred, a manual entry process was developed to get them recognized in Salesforce and a card created for them.
Results
It has been two months since the successful launch of WSCAH's Mobile Pantry Program. In those two months, WSCAH has reached and served almost 2,000 individuals who otherwise wouldn't have access to their pantry. WSCAH works tirelessly to fight hunger across New York City, and we at Arkus have been grateful to work with WSCAH and assist in expanding their reach and impact with the Mobile Pantry Program. To follow West Side Campaign Against Hunger's initiatives and/or donate to their worthwhile cause, please visit their website at www.wscah.org.
Want to know more about the implementation or share your thoughts? Let me know what you think on the Arkus Facebook page, in the comments below, in the Success Community, or to me directly via Twitter at @RyanOwensRPO.