Blaze Your Trail of Fitness and Wellbeing at Dreamforce 18
Stay fit and focused throughout Dreamforce with these tips on where to go to get your wellness fix.
Dreamforce is four days full of great sessions, keynotes, networking, new and old friends, and lots of stickers.  Days go long into the night, but that doesn't mean that you need to give up your healthy routines. So lace up those sneakers, roll up your yoga mats, and pack your homemade trail mix--join your fellow trailblazers in maintaining your fitness and wellbeing goals, as you explore all that Dreamforce has to offer.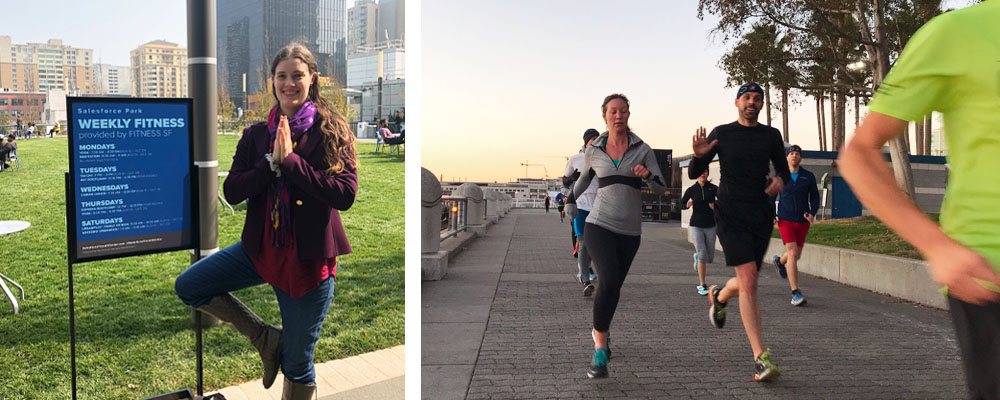 Dreamforce Runs This Town
Stretch your legs and sightsee at the same time. There's no shortage of great running and walking activities this year.  
6th Annual Dreamforce Community 5k Fun Run
Join Jason, Justin, James, and me for the ever popular run organized by Maria Belli and Chris Zullo.  We start on Wednesday at 6:30 AM from the Embarcadero, looping around the Giants Stadium. Join the group on the Trailblazer community for all the details and to register, as spots will sell out.  #SwagAlert
Golden Gate Bridge Run or Walk
New this year are the DF18 runners group, started by Dustin Strickler, and Dreamforce Ohana Golden Gate Bridge Walk started by Eric Dreshfield.  If you're looking to go the distance, kick-off Dreamforce on Tuesday at 6:00 AM with a 7-mile run across the Golden Gate Bridge and along the piers ending at the Embarcadero. See group for course map and details.

Eric and Stephanie Benavidez are arranging walks across the Golden Gate Bridge for Monday (9/24) and Friday (9/28) at various times.  Check the group for details. Whether you're running or walking, crossing the Golden Gate Bridge on foot is definitely worth checking off the proverbial bucket list.  
Your Moment of Zen
If lacing up those sneakers or trainers is not your thing, there are plenty of other ways to improve your wellbeing at Dreamforce.
Walking Meditation and Zen Encounter
Each day of Dreamforce there is an opportunity to join the Zen monks and nuns in a mindful walk or learn to meditate during one of several masterclasses. These sessions and many more can be found in the agenda builder by filtering under themes for "mindfulness."
Yoga and Barre
MapAnything is hosting two yoga classes at TribeSF and two barre sessions at The Dailey Method to help you find your center and focus.  Classes are $5 each, and all proceeds benefit the Merivis Foundation and their great work with VetForce. #SwagAlert but you must reserve your spot in advance.  You can do yoga in your Trailblazer hoodie too, as Katharine Bierce, yoga teacher and Salesforce.org team member, shows here. So zip yours up and grab your mat. 
Nourish Your Body not Just Your Mind!
Traveling to Dreamforce can make it hard to eat healthy with lots of grab and go snacks and happy hours, but that doesn't mean you have to throw out your nutritional goals.  Remember these tips.
Pack a Snack
Having a healthy snack option handy will keep you from straying to the vending machine or muffin bar. Nut-based snacks, like trail mix, are great for keeping you full and provide good energy to keep you focused for those breakout sessions. My go-to is this great trail mix.
Grab a Salad
Dreamforce has something for everyone, including meals.  Remember to look for the salad or wrap options, which are packed with lots of protein and veggies, with fewer heavy carbs causing you to nod off during afternoon breakouts.  Grab a banana or apple along the way to have later in the day.
Stay Hydrated, My Friend
Trailblazers definitely know how to party, and there will be plenty of opportunities for that throughout the week. No matter how you party at Dreamforce, it is important to stay hydrated throughout the day. Dreamforce provides you with a water bottle at registration and water refill stations throughout. Arkus and many other vendors will also have water bottle swag, so find the one that's right for you. And if staying hydrated wasn't enough motivation, every refill will get us one step closer to unlocking our Dreamforce water project: a hand pump in Tanzania, serving up to 3,000 people. Read more about this and all the Dreamforce sustainability efforts here.
What fitness or wellbeing activities are you looking forward to at Dreamforce? What tips do you have for powering through the day and into the night? And don't forget to join me throughout the year in the Trailblazer Fitness & Wellbeing Group.
Please feel free to comment below, at @ArkusInc, or directly at me on Twitter @Art_O24 or in the Success Community.
Credit and thanks to Katharine Bierce for the Salesforce Park Tree Pose and Trailblazer Yoga photos, and Art Ordoqui for the photos of last year's 5k run.