Financial Services Cloud Winter '21 Release Highlights
The Winter '21 release is live and packed with some very useful and exciting additions to the Financial Services Cloud.
If this were any normal year, I would be preparing my annual Dreamforce for Community Banks blog right about now with a listing of all the Financial Services sessions that caught my attention in the agenda builder, but this is 2020 and sadly, Dreamforce is cancelled. Yes, it is being resurrected virtually and is coming to me in my living room, kitchen, or backyard, but my living room is occupied by my kids who are using it for distance learning, my Internet service is spotty in my kitchen, and well...it's fall in New Jersey and it is getting quite cold in my backyard. 
There's still hope you may see my annual blog when the Dreamforce 2020 virtual agenda is released, but in the meantime, I thought I would focus my attention on some highlights that caught my eye in the Winter '21 release for Financial Services Cloud (FSC). 
Actionable Relationship Center (ARC) Enhancements 
One of my favorite features of FSC has been the Relationship Map tool which has provided a visual representation of a person's affiliations with other groups, Accounts, or Contacts since FSC began. That is, of course, until I met the new Actionable Relationship Center (ARC). ARC is similar to the relationship mapping tool, but it further enhances the user experience by adding the ability to quickly see all related lists at-a-glance without having to navigate away from the page. It also brings users a whole new level of interaction with those records by allowing users to click on each related record to further expand the relationship map.
In Winter '21 ARC was further improved to allow creating and editing relationships and related records from the same interface. This means ARC can now do nearly everything the Relationship Map component can do and more!
To help visualize this, here is an example of a relationship in the Relationship Map component: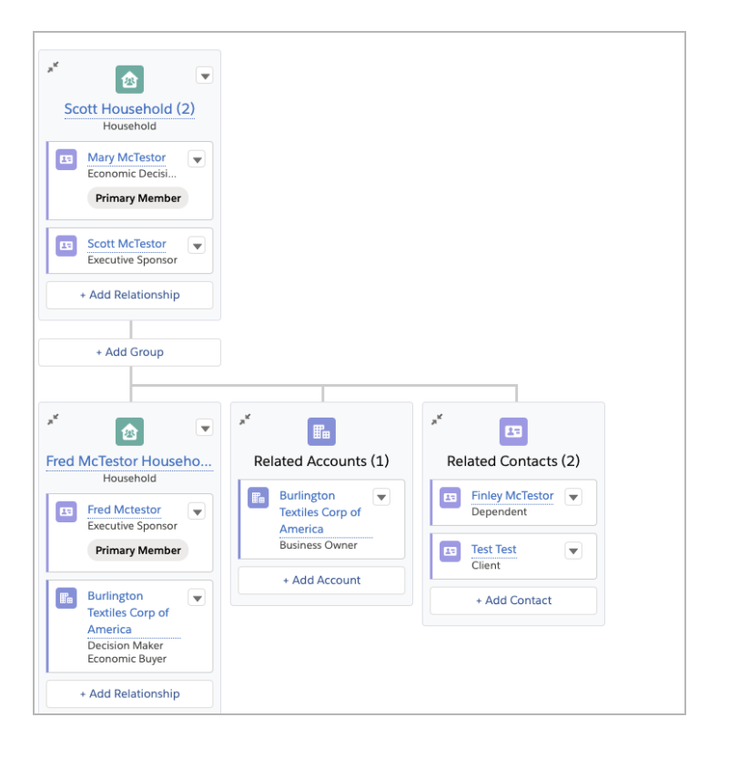 Here is what that same relationship looks like using ARC: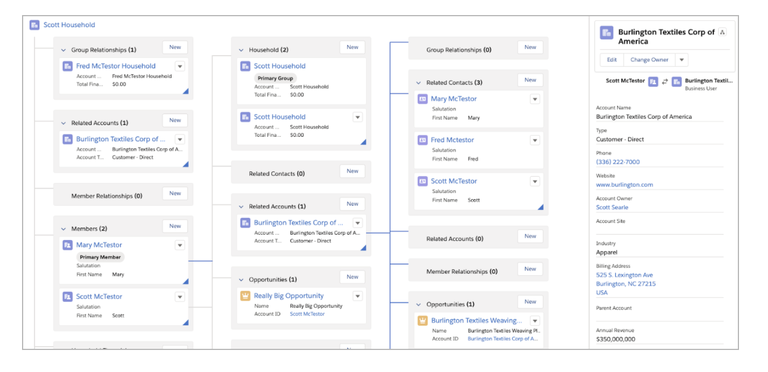 Clicking on an individual member opens up that member's relationships, clicking on the business account opens up that business record and related lists, clicking on the same record, collapses it. Use the New button on an account, contact, relationship, or any related list to create a new relationship or record without leaving the interface.
Using ARC will make it faster and easier to manage relationships in one dynamic component without switching to multiple pages, and as we all know, fewer clicks makes many happier users.
Compliant Data Sharing
Improve your firm's compliance with data sharing regulations and company policies with the new Compliant Data Sharing feature. When enabled, this new feature allows specific Users to control access to Account or Opportunity records for other Users without writing any complex code. 
Admins now have the ability to define specific role names and default levels of access to either read, or read and write records. 

After adding the Account Participant related list, users with the Use Compliant Data Sharing permission set can then assign a Participant. When a user is assigned to a role, they receive record access based on the role's default access level.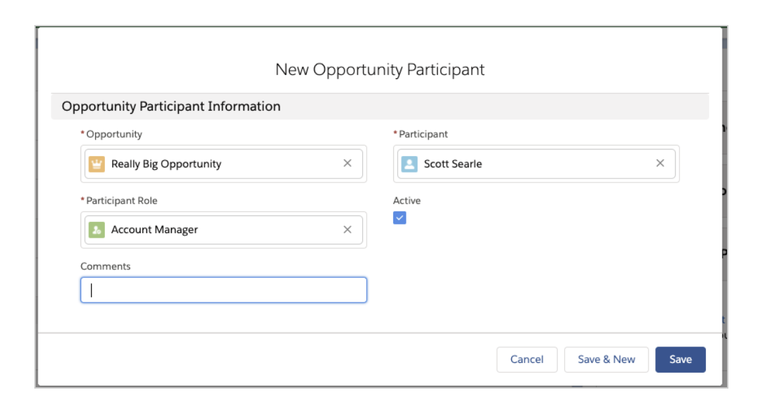 Compliant Data Sharing works alongside existing data-sharing features. It provides extra record access, but does not override sharing behavior from existing features. I am hopeful we will see this tool being further enhanced in upcoming releases to potentially include objects like Financial Accounts or Insurance Policies. 
Enhanced Record Rollups
Winter '21 brought us several welcome enhancements to record rollups in FSC with the addition of Case rollups and record rollup optimization. 
With Case rollups, users can now gain visibility into Cases for members at a household level. This will allow agents to keep track and focus on all active cases of household members in one place without going through multiple related lists. 
Rolling up records in FSC has always been difficult for organizations that have large scale integrations with their banking or wealth core systems. In Winter '21, you can turn on the new Record Rollup Optimization which is a good step in improving record rollup performance. Activating this feature opens up a new custom setting which lets you define batch sizes, skip unchanged household updates, and triggers for each object individually. When jobs are run in batches, these settings help improve the performance of the batch job.
FSC Components available on the Mobile
Financial Services Cloud has officially gone mobile with the addition of several components now available on both iOS and Android. You can find a list of mobile-enabled components here.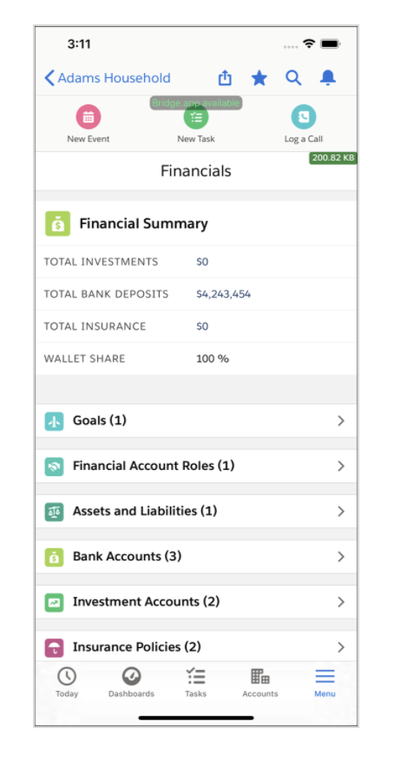 Additional Winter '21 Enhancements 
This was a big release for the Financial Services Cloud with many enhancements for mortgage, insurance, and wealth management. Here are some additional enhancements worth noting.
Mortgage for Financial Services Cloud - Configure and brand a self-service Financial Services Client Portal to reduce call center traffic by letting borrowers apply for their loans. Use a streamlined API from a single URL to create or update a loan application in Salesforce or from an external loan origination system. The Mortgage Business API can also upsert Account and Opportunity records, which previously required separate API calls.
Insurance for Financial Services Cloud - Add the enhanced Policy component to the Household page to give agents an at-a-glance view of all policies in a household. New options on the Policy component give you greater control over the information you want to display on the component. And now FSC supports account relationships on key Insurance objects to let you easily manage external users' access to Insurance records.

Wealth Management for Financial Services Cloud - Use the new Predict apps in Einstein Analytics to increase your Wealth Management capabilities. Powered by Einstein Discovery stories, the new Predict apps create predictions on the churn of your client accounts and the likelihood to grow your account assets.

Speed up Interaction Date Calculations - See Next and Last Interaction Date fields update faster than before. Activate the new Use Standard Triggers metadata types for Tasks and Events to speed up interaction date calculations for those objects.

Got any other favorite features of Winter '21 for the Financial Services Cloud in the Salesforce Trailblazer Community or chat with me @ScottTSearle.