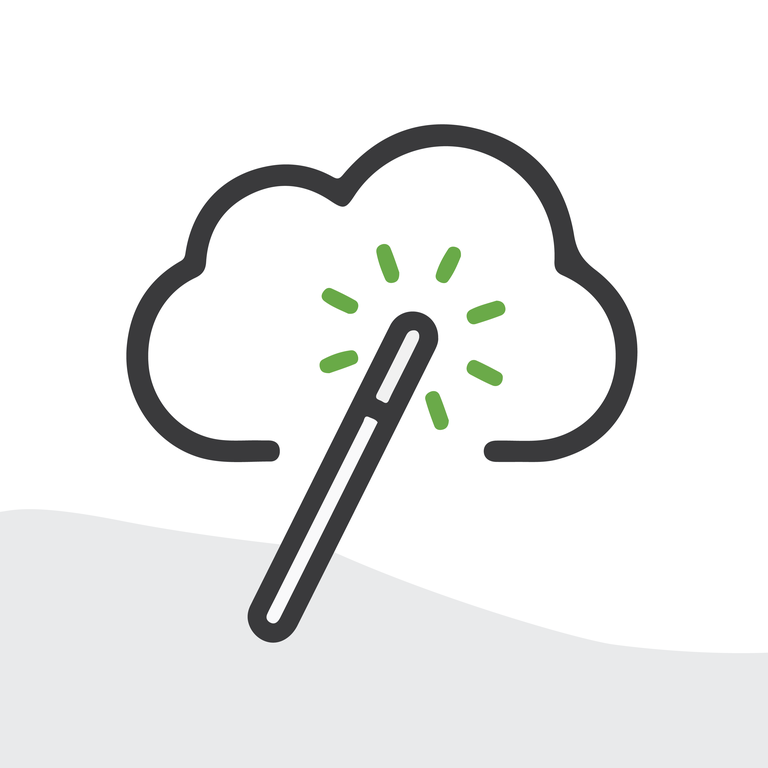 Winter 2020 East Coast Pro Bono Day
How to fight indicator fatigue and more lessons learned on the Ohana Floor during our Arkus Winter 2020 Pro Bono Day.
On February 20, 2020, the Arkus team was joined by a crowd of clients and nonprofit Salesforce users on the Ohana Floor of Salesforce Tower in New York City for our Winter 2020 Pro Bono Day. As a Salesforce partner and Pledge 1% company, Arkus gives back, in part, by hosting Pro Bono Days throughout the year.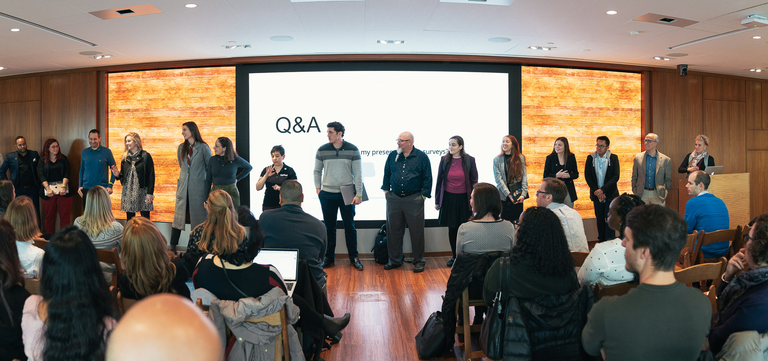 Introducing all the Arkies (Photo: Dustin Cole)
This is your recap of the key takeaways from our sessions and speakers. How do you get started with a Pro Bono project with Salesforce? How do you host your own nonprofit event on the Ohana Floor? What is indicator fatigue and why does it help you and your team to get more done when you fight it? Read on to find out. 
Salesforce.org Pro Bono Projects
Our first speaker was Victor Niniger, Pro Bono Programs Specialist for Salesforce.org. Since they launched their Pro Bono Program, Salesforce employees have logged an astonishing 4.5 million volunteer hours and Salesforce has given out $310 million in grants to nonprofit organizations. How does a nonprofit get in this action?
It starts with an application. Victor shared tips with our guests on applying for a Salesforce Pro Bono project. The most important tip is to make sure your project meets the program guidelines:
Defines a narrow, specific topic

Can be completed within a modest time frame (approx 10-20 hrs)

Does not include third-party application set up or integration

Project does not address a time-sensitive need
Victor noted that not every project can be matched to a volunteer. Staffing a project is dependent on the time and availability of volunteers. If the scope of your project is outside the program, he recommended seeking help from a Salesforce.org consulting partner, like Arkus, to either help see it through or to review and assist in planning it out into mini sub-projects. 
Driving User Adoption 
Next up, Arkus project manager Hayley Tuller presented three tips for configuring Salesforce to drive user adoption. Naturally, there are many variables that go into user adoption...everything from executive support to architecture to requirements. 
Hayley recommends focusing on three key areas: fight indicator fatigue, create custom report types, and create a Salesforce Ticket custom object. What is indicator fatigue and how can you combat it? Indicator Fatigue is an aviation term that refers to the overload our brains can experience when faced with too many choices.
Sitting in an aircraft surrounded by buttons is a bit like sitting in front of a Salesforce record page layout full of unused and unnecessary fields. Save your brain the energy it uses trying to filter out this visual noise. Fight the fatigue and configure the page to clear off any field and text that isn't needed. This tip applies everywhere in life, not only in Salesforce. 
A custom report type will allow you to add and remove available fields as they pertain to that department and that report, you can select the fields to appear by default, and you can take the opportunity (pun intended) to change the display names of really long fields. 
This easy-to-add custom object allows your users to submit an issue or a change request. Not only can you keep track of the changes that are being asked for, but you can also track the frequency of requests for a particular item, be aware of duplicate requests, and track (and report on!) items that have been delivered.
Remember, these tips are intended to be used within a larger framework and are only quick suggestions of little tweaks to move the dial. A lot will go into driving user adoption.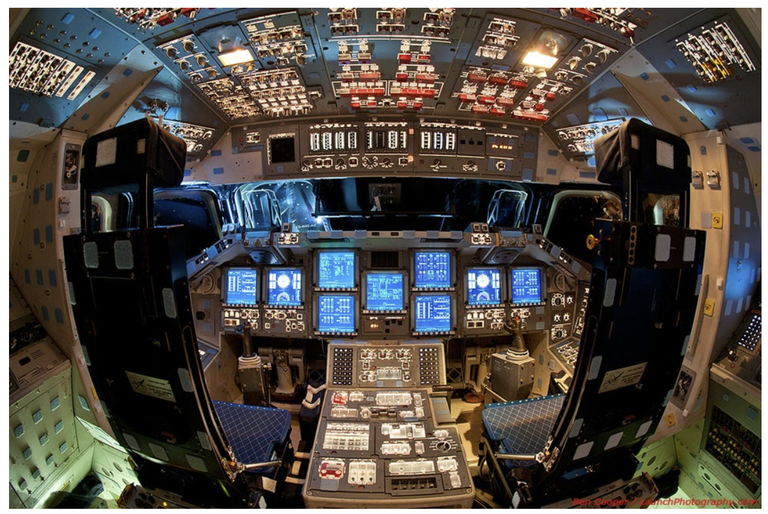 The cockpit of the Space Shuttle Endeavor (Photo: nasa.gov)
The Power of The Power of Us Hub
Judi Sohn, Director, Customer-Centric Engineering at Salesforce.org, returned as a guest speaker. She spent time talking about one of her passions, the Power of Us Hub. This online Salesforce.org community is a place for customers, partners, and employees to come together. 
On the Hub you can ask questions, browse knowledge articles, share ideas, and join groups. There are over 40,000 users and Judi is proud to say that 99% of questions posted on the Hub get answered within 24 hours. It's also good to keep in mind that unlike Salesforce.com, Salesforce.org releases updates every two weeks and The Power of Us Hub is where Judi and her team go for immediate feedback. 
Some of the key features of the Power of Us Hub we looked at include:
Your launchpad to anywhere you need to go in the Hub

Topics (a la hashtags) to follow 

Chatter for questions, posts, and polls

Groups to join, such as a local community groups or Women in Tech

Knowledge articles and documentation for NPSP, EDA, etc.

Ideas for posting and voting on feature requests

Partner Information for both Program Partners and ISV Partners
A Survey of Survey Tips & Tools
Next up, Arkus Project Manager Scott Searle gave a presentation about using survey tools in Salesforce. Gathering feedback helps you understand the "why" behind what your donors, volunteers, or constituents are doing. 
For example, why do some people volunteer and not others? Why did some people donate more (or less) than last year? Scott emphasized how important it is to plan out your process and recommends asking these five key questions as you're prepping your survey:
What are different customer touchpoints? (In other words, what are the ways your constituents interact? Face to face, through your website, or through an app?)

What questions do you want to ask?

What distribution channels (such as email or in your online community) make sense?

Where will you map the data (i.e. where will the data go inside Salesforce)?

What is your action plan?
If you haven't chosen how to manage your surveys, your options range from AppExchange solutions, to Google forms, to the native Salesforce survey functionality. We'll also dive into more of Scott's recommended takeaways on how to make sure you're getting the most value you can get out of the surveys in a soon-to-be-posted post here.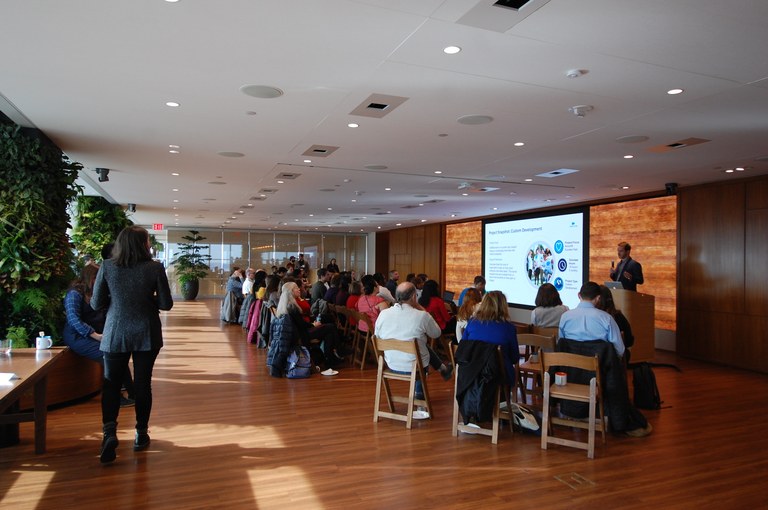 Arkus Pro Bono Day, February 20, 2020 (Photo: Dustin Cole)
One-on-Ones
After our formal presentations, attendees broke up into small groups. Arkus clients had a chance to speak face to face with their Project Managers and other guests had the chance to discuss their burning questions with any available Project Manager. I had the pleasure of speaking with Demetri Sparks and Neiko Alvarado from GMHC. 
GMHC's mission is to "end the AIDS epidemic and uplift the lives of all affected." No small task! Their current challenge is tracking their donors alongside people who register for AIDS Walk New York as registration happens via a third-party vendor and they have to import the registrants. We discussed the pros and cons of tracking walkers using leads versus a custom opportunity record type and how to use Salesforce campaigns to include or exclude either group. We even went old school and broke out some Venn diagrams!
The day wrapped with a tour of the Ohana Floor and time when the Salesforce events team shared how the space can be used by nonprofits. It's available for free for qualifying events.  Learn more and submit an application to use it by clicking here.
Speaking on behalf of the Arkus staff, we all enjoyed our time at the event. We're excited to keep supporting our community with our commitment to Pledge 1%. We hope to see you at our next Pro Bono Day!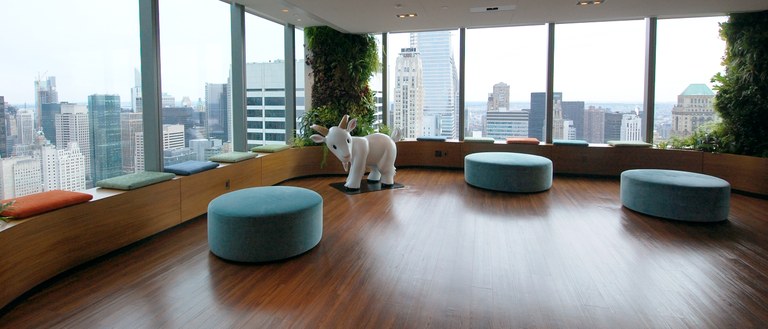 View from the Ohana Floor of Salesforce Tower in NYC (Photo: Melinda Smith)
Are you interested in attending an upcoming Arkus Pro Bono day? Comment on the Salesforce Trailblazer Community or chat with me on Twitter @emadram. You can also get on the list for our monthly top Arkus blog posts round-up newsletter here.