Arkus Pro Bono Day December '16
With over twenty four clients at our NYC HQ, Arkus hosted it's third, most well attended Pro Bono Day yet.
In addition to our popular break out sessions with our team of project managers, Judi Sohn, Tricia Bergsma, and Tyler Woebkenberg from Salesforce.org and Salesforce.com all volunteered their time for their 1:1:1 model and conducted two workshops highlighting the features of the Nonprofit Success Pack and Wave Analytics.
Nonprofit Success Pack with Judi Sohn of Salesforce.org
Judi Sohn from the Technology and Products team at Salesforce.org provided a demo and general overview of Nonprofit Success Pack. Previous to joining Salesforce, Judi worked for a nonprofit and therefore understands and sees each nonprofit as a unique snowflake that has it's own unique requirements. In her current role, she serves over 30K organizations utilizing Salesforce and works on community programs, strategic grants and Pro Bono programs.
Nonprofit Success Pack (formerly known as Nonprofit Starter Pack) continues to offer open flexible data architecture for every nonprofit. NPSP offers the key building blocks for constituent and donor management. Some other key features include grant management, prebuilt customizable reporting and analytics, program and volunteer management, and is social and mobile ready in eighty countries. Some of the newest features include Lightning Experience, matching gifts, honor/memorial, partial soft credits, in-kind gifts, engagement plans (updated action plans), levels, as well as translations for Spanish, German and Japanese languages.
One very important and exciting new feature is the fact that you can now link engagement plans and levels together. For example, if you create a platinum level engagement plan in order to engage and track, as soon as the calculation runs from gold to platinum, tasks are auto assigned and you no longer have to manually monitor and plug in a new engagement plan.
For more resources you can visit the Power of Us Hub, where you can access a community of over 29K users with over 7K posts per month. 99% of questions posted get answered and weekly office hours are offered. The NPSP Group has over 14K users, and if you need more support, you can visit Github for open source code information.

Wave Analytics with Tyler Woebkenberg of Salesforce
Tyler Woebkenberg, a Solutions Architect with the Analytics Cloud team at Salesforce also generously donated his time and provided a demo and illustrated the real time capabilities of the various tools and benefits of Wave Analytics.
Wave Analytics is a Salesforce visualization platform that offers built-in dashboards, reports, and endless options to filter information for a more collaborative data rich analytic experience. With Wave you are able to leverage both Salesforce data and external data in ways you haven't been able to before. For example, Wave can be linked to a social media feed and create reports.
Tyler featured RED, a foundation that makes it simple for people and businesses to join the fight against AIDS. With Wave, RED has been able to illustrate to corporate partners how portions of product sales go to The Global Fund and understand what has happened from the beginning. The number of people living with HIV can be shown and how many deaths have been averted due to the work of RED. Tyler was able to show how over years, the new estimates of HIV infection are falling.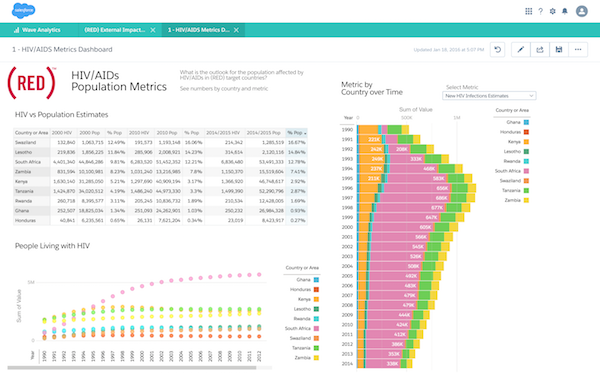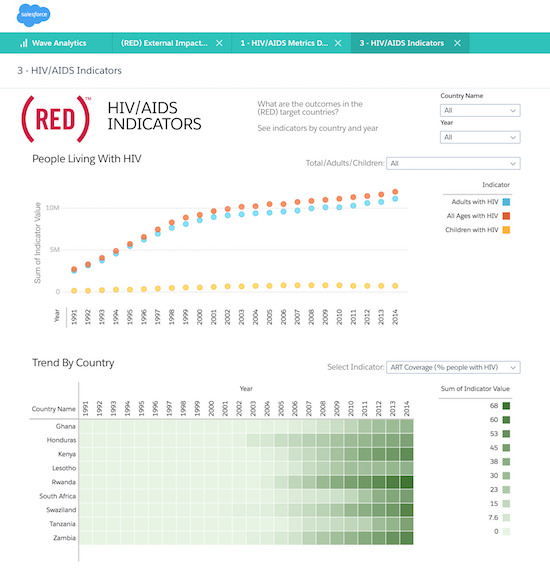 Wave Analytics can be purchased with as little as one license at a heavily discounted rate for nonprofits. You can also access the free Wave iOS app for the iPad and iPhone and Trailhead provides a free developer org so you can try it out as well.
Our Arkus Pro Bono day is so much more than sharing information and helping our clients. It's about spending time together face-to-face to allow for more helpful collaboration and exchange of ideas. At Arkus we believe in educating and empowering our clients, and this day is one way we share in the mission and principles we live in our practice everyday.
What have you done in 2016 to give back? How have you utilized NPSP and Wave Analytics to further along your organization? Please feel free to comment below, on the Salesforce Success Community, on our Facebook page, or directly at me on Twitter @SCarabetta1.