A Guide for Dropping into Web3 in 7 Strategic Steps
Engage your audience with web3 strategically and more easily than you might imagine with these 7 simple steps.
Web3 and non fungible tokens (NFTs) have the power and potential to capture the attention of a specific audience and connect with them when and where they want to be. 

Not everyone I talk to is as excited yet I predict they will be about what this means. I will start with a story I told on LinkedIn about podcasting recently.  To summarize —the doubts I hear about web3 today sound just like the doubts I fielded as an early adopter of podcasting. 
With the pilot launch of Salesforce NFT Cloud we are getting closer to the tech catching up to the community. We partnered with Crown Royal, Vayner3, and CrossMint to launch one of the first-ever drops this month on Salesforce.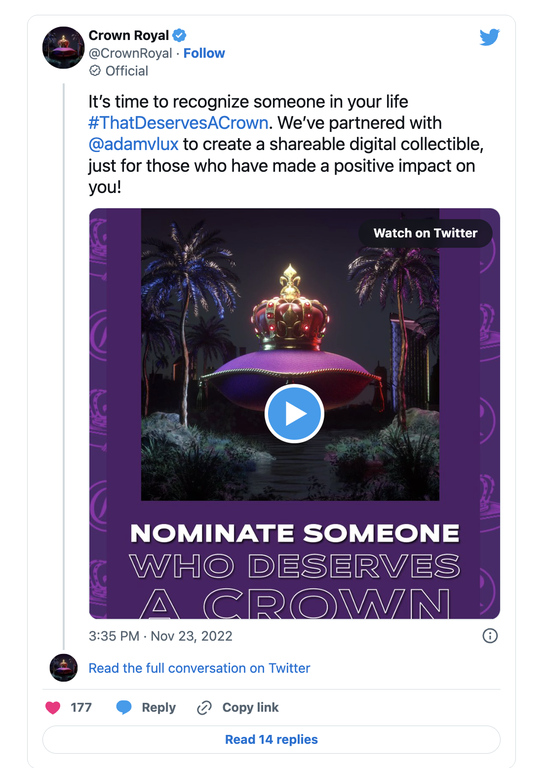 Want to try it yourself? Keep reading. There's a link to try this campaign out yourself while it's still live.

So how did we get here and how can brands and teams continue to use tokens to engage with their communities right now? Here are 7 steps to engage your community leveraging Web3 data for CRM and NFTs —the right way. 
Step 1 - Program design and development of the point of view 
The idea in this step is to determine the reason why the program is being developed and implemented in the first place. These are often big bold statements like "brand x is entering Web3 to engage with their community to create awareness of XYZ initiative". The initiative should speak directly to the brand's core values as these programs should be considered as long term strategic brand-building pillars.
Step 2 - Design of any utility for the owners of the token 
This is the step where we determine what the token may mean to the person who owns it. 
Are they entitled to something for free from the brand? Perhaps they can be shouted out in public spaces somewhere? Or get exclusive access to a physical event? 
The sky's the limit with utilities a digital token can carry, this is a very important part of the process that also requires some level of techno jargon such as ERC-721 vs ERC-1155 - leave this to the experts, just explain what the experience should be like for the community. 
Step 3 - Design the front end experience for the community  
The community will be interacting with the brand on the web so it makes a lot of sense that we need a front end web designer and experience designer to make sure the user experience is solid.
Do you want your community to pay? If so, how? What information are you looking to collect? Can someone collect a token by providing just an email address or would they need to connect a digital wallet? Lots of things to consider here that inform the next step. 
Step 4 - Build the technology solution to facilitate the end user experience of minting or claiming the token
This is where we use Salesforce's platform to configure Web3 digital experience solutions on a Commerce Cloud website optimized for selling physical items and digital items side by side on a mobile device. 
I could go on here about Salesforce, utility management, discord integration… There is so much you can do to build out the integration with CRM, including connectivity to Service Cloud, Commerce Cloud and Marketing Cloud. Reach out to me if you would like to discuss further. 
Step 5 - Build technology solutions for the brand to deliver on continued value and build upon the initial minting experience. 
By leveraging the ability to ingest web3 data via NFT Cloud, we can connect the front end minting experience and Web3 data with the back end CRM data seamlessly. This allows for the brand to create incredibly personalized, yet autonomous, support and care to the community. 
Step 6 - Design the imagery of the token asset itself 
This might seem late in the process to be designing the actual images for the NFT but in reality this is really where it needs to get done and depending on if there is a "post drop reveal" you have even more time to design the art (I am really talking about the marketing here, the art is really important and must be in place prior to the contract going live, so, if the art is meant to be a part of the promotional activities on the website, this step should certainly coincide with the front end build.\
Step 7 - Build the team to support and cultivate the ongoing engagement with the community 
Something often overlooked but definitely should not be — the staffing element of entering Web3. Think about how community members are supported, nurtured, communicated with, and how concerned a brand might be with image. All of these things need to be taken into consideration when staffing up for entry into Web3. Additionally, consider the community management skills and technology skills that come with a staff supporting the initiative.
Ready to unlock the power of Web3 and CRM while engaging with your community by leveraging new and innovative technologies such as NFTs?
The Arkus Salesforce Web3 CRM Accelerator brings your digital asset programs to life. With clicks not code, your users can create and interact with NFTs in any workflow. Whether that be for service, loyalty, or digital engagement, we have got you covered.

Ready to also see this in action? Check out the live page and head to http://web3.crownroyal.com to share a digital collectible with someone #ThatDeservesACrown and Crown Royal will deliver a purple bag to an active military member.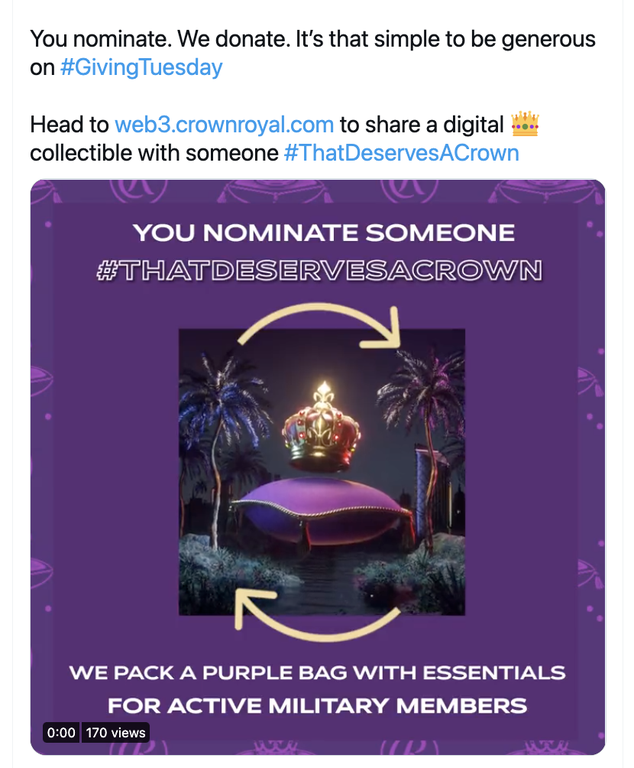 Reach out to us to learn more about how drops like these go down, and working with the Arkus NFT Cloud & Web3 Accelerator.