Arkies on the Road - Dreamforce '23 Edition
It's almost time for Dreamforce 2023 and our Arkies want to connect with you!
From the East Coast to the West Coast, Arkies are converging on San Francisco for the 20th Dreamforce (technically this is Dreamforce 21, but let's face it… 2020 doesn't count) celebration. We want to connect with nonprofits with inspiring missions, past, current, and future customers, and future Arkies!
Catch Learning Sessions with Arkus Consultants
The Dreamforce Sessions list was recently launched and we have 4 Arkus sessions that you won't want to miss.
Discover Lessons from 20 Years in the Salesforce Ecosystem with Arkus CEO & Co-Founder, Jason Atwood. Learn the most actionable insights from a Trailblazer's 20 year journey in the Salesforce ecosystem growing a consultancy and helping customers — big and small — succeed with Salesforce. Join Jason at the Trailhead Theater in Moscone West on 09/13/2023 at 4:30 pm.
From Sheets to Success: Modernizing Data Collection with Arkus Engagement Manager, Zoe Waldridge. Learn how Engineering Tomorrow leveraged FormAssembly and Salesforce to replace manual processes in Google Sheets, modernizing data collection, and achieving optimal operational efficiency. Join Zoe at Theater Two in the Campground at Moscone South on 09/12/2023 at 3:00 pm.
Harness the Power of Mentorship with Arkus Implementation Consultant, Giancarlo Berroya. Hear a Trailblazer story on the value of mentorship in the Salesforce ecosystem. Discover how to find a mentor and tips to create a mutually beneficial partnership. Join Giancarlo at the Trailblazer Theater on 09/13/2023 at 12:30 pm.
Study Smarter, Not Harder for Cert Prep without Burnout with Me! Inspired by Arkus Technical Consultant, Anne Powell, and her certification journey of achieving 12 certs in 12 months, learn practical strategies to prepare for your certification exam while balancing work and life to avoid burnout. Join me in the Trailblazer Theater on 09/13/2023 at 10:30 am.
Keep an eye on your email for the Agenda Builder announcement so that you can add these into your jam-packed Dreamforce schedule!
Join our Nonprofit Day of Learning
On Tuesday, September 12th, Arkus is hosting a day of learning for nonprofits in the area. This will be separate from your Dreamforce registration so you don't have to have a Dreamforce badge to register; however, we will be close to the Dreamforce campus so that both registrants and local nonprofits can join.
If you're interested, you can learn more and sign up here.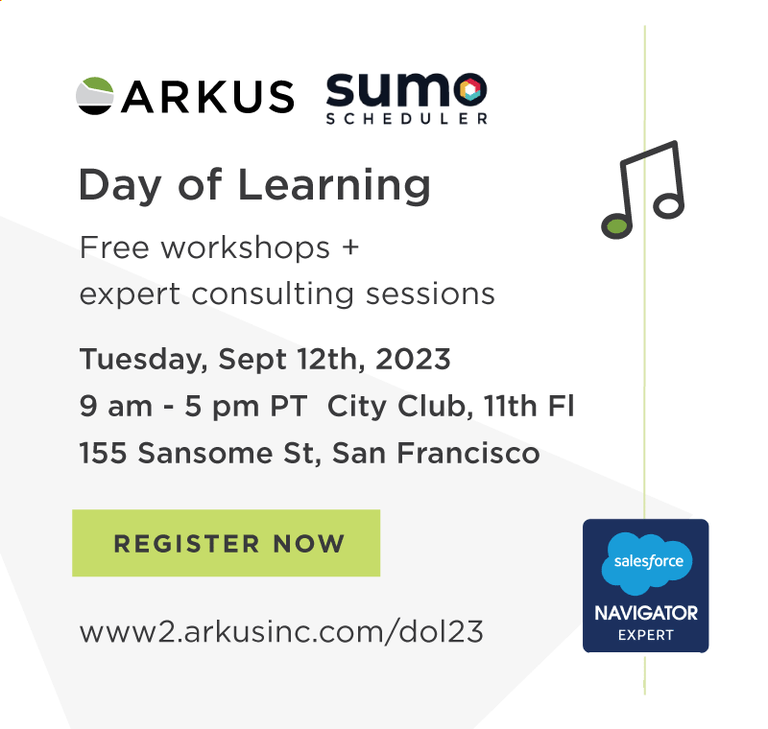 Breakfast and Registration begins at 9:00 am. We'll kick off the day with a welcome, and then dive into sessions at 10:00. Throughout the day we will feature nonprofit success stories using Salesforce and NPSP and insight into how we solve for real nonprofit use cases. Sessions are about 40 minutes each, including Q&A. We will also feature a lunch & learn session with SUMO Scheduler.
We will have several interactive discussion topics where Arkus experts will provide real-time consultations on popular topics such as Reports & Dashboards, Automation, NPSP, Data Migrations, and much more. Be sure to save your spot- space is limited!
Catch Up with Arkies Outside of the Sessions 
If you're taking a more relaxed approach to building your agenda or can't make it to any of our sessions, we'll miss you! But fear not, there are still ways to connect with the team. 
Connect with any of the Arkies linked above on LinkedIn, or send an email to katharine.atwood@arkusinc.com if you would like to connect in person while in the Bay Area the week of Dreamforce
We'd love to stay in touch, and you can also sign up for the Arkus monthly newsletter and events list to stay in the know about other upcoming events. You can learn more about our services and working together by sending us a message through our contact form. 
See You at Dreamforce 2023!
You have 3 days to pack a ton of learning into your schedule. We'd love to connect with you at Dreamforce this year.
Going to Dreamforce this year and want to connect? Tell me on the Salesforce Trailblazer Community, or tweet directly at me @salesforceK8.