Arkus On the Road - Community Events Roundup for 2023
Here are the top community tech events and places to find the Arkus team this Spring and Summer.
It's an exciting time as we look ahead to our plans for the next few months. Arkies are headed to events across the country this Spring and into Summer. Our team has grown steadily over the past year and we are thrilled to share where our crew of team members will be headed. We hope to see you there!
From Oregon to the other side of America, these are the places we're going in the first half of 2023. Reach out to us to connect in person or if you're going to miss an event please feel free to contact us through our contact form so we can connect online. 
Salesforce Education Summit — April 10 – 12 in Dallas, TX
Classic Salesforce events are coming and we'll be there. Several Arkies are making plans to head to the Education Summit this year. Use our contact form to reach out to us or connect with us on LinkedIn to let us know if you're going to be there too. 
NTEN — April 12 – 14 in Denver, CO 
This nonprofit favorite conference is back in Denver — a group of Arkus experts will be back there in Denver too. Join Arkus President of Marketing and Sales Ryan Boyle, Arkus Director of Sales Cate Howes, and Arkus CEO Jason Atwood in person at this event. Add them on the NTEN app; there will be time to connect in person.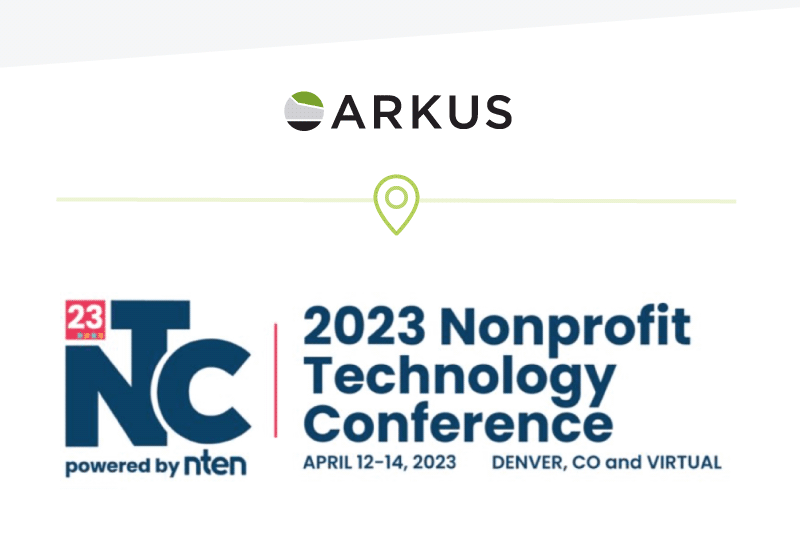 Jason will be presenting a session with lessons and takeaways from more than a decade of building and leading Arkus to our milestone accomplishments of 2,000+ projects completed for more than 700 clients, as a team of more than 60 experts. More on his session:
Maintaining Organizational Culture in a Virtual Workplace 
If your organization has transitioned to a hybrid or all-virtual working model, these challenges may sound familiar: How do we preserve our culture when we're no longer in the same location? How do we build collaborative teams with coworkers we've never met in person? How do we keep employees engaged and excited about their work? This session will provide a candid look at how two different organizations addressed these challenges using a new app developed in house, third-party platforms, ingenuity and memes. You will hear lessons learned and practical things you can try at your organization. 
Register for the hybrid NTEN conference, it is free to join online: https://www.nten.org/gather/ntc/
DevOps Dreamin' — April 18 – 19th in Chicago, IL
Arkies everywhere are excited for this DevOps' special event, especially our Enterprise Lead, Kate Lessard who has prepared an awesome dev session. Get ready for this deep dive and join Kate for her session:
Admins: Write User Stories Developers Celebrate!
We've all been there… in the midst of the friction between Admins and Developers, fighting the No-Code vs Code battle. It doesn't have to be this way. We are all on the same team working towards the same solutions. Learn what Admins can do to get in the mindset of a Developer and write user stories your Dev Team will celebrate. We'll look at successful examples and collaborate on tips & tricks Admins can use to write great user stories.
Learn more and register for DevOps Dreamin': https://devopsdreamin.com/
World Tour DC — April 19th in Washington, D.C.
Headed to this World Tour event? Arkies will be here too. Find Ryan Boyle, Jason Atwood, and Caitlin Thomas at this event where Arkus will be teaming up with Salesforce after to host a Happy Hour with several awesome organizations. There is limited space, RSVP ASAP via the registration page: https://bit.ly/43FKBKf
World Tour NYC — May 4th in NYC at the Javits Center
Expect to see a whole group of Arkies in town for this event, as we descend on our home base and Arkus Manhattan headquarters. Look for Jason Atwood, Mendi Mendez, Amanda Blue, Kate Lessard, and likely many more members of our team. Would you like an invite to our exclusive Happy Hour? Send us a message on LinkedIn. Get on the list for info on World Tour NYC: https://www.salesforce.com/form/event/world-tour/nyc/
Arkus Community Event — May 8th at the Salesforce Tower in Atlanta, Georgia 
Save the date. A community event is taking shape for the Monday after the NYC World Tour in the Atlanta area. We'll be showing up to host a day of learning just for nonprofits at the Salesforce Tower Ohana Floor in the Buckhead area. Sign up for our events list or sign up for our newsletter (sign up to the right of this page)  or drop us a note to receive an invite. 
Texas Dreamin' — May 18 – 19th in Austin, TX 
Texas Dreamin' is a Texas-sized Ohana Community-led conference that provides knowledge and inspiration while celebrating anyone who uses Salesforce! This event is led by a group of Salesforce Community leaders from across Texas who are enthusiastic about strengthening our community by planning and executing a diverse event in Texas. We aim to empower users, admins, developers, and partners by creating an energetic environment for strong connections, learning core skills, and building great careers. Connect with Marilyn DelBosque, Erin Ramirez, and Mendi Mendez at this Texas event. Learn more and register for Texas Dreamin': https://www.texasdreamin.org/
Classy Collaborative — June 7 – 8 in Philadelphia 
The classic Classy event is coming to Philly this year. As the Classy team describes it, this event unites the most inventive minds in the social sector and is a place where nonprofit team members and leaders can learn from top industry leaders and gain the tools needed to expand their nonprofit's reach and impact. Find Andrew Fretwell and Caitlin Thomas in town at this conference. 
Connections, Chicago — June 7 – 8 in Chicago 
Marketing experts unite! Join Arkus Marketing Practice Lead Ed Gray at this Salesforce event in Chicago. Learn more and register for Connections: https://www.salesforce.com/form/event/cnx-2023/
Arkus Webinar: Hitting Growth Mode with Marketing Cloud — On Demand Online
This event was hosted in March, and was our first virtual event of the year hosted live by the Arkus team. Join Cate Howes and Marketing Practice Lead Ed Gray with two technology leaders from our client Carina for a lively demo and discussion in our next webinar, "Hitting Growth Mode with Marketing Cloud" which is now available to watch as a recording on demand.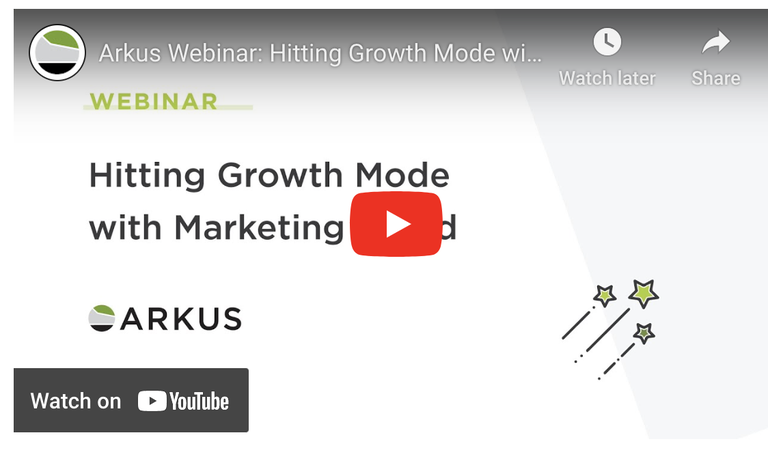 Are you headed to any or all of these events? Will you be on the road or the internet for any others? Let us know. We're here to support your work and are excited to meet in person whenever we can. Find the Arkies mentioned above on LinkedIn (including me) or use our contact form to meet up with us at one of these events. The behind-the-scenes Arkus team will be glad to connect you. As always, you can also use our form to learn more about our services and how Arkus can support your work.