Doing Work with Do.com
Checking out Do.com for project management, and its integration to Salesforce and other cloud platforms.
Do.com offers a place for people to work collaboratively and manage projects in the cloud. Since its release in 2011, Salesforce has continued to build out functionality for this freemium offering that targets small businesses. I have demoed this product periodically over the past few months to see how it works and grows, and below is a walkthrough of its features and my grade for it as a cloud task management app.
Do-ing Work
At its core, Do.com caters to different personal and business needs by segmenting data into Groups. A group can be limited to a single user, or can include others in a collaborative workspace. These workspaces allow users to collaborate on Projects and Deals, which are collaborative silos for tasks, notes, and attachments. A project and deal are very similar in that users join each other to share attachments, thoughts, and tasks.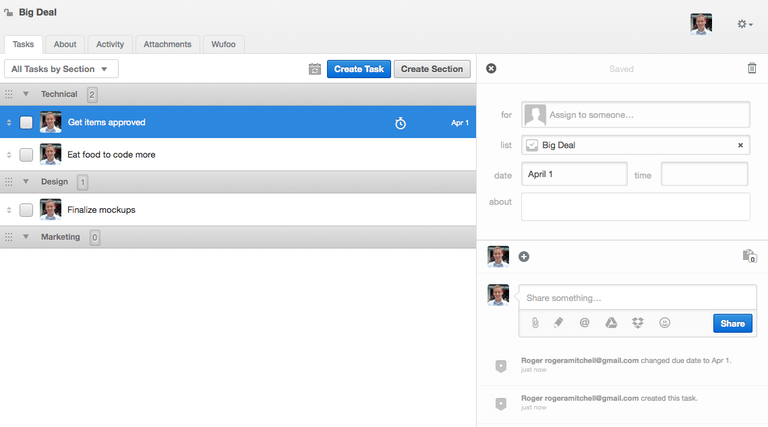 Tracking tasks about this Big Deal project in Do.com.
Projects are sections of tasks, where each task has a set of people involved and a stream of activity, shown in the lower right of the screenshot. Users can share thoughts and emoji, uploaded files, mention people and collaborate at this task level, or for an entire project via the Activity tab. Deals are very similar to projects, in that each has the above components, and has a few additional attributes. Each deal consists of a value, close date, and up to 5 customizable stages.

A group's deals listed, charted, and summarized with Do.com.
This view of all my deals is slick, and offers some filtering based on deals that a user owns or is part of, and date filtering. Especially interesting is the Task column, showing the task with the closest due date along with an icon of that user. Reporting is limited to this view and exporting is not possible from this module, requiring the need for a spreadsheet or separate application. Beyond the free version, outsiders from your organization can be invited to join in the collaboration for specific deals and projects, with granular access controls for who sees what.
Like +1 for Integration
Aside from its slick interface, collaborative and team-oriented project management capabilities, Do offers the ability to "Do More" with app integrations galore and developer API. Dropbox users can easily add files from their cloud storage, and Harvest customers can track times around Do.com tasks for reporting outside of Do. Google Apps customers can install an app from Google Apps Marketplace to create tasks from within Gmail and add docs from Google Drive with one click. Salesforce customers can integrate a view of their projects on Account and Opportunity records via an AppExchange app.

Salesforce integration is cool at first glance, though cannot apply to custom or other standard objects.
Round Up: A- Grade
Do.com has great potential for small business customers looking for collaboration platforms like Basecamp, and where Do will succeed is through its integrations and intuitive interface. It seems that Salesforce's freemium offerings for Do and Desk.com act as teasers to their more robust CRM offering, where customization extends past a few changes here and a small set of canned reports. While it may be a campaign to draw customers into the world of Force.com, I hope Salesforce continues to build out functionality for Do because it was a pleasure to demo.
Used Do.com? Looking to collaborate around project management in the cloud? Drop me a comment below, via our Facebook page, or @RogerMitchell on Twitter.