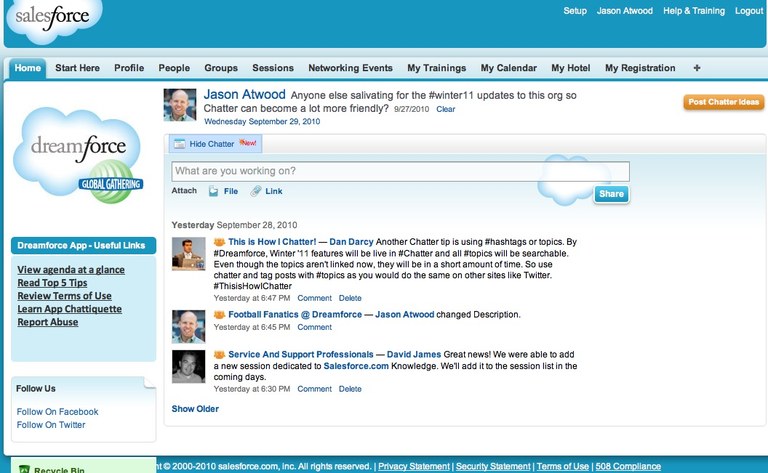 Chatter Changes Conference Collaboration
As a past customer and now partner of Salesforce.com, Dreamforce has become an annual "must go" event and mecca for all things cloud computing. Each year the conference grows in size, complexity and sheer magnitude. This year Salesforce.com is bringing a whole new dynamic to the conference by creating a conference portal with Chatter.
Chatting It Up
For those new to Chatter it is Salesforce.com's internal, enterprise version of a social network. Like Twitter or Facebook you can follow people, post statuses and form public and private groups. The killer feature of Chatter is that it enables any data type the ability to post its own message about status or data changes. In a normal CRM installation Chatter enables opportunities to chat when they are updated, accounts to chat when they are changed and for custom data like projects to chat when a new goal has been reached. All of this, including the people you follow show up in a feed and on your profile, which also contains personal information like a photo, contact and followers.
Conference Community Goes Social
The new Dreamforce portal brings all of those Chatter features and throws in all of the conference sessions, speakers, groups and attendees. While Dreamforce isn't until the beginning of December, attendees are already connecting up, following each other and posting statuses about what they are excited about. There are user groups forming from locations and interests like the NJ Salesforce Usergroup and our own Football Fanatics @ Dreamforce for those looking to find the best spots to watch our teams while in San Francisco.
Save Your Business Cards
Bringing this social networking to Dreamforce is changing the face of the conference, creating buzz months before the actual conference and allowing attendees to get to know each other before getting on the plane. It will be even more interesting to see how Chatter and the portal are used during and after the conference. I can see people foregoing the exchange of business cards, by just saying "Follow me on Chatter" and others using mobile devices like the iPad to find someone during the conference to meet up by posting on their wall.
More to come on this topic as we will be attending, podcasting and blogging about Dreamforce and letting you know how it all works out.
For those attending Dreamforce this year, follow me in the portal and let the conversation begin.