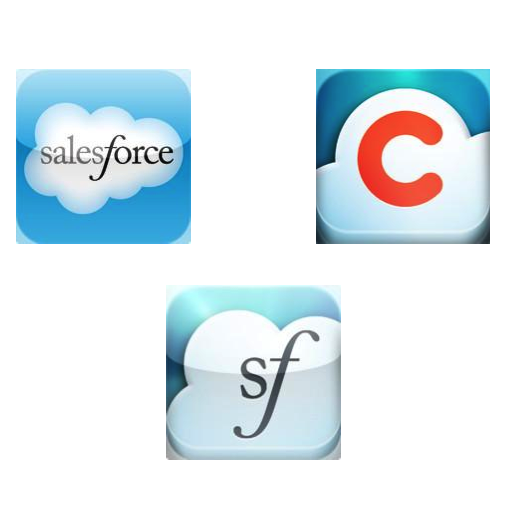 State of Salesforce Mobile
A review of the official mobile apps of Salesforce.com.
Salesforce is all about mobile, and with three different apps, there's an experience for everyone. Whether you prefer the old school, new school, or social approach, Salesforce produces two solid offerings for all major mobile platforms (Android, iOS, and BlackBerry... sorry Windows Phone), and a third app specific to iOS users. All of these options are installed, and profiled below in terms of features, usability, and interface.
Salesforce Mobile Classic
Easily the jalopy of the Salesforce trio, Salesforce Mobile Classic is an app for utilitarian users that have a slight preference to masochism. While there are mobile light and full versions of this app (the latter costing money), out-of-the-box Classic gives you a handful of standard objects and dashboards; it's nothing to write home about. For non iOS users, it's the only app that shows some set of objects on Android and BlackBerry devices, and those users may prefer the browser-based experience anyways. From the screenshot below, an internal project for Arkus called "Compliance for Chatter" is missing entirely, though exists in the org.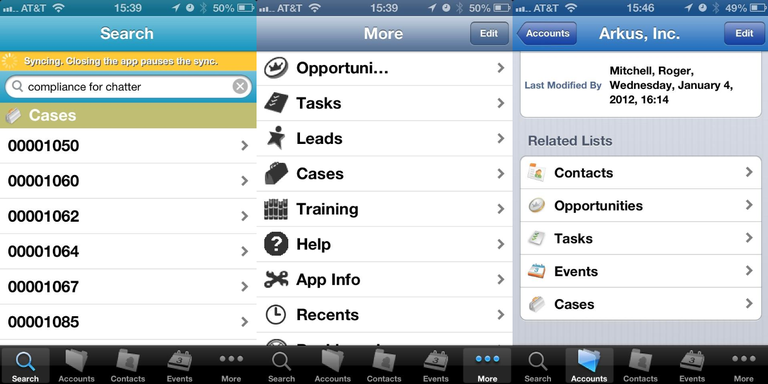 Classic's presentation of related data and fields is a close second to Salesforce Touch and the most recent Chatter update for iOS, allowing users to see data easily without needing too many finger taps. It weighs in as the fastest app for finding and viewing data, giving it slight props for users that care about speed. It also possesses an offline mode, allowing for data to by synced and viewed without an Internet connection on your phone. With the recent name change from Salesforce Mobile to Salesforce Mobile Classic, it's likely this is slowly being phased out as the team in San Francisco is opening eyes to the way of Chatter and Touch.
Salesforce Touch
From the browser to an iOS app, Salesforce Touch allows access to all of the objects in Salesforce. Like many of the newer mobile apps, there's a horizontal concept to its design where a user can swipe and select between pages. Below is a composite of a few of these pages from Touch; first a list of cloud apps available, and a list of tabs that comprise that application. By selecting a record from search or a recently viewed list, its detail page appears. The ellipsis exposes a page of related lists, allowing users to check out activities and other items related to the record.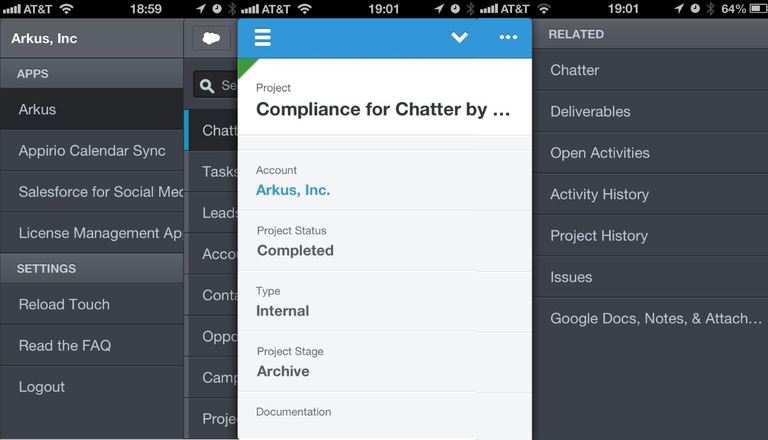 Touch is leaps and bounds ahead of Classic in terms of interface and usability, but the overall experience leaves things to be desired. Slick and clean design loses its value when the functionality lags behind. Search tends to be slow, and often times doesn't produce the same results as the browser. This tortoise speed carries over to 4G networks, where the fast speeds of wifi and LTE are lacking, and it's easier to find data using the desktop interface in Safari Mobile or Chrome.
Salesforce Chatter
Chatter is an amazing way to stay on top of the social enterprise; since its release, trolling Chatter and posting to followed records is expanding to allow file posts, polls, and most recently, viewing and editing records. Offered for Android and iOS (...and BlackBerry, if you still have one of those), it allows your workforce to stay in the loop and provide relevant updates from the field.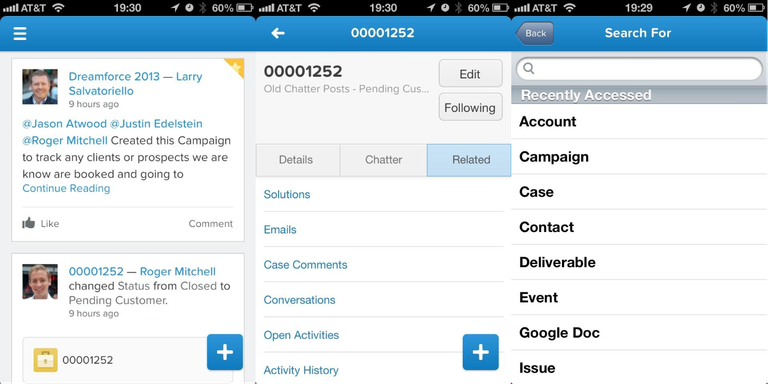 Specifically for iOS users, the most recent update to Chatter version 4.0 brings a Salesforce Touch-like experience, allowing users to view and edit records of virtually any object from within the Chatter app. The design is great, and offers less taps to for searching, viewing records, and related data than Salesforce Touch. There's a decent chance that Touch and Chatter combine over time into a single app, as Marc Benioff suggested all data goes through Chatter.
Overall Chatter for iOS is the clear winner in terms of speed, design, and usability, and hopefully this update will find itself into the Android version within the coming months. Do you use any of these offerings? Let us know your thoughts on our Facebook page, via Twitter @RogerMitchell, or using Disqus below.