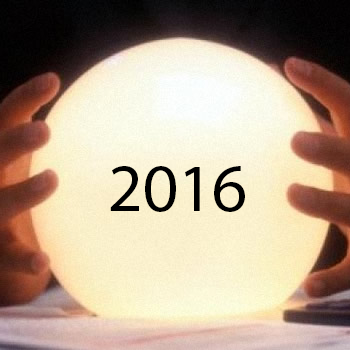 Cloud Computing Predictions for 2016
For the 6th year in a row it is time to throw all caution to the wind and make some predictions for some cloudy things to happen in 2016.
Looks like my hot streak that started in 2014 died a terrible death this year as not one of my 2015 predictions held any water. Crazy is as crazy writes, so let's put some new ones on the board. If you are new to the series, I also add a confidence score of one through ten (being the highest) to justify my predictions.
Hulu Overtakes Netflix
The writing is on the plastic DVD, that while streaming is becoming the thing, original and new content are king. Hulu this year introduced a new paid commercial free tier and has started landing relevant movies so I am predicting that Hulu takes over Netflix in the streaming space for 2016 by landing some huge content partner.
Confidence: 5
Apple Goes Original
Original content that is. There are rumors in the wind that Apple wants to start developing or at least buying developed original content to compete with Amazon, Hulu, Netflix, HBO etc and to bolster the release of the new Apple TV. While I don't think it is very "Apple" at all and a space they are not set to be in, I think they will do it so expect original Apple TV shows and possibly movie releases in 2016. Maybe they can finally make that Steve Jobs movie everyone has been waiting for.
Confidence: 9
Daily Fantasy & Uber Gets Uber'd
You can't Uber Uber right? Well, I am predicting that governing bodies crackdown on Uber big time next year with new regulations, sending them into a tail spin and ultimately out of business. If you are looking for some more businesses to get a government crackdown, look no further than every other commercial on TV so I expect the daily fantasy leagues to take a a bigger legal hit next year.
Confidence: 6
No New Apple Watch
Betting against Apple releasing a new product update every year is not so smart, so why should the smartwatch get a hold over? I am betting Apple spends 2016 making 2017 the year of the Apple Watch which will be a drastic departure in both functionality and design. Everyone with a fancy one will moan all the way to the Apple Store to pick up the new one.
Confidence: 6
Longest Shot: Salesforce Spins off Heroku
Spins off? Did you read that right? Yes. Yes you did. Salesforce has done a lot of company buying in the last five years and it is time to release some fish back to the ocean. I am predicting that they spin off Heroku into its own company, free and clear (but very connected) to Salesforce realizing it just isn't their core. Hey, you would have called me crazy if I said Microsoft would make a bid for Salesforce in 2015, but that DID happen. Or was that just a nightmare?
Confidence: 1
Have your own prediction? Throw them in the discussion below, in the Success Community on our Facebook page or just tweet them @JasonMAtwood