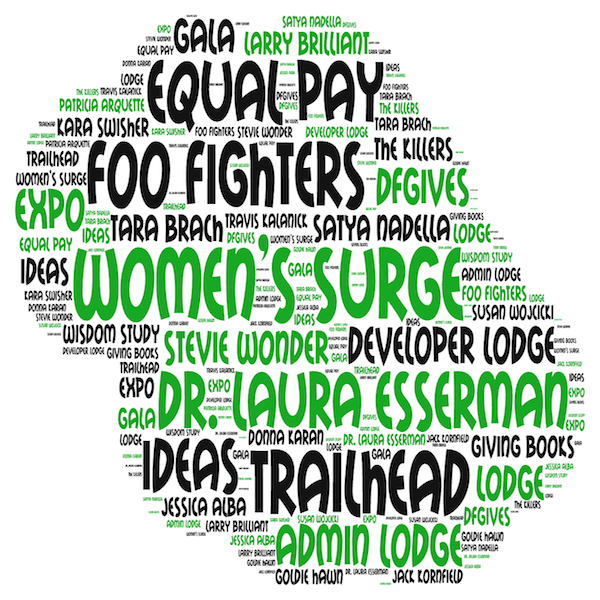 Dreamforce 2015 - It's a Wrap
A post-conference summary of highlights and thoughts on Salesforce's annual Dreamforce 2015 conference.
We leave Dreamforce 2015, our minds swirling with the visions, sounds, ideas, acquired knowledge, and inspiration collected throughout the four days, wondering how it all fits, what it all will mean in a few weeks, months, years and knowing it will sort itself out.
The numbers were astounding - over 170K registrants (about a fifth of the total population of San Francisco), 1,600+ sessions with over 400 partner exhibitors - Dreamforce literally consumed the city. Many may not realize that Dreamforce is the second of what locals refer to as the "holy trifecta of conferences" that occur within weeks of each other, VMWorld and Oracle OpenWorld being the other two, but I digress. Back to the numbers, and specifically the 1-1-1 model that we all have come to know, love and emulate; Salesforce's model delivered 1.1M+ hours of service, $100M in grants, along while providing 26K+ Nonprofit organizations with $250M of donated product. Giving Books surpassed its One Million goal by ending at 1,006,225 books donated. Kudos to all of us who donated!
This year's conference introduced us to the Internet of Things Cloud (IoTC), Thunder, SalesforceIQ and SalesforceIQ for Sales Cloud, and expanded upon the recent introduction of the Lightning Experience. It was focused on the customer and featured both a Women's Leadership Summit and Mindfulness days. The week flowed with  innovative companies, ideas, products and workshops and was over in the blink of an eye.
Highlights this year included:
Dr. Laura Esserman and the Wisdom Study
During the keynote, Marc sequed into discussing cancer and notes the impact it has had on everyone in the room. A video introduces us to Dr. Laura Esserman at UCSF who is leading Athena, a new collaboration for treating and managing women's cancer. Now the meaning of "connected customer" resonates, as Marc and Dr. Esserman speak of The Wisdom Study, "targeted one-to-one medicine", inviting all of us to "join, step up to the plate. Share your data, share your wisdom." This is powerful stuff, I envision the positive impact and benefits it will deliver and I look forward to learning ways in which I can contribute.
SalesforceIQ
SalesforceIQ for Small Business and SalesforceIQ for Sales Cloud are the result of their acquisition of RelateIQ last year. The product announcement was met with big applause during the keynote and rightly so, as it leads the transformation from reactive to proactive communications and sales. Many of us loaded the mobile app immediately and could not help but be impressed with its functionality.
Women in Leadership
Salesforce invited us to "get inspired to lead and advocate for women in the workplace" with this program. The track began for me with the "Building an Inclusive Workplace" panel discussion facilitated by Kara Swisher, executive editor for Re/code. Kara is no stranger to the issues that women face in and out of the tech industry, and she led Marc Benioff and Parker Harris in a thought-provoking and entertaining discussion. Benioff admitted that they failed by not prioritizing this issue when they began the company and Parker told us about the "equal pay for equal work" and "Women's Surge" programs now in place to address the issues. While stating that they are focused first and foremost on their company, Marc and Parker did convey that these concerns must be prioritized by all leaders. The exchanges between Kara and the two leaders were fantastic and down to earth, refreshing in light of the seriousness of the problem. The discussion carried over in many of our conversations throughout the rest of the event, evidence that the panel was successful in bringing the situation to the table.  
My day ended with the "Women's Innovation" panel hosted by Gayle King and featuring YouTube CEO Susan Wojcicki and The Honest Company founder (and actress) Jessica Alba. Gayle King did not appear to have done her homework and immediately admitted that she did not know a thing about Salesforce or Dreamforce as she proceeded to question the participants. It should be noted that other blogs focused on Gayle's inappropriate line of questioning. The guests were gracious and provided inspiration, but I couldn't help feel that the session did not fully capitalize on the opportunity to dig deeper into the issues with these powerful leaders.   
Gala Event
There is nothing like a Dreamforce gala event and this year was no exception. From the lineup to the atmosphere, the experience is second to none. Kudos to the team that came up with the location and the crew that delivered on the lights and sound, the combination was over the top. If you were previously not a fan of any of the bands, there's no doubt that you walked away as one, and I would place a bet that you will never turn down an opportunity to see the Foo Fighters again. Wow!
Stevie Wonder
Early in the keynote, as I heard the familiar strains of Stevie Wonder performing some of his classic songs, I smiled widely. When he invited the audience to join in an improvisational scat it was a magic moment, hearing the tech crowd join in was priceless. Stevie Wonder will always be a highlight, he was fantastic and his smile lights the room.
Trailhead and Lodges
We had Lodges instead of Zones and they were on fire! The Trailhead theme was a huge hit and provided a solid, well, trail map, to follow along the conference. From the Airstream trailers on Dream Street to the carved bear at the front of the Developer Lodge, Trailhead was front and center and invited us to jump in and learn.
Trailhead is a great tool and Salesforce deployed it to full effect. Expect it to be available for your own customization and use, we at Arkus have incorporated it into our onboarding process due to its rich content.
Salesforce & Microsoft
The presence of Microsoft CEO Satya Nadella throughout the conference is evidence of how far the partnership has come. While admittedly it used to be enjoyable to poke fun at Microsoft, this year you couldn't help notice that we now finally have integration of Microsoft Outlook and Office products; it's a huge win for all of us. I must admit however, I did snicker when Satya kicked off a live demo of Outlook using an iPhone during his fireside chat with Marc and covered his choice by saying "I'd like to call it the iPhone Pro because it has all the Microsoft software on it".
Mindfulness
For me, this was a fitting end to the week. Hearing the wisdom of Larry Brilliant, Tara Brach, Jack Kornfield, Donna Karan, Goldie Hawn and how they incorporate mindfulness in their lives equipped me to head back to the world, back to helping others.
Dreamforce once again invited us to participate in their transformation of the way we work and live and provided us the foundational technology and ideas to guide our next steps.  How were you inspired, what were your highlights?
You can also listen to Justin Edelstein and Jason Atwood discussing all things Dreamforce on their CloudFocus Weekly podcast.
Please feel free to comment below, on the Salesforce Success Community, on our Facebook page, or directly at me on Twitter @sfdcclicks.