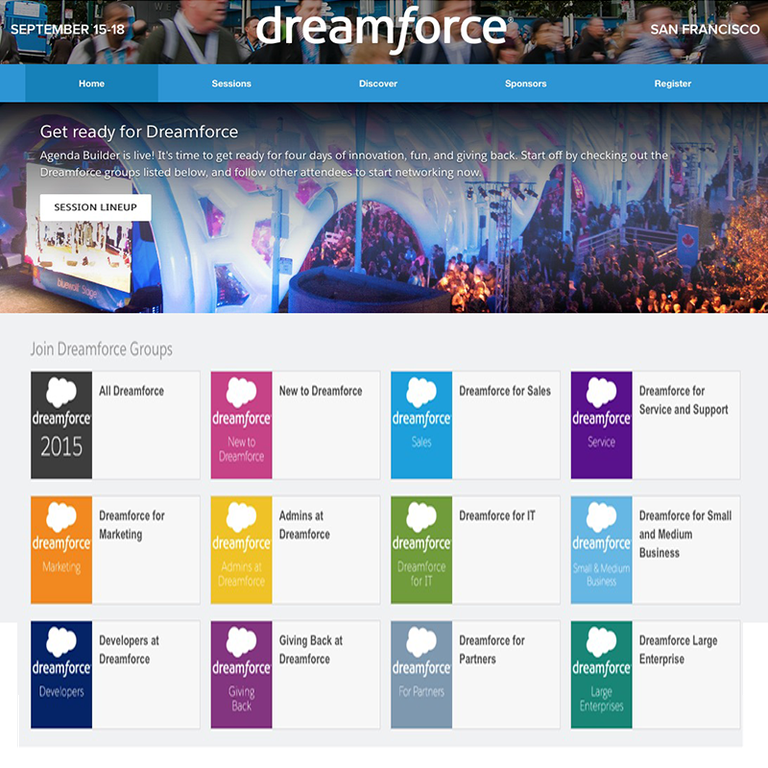 Top 10 Reasons to go to Dreamforce 15
Here is a look at the top ten reasons to go to Dreamforce 2015.
The largest software conference on the planet is only a few weeks away. Dreamforce hits the streets of San Francisco from September 15th to September 18th and there is no better way to kick-off the NFL season than to hear about what is new in the world of Cloud Computing with over 130,000+ other Salesforce disciples. Here are the top ten reasons to attend Dreamforce 2015.
#10 Dreamboat
Some people consider Dreamforce a vacation so why not add a cruise ship to the equation? Finding housing for over 130,000 people close to the Moscone Center has become a tough task, so much so that I have seen rooms go for over $900 due to the high demand. Into Pier 27 comes the Dreamboat provided by Celebrity Cruises. Sounds like an opportunity to learn about Salesforce during the day and party on a cruise ship at night. I am not staying on the Dreamboat but I definitely think it is a cool idea.
#9 Breaking News
Safe Harbor! Safe Harbor! Every year Salesforce releases something new and exciting coming to a Salesforce Org near you. Last year we were presented with Salesforce1 Lightning and Wave. Will Lightning strike again? Time will only tell.
#8 Dreamfest and UCSF Benefit featuring the Foo Fighters and Gary Clark Jr.
I wasn't at Dreamforce in 2008 so it is great to hear that they are bringing back the Foo Fighters. Since 2008 they have gotten bigger and better and are one of last real rock bands out there. With a new venue, Pier 70, I expect this to be a night talked about for awhile.
#7 Swag
The "SWAG" (Stuff We All Get) given out at the multiple expo halls just keeps getting better and better each year. Partners spare no expense and if last year was any indication of what is to come this year, I think some of us may need a second suitcase. Last year we saw the likes of Penny Skateboards, GoPro Cameras, Exercise trackers and of course a lot of free refreshments! What will they come up with this year?
#6 Keynotes
The amount of celebrity and industry leaders speaking at Dreamforce goes up each year. Goldie Hawn (Actor), Susan Wojcicki (CEO of YouTube), Jessica Alba (Actor) and Satya Nadella (CEO of Microsoft) are just some of the names that will be speaking this year. Make sure you plan out your agenda sooner than later so you don't miss out. Some will have limited seating so registering sooner than later is recommended.
On Wednesday, September 16th, 2015 at 6:30am at the Ferry Building on Embarcadero the 3rd Annual Dreamforce Community 5k Fun Run will take place. I had the pleasure to run in this last year and it was a great way to start the day and promote health and wellness. No track star requirements for this run. All levels welcome.
A big issue that Marc Benioff has taken head on is gender equality in the workplace. The Women's Leadership Track at Dreamforce will focus on women that have succeeded in predominantly male fields and can give the playbook to other women. Susan Wojcicki (CEO of YouTube) and Jessica Alba (Actor) headline this track with the hopes to inspire both men and women to change the industry once and for all!
#3 Reunion
This is one of two on the list that will never change. Each year we get to meet new people from around the world who share the love for Salesforce and other things. This is a great time and place to reconnect with friends old and new. I cannot tell you how many friends I have that the relationship started at Dreamforce.
#2 Marc Benioff
Getting the opportunity to hear Marc Benioff speak in person is not as easy as it once was. If you missed Marc at Dreamforce you always had the opportunity to hear him at one of the WorldTour (Formerly Cloudforce) events in a city near you. Nowadays it seems Marc makes an appearance at only a few so getting to hear him live is a treat. I always get inspired after one of his keynotes and I don't expect this year to be any different.
#1 Education
As always this is the top reason for going to Dreamforce no matter what. If Salesforce is critical to your business or if you are thinking about it, this conference is a must for you. You get access to over 1,500 sessions, 1,000+ product demos, hands on trainings, certifications and other educational opportunities such as meeting with product managers or mingling with Salesforce MVPs in the Admin Zone.
Another year of Dreamforce and another top ten reasons to go. Please feel free to comment below, on the Salesforce Success Community, on our Facebook page, or directly at me on Twitter @Salvatoriello