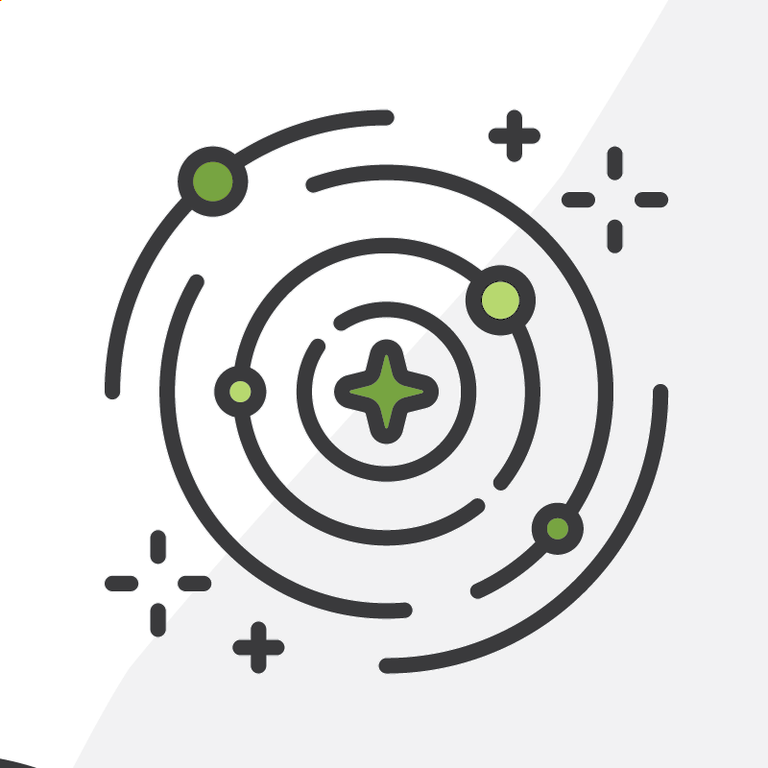 Don't Panic: The Hitchhiker's Guide from LCRM to NPSP
If you are one of the many nonprofits feeling the pressure of the Luminate CRM (LCRM) end-of-life announcement, you are not alone — read more to prepare for a successful move from LCRM to Salesforce's Nonprofit Success Pack (NPSP).
Much like Arthur Dent felt when he found out Earth was being destroyed in order to construct a hyperspatial express route for a new intergalactic highway in The Hitchhiker's Guide to the Galaxy, nonprofits using LCRM are left in the lurch to make a decision about migrating their data and processes. Many LCRM customers are evaluating the move to Salesforce and NPSP. On paper it seems like a straightforward move — LCRM is built on the Salesforce platform and its users are already familiar with the user interface and navigating Salesforce; but like any data migration project, there are underlying challenges to a successful implementation.
A Guide to Get You Started
You might not have been able to view the planning charts and demolition notice on display in Alpha Centauri and it's too late to start making a fuss about it. The dolphins have already abandoned Earth, and it's time to prepare for your data migration because the end of LCRM is coming whether you are ready or not. After June 30, 2022, you won't be able to access your data within Luminate anymore. 
As you evaluate a move to Salesforce and NPSP, here are a few high level questions to be prepared for from your chosen implementation partner:
What do you like about LCRM and want to keep?

Are there any pain points you've experienced using LCRM?

Do you have any systems that need to integrate with your CRM?

How do your users interact with your CRM?

Are you using Luminate Online in conjunction with LCRM? Do you plan to continue using Luminate Online or are you interested in another Marketing Solution?

Are you using the LCRM Lightning Experience or Classic user interface?

What does a successful transition from LCRM to NPSP look like for your nonprofit?
You can also prepare yourself by learning more about Salesforce and NPSP. If you haven't already, watch a demo from Salesforce. You can also start familiarizing yourself with NPSP's functionality by getting on Trailhead. This NPSP Basics module is a great way to get comfortable without getting overwhelmed!
Plan: Because you can't rely on an Infinite Improbability Drive 
Again, don't panic, but the time to start is now. June 2022 is less than a year away and data migration projects take time to be successful and accurate. Take a look at our high level timeline to prepare yourself for the next year,
Now - If you haven't already, start looking for an implementation partner to serve as your guide through this project. If you're unsure where to start, contact your Salesforce Account Executive and ask for a recommendation. Including Arkus, there are more than twenty Salesforce Premium Partners that specialize in Nonprofit Cloud Consulting- we'd be happy to help you get started with your NPSP implementation. Be prepared with answers to the above LCRM specific questions going into these conversations. You can also reference these sample discovery questions for nonprofits to get a sense of what might be asked of you. Extra credit if you come prepared with data samples.
Now through September 2021 - Kickoff your project! Be prepared for a lot of data cleanup and de-duplication. Let your implementation partner guide you through best practices. This process is time consuming, but if done properly your data will be accurate and you will have a successful rollout for your users. Check out this Arkus blog post for Tips to Prepare for Data Migration.
Share requirements with your partner so they can advise on the best NPSP configuration for your nonprofit's needs. NPSP has a lot of great out-of-box functionality like Donor and Programs Management, but there is also the possibility to configure custom functionality that is specific to your needs. The more detailed you dive into your future dream state processes, the better equipped your partner will be to create something custom or help you find third party applications to replace some of the LCRM and Luminate Online functionality you can't live without. This configuration work will take you into Winter 2021.
Spring 2022 - This is the fun part… the actual data migration and transformation takes place which means you get into your new Salesforce org equipped with NPSP and the customizations you have detailed in your Requirements sessions, and test it out. Work with your Salesforce Partner to make any necessary tweaks and put together training materials. This will set your team up for smooth sailing into the LCRM Sunset of Summer 2022. 
Keep in mind that this project is going to take time; but with planning, preparation, and the right partner on your side, you can make a successful transition from LCRM to NPSP. 
Just don't forget your towel.
Still panicked or want to talk more about making the move to NPSP? Sign up for our upcoming webinar on June 28, Lights Out: Your Luminate to NPSP Migration Guide. We'll go more in-depth on the best discovery questions to ask as your prepare for your journey ahead, share migration tips and tricks, and wrap with time for Q&A with our team.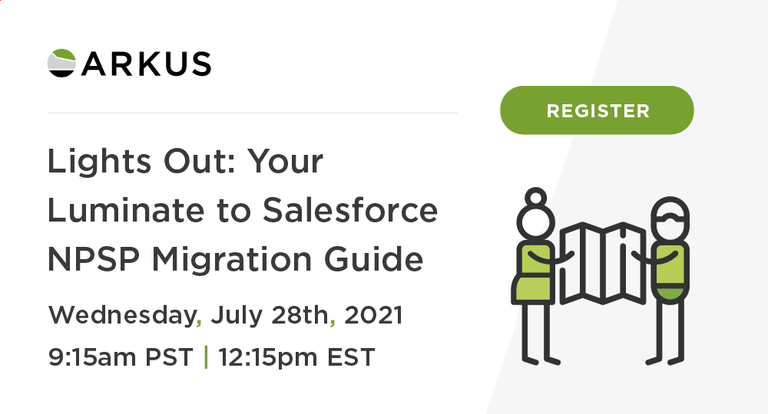 You can also tweet me directly @SalesforceK8 or find me in the Salesforce Community.