Managing My Wedding on Force.com
For those that don't listen to the CloudFocus Weekly podcast where I've been talking about this for months, I am getting married. Like any other Salesforce geek I decided to manage my wedding inside of Salesforce.
Introducing WeddingForce
How else would a five times certified, three time MVP, and all around Salesforce geek spend his Labor Day? Obviously he would spend it building out an application to manage his wedding. Last summer I got engaged and all of a sudden after the jubilation of the engagement day settled down a bit, it hit me, we need to plan this wedding, "we" being the operative word. I started to think about all the things that we as a couple needed to do and collaborate around to plan the wedding and it reminded me of all the types of business processes that I help clients with all the time. I came to only one conclusion; I needed Salesforce to help get us through this planning and data tracking event (I realize this is a very odd way of looking at planning a wedding, almost robotic). Over the course of three hours on a summer afternoon I built out what is known to us as WeddingForce. It's the end all be all for all data related to our wedding.
Key Features
WeddingForce boasts some great features for collaborating around wedding planning. We do all of the following using Salesforce and some other 3rd party tools all built with clicks and no code:
Track families / households invited to the wedding and whether or not they've RSVP'd

Track individuals who are invited to the wedding

Plan campaigns for save the date mailings, bachelor party, shower, and our rehearsal dinner

Capture all possible wedding venues that we took a look at with key fields such as price, location, and comments around what we did and didn't like with fun statuses like "hated it, loved it, and finally, this is the one"

Vendors ranging from hotels where we've blocked off rooms to photographers to bakeries 

Gifts that people get for us and for what reason (engagement, shower, wedding) 

We did our mailing labels for our save the date envelopes using Conga Composer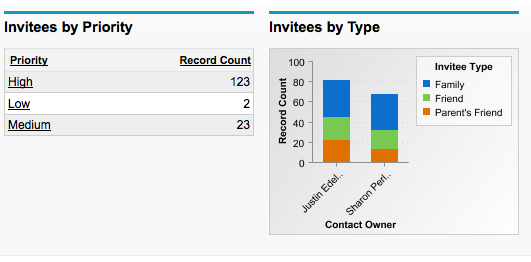 Adoption
Thanks to Salesforce's easy to use interface the fiance needed about 10 minutes of training in order to get on board and using WeddingForce. She's a real pro at entering data, especially gifts… The Chatter feed was a major driving factor in adoption as well - it was very familiar to her and a great way for us to communicate about certain vendors, upload price sheets and images, as well as an easy and effective way for her to make feature requests. Nothing like getting a Chatter post from your soon to be wife asking you to add a checkbox to an object.
After all was said and done we have a centralized location with our budget, all of our invitees, their RSVPs, Gifts, Vendors, and all the reporting that you could possibly ask for. Not to mention tickler lists for Gifts without Thank You notes or People who haven't yet RSVP'd. All the goodness that a user of Salesforce who is selling multi-million dollar deals would expect, except this is to manage the wedding of the century...mine.
Please feel free to comment below, on the Salesforce Success Community, on our Facebook page, or directly at me on Twitter @JustEdelstein.