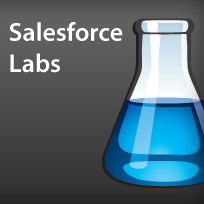 Top 5 Salesforce Labs Apps
Checking out 5 awesome Salesforce Labs apps, extending platform functionality for admins and users at no cost.
Ever search for an app on the AppExchange and see a blue flask icon returned in the search results? It's a Salesforce Labs product, and there are hundreds to choose from. Each Salesforce Labs product is inspired and may be developed by Salesforce employees, each listing their application for free, enabling admins and users alike to achieve some greater functionality on the platform. While there are hundreds, here are my top 5 for admins to consider test driving and installing.
Salesforce CRM Dashboards
New to this CRM thing? Need some inspiration for wicked dashboards that you saw in a Dreamforce session or on a YouTube video? Salesforce CRM Dashboards is a great first step into the world of dashboarding. This package includes 7 dashboards and 60 reports to inspire an admin to create meaningful analytics for his or her sales reps, service team, and executives. Every dashboard component is used, so it can help to check out each if you need help with gauges or tables.
Graphics Pack
Want to spice up your records with 5-star icons instead of staring at boring picklists in list views? Have tons of tabs and don't want to use those boring Salesforce styles? Graphics Pack has over 1,600 images contained in the package of two varieties: 16x16 and 32x32. You can create formula fields that display a number of stars, indicate that a high priority case has a red stoplight, or make tabs with icons that pop. The Android robot is my favorite (a huge Google fanatic at heart)!
Mark Complete
Can you close out a task with less than 2 clicks? I dare you to try it without Mark Complete. Perhaps the simplest package in the world of Salesforce apps, this package only includes 1 component: a custom button for tasks. Toss this on your page layout and you'll be getting your users from Not Started to Complete in 1 click. Brag to your Salesforce admin friends that you implemented a 67% time savings for users in a matter of minutes!
Picture Uploader
Ever want to upload a photo to a contact record? Before Social Contacts & Accounts, this was virtually impossible without using a rich-text field or writing your own elements to handle it. Picture Uploader lets users upload an image relatively quickly and display the image on a page for users to view. This app is super popular with our non-profit clients in the education industry, as they can put a face to a name for their students, teachers, and fellows.
Out of Office Notification for Chatter
Heading on vacation and worried that your Chatter cred will fall because you can't reply to users posting on your profile? Out of Office Notification for Chatter has your back. This nifty app allows you to specify a message to post when you are on vacation and a user posts to your profile. Even though it's highly rated, OOO for Chatter fails to grab @ mentions on records, a large gap for functionality. Nonetheless, this is a must have for orgs highly reliant upon Chatter.
Have any other cool Salesforce Labs products that you have installed? Toss them below in a comment or on our Facebook page, or via Twitter @RogerMitchell. We always love to check out new apps!