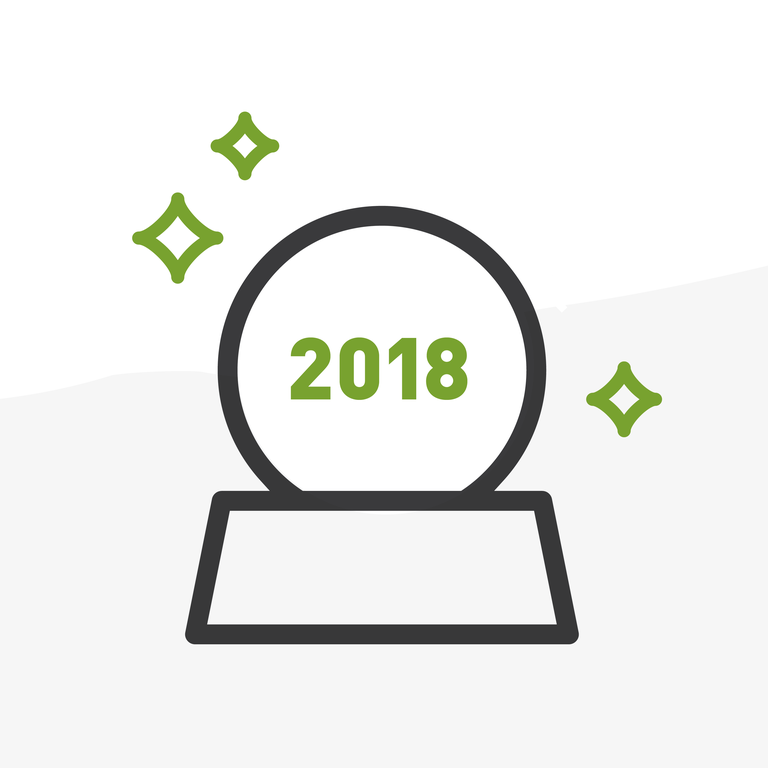 Cloud Computing Predictions for 2018
For the 8th year in a row, it is time to look deep into the crystal ball and make some cloudy predictions for 2018.
Last year I made some pretty crazy predictions, including Salesforce buying a Learning Management System (LMS), Apple releasing a Dot, and Amazon buying Slack. Gotta say, I feel like I get half credit for two of those. Salesforce is all in on Trailhead and is expanding it as an LMS and Apple did announce (but failed to release) the HomePod.
With that great success behind me, let's see what we can cook up this year. Once again I will be adding my confidence points because, well, @JustEdelstein said I should.
Bitcoin Bites, Blockchain Bounds
The Bitcoin insanity over the last few months has been all over the headlines. The price has just skyrocketed to over $15,000 and seems to have a huge trajectory. My prediction is that Bitcoin comes back to the ground and ends 2018 under five thousand dollars but leads to the Blockchain technology becoming a household name. By the end of 2018 there will be Blockchain-backed products from over half of the top 10 major financial institutions.
Confidence: 10
Electric Cars are Driven
Tesla is currently leading the way in electric vehicles, with incredible technology, speed, and a charging network that keeps it all afloat. Next year will be a major year for electric vehicles, where the landslide of car manufacturers will be laying down the plans to phase out gas cars in favor of an all electric roadmap. The writing is certainly on the wall for that one. Next year there will be a jump into the future, with fully autonomous driving cars that will get both the technology and legislation in at least one state to go fully self driving.
Confidence: 7
Apple Doesn't Go to Eleven
Predicting an Apple update to the iPhone is pretty easy; there will be one. Predicting that Apple doesn't update something is risky and going against a 10 year trend. This year I expect Apple to double backwards and release an iPhone 9 and refresh the iPhone X but NOT release anything over that. There will be no 11 in 2018. You heard it here first.
Confidence: 8
Amazon Buys Salesforce
I know, I know. I like to make big merger predictions each and every year, but they almost never come true. This one, though, is for the ages, as the largest cloud-company company in the world uses some of that $20 billion in cash to put down a deposit on Salesforce. Amazon enters the huge enterprise software market, and Salesforce gets almost unlimited scalability on the Amazon cloud. This one might take a while to get through all the legal sign off, but this will send shock waves through the computing world for years to come.
Confidence: 2
Do you have some predictions for 2018? Hit me up @JasonMAtwood or in the Salesforce Trailblazer Community.