You've Got Mail - from Salesforce
Salesforce Winter 18 brings with it some nifty email related features and functionality, including the highly requested ability to send "List Email".
This post is dedicated to the official retirement of AOL Instant Messenger's Yellow Running Man. Yes, it's official; AOL Instant Messenger (AIM) is being retired in mid-December. What does that have to do with list email you say? Hang in there; she's coming around the corner. This Salesforce release puts another nail in the Classic coffin, as it most certainly will sway the influence of anyone pondering whether to transition to Lightning Experience. It also delivers another slew of community requested Ideas, evidence that developing on the revamped platform with Lightning Components and Salesforce DX has enhanced the development experience.
List Email
You may recall that Justin Edelstein touched upon List Email in his post "Salesforce Winter 18 - Filled Lightning Experience Gaps." Let's dive in and see for ourselves. Users with list email and mass email permissions will have the ability to send an individualized email to each recipient instead of one email to the entire group directly from a list view without having to deal with that Mass Email wizard. Individualized being that users can utilize email templates and merge fields to customize each email. The catch - this change applies to Lightning Experience only.
The user experience is the icing on the cake. Load one of your curated list views, select the recipient records, click the "Send List Email" button and off you go.

Email Content Editor
The Send List Email content window opens, from which you can insert, create, or update a template or simply craft your subject and message. Bonus points for the much improved Lightning email template experience; it's as smooth as butter.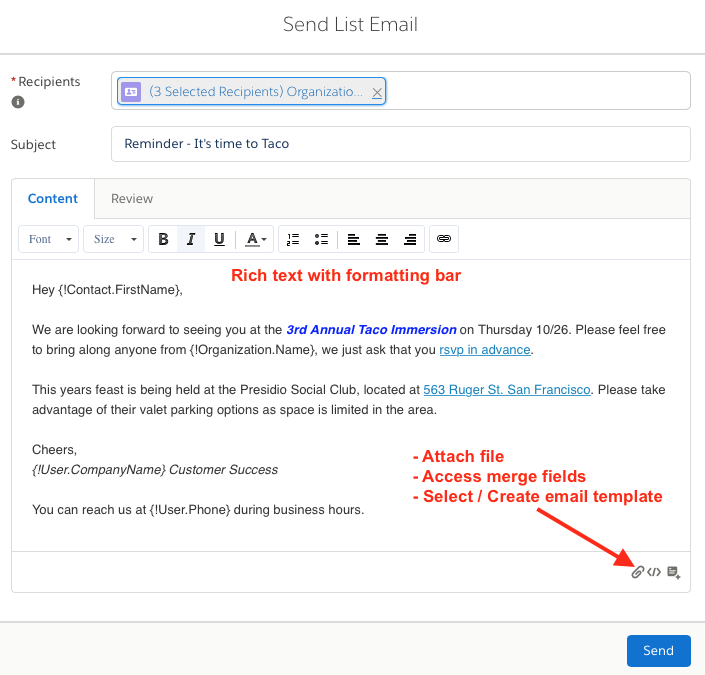 When you are satisfied with the look, you can save as an existing or a new template. So many choices, stay with me because it gets better. Click the "Review" tab, and you see the content in all its glory! You are also able to view each recipient message or perform a spot check, if you are working with a large list. Time for a bonus. Winter 18 means "No More Errors for Empty Email Merge Fields". Quality Assurance for the win -- no more "test" messages to yourself. I know. You've got mail; it's coming I promise.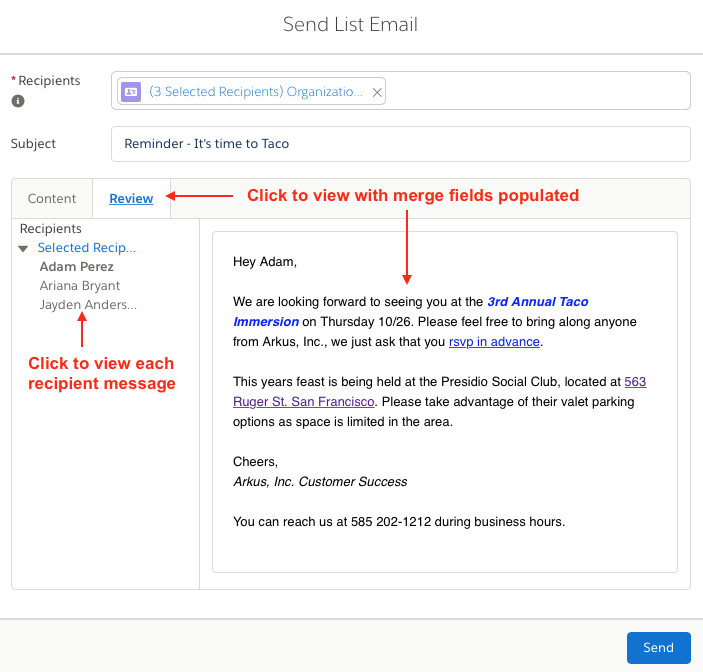 Status Views
As they say on the infomercials - but wait, there's more! For each recipient, you are able to see that the message was sent within the recipient's activity timeline, and it even identifies itself as a list email. Winter 18 also brings the ability to filter on the list emails with "Filter More Ways in the Activity Timeline". And lo and behold, check your inbox because you've got mail! I really like the attention to detail (ATD) here, as the developers named the sender "Salesforce List Email" and the activity subject is prefaced with "List Email:". Smart, easy to filter and locate.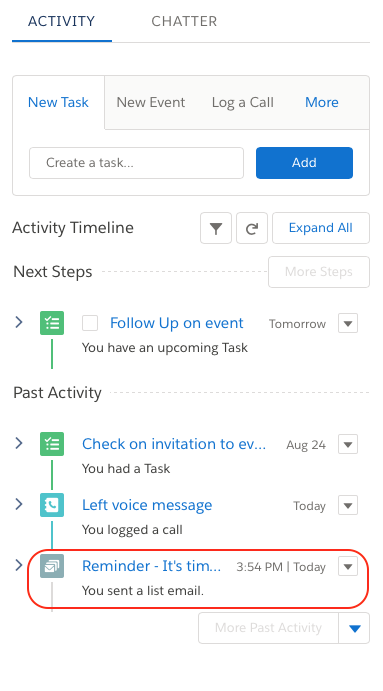 Click on the message link in the timeline and you are taken to yet another well designed page that contains the message sent and the status by recipient. I swear it's magic.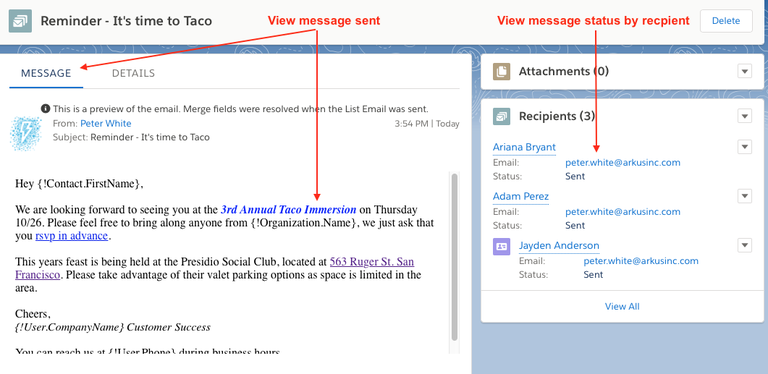 Click the Details tab to view the summarized details. Are you standing and applauding yet? That's a well designed user interface. While I haven't developed reporting for this feature as of this writing, I do like the new report builder (see "Winter 18 Lightning Report Builder") and look forward to its future.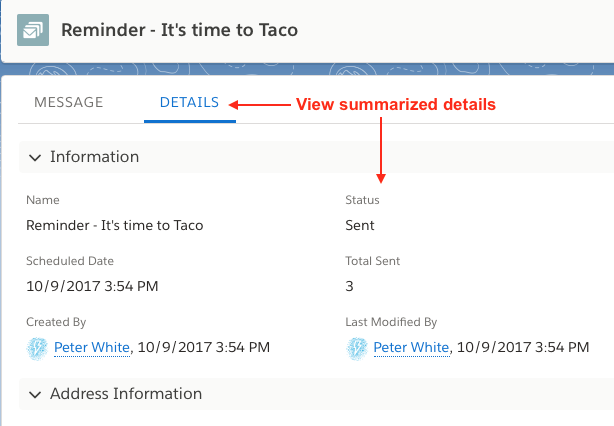 As Paul Rand said, "Design can be art. Design can be aesthetics. Design is so simple, that's why it's complicated."

What has your experience been? Want to share your thoughts or opinions? Please feel free to reach out in the Success Community or to me directly via Twitter at @sfdcclicks.