Configuring Customizable Rollups in NPSP: Part One
In this first part of a three-part series, learn the lingo and be empowered by understanding the options for summarizing critical donor data in the Nonprofit Success Pack.
This last year, Salesforce.org announced a critical new feature in the Nonprofit Success Pack: Customizable Rollups.  Almost a year later, many nonprofits are still confused about the different kinds of rollups they can employ in their Salesforce, and many more still haven't heard about this fantastic new feature.  Keep reading to learn about the history of rollups in the Nonprofit Success Pack and how to choose which solution is right for your nonprofit.
First, it's worth shouting out the Power of Us Idea forum here.  Salesforce.org says they developed Customizable Rollups based on suggestions from nonprofits using the platform posted to the Idea forum.  That's great for everyone on the platform; it means Salesforce listens to critical feedback from their nonprofit partners and works to improve NPSP accordingly.  Want to get more involved? NPSP is, after all, an open source project.  Anyone using the platform can contribute to its development, and there are lots of ways you can contribute to the long term health and vitality of the most popular app for Salesforce.
What are Roll-Ups, Anyway?
A rollup summary field in Salesforce (sometimes shortened to "rollup") calculates a value based on a particular record's related records, and then displays that value in a field.  Most commonly, rollup summary fields look at child records in a master-detail relationship to compute these values. A common example is displaying a field on an account record showing the total value of all business with that account.  This is accomplished by defining a rollup summary between the master account record and its detail opportunity records.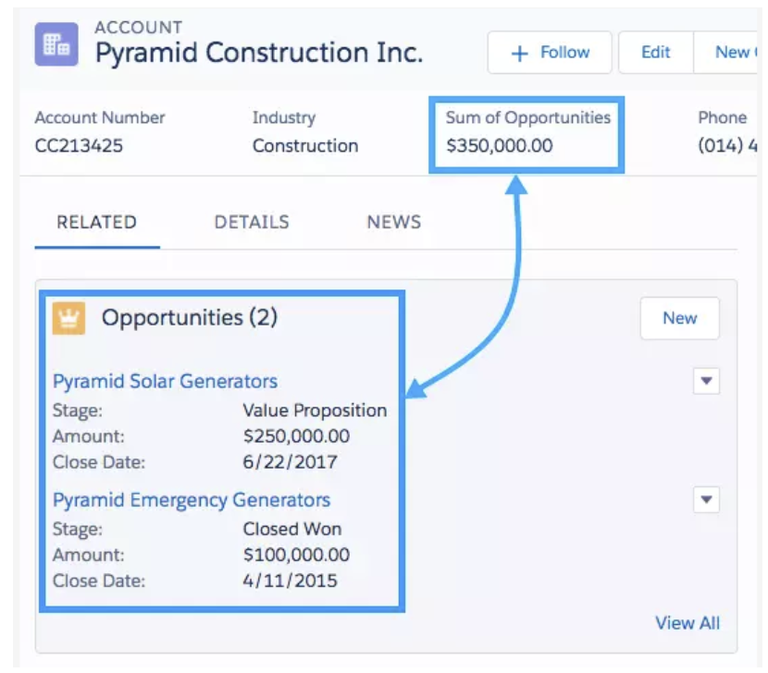 These kinds of declaratively-built rollups have their limitations, however.  Out of the box, with no applications installed, Salesforce only allows defining rollups where a master-detail relationship exists.  There are ways to get around this, and the fantastic tool "Declarative Lookup Rollup Summaries" is a great one, but that's for another time and another blog post.
Rollups and the NPSP
In NPSP, there are a lot of different kinds of rollups, and with terms like "out of the box rollups," "legacy rollups," "donor statistics," "user defined rollups" and more, it can get pretty confusing.  To bring some clarity, there are three categories of rollups in the NPSP:
Out of the Box Rollups, aka Donor Statistics

Legacy User Defined Rollups

Customizable Rollups
Your nonprofit can choose to use any of these three types, but you can use only one kind of rollup schema at a time.  To help with choosing the best fit for your org, let me explain how each came to be, what it can do, and what its limitations are.
Out of the Box Rollups
In addition to declarative rollups admins can create between master-detail objects, rollups can also be created when objects have other types of relationships using custom code; this is where the NPSP rollup summary fields got started.  Early on, the NPSP's developers knew that nonprofits needed a way to track summary information about more than just accounts and in more relationships than just the master-detail relationship. In a nonprofit, knowing how much an individual donor in a household gave, or how much giving by other entities a person influenced, is as critical as knowing a household or an organization's aggregate giving.  To meet this need, NPSP originally came with a set of rollups dubbed "Donor Statistics." Today most people call them the "out of the box" rollups.
Out of the Box, rollups include 87 fields on the contact, account, household, and recurring gift records designed to give users the big picture of a donor's giving history.  They are based on the close date of a gift and consider ONLY closed-won gifts. These rollups are available as fields that you can opt to include or remove from a page layout.  In the default configuration, you can find examples of these fields under "Donation Totals" on the account and contact pages, and their API names begin with "npo". You can learn more by visiting the NPSP Out of the Box rollups documentation.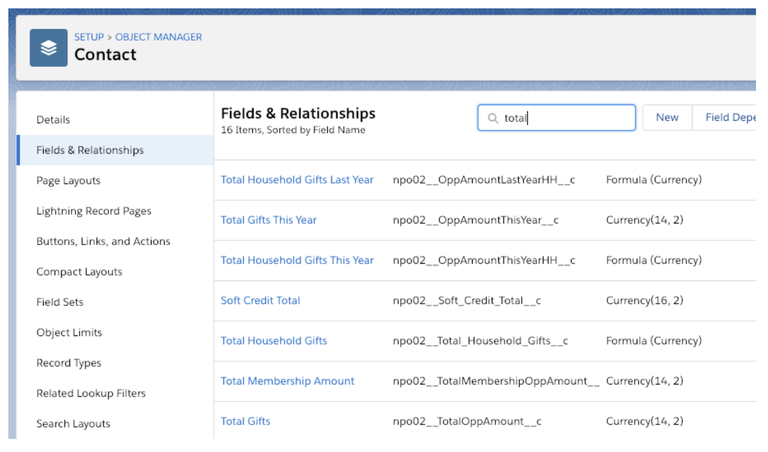 In short, out of the box, rollups are what you have if you have never changed the default configuration of NPSP.  For many organizations, they are sufficient to meet their needs.
"Legacy" User Defined Rollups
As great as the out of the box rollups were, many nonprofits quickly found they had a need for more customization.  Until recently, the only tool organizations had to meet this need was a subsequent improvement called "User Defined Rollups."  This feature allowed admins to define what field in the opportunity they wanted to roll up and what custom field on the account or contact where the rollups would appear on the Account, Contact or Household record.  Since the advent of Customizable Rollups, you will often see User Defined Rollups referred to as "Legacy" Rollups.
However, User Defined Roll-Ups still had their limitations.  They still evaluated only Closed-won gifts and could only roll up data in currency, number, percent, or date fields.  In the first three, you were limited to defining the rollup as a maximum, minimum, average, or sum value. In date fields, you only had the minimum (earliest) and maximum (latest) values.  User defined rollups were a great stride towards increased customization, and a lot of clever admins combined them with formula fields to stretch their functionality further… but there was still a need for more granular control.  Enter: Customizable Rollups.
Customizable Rollups
Since Spring of 2018, with customizable rollups in NPSP, admins have had total control over how data is rolled up!  This new version has four great features:
You can rollup data from opportunities, payments, AND soft credits!  This means you can slice your data in a far more granular manner and understand the relationship between a donor's hard and soft giving.

You can still designate custom fields where the rollups appear, but now you can rollup to not only accounts and contacts, but also General Accounting Units (GAUs) and Recurring Donations.

You can define what field from the rolled up gift you want to aggregate.  In other words, instead of simply rolling up the value of the largest gift made by a donor, you can aggregate the value of ANY FIELD on that gift to any custom field.  This means you can configure rollups to show values like to what campaign a donor's largest gift was made.

You can define custom filters to apply to your rollups.  What if you want to understand who in your donor base loves and responds to your events the most, so you can target your marketing?  You can create a filter for giving to event campaigns and apply it to a rollup or set of rollups to show what a donor spends in ticket sales compared to a similarly filtered set of rollups for general giving.
Coming Soon… How to Set Up Your Own Customizable Rollups!
Now that we know the difference between our three options for rolling up values in our Salesforce orgs, I bet you are ready to get started.  However, as awesome as customizable rollups are, they are not the default setting. You do have to enable Customizable Rollups, and there are some warning flags to heed before you get started.  In my next post, I'll show the nitty-gritty of how to enable Customizable Rollups and dig into the considerations to weigh before you decide to convert your org to the new NPSP Customizable Rollups.
Are you using the new NPSP Customizable Rollups?  Tell me all about it in the comments below, in the Salesforce Trailblazer Community, or directly at me on Twitter @hayleytuller.