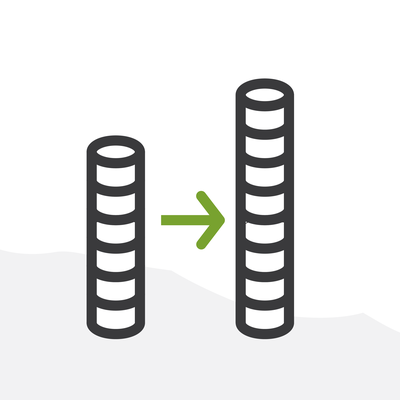 Constituent Wars Part II: How Raiser's Edge Gifts Translate to Salesforce
Our migration journey continues with tips on moving gifts, campaigns, appeals, and more from Raiser's Edge into Salesforce.
I'm back for part two of my three-part series, inspired by my love of Star Wars and the wonderful three-part series on NPSP Customizable Roll-Ups from Hayley Tuller.  In the first installment, we covered how relationships translate from Raiser's Edge to Salesforce.  In this installment,  I will review and explain some key things to consider when migrating gifts from Blackbaud's Raiser's Edge(RE) to the Nonprofit Success Pack (NPSP). 
Salesforce Record Types replace RE Gifts
In Raiser's Edge, the gifts tab shows all of the different gift types and payments all on one screen. I remember having issues trying to sift through this information to get to what I wanted to see. With NPSP, we can turn those gift types into Opportunity Record Types. As Salesforce Trailhead defines it, an opportunity is where all donations/transactions live.  
One of the many advantages of NPSP is that only the original gift or donation ask will be the basis for the opportunity. All subsequent payments are attached to that opportunity, so from a view perspective, I can focus on seeing only the individual asks in my gift view, instead of all the payments. This becomes especially valuable when you have a donor with an extensive giving history, For more information on record types, refer to another blog post review of them I wrote.

How to use Opportunity Stages
Another advantage of using NPSP Opportunities is the option of how to track stages. Stages are how you identify the different time frames in your process of gathering a gift/opportunity. With the separate record types, from donations to pledges to in-kind gifts, I can have separate stages that reflect the different processes of those separate opportunities. For example, for an In-Kind gift, a stage of In-Kind Received makes sense to have there.  If I was adding a pledge, that stage would not make sense. 
So, I can have a completely different set of stages for my pledges, such as in the above screenshot where it is marked as Pledged. This is definitely something to think about as you transition from Raiser's Edge to Salesforce. I often tell my clients that it's a great opportunity to set things up in a way that makes sense for your organization. Salesforce also allows you to create Paths to visually see where you are within the Opportunity Stage process, as you can see below in the red box.

How Do I Migrate Gifts to Salesforce?
In terms of migrations, as I briefly mentioned in our recent webinar on Preparing for a Salesforce Migration, the key to migrating gift data successfully is to include the Gift ID and the Gift Import ID. I have seen inconsistencies with some RE records missing a gift ID but all records seem to have a gift import ID. I would recommend including the Constituent ID and Key Indicator in your gift file so that you know whether you are importing a gift to an individual or an organization. 
I typically use gift queries to export my data from Raiser's Edge as well. A gift query that only pulls gifts of the types cash, pledge, MG pledge, in-kind and recurring gift will get the job done. Be sure to include all gift details and information that you want to be migrated over to NPSP. There's a separate process to export pledge/recurring gift paid payments and open installments that also needs to be completed to get all the data out of RE and into Salesforce.
What About Campaigns and Appeals?
With the above gift migration, I suggest exporting both the ID and description field for campaign, appeal, fund,  and package. This will help translate the structure to Salesforce. While funds will move over as-is in most cases, you will need to adjust your campaign structure. 
What I normally see is a migration of RE Campaigns into Salesforce as a parent campaign and the specific appeal as a sub-campaign.  For example, if in RE I had a campaign for 2020 Annual, that would migrate to Salesforce as a Parent Campaign. 
My specific ask in April 2020 via Email would become my sub-campaign, which would be the campaign that I would directly add to a gift record. If my parent campaign has a bunch of sub-campaigns, NPSP will automatically roll that information up into very helpful summary fields that I can then use to see the overall success of my campaign.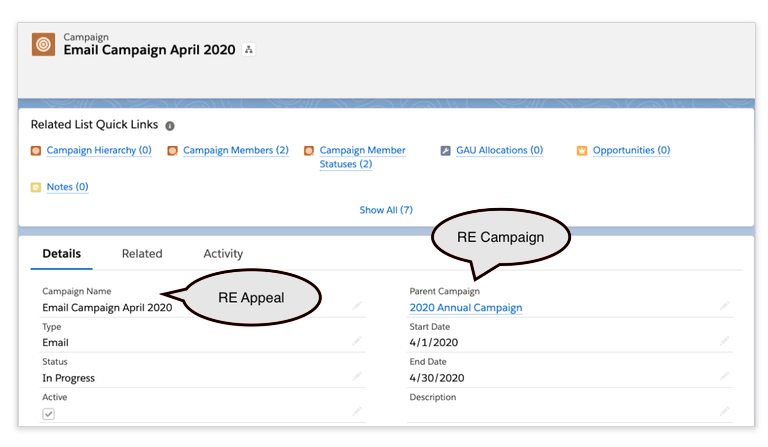 Coming Soon… Part III: How Actions and Notes Translate to Salesforce
In our final installment to this trilogy, we will tackle how to migrate actions and notes to Salesforce.  It's a somewhat straightforward process, but there are some housekeeping items that you will want to do beforehand to make your migration go smoother.
Have you watched our Raiser's Edge to Salesforce migration webinar? Check it out here. Are you preparing for a migration to Salesforce from Raiser's Edge? Tell me all about it in the Trailblazer Community or tweet directly at me on Twitter @berkeley_t_b.