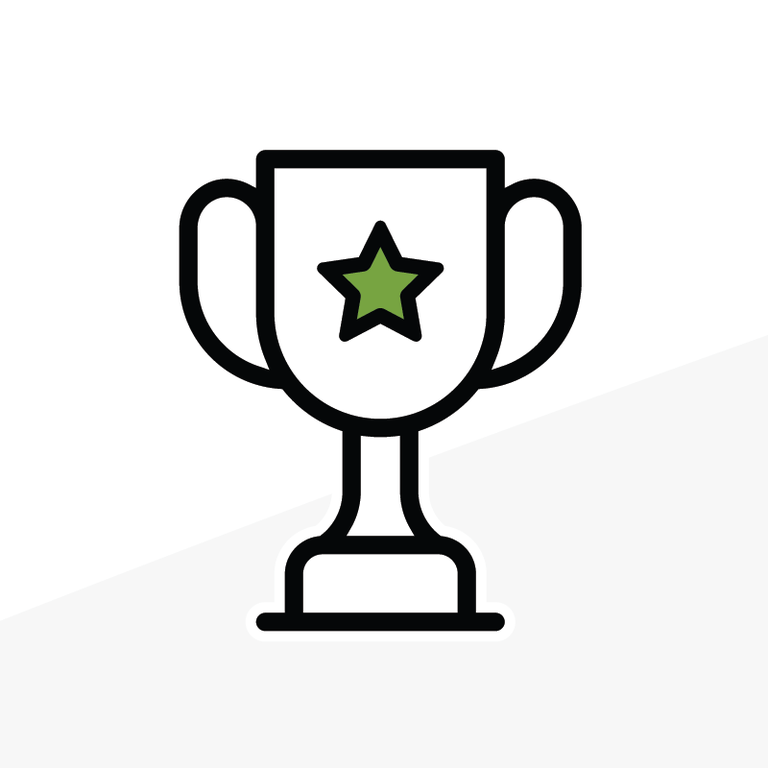 High Reward Outcomes with Salesforce: 7 Steps to Success
Here's a look at an evaluation framework that will help you create short-term actions and long-term plans to net high-reward outcomes with Salesforce.
We recently hosted a webinar with Classy on how to put plans in place for success with Salesforce. Read on for a more in-depth look at why we chose to feature what I like to call an "Evaluation Framework" and why it's critical to use one before you start a serious Salesforce project. At the end of the post, I'll cover resources to get you started right now and where to watch the full webinar for free. 
Why Have an Evaluation Framework? 
Why do you need to use a framework to help guide you through an evaluation prior to beginning an implementation? Think of it this way, would you pick out the furniture before buying the house? Would you buy the house before deciding if you wanted a house, apartment, or townhouse? It is the same with technology, you want to be clear about what you need and why you need it before you decide where to start looking. 
Gone are the days when nonprofits were beholden to pre-designed, closed technology solutions that their organizations needed to fit themselves into…the Salesforce technology platform, specifically Nonprofit Cloud, provides an existing structure that can serve as a foundation which can then be customized and configured (a lot or a little) to the organization's needs. 
What this means though, is that there is no Salesforce handbook, demo, or plan that exists without your input. The responsibility of informing the technology belongs to your team and your organization. 
Where to Get a Good Framework 
So a framework is important…how or where do you get one? How do you know you're asking the right questions or moving at the right pace if you've never done this before? 
While a great deal of the evaluation process is your responsibility and that gives you immense freedom to build a great platform that really suits your needs, it may also mean any initial approach to all the possible work before you will leave you feeling completely overwhelmed.
Voltaire said it first: "With great power comes great responsibility." Others prefer a more-recent attribution, citing Peter Parker's Uncle Ben in Spiderman. Or Winston Churchill, who put it: "The price of greatness is responsibility."
In my seventeen year history of working with nonprofits dealing with and developing technology, I too often found the evaluation process to be disjointed and ineffective. 
Imagine you're a mid-level staff member at a nonprofit and your VP comes to you saying the teams need a marketing automation tool. They ask you to find the best one to use and report back on how to get the whole team up and running. What do you do? Most people start with a Google search. 
What do teams that achieve great outcomes do? They stop and ask why. They take the time to go in and do a complete discovery. They have conversations or interviews around what is needed to accomplish their mission strategy. Whether they consciously know it or not, they use an EVALUATION FRAMEWORK! 

This framework is the secret weapon to achieving high-reward outcomes. Out of the frustration I experienced working without a framework and building on my experience, I developed one of my own. The 7-step framework, which is outlined further below, has since proven to be incredibly effective in guiding nonprofits to actually hit their goals. In the recording of our webinar with Classy, linked below, you can hear about one nonprofit's experience achieving awesome fundraising results in a relatively short time after we worked through an evaluation together. 
What's Risky About Not Having One?
Before we look more closely at the framework I use, let's review what can happen if you don't have one or don't use it properly. What's the risk? No outlined and phased evaluation means your org will rely on tech informing your processes instead of the other way around. Why is that bad?
When you move through a careful framework and prepare properly, you will have the chance to really get what you want and eliminate an incredible amount of risk. 
During a proper evaluation, you'll establish a project team and get everyone on the same page. Getting everyone on the same page means you will avoid the pitfalls and miscommunication that can come from transferring knowledge and responsibilities from the people who make decisions about work to do and the investment required to make it happen to the people who are actually going to do the work. 
Once an implementation gets underway, there are many places where you will face risks of wasting your time, money, and energy. Repeating conversations, attempting to clarify or re-clarify roles, enduring confusion around who owns what work or who is the right person to approve something, this will all cost you later in the game. 
It's critical to involve the right people, both those on your team and the vendors you will be working with, at the tright time. You can (and I believe, should) connect with vendors in the early stages of preparation for an implementation to align resources.
Moving through a proper evaluation will eliminate redundancy of effort and ensure the right people are on board and ready to go when they are needed. Too many times over the years, I have seen nonprofits waste resources because they did not go through an initial evaluation and planning process. There are a number of other common risks I go through in more in-depth in the webinar recording. 
Put Your Framework to Work 
Now, let's take a look at our framework. Below is the one I use here at Arkus. If you're going to build your own, the stages of your framework could look different from mine. The key is to identify the major pieces you need to have in place prior to kicking off a project with any company or consultant.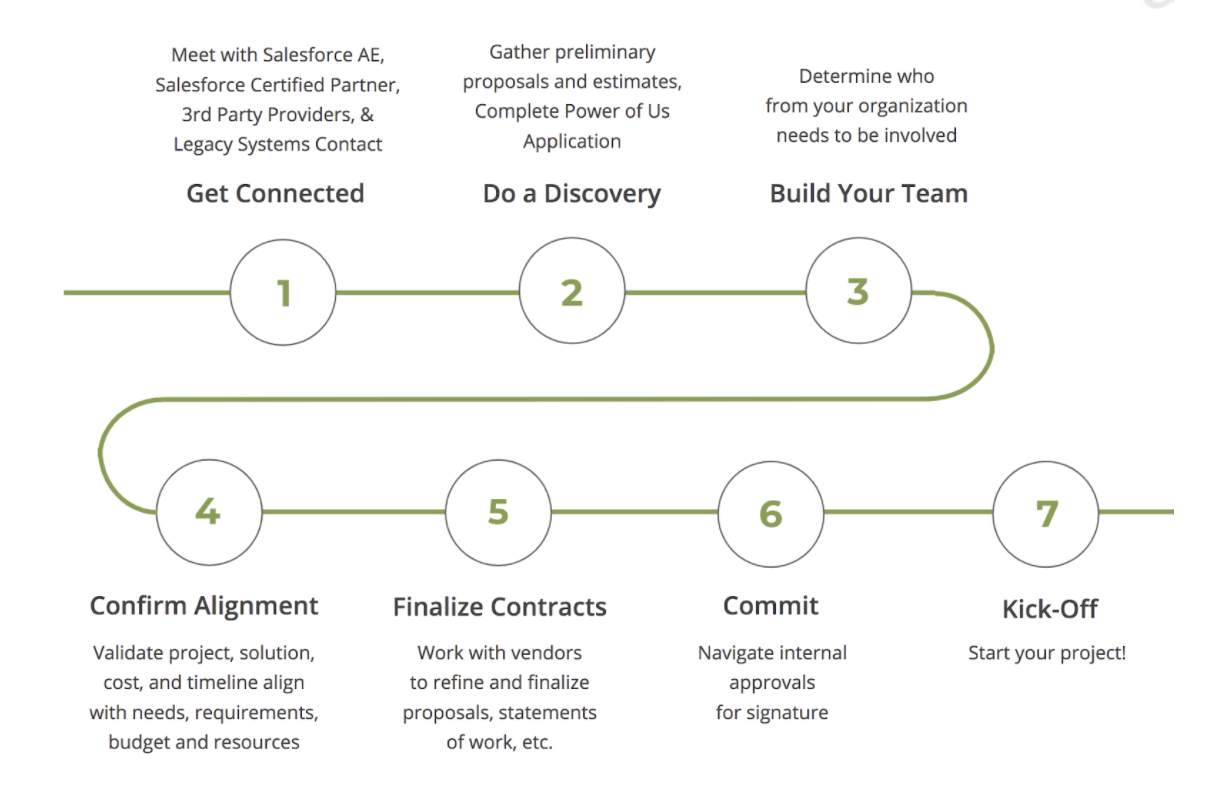 Our steps here are:
Get connected
Do a discovery
Build Your team 
Confirm alignment
Finalize contracts 
Commit 
Kick-Off 
Returning to the house analogy, entering into an evaluation framework is when you gather your architect and contractor and draw up a blueprint before breaking ground. During this process, you outline your bigger, more specific plans and shorter-term actions needed to reach your ultimate goal. 
Take the time to outline where you are now and you will save yourself a great deal of frustration later on. You'll set your team and organization up for great success. 
What's Next?
Reach out to us if you're interested in learning more about the short-term actions and long-term plans that are discovered and implemented during this evaluation process. 
You don't have to wait until you've signed a contract with Salesforce to start reaping the rewards of a future implementation. There are plenty of quick actions you can dive into that will produce tangible results in the immediate and set you up for long-term success.
Here are two actions I highly recommend to get yourself started. First, check out these trails on Salesforce Trailhead: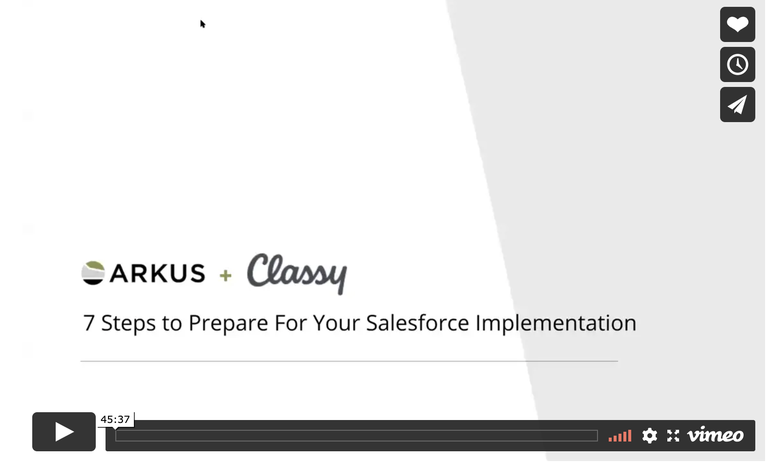 And second, watch the full co-hosted Classy webinar recording by clicking above or right here. 
Want to know more about how to use this framework to help move your organization ahead? Reach out to me on the Salesforce Trailblazer Community or chat with me on LinkedIn, or by email at caitlin.thomas@arkusinc.com.