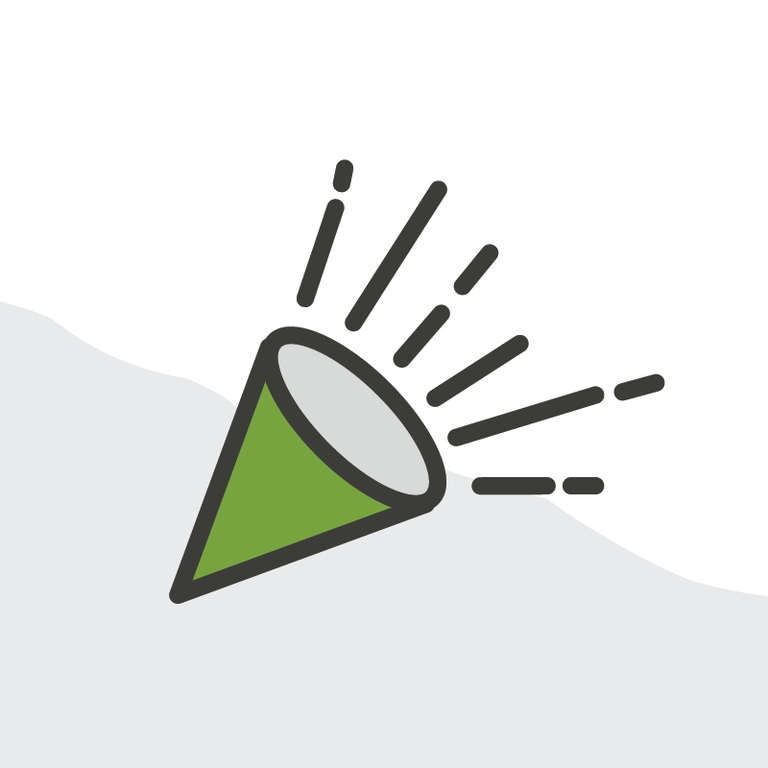 How Small Nonprofits Have Big Impact: The Story of Xavier Mission
Accessible lessons for organizations on using quick actions to hit the mark for long-term success.
We shared the story of one nonprofit, Xavier Misson, in a webinar with Classy last year. Here we're diving back in to follow up on the results and share more about how other nonprofits can follow some of the steps they took to get to where they want to go too. 
Xavier Mission is a "for-impact" organization providing basic services as well as opportunities for empowerment and self-sufficiency to New Yorkers in need. Since 1983 they have welcomed, served, and empowered guests with respect and dignity. Xavier Mission currently operates six programs that provide a continuum of care for those facing difficult times.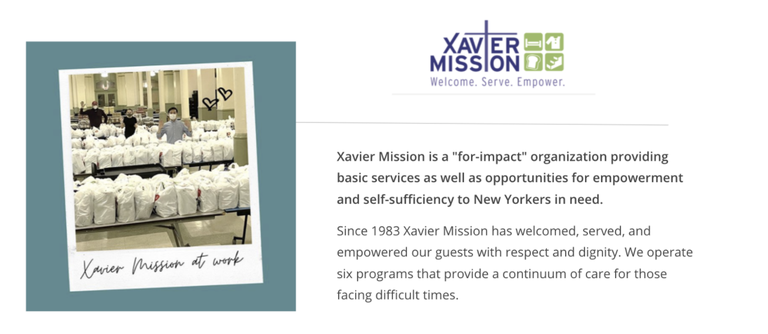 In the webinar with Classy, "7 Steps to Prepare for Your Salesforce Implementation," our team covered how to use what we call an "Evaluation Framework" to prepare for a move to Salesforce, and shared examples of the kind of outcomes one could expect to see when working through one of these evaluations prior to starting a project.
Xavier Mission initially met Arkus at one of our Pro Bono Days in New York after an adoption of Salesforce with an independent consultant. Xavier's Executive Director shared with our Director of Sales, Caitlin Thomas, that their project got them to a place that was an improvement on where they were before Salesforce, but that she and her team were ready for a more strategic approach to marrying their resources with all that Salesforce has to offer nonprofits. 
As we hear quite often, Xavier's team was unsure that, as a smaller nonprofit, they would have the resources for a project with our team. At Arkus, we believe the work is the work, and if you are willing to work with us in a collaborative and transparent way, we will provide you with options to get you where you need to be with Salesforce. What is most important to us is that we empower our clients with concrete information so that they can make informed decisions.
Project Plans: Where to Go From Here
Undertaking a Salesforce project, whether a migration, first-time implementation, or optimization, is a lot like setting out a journey or a quest. 
When it comes to streamlining program management processes, hitting higher fundraising goals, or easing other nonprofit needs, even the wisest teams often do not set out on a journey to improve operations with a pre-drawn map carefully outlining the exact steps they will have to take to get to one clear destination up ahead. 
It is far more common for an organization to take their first steps in the approach of a desired outcome simply looking out into the distance, knowing that they would like to be somewhere greater, but not knowing exactly where that spot is or how to get there. 
Donors often like to hear stats such as dollars raised, meals served, support line calls answered, clients accessing services, acres conserved, or bills passed. While these kinds of numbers can be useful, successful results are often not quantifiable as they are experienced behind the scenes in the efficacy of day-to-day program management for staff. 
One of the greatest benefits of working through an evaluation framework prior to a project kick-off is that this planning phase gives teams time to define their target destinations and sketch a map for how to arrive at them. 
So how do you set a mark of success and then hit it? What does a great destination even look like? Here's a closer look at the journey Xavier Mission undertook, and one example. 
The Challenge and Game Plan
For Xavier Mission, they had an existing Salesforce Nonprofit Success Pack (NPSP) instance in place and decided to team up with Arkus to streamline their current processes and bring them over the finish line with their migration from Salesforce Classic to Salesforce Lightning. 
In addition to moving to the Salesforce Lightning interface, Xavier Mission was looking to:
Optimize use of Salesforce Reports & Dashboards

Finalize their Classy and Salesforce integration

Increase user adoption with minor configuration 

Be able to use layout updates
Before our teams got started with any actual configuration work, team members met to work through that evaluation framework. 
Destinations: What Was the Outcome? 
Working through the evaluation process, Xavier Mission was able to clarify their goals into a set of long-term and short-term plans before moving to take small, quick actions that set their team up for ongoing success. This included prioritizing putting Classy in place so it would be possible to stand up quick Classy campaigns to increase fundraising immediately that would then support further development to come. It also included updating reports and dashboards to pull optimized and meaningful data.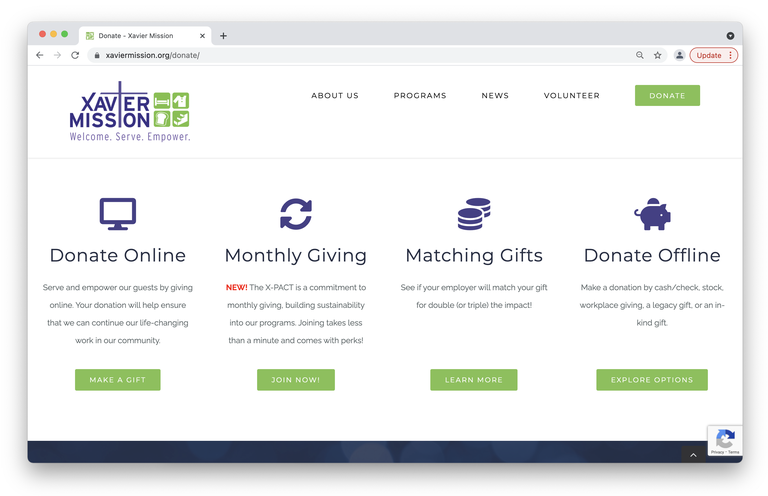 In roughly a year since the integration was complete, Xavier Mission has logged more than $200,000 in donations through the new Classy and Salesforce integration and handled more than a million dollars in donations from the current and previous fiscal year in their connected Salesforce org.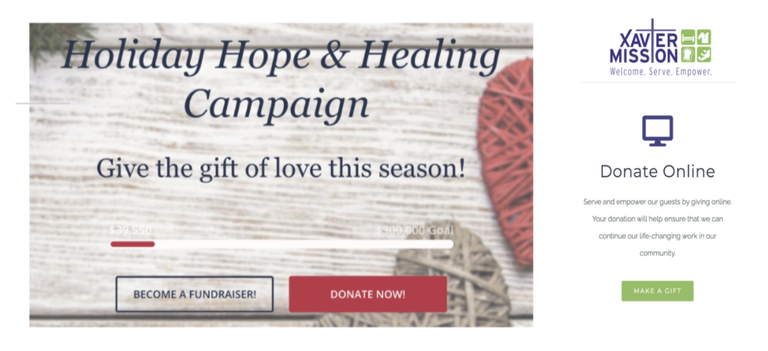 Credit for their fundraising results goes to their dedicated team. Salesforce alone is not the reason a nonprofit is successful. Skill, thoughtfulness, planning, teamwork, and dedication in using the resources at hand are some of the many reasons nonprofits are successful. A good tool only can get you so far. Results are a reflection of the strategic work a team undertakes to make the tool work for them. 
Cassandra Agredo, Executive Director of Xavier Mission, reflected on the impact her organization's Salesforce journey has had on their ability to push through 2020, a year that has required incredible ability to adapt. She shared the following thoughts on their work with Arkus. 
"As a small nonprofit, our implementation of Salesforce has been little by little over the years. When we needed a new fundraising platform, we were immediately drawn to Classy for multiple reasons, but the selling point was that it integrated with Salesforce. In March, when COVID hit New York, our office shut down but our programs continued running and our need for funding increased. Having Classy set up and integrated with Salesforce meant that we could launch a new COVID funding campaign and take care of all of our donor acknowledgment and management remotely. Having a service contract with Arkus throughout this time allowed us to make changes to our Salesforce and Classy instances that simplified and streamlined our remote processes. Having the Arkus team available to help with all the small things that needed to be done has saved our staff so much stress, time, and energy during an extremely difficult period."
The Road Ahead 
What can an organization achieve with the right tools, plans, and preparations? 
Nonprofit operations take incredible dedication and energy from even the most skillful teams. The right moves at the right time can lighten the load. 
To get started defining quick actions and targets to hit for long-term success, we recommend taking a moment to document where you are right now. This is the first step of an evaluation framework: check in on current contracts, partnerships, and integrations.  
Then proceed into either a self-directed or partner-led discovery. During this discovery phase, evaluate where you are now compared to where you hope to be. When setting goals, consider a mission statement (Why is my organization here?) and vision statement (What does it look like when our mission is fulfilled?) to help bring the future and path to reach it into focus.
Consider options for enlisting help to further define a target destination if needed. This is a great time to reach out to partners and consultants for proposals. Review pain points and what it would be liked if the stress there was lessened. With a defined starting point and a sense of where you want to go, it becomes possible to sketch out the stages to move through to ultimately reach a future goal. 
This is where inspiration from other organizations also comes into the mix. What examples of "success" are you seeing others achieve? What pain points does it look like other organizations have solved and what would it be like if you had help in that area too? Write the questions and answers down and work through them with your team. From there, you will have a better idea of what actions are needed next to get where you would like to go.
Read more in-depth about working through this framework in this post from Caitlin Thomas. Another great resource to work with is this post from Kathryn Puzzanghera on using the Horizon of Focus to achieve a nonprofit mission. 
If you haven't watched the Classy webinar yet, you can learn more about the evaluation framework in that recording here. 
What would you like to achieve? What small action could you take right now that will help you to get there? What is keeping you from getting where you want to go? Reach out in the Salesforce Trailblazer Community, on Twitter @ktatwd, or get in touch with the greater Arkus team through the Contact Us link in our footer. We're here to help you get started.