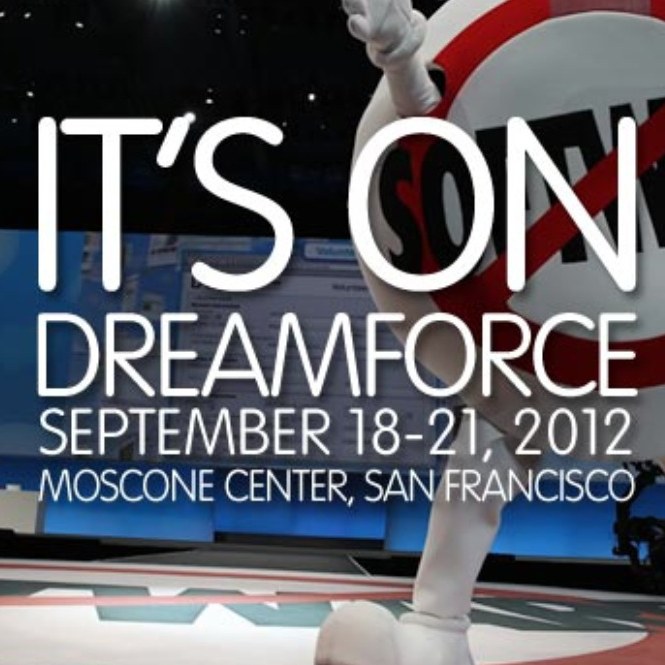 Dreamforce 2012 Predictions
With Dreamforce 2012 kicking off this week let's make some predictions about what we are going to see on the big stage (and some of the smaller ones).
It's cloud computing geek holiday week so we figured we would throw some predictions out there for conversation purposes only. We have no inside knowledge about the predictions we are making, hence the reason we are calling these predictions and not "things you will see at DF12". For years Marc Benioff has gotten up on that keynote stage and made bold product announcements that seem to come out of nowhere. Take Chatter three years ago, that came out of left field and now it's core to the strategy of Salesforce moving forward. To say Chatter will be a key element of the conference wouldn't be much of a prediction but I'll throw that out there as the easy one. Now onto some more bold predictions.
Radian6 Meet Buddy

DF12 is going to be all about making business more social. What is more social than two products that Salesforce has purchased within the last year and half that monitor and manage social media? Answer, nothing. Not Chatter, not portals, not sites, but the actual management and interactions with customers on social networks where they are already talking about you and your brand is social. The key to this prediction is that we will start to see the acquisitions actually working together to deliver on some of the key strategic initiatives we've been hearing about for the last few years. Business is going to go social and Radian6 and Buddy Media are going to be at the very center of it all.
Competitors Beware

This has already been kinda leaked but get ready to see some announcements from Salesforce about products they are currently working on that are going to bother some existing product partners. At Techcrunch Disrupt Marc Benioff announced or alluded to competitors to File Sharing products and Single Sign On products. We will see some things on that keynote stage that won't be real for years to come but they will absolutely bother some of the product partners exhibiting on the expo floor, guaranteed. The real prediction here is that we will see things on the stage that won't be real for at least two years but will make us salivate nonetheless.
The Word Delight

I've noticed that the word delight or delighting is a key phrase for Salesforce demos and speeches. I feel like this could be a drinking game where you have to drink every time a Salesforce executive says the phrase "Delight your customers". I'm putting the over under at 8.5 for the main keynote.
Product Keynotes Will Be A Hit

This year for the first time since I can remember there won't be two main keynotes kicking off each day of the conference. Salesforce has decided to break into mini-keynotes for each product offering  and business line such as the Sales Cloud keynote, the Service Cloud keynote, and even the AppExchange keynote. These are going to be a huge hit with attendees in my opinion. You will be able to get a much more focused and in-depth presentation on topics that most interest you and I think this format will continue into the future.
Hottest Ticket

The hottest ticket for the breakout sessions will be either the True to the Core session with Parker Harris or the Friday session with Tony Robbins. I'm guessing the True to the Core gets the hardcore Salesforce peeps all pumped up but Robbins has the chance to be the talk of the conference with the build up growing into his session on Friday then delivering something special where he's the talk of the post-conference buzz. My guess is Tony Robbins earns some new fans at DF12 this year. There is a great group in the Dreamforce Portal devoted specifically to Tony Robbins already.

Have any predictions of your own? Which of these do you agree or disagree with? Feel free to share them in the comments below in Discuss, on our Facebook page, or tweet them to me @JustEdelstein.