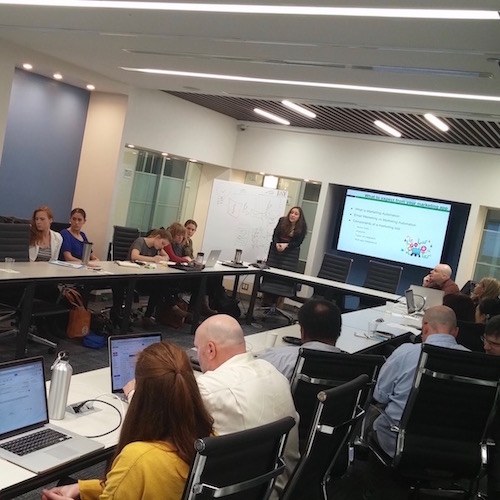 Arkus Pro Bono Day Spring 16
Arkus' Spring Pro Bono Day was a successful day of collaboration and learning, with a focus on Marketing Automation and Conga Composer
In December of 2015, we hosted our first Pro Bono Day to assist local nonprofit organizations who are using Salesforce. Because the first session was so well attended and was such a success, we decided to carry on the tradition with another one this spring. We welcomed our nonprofit friends and clients to our NYC HQ for a day of learning and collaboration by providing both presentations as well as one on one attention from our team of experts. By bringing everyone together, we had a great time collaborating and learning from one another.
Session 1: Marketing Automation
Amy Bucciferro, one of our Project Managers, lead an hour long discussion about marketing automation tools and how they can be integrated with Salesforce to create a cohesive internal effort to reach out to donors. Amy illustrated how the use of Salesforce enhances communication and the process of how you connect with donors. For example, with the Salesforce marketing tool Pardot, dynamic content can be utilized to create timely, personalized emails. For a more in depth conversation about other useful tools, please see Amy's blog Getting Ready for Go with Marketing Automation and Salesforce.
Session 2: Conga Composer
Mariel Espinal, another one of our Project Managers, led session two and shared the benefits of using Conga Composer, a widely used tool that makes it easy to create and deliver documents, presentations and reports from Salesforce by automatically populating templates with data from any standard or custom object. Much of the conversation was about creating, customizing and streamlining documents. Mariel addressed typical use cases,Conga's licensing options, free trials, and sample templates. With further questions about e-signature and capturing receipts in Conga Composer, attendees had a long lasting dialogue about the benefits of document generation.
The consensus of the day was even if you are fully utilizing the Salesforce Nonprofit Starter Pack, human interaction is still crucial, whether it's making a phone call at the right time or creating an event for people to get together. When you consider how valuable relationships are, the use of Salesforce ensures the future of your organization. Nonprofits rely on the relationships with their community and the management of these relationships is critical for success.
Please follow us on Twitter for future Pro Bono Days and feel free to comment below, on the Salesforce Success Community, on our Facebook page, or directly at me on Twitter @SCarabetta1.