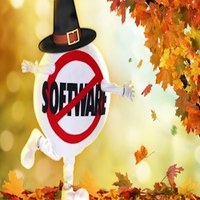 Top 10 Reasons to be Grateful for Salesforce in 2016
Here is a look at the top ten reasons to be grateful for Salesforce in 2016.
2016 has been interesting to say the least. A lot has happened and has caused more anxiety and separation then togetherness. Elections, terrorism, and social issues has overshadowed a lot of the good that has happened this year and it's important more than ever to give thanks for the good that has happened. Salesforce for one has not only had a good economic impact but also a tremendous social impact. So, since the holiday season is that one time of year (unfortunately) we look to give thanks here are the top 10 reasons, in no particular order, to be grateful for Salesforce in 2016.
Dreamforce
The largest technology conference in 2016 took place in San Francisco this past October and once again we were treated with a week of education, product releases, entertainment, philanthropy, and spiritual enlightenment. Attendees got the pleasure to hear keynotes and campfire discussions the likes of Melinda Gates, Deborah Dugan, Rep. John Lewis and Billie Jean King.
(RED)
Salesforce always has certain non profits focused on at Dreamforce and offer opportunity to help both in volunteer time and money. This year one of the non profits highlighted was (RED) an organization started by Bono and Bobby Shriver, whose mission is to deliver an AIDS-free generation. The goal set for Dreamforce was $1 Million Dollars. Thanks to the generous contributions of the attendees and the Bill and Melinda Gates Foundation they were able to raise $3 Million Dollars!
Dreamfest
I have to admit I was a bigger fan of the concert in 2015 but you can not complain when you get to see one of the greatest bands of all time U2. We were entertained by a 15 song setlist filled with their greatest hits. I don't think the venue was a big hit but the entertainment definitely was. This concert raised 10 million dollars for UCSF Benioff Children's Hospital. How can you top that next year.
VetForce
Salesforce created VetForce in 2014 to help prepare veterans for a civilian career in IT. Since that time, more than 50 technology companies that have collectively pledged to train 60,000 and hire more than 11,000 veterans and military spouses by 2021.
Chief Equality Officer
This year Salesforce hired Tony Prophet to be their Chief Equality Officer. Though it is sad that a position needs to be in place, it is just another example of Salesforce fighting for more equality at every level and for every person. I hope Tony does a great job and sets a standard for other companies to follow.
#DFGives
Dreamforce raised a lot of money for (RED) but it also impacted local youth and nonprofits.  Attendees helped Project Open Hand, a nonprofit that provides meals with love to critically ill neighbors and seniors, put together 2,000 STEM education kits and 2,000 Food=Medicine bags. More than that, over 400 students from San Francisco and Oakland Unified School Districts joined the festivities for coding classes, workshops, and campus tours.
Pledge 1%
Salesforce was a founding partner of the Pledge 1% movement which is the commitment of companies to pledge 1% of its equity, product and time to philanthropy. I added this to the list because we at Arkus are very proud to have officially made this pledge in 2016 and also to promote it. If you work for a company that hasn't made the pledge, I recommend you talk to someone to help make that happen.
Lightning Experience
The Lightning Experience was the big announcement last year at Dreamforce and though the Salesforce UI needed a facelift, it wasn't ready for primetime. It makes the list this year again because of the progress it has made since it was introduced. All of the releases this year have been Lightning focused and with each day we get closer to a retirement of Salesforce Classic. Feel free to check out our blog to see the progress it has made to date.
Einstein
The big product announcement this year at Dreamforce was the release of Einstein which is the introduction of Artificial Intelligence (AI) to the Salesforce Platform. Our initial thoughts on Einstein can be read here  but it is another great example of Salesforce's dedication to bring new and forward thinking technology to your Salesforce org.
Marc Benioff
From the time Salesforce was a tiny company Marc Benioff had philanthropy integrated into its DNA.  He has raised millions of dollars, built hospitals, lobbied for social reform and has set a standard for how companies should operate. It is my hope that other leaders of this world see what he has done and start to adopt his way of thinking. The world is at a critical breaking point and we need more leaders like Marc Benioff.  
If you think I missed something please feel free to comment below, on the Salesforce Success Community, on our Facebook page, or directly at me on Twitter @Salvatoriello