Tips for Selecting the Right Third Party Application
While Salesforce provides a lot of out-of-the-box functionality, sometimes you may need help selecting a third party application to bridge the gap between it and an outside product.
Research on the Salesforce AppExchange
When looking for a particular third-party product, the first place I go to is the Salesforce AppExchange.  For starters, all apps listed on the AppExchange have gone through a Security Review by Salesforce, to make sure that the app meets their high standards for integration and security, so I can trust what I find right from the start. What I really find useful about the AppExchange is that when I do a search for my topic (let's say ECommerce), I'm presented with not only options of Apps, but choices I can filter by, from Solution Type to Pricing, as well as what Salesforce edition I'm working with.  
I also pay close attention to the ratings on the apps.  If the app is in version 1 and recently released or does not have a ton of ratings, I tend to be more cautious overall.  That doesn't mean the app will necessarily be faulty, but it could mean that you might be the person to test out all the kinks, so proceed with caution.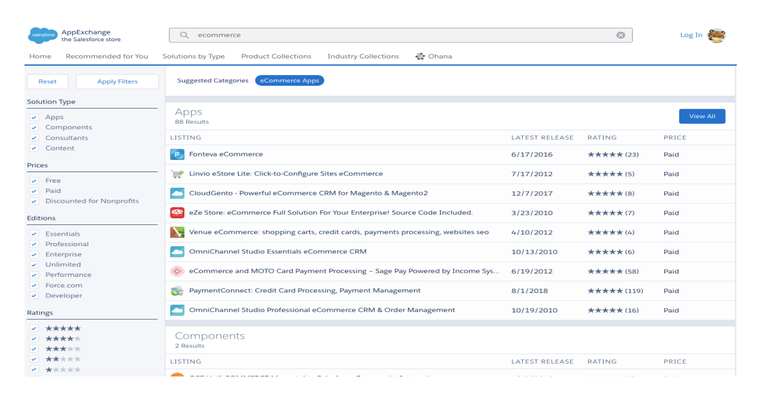 Word of Mouth
Once I've reviewed the AppExchange, I will normally turn to my colleagues for feedback. They are often able to pass along helpful suggestions or input if they are already familiar with a product I'm interested in. Posting in the PowerofUs Hub or your Community Group on the Trailblazer Community is another great way to get opinions on the tools or services you are looking to mesh with Salesforce.  Experience is the greatest teacher, and I've had some great recommendations from colleagues, as well as detailed insight on things to look out for.
How Does it Integrate With Salesforce?
I prefer a solution that lives within Salesforce where elements like list views, new custom tabs, or fields maintain the integration, as opposed to a third party app that requires me to log into a separate system.  It's hard enough to maintain my passwords as-is, let alone add in a totally separate system username and password that need to be remembered! If the app is native to Salesforce it is HIPAA-compliant and utilizes Salesforce Security.  Also, if this particular third party application involves a system that has to be reviewed or updated daily, that also factors into my thinking. If there is a similar product with similar pricing that sits within Salesforce, I would personally lean towards the option that does not take me completely out of my Salesforce instance.  
How Much Do I Need to Manage This Integration?
Another thing to consider is the potential of managing a separate application.  If possible, I try to find integrations that I understand may require heavy lifting to initially set up, but from there  I either have a fairly detailed or similar process that allows me to manage my application almost as I did prior to the integration.  If I am looking to integrate an ECommerce solution with Salesforce, I look for an option that allows me to manage things directly from Salesforce. There may be additional planning to test and set up this connection, but in the end, it's better to spend the time on the initial configuration instead of having to manage Salesforce and the e-commerce tool separately going forward.
Other Factors to Consider
An important thing to consider when reviewing potential apps is whether or not they are Lightning ready.  With the push towards Lightning, enhancements and upgrades to the Salesforce CRM are done with Lightning in mind.  If you are already operating on Lightning or planning to make that switch soon, you will want to make sure your third-party applications operate in Lightning as well, to prevent the need of having to switch back to Classic to maintain that integration.  
Another thing to consider within the pricing of the app is whether it is priced on a flat fee or a per-user fee.  If you are using an app that one internal person may have to maintain, then a per-user fee might be ideal for you.  But if your app needs to be maintained by several users in the system, a flat fee option may be more feasible and budget-friendly than a per-user fee.
Take it For a Spin!
Finally, after researching the AppExchange and taking into consideration some of the recommendations I have gathered, I always test a few of the options in a sandbox.  I think of this as test-driving a car. If an app doesn't provide a thorough trial, how can I know it will work properly? I also keep notes on the response time of product support and their documentation.  If documentation is sparse and support is hard to reach or unresponsive, that could be an issue to consider once you are live with a product and potentially in a time crunch. If you are looking for a few good recommendations for free apps, check out this wonderful blog from Mendi Mendez.
 Have you recently chosen a new third party tool? How did you make your decision? Share your stories and questions directly with me on Twitter @berkeley_t_b or on the Salesforce Trailblazer Community.