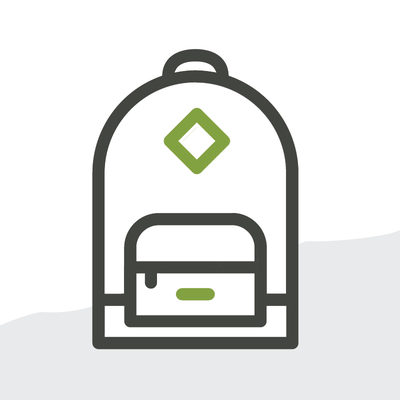 2019 Texas Dreamin' Recap
The Texas-sized Salesforce event of the year.
Do you even Y'allforce? If not, then have I got a treat for you. As a newbie to all things Salesforce, I had not had the pleasure of attending Dreamforce yet. So Texas Dreamin' was my very first Salesforce conference. And, y'all, it did not disappoint.
This two-day conference was held in Austin, Texas at the AT&T Executive Education & Conference Center on Thursday, June 13th and Friday, June 14th. The Conference Center is on the University of Texas campus and is truly beautiful. If you are ever in Austin and need a place to stay, it's great!
All the action took place in an escalator-accessible underground lobby beneath a huge work of art called "Amistad América" by José Parlá. The lobby space was filled with tables for product and app vendors. It was really exciting to learn about some of the great tools that are out there. I'll speak more about them as I review the Demo Jam.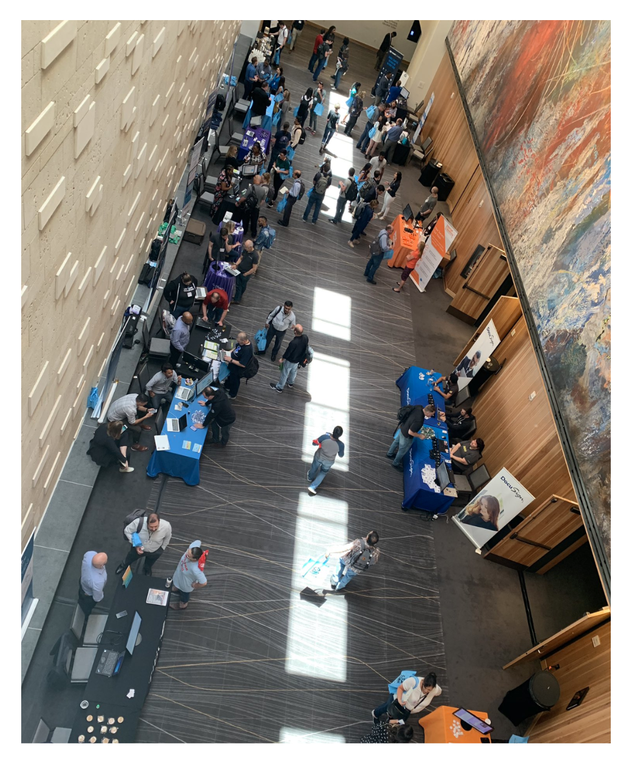 Photo courtesy of Texas Dreamin'
Texas Dreamin' Day One
The first day began with hands-on sessions, and I had the chance to learn more about being a developer. I even tried my hand at some coding. This was a great first introduction into development because there were tons of tutors in the space who could help answer questions and offer support.
After the hands-on sessions, everyone came together for the Opening Keynote. This session began with the Demo Jam. This is where a few vendors had three-minutes to show their product and then the audience voted on the best demo. We learned about eOne Solutions, DocuSign, Tibco, GetFeedback, and Elements Cloud. Spoiler alert: Elements Cloud won! What did they win? A giant belt buckle, of course.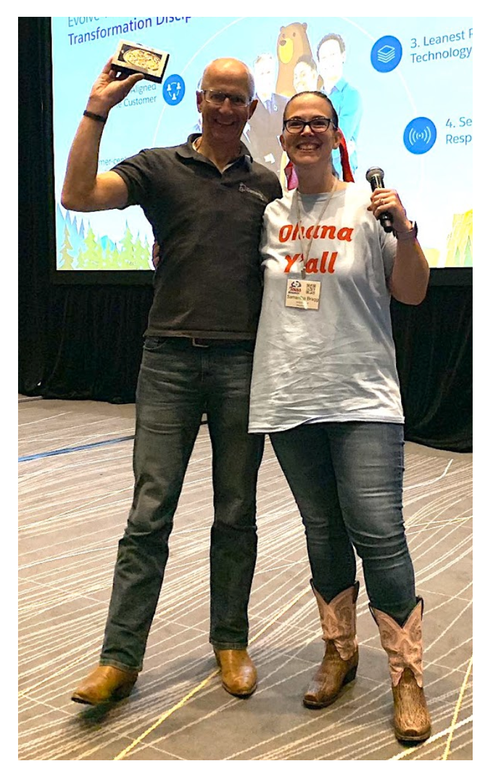 Photo of Ian Gotts, Elements Cloud CEO, with Samantha Bragg, Texas Dreamin' Sponsorship Staff, courtesy of Texas Dreamin'
Our Opening Keynote speaker was Simon Mulcahy, Executive Vice President and Chief Innovation Officer of Salesforce. He dug into the change that is coming to the industry, as we are in the Fourth Industrial Revolution. More and more, customer-centric strategies are being required for businesses to thrive. There is a sense of urgency to adapt, incorporate personalization, and become more digitally savvy. We are challenged to not only renovate and transcend but also evolve. Becoming customer-centric can mean if you work at a hotel and there's a problem with your beds, don't just focus on fixing them, look at the customer experience as a whole. This whole concept is changing the way companies are structured and the tools they need to get feedback and respond quickly. 
After the Opening Keynote, we broke out into the afternoon sessions. I really enjoyed David Carnes' session titled "Embrace the Power of Lightning Reports and Dashboards." I enjoy playing with reports, charts, and all the great tools in Lightning reports, but he definitely showed a few areas that are easily forgotten or overlooked. One area that I always forget about is the conditional highlighting option in the lower right-hand area. Just like an Excel spreadsheet, you can highlight values based on criteria and highlight with different colors. He also showed us one dashboard that had about eight different charts. The entire dashboard was built from one report, a great example of how to build a solid report and get mileage from it in a dashboard.
Day One ended with a Happy Hour where everyone got to reconnect with old friends, meet new ones, and chat with vendors.
Texas Dreamin' Day Two
The second day started early with 8:30 am sessions. Throughout the course of the day, you could easily attend six sessions. The walking distance between rooms was not bad at all; I have not been to Dreamforce, but you did not need running shoes for this conference (see Jason Atwood's tips for Dreamforce here). The 15-minutes between each session gave you plenty of time to get where you needed to go. I was grateful that the majority of the sessions began on time, and you could always stick around afterward to connect with the speaker. 
Three sessions on day two stood out to me: Kristi Campbell's "An Admin Love Story starring Base Lightning Components", Skye Evans' "Mapping Your Constituent's Engagement Paths", and Samantha Bragg's "Texas Sized Solutioning Event."
"An Admin Love Story starring Base Lightning Components" with Kristi Campbell
With Kristi's session, we learned just how fun and easy it can be to create Lightning components. I can't wait to test out a few of my own. She showed us how to build them for a community, but it is just as easy to build for your internal users as well. 
"Mapping Your Constituent's Engagement Paths" with Skye Evans 
In Skye's session, I was captivated by the real-life story of two nonprofits merging together. One nonprofit acquired the other, and they realized their data was being captured in many different places. They decided to bring all their data into one space in Salesforce. As their consultant, 
Skye helped them identify what they needed to measure when it came to their constituents and their engagement. Through custom fields and formula fields, she helped them track their volunteerism, monetary donations, and in-kind donations. She showed us each field, why it was there, the formula involved, and also how this all appeared in reporting.
"Texas Sized Solutioning Event" with Samantha Bragg
For Samantha's session, we explored a collaboration exercise created by Ladies Who Architect. In a large room, we divided into ten different groups. Each group had a leader that Samantha selected before the session. Each group was responsible for one solution for a fake company and their Salesforce environment. I chose the "Data Modeling" group. Other groups included: Reporting, Security, and Single Sign-On. We each had a packet that described the company, their needs, and what we needed to focus on. We had instructions to partner with other teams to communicate what we needed and we had other teams tell us what they needed in the data model. It was such a blast to work together, meet new people, and hear each group's presentation at the end.
Salesforce Ohana Y'all
Day two ended with adorable cookies and the Closing Keynote. Attendees could participate throughout the conference with a Bingo card. If you spoke with a vendor, they would mark that box on your Bingo card. When you turned it in, you received a number of raffle tickets. So for the Closing Keynote, raffle tickets were selected for prizes. Prizes included things like certification vouchers, Bluetooth speakers, and gift cards.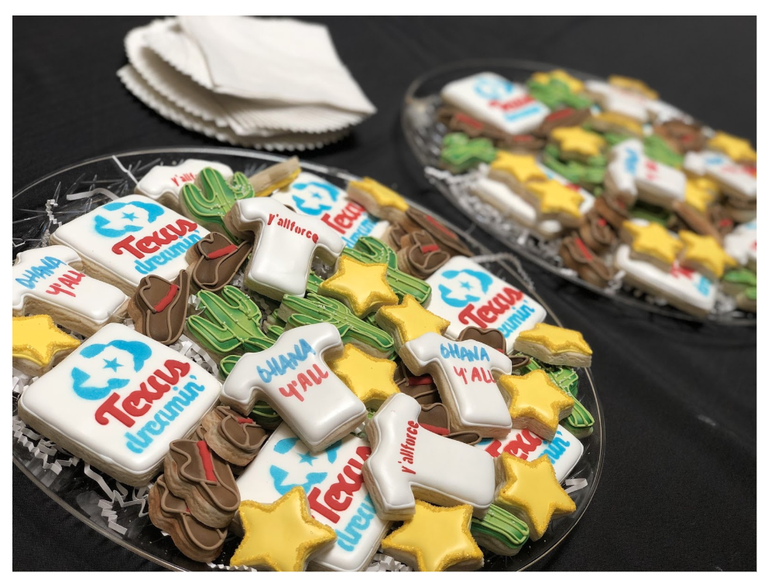 Ohaha cookies, photo courtesy of Texas Dreamin'
Texas Dreamin' staff sold t-shirts throughout the event to raise money for a nonprofit in Houston called Montrose Grace Place. Five dollars of each t-shirt sale went to this nonprofit that focuses on providing services for LGBTQ youth who are experiencing homelessness. Every Monday and Thursday they open their doors to homeless youth of all sexual orientations and gender identities to share a seated, family-style meal followed by an interactive lesson. Additionally, they are able to "shop" in their closet of donated supplies. From t-shirt sales, they were able to raise $1,200. Closing Keynote speaker Nate Skinner, Vice President of Product Marketing at Salesforce Pardot, graciously matched the funds raised.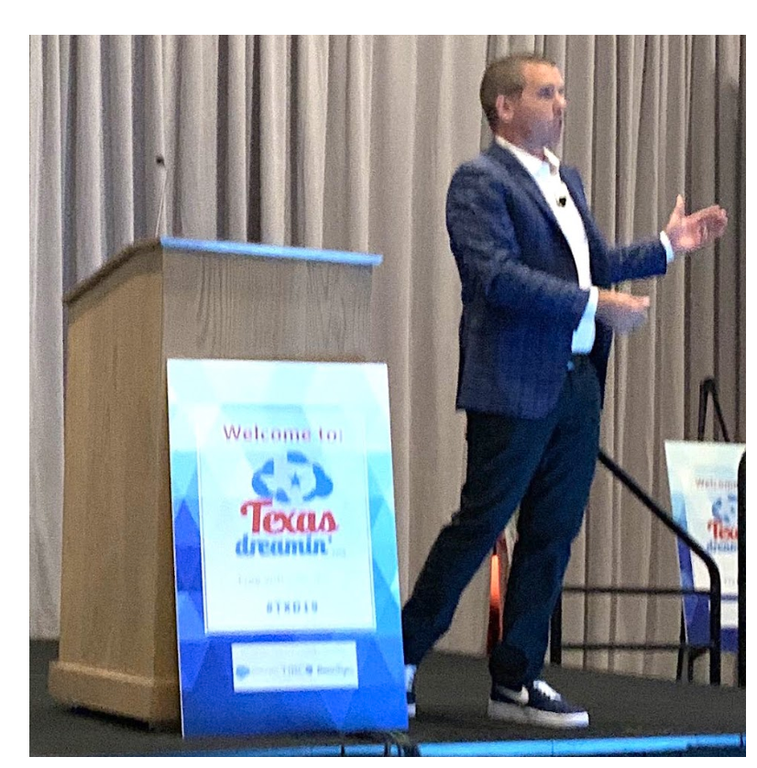 Nate Skinner, photo courtesy of Texas Dreamin'
Nate Skinner spoke about Creating Experiences in the "Age of Distraction." The generation that is growing up today is experiencing the world as a digital native. And on the same hand, customers have so many ways that they can engage with the world. We're constantly looking for the enhancement to an existing experience, and we gravitate towards personalization. The main goal for businesses needs to be creating memorable experiences, and we can do that through entertainment, education, aesthetic, and escapism. One example he gave is getting into the world of virtual and augmented reality. At Pardot, they wanted to encourage Salesforce sales teams to remember their product. So they created moments of entertainment, education, aesthetic, and escapism through VR/AR. They traveled around to lunch-and-learns and spoke to teams, and also incorporated VR/AR for anyone who wanted to learn more about Pardot. 
And that's a wrap! If you ever wanted to experience a Salesforce conference, I highly recommend Texas Dreamin'. You get to meet awesome people, learn a ton, and walk away with so many new memories. Not to mention, if you arrive early or stay later you can experience all the great things that Austin, Texas has to offer. There's live music, bbq, hiking, swimming holes, museums, the State Capital, and so much more. To check out some of the slide decks from Texas Dreamin' visit their Google Folder here.
Ready to join in a Dreamin'? There are a ton of awesome ones to attend! 
NorCal Dreamin' - June 27-28, 2019
Midwest Dreamin' - August 7-9, 2019 (We'll be there!)
Florida Dreamin' - September 12-13, 2019
Dreamforce - November 19-22, 2019 (We'll be there!)
Do you have a different favorite Dreamin'? Did you attend Texas Dreamin'? Tell me your favorite part. Share with me in the Salesforce Trailblazer Community or directly @CassidyATX.