The Permissioner Spring 20 Lightning Release
If you're a fan of Lightning updates, you're in luck. The official Lightning release for our free app, The Permissioner, has arrived.
The Permissioner is a free app designed by Arkus to streamline the process of assigning and revoking permission sets to multiple users. In the five years since The Permissioner was first released, Salesforce has undergone some major changes. Our other free app, Clone This User, underwent a Lightning Experience upgrade earlier this year. We thought it was time to give The Permissioner a Lightning makeover too. 
Your organization has made, or will soon make, the transition to Lightning. The Permissioner is ready to make that transition with you. Now The Permissioner's look fits with the Lightning interface and takes advantage of its latest features. What are these new features, and how do you get started using them? Read on for a quick look at what you'll find in this release. 
What is The Permissioner, Anyway?
Before we jump into the features, if you're new to The Permissioner entirely, what is it? The Permissioner dramatically reduces the time and frustration involved with assigning and revoking permission sets assignments to multiple users. With it, administrators can select one or more permission sets to assign to one or more users at a time. 
When a permission set is selected and users are searched, only those users not already assigned to it will display in the list. This is useful when trying to assign more than 1000 users. With The Permissioner, life is made easy by assigning a permission set to as many users as needed from one intuitively simple screen.
New App Release, New Interface
We released the first version of the Permissioner back in 2015 for Salesforce Classic. It's not hard to see the differences between this new Permissioner interface and the original Classic version. The new look is in line with the overall refresh Lightning Experience has given to the Salesforce UX. It includes lighter color tones alongside a more intuitive button and field placement. 

Classic Interface (above) and New Lightning Interface (below)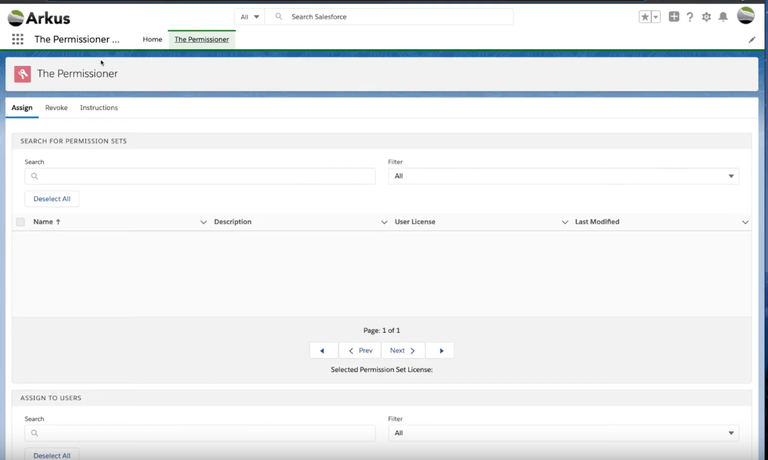 See? Nice, huh? While this UX overall may not add to the functionality per se, we find the simplification in the look makes The Permissioner easier and more enjoyable to use. 
Changes to Revoking Permission Sets
We have made a few minor changes when it comes to how revoking permission sets with The Permissioner works. Previously, once you selected the permission set to revoke it, you only saw that permission set. With this release, you see all options and can choose to select or deselect them. 
The Permissioner as Lightning Component
Now in addition to accessing The Permissioner through the app launcher or on a mobile device, you can utilize Permissioner from even more places in your org. From home pages to record pages, this release contains updates that make it possible to add The Permissioner as a component to any lightning page. It can be done in less than a minute by dragging and dropping from the Lightning "Edit Page" screen, which you can access by clicking the setup gear at the top of every page. There's no need to switch between applications anymore. Save time and manage your Permission Sets with The Permissioner directly from within your favorite and most commonly used pages.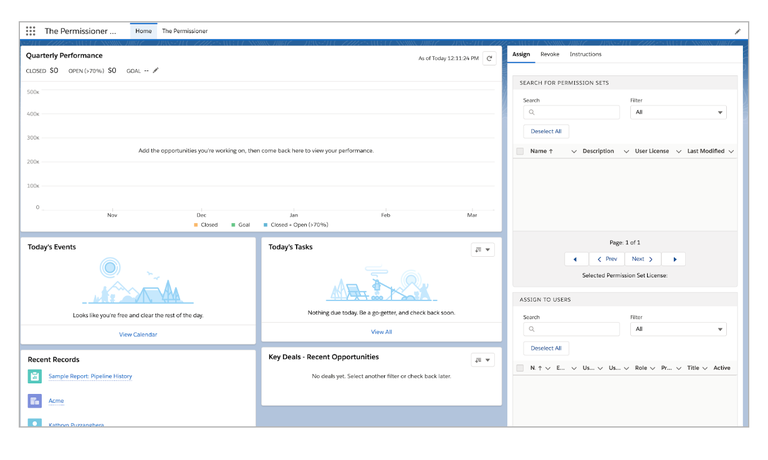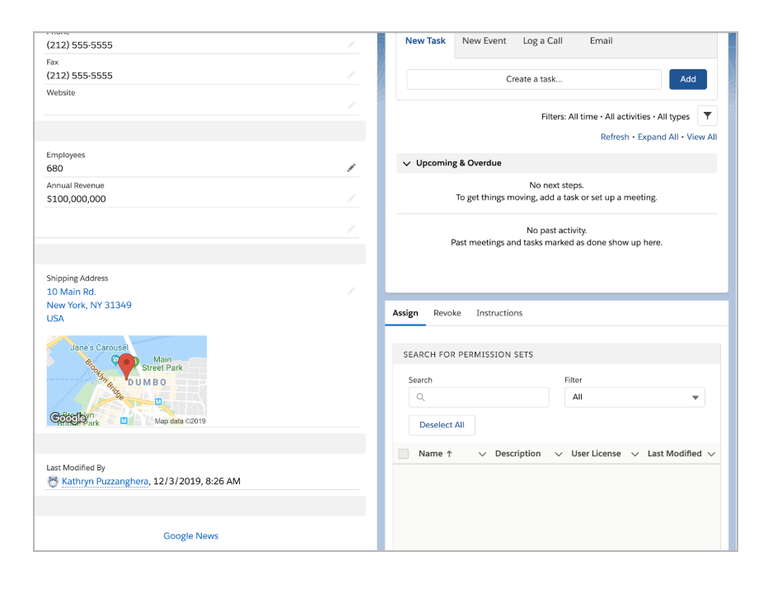 What's Next?
Read up on Permission Sets in this blog post from Justin Edelstein or this one. Justin also dives into how the move to Lightning Experience affected Permission sets in this post.
Excited to get started with the new Permissioner? Installing the app upgrade is easy to do. Download it from the AppExchange and, while you're there, check out the updated User Guide and Installation Guide. Our goal with these resources is to provide everything you need to install, use, and optimize The Permissioner in your org. We estimate installation will take 10-15 minutes or less. 
If you need support with The Permissioner or have suggestions for ways that we can make it even better, provide feedback by sending us an email at support@arkusinc.com. 
We are continually at work to improve upon The Permissioner to increase its functionality and usefulness. As always, we're committed to contributing to our Salesforce community. As such, The Permissioner and Clone This User continue to be free. Tell your friends. 
Want to see the new features in action? Watch the brand new demo below or watch on YouTube. 
What do you think of The Permissioner and this new release? Let me know on twitter @KPuzzanghera or in the Salesforce Trailblazer Community.