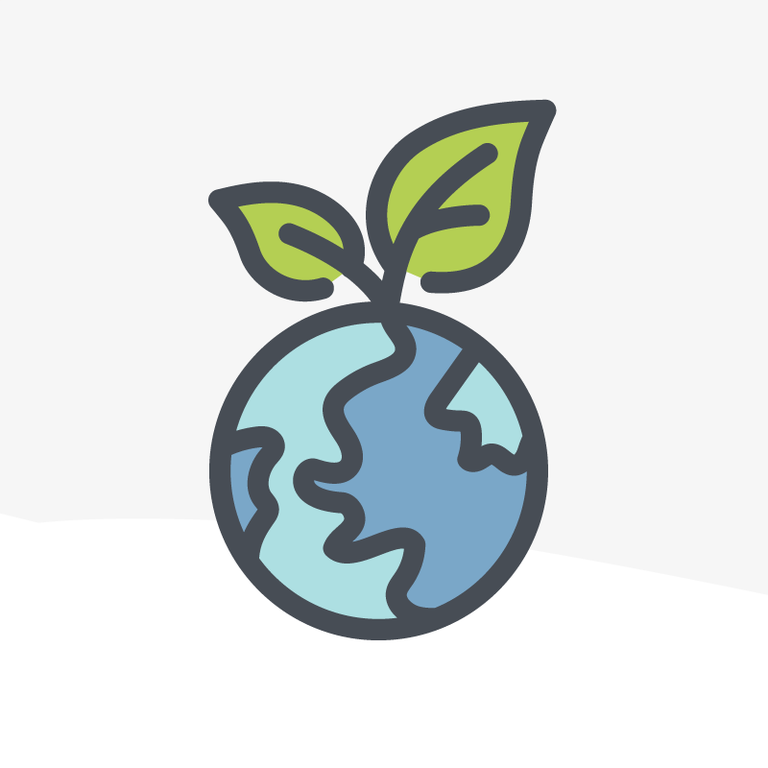 The Path to Net Zero: How Nonprofits Go Paperless
Is your organization ready to go paperless? Now is the time! Here are some tips to help the transition.
Scientists and citizens are sounding the alarm that we must take action on our climate crisis immediately. As one small part of our commitment to operating as a net-zero company by 2025, Arkus has made the choice to go paperless. 
It might seem like the impact of office paper is so small as not to make a difference but that isn't so.
There are an incredible number of benefits to going paperless not just for the environment, but valuable ones for nonprofits, teams, businesses, and each of us. 
The Vision of the Paperless Nonprofit
A growing number of organizations are already on board with the move to digital and cloud-based tools for programs management and internal operations. Still, many tend to stick with paper for external touchpoints. 
Direct mail campaigns have long been considered an important part of nonprofit fundraising campaigns — but now is the time to reconsider the whole approach. 
We hear from many organizations that their teams believe critical segments of donors still prefer to send and receive paper mail. While that may be the case for a small percentage of the population, our team is increasingly aware of a growing segment of nonprofit supporters who really don't want to get paper from organizations anymore. These donors care deeply about a nonprofit's mission – but so dislike paper mail that they cut their support entirely from an organization that sends it. 
Is this extreme? Maybe.
Is it worth the effort to please what might just be a small audience and pause the paper? Yes!
Why is it a better idea for an organization to get rid of paper mail?
Read on…
Why Paper, Especially Mail, Can be Bad for Nonprofits
There may well be a die-hard group of donors out there, checkbooks ready, waiting for their annual membership renewal payment reminders to arrive complete with response envelope — but for other supporters, this use of paper is bizarrely inconsistent with nonprofit values. 
For these donors, paper mail comes across as outdated, inefficient, inconsiderate, and shamefully wasteful. Paper mail quickly lowers your organization's reputation with this growing group and ultimately does much more harm than good. 
Compared to the alternatives available today, paper truly can be a waste of time and resources (both monetary and natural). 
According to a 2021 Forbes article from Forbes Technology Council Member Eugene Xiong, "Businesses in the United States waste $8 billion on managing paper each year, with an average price tag of $20 to file a document." 
In addition to the financial costs, as the Illinois Library reports, "Paper has a heavy environmental cost. It takes more than 1½ cups of water to make one sheet of paper. That's nearly 47 gallons of water per ream of paper."
Beyond the environmental impact, paper processes easily demand a much greater effort from recipients than their digital counterparts. Paper isn't searchable, referencable, or actionable in the way email or webpages are. And we won't even get started on how much postage costs.
There may be some teams out there working with careful and considerate paper use but are most relying on paper forms, records, and direct mail communications, because they love it, or are they holding on to paper out of fear?
If you're part of a team still clinging to paper processes, what can you do? 
First, accept that there is a better way, even if it will take some time to get there. 
Consider What Your Organization Could Replace 
While there are teams out there that are already operating paperlessly (or working with FSC-certified, carbon-offset, vegetable-ink printed, forest-friendly papers), many haven't made the leap to more considerate paper practices. 
For teams and team members still new to the paperless idea, we suggest you step back and consider what paper-reliant processes are in place, personally, and as part of your team, right now. 
Going completely paperless, as an individual or an organization, might seem like an insurmountable task. Don't worry, there are small ways to get started right now that will help set a greater change in motion. 
How you, reader, tackle the change may depend on your role in an organization. 
For program managers and staff involved in day-to-day operations, the change might begin with speaking up and sharing information with team members in leadership positions who have the power to bring change to the rest of the team from the top down. 
Leaders at an organization may need to help hesitant staff and contacts understand the rewards of paperlessness while recognizing their concerns and undertaking a phased approach to bring about change. 
The choice to go paperless could be made as part of a greater commitment to step up and take action around the climate crisis. If a team chooses to make a long-range plan to achieve a net-zero emissions goal, paper might be one item lower down on a list of actions to address. We've also observed taking action around paper use is a great place to get started. It can generate meaningful momentum around larger environmental goals. 
Start with a simple paper trail, even if you begin with just your own and not that of the entire organization. Is your team sending mail? Handing out paper forms? Sending newsletters or catalogs? Receipting on paper? Begin with a review, then outline replacement options. There are some really cool alternatives out there, so get excited, and understand that going paperless is a process that unfolds over time, not overnight.  
Once excitement takes hold in a team that accepts their impact and talks about alternatives, it's time to do what nonprofits do so well: engage and excite supporters about the power of change. Don't assume your donor base really wants paper because you've been using it for a long time. They may be stuck with you in a way that seems to work, but isn't sustainable long-term. Announce your decision to go paperless, and how it will benefit the mission donors are so passionate about. 
For more on guiding others through change, check out the great post, "I Ain't Afraid of No Change Management" from Angela Hatem. We'll talk more about specific actions that can be taken around opt-ins, form use, marketing lists, and more in the next post in this net zero series. 
Prepare to Pause the Paper 
Before diving into specific actions, build excitement and gather ideas for the plan ahead with a look at what is possible in a paperless world. There are already an incredible number of tools to replace paper — especially when it comes to marketing communications and means to stay in touch with constituents and supporters. 
There are amazing automation tools that can replace forms, invites, emails, tickets, membership cards, and member records.
Think Conga, DocuSign, Salesforce Maps (formerly MapAnything), FormStack, GSuite, Salesforce, MarketingCloud, GetFeedback...to name just a few. Formstack additionally announced a partnership with Eden Reforestation to support planting 15,000 trees in 2021.
Salesforce has also launched the Net Zero Cloud to support the acceleration of a transition to net-zero business operations. This new environmental tracking platform provides teams with a series of pre-loaded records to simplify emissions tracking calculations. It includes a Tableau dashboard to easily inform a greater team through visuals and structure to simplify the reporting required to chart a company's course to net-zero. Visualizing and reporting on the impact of your changes can go a long way to excite and engage a greater team.
Be it reporting on the outcomes of the move paperless (hundreds of reams and gallons of water saved or 300 new email newsletter sign-ups instead of paper ones) or the choice to reduce paper use as part of a greater strategic plan to address an organization's environmental impact, know that hearing about a commitment to take action around the climate crisis is increasingly vital for those working for or with any organization. 
If your team isn't working with or even aware of these tools yet, it's a good idea to start checking out these and similar options.
Does making the switch to digital seem like too much lift? 
Does it seem like you might lose contact with a critical audience segment that you rely upon? 
Remember, the choice to stick with paper out of fear or lack of motivation isn't a good enough reason. Start somewhere. If you can't go all-in on becoming a totally paperless organization, there are considerate and careful ways to keep working with paper, too, for some time. 
Look for printers or companies that support carbon-neutral and environmentally considerate production. Ask for FSC-certified or recycled options. Ask to have paper source and certification information printed on the mail. Include a printed note for recipients on mail that directs them to an online place where they can opt-out of the paper list and onto a digital one. Check out the Net Zero cloud, which includes a way to track suppliers and your zone 3 emissions as they relate to your vendors. 
If total paperlessness isn't possible, commit to using paper, less, and in a conscious and more sustainable way. 
Start Small & Ask for Help
Don't let fear get in the way, stopping the use of paper entirely is possible if you start small. Set a goal, include paperlessness in an organizational vision, and begin to explore what inspiring options are out there. 
If you feel stuck, you can always ask for help. 
Reach out to consulting partners, such as Arkus, that have experience with helping teams go paperless. Contact the support teams of applications that replace paper and ask for demos or discussions about how others have made the paperless switch. Look for webinars and events that focus on using these digital tools, or ones that dive specifically into how to go paperless. 
We are passionate about this topic because we have experienced the benefits after our company committed to going paperless two years ago. We've seen clients experience the benefits too. 
We will be looking at how to make the move to paperlessness easily and effectively in an upcoming Arkus Lunch & Learn that will take place live on Thursday, March 31st at 12:15pm EST. Get more details and register here.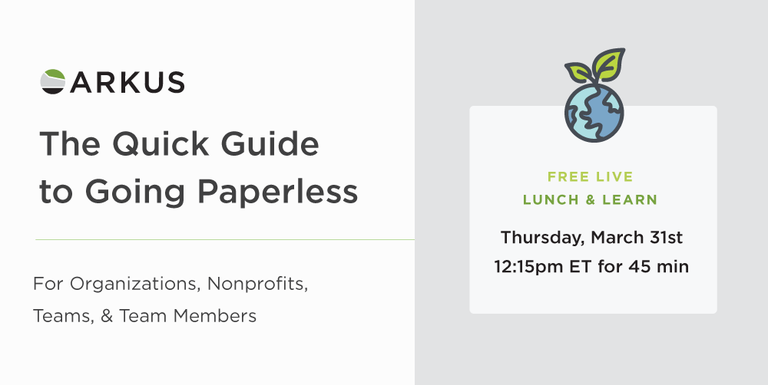 Dive in & Learn More 
Getting buy-in begins with exploration, learning, inspiration, and excitement. Read more about the power of partnership and replacing paper forms with digital ones in this story of tree reforestation organization Eden Reforestation and their work with FormAssembly. 
Read this think piece on what is possible with digital membership built on the blockchain. 
Check out this story of how PAWS Chicago paused their paper form-use and went paperless with MapAnything and DocuSign, with help from Arkus. Read more about two nonprofits' paperless journey in this post from Salesforce. 
Learn more about the Net Zero Cloud here. 
And once more, come join us for our quick Lunch & Learn live look at how to go paperless. This will be a great opportunity to dive in and ask questions. In our Lunch & Learn we'll look at some of the available tools, how to craft an action plan, and where to start. Our Arkus Lunch & Learns are free. As part of our give-back effort to support our communities, we are donating $25 for every attendee to a national food bank to provide lunch for someone in need. Come learn, and help provide lunch for someone else in need.
Sign up to join live or get the recording after here. 
What questions do you have about what it would take to go paperless? What is holding you back? Have you found great apps that can replace paper?
Let me know! Reach out on Twitter @ktatwd or on LinkedIn. If you would like to be in touch with the Arkus team to talk about a project or our work, please reach out through our contact form.