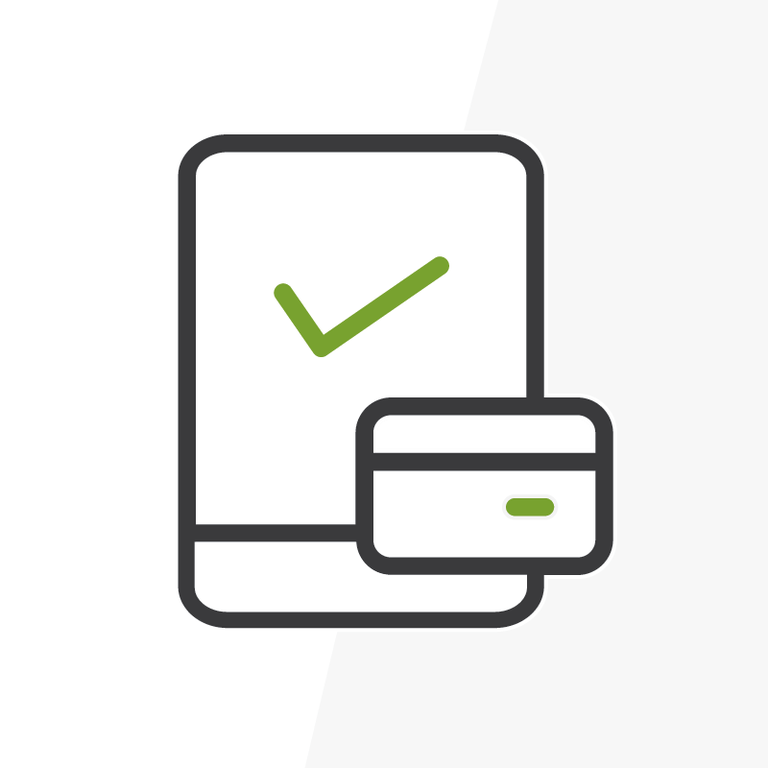 Target Volunteers and Donors on Google Ads Using Salesforce Data
Get your message in front of the right constituents with the right tools.
Want to take your nonprofit's Moves Management to the next level by targeting select donors and volunteers with tailored online advertising? Moves Management is really no different than remarketing techniques used effectively by businesses to convince customers to buy more and more products. Let's explore how nonprofits can adapt remarketing techniques to recruit and maintain volunteers using Salesforce, Zapier, and Google Ads.
If your nonprofit has someone's email address then you're able to target them with specific advertising on Google, LinkedIn, Facebook, Instagram and many other advertising platforms. Combine that with what else you know about the constituents like their giving history, event participation, and volunteer history and now you can target them with specific advertising encouraging them to remain involved. Salesforce and its Nonprofit Success Pack are an excellent repository of this donor and volunteer data that we can harness for creating segmented lists in Google Ads.
I chose Zapier and Google Ads because they're relatively intuitive to set up and integrate with Salesforce, but there are dozens of connector-like tools and advertising networks to use for remarketing. If your organization wants to scale using your Salesforce data for targeted advertising, I would encourage you to consider Marketing Cloud Advertising instead. Not only will it save a lot of time, but you will be able to use engagement with your marketing campaigns for even more precise targeting. 
In this example we're going to use Zapier to automatically target Campaign Members with ads on Google depending on their Member Status. If they have a Member Status of 'Recruit', the Campaign Member will be added to a Customer List in Google Ads that can deliver ads encouraging the constituent to volunteer. If they have a Member Status of 'Thank', the Campaign Member will be added to a Customer List that delivers ads expressing gratitude for their past involvement. Finally, if they have a Member Status of 'Suppress', the Campaign Member will be added to a Customer List that we can use to exclude from Google Ads to save budget. 
Now just because it's "automatic" doesn't mean it won't require a lot of clicking to implement! If you get stuck at any time or want to learn more, please reach out to Arkus to learn how we can help your organization integrate its Salesforce data with digital advertising channels.
Google Ads Setup
First, let's get our Customer Lists setup in Google Ads. Hover over the 'Tools and settings' icon and navigate to the 'Audience manager' section:

Next, create a Customer List: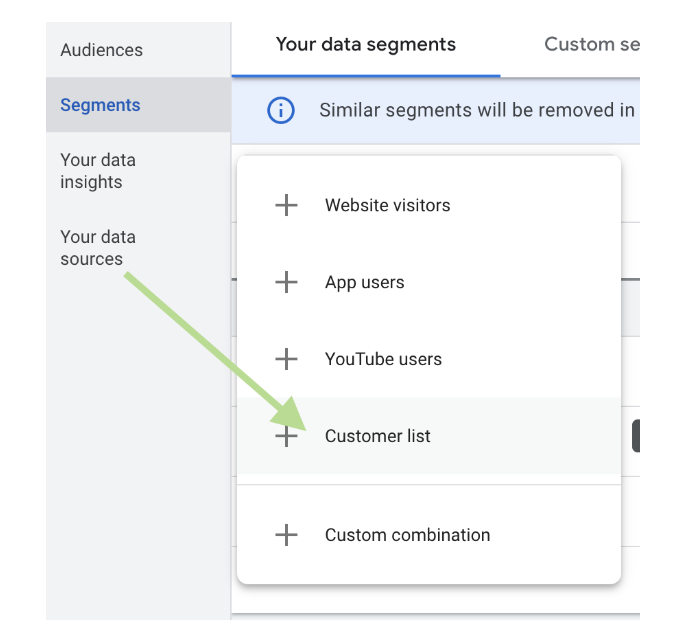 Give your customer list a name and upload a .csv of blank or dummy data. I just download the template provided by Google, delete the unnecessary data, and upload it again. We need to have the customer list created before we can connect it to Zapier.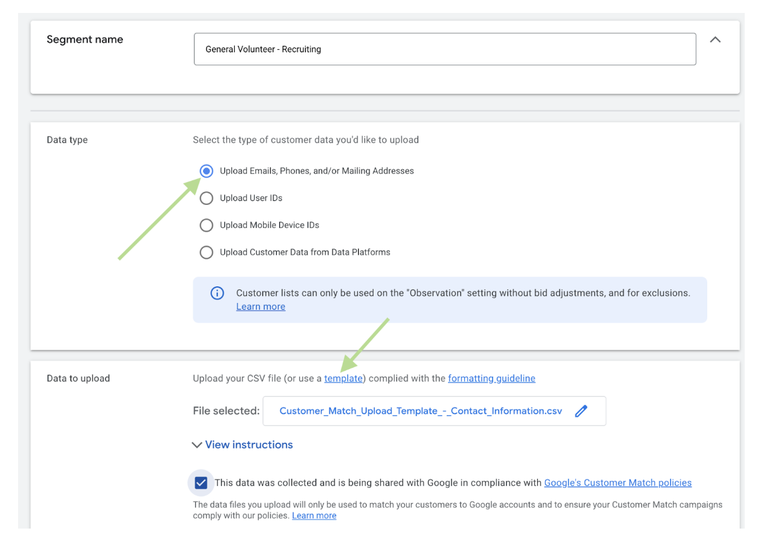 We'll create 3 customer lists for our example. 

Salesforce Setup
With the customer lists setup, let's move into Salesforce and create a Campaign. I named mine General Volunteering, assigned it a type of Advertisement, and created four custom Campaign Member Statuses – Not Started, Recruit, Thank, and Suppress. We'll be using Not Started as the default Member Status when adding Campaign Members. When we set up the Zapier automation later, it will look for an update in their Member Status to add them to a Customer List in Google Ads.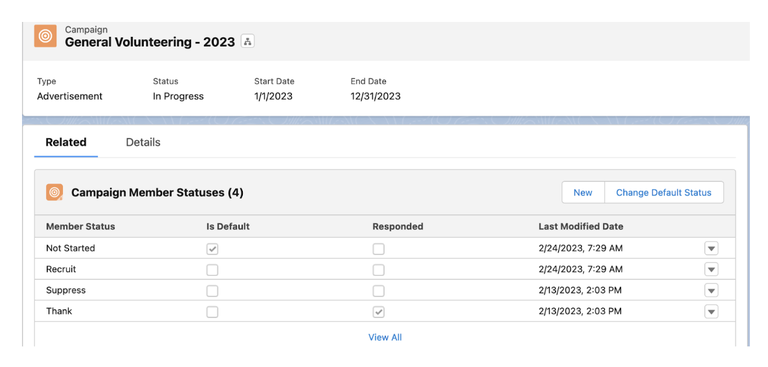 Next, we're ready to add Campaign Members with a Member Status of Not Started. The automations we create later in Zapier will trigger based upon the Campaign Member object being updated with a corresponding Member Status. They will not be triggered by simply adding new Campaign Members.

Generally speaking you will want at least 100 members of each Member Status – this is the minimum required by Google for targeted advertising on its Display Network. We don't want to change their Member Status to Thank, Recruit, or Suppress until after the automation is setup in Zapier.

Finally, copy the Campaign Id from the URL in Salesforce to use in a Filter Activity in Zapier.
Zapier Setup
Login to Zapier and start your Zap with a Salesforce Trigger. You'll need to authenticate your connection if you haven't before. 
Choose 'Updated Record' as the Trigger's Event: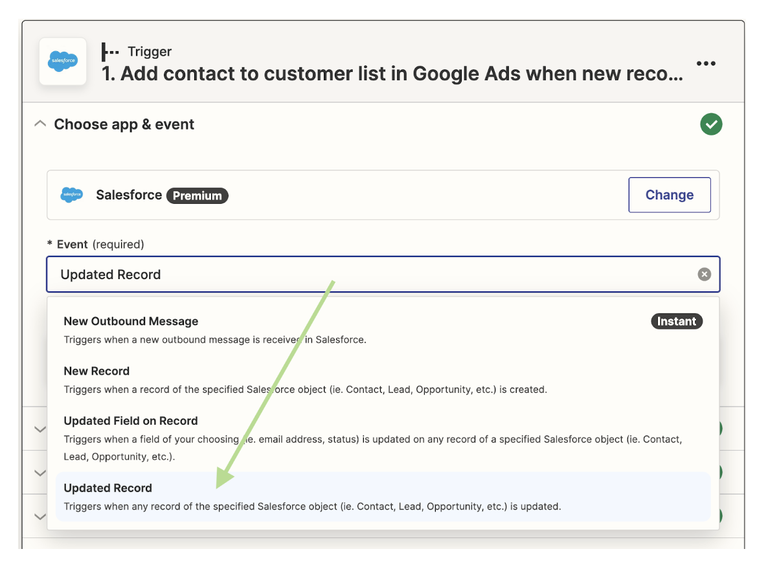 Choose Campaign Member as the Object:
Go ahead and test your trigger before continuing.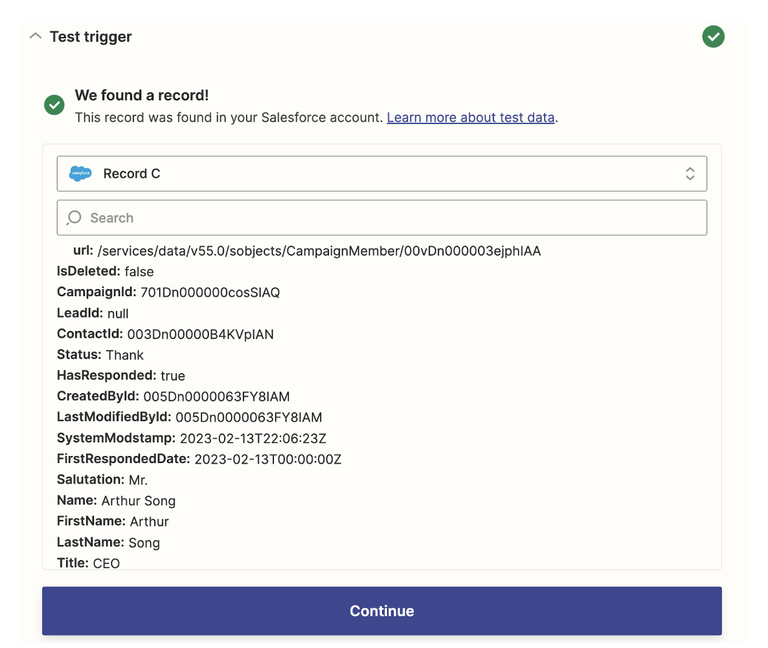 Next, click the + icon between the Salesforce Trigger and the Google Ads Action:

Select the Filter option: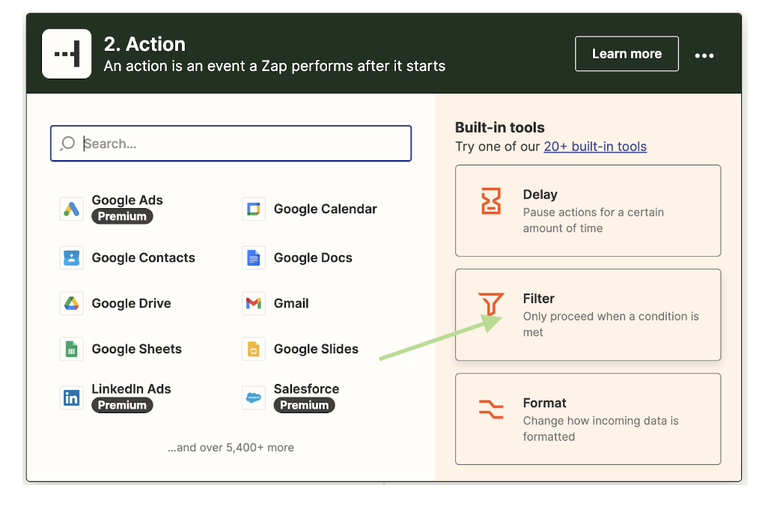 Either search for the 'Campaign Id' field or click 'Show all options' to find it: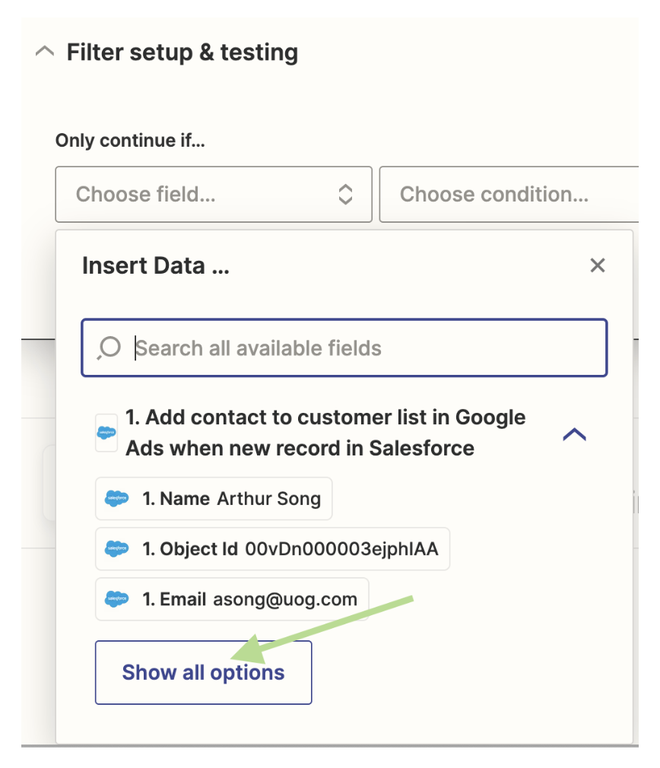 Create the filter criteria to match the 'Campaign Id' you copied from the URL in Salesforce before. Add to the criteria to only include those with the Status of 'Thank'.

Test the Filter and continue to the Google Ads Action. You'll need to authorize your Google Ads account if you haven't already. The Event will be 'Add Contact to Customer List With Email':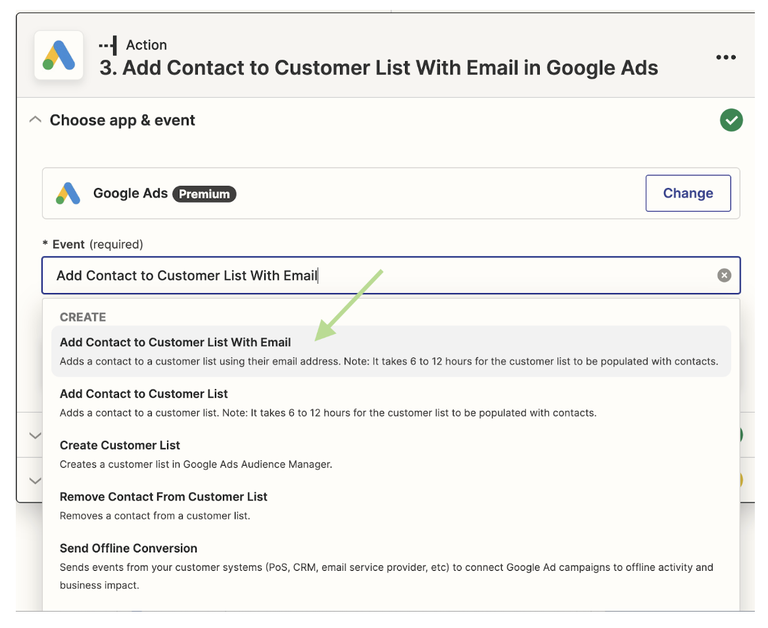 You'll need to confirm which Google Ads account to use before selecting your Customer List. Based upon our Filter criteria, we're going to add Contacts to the Thank You list: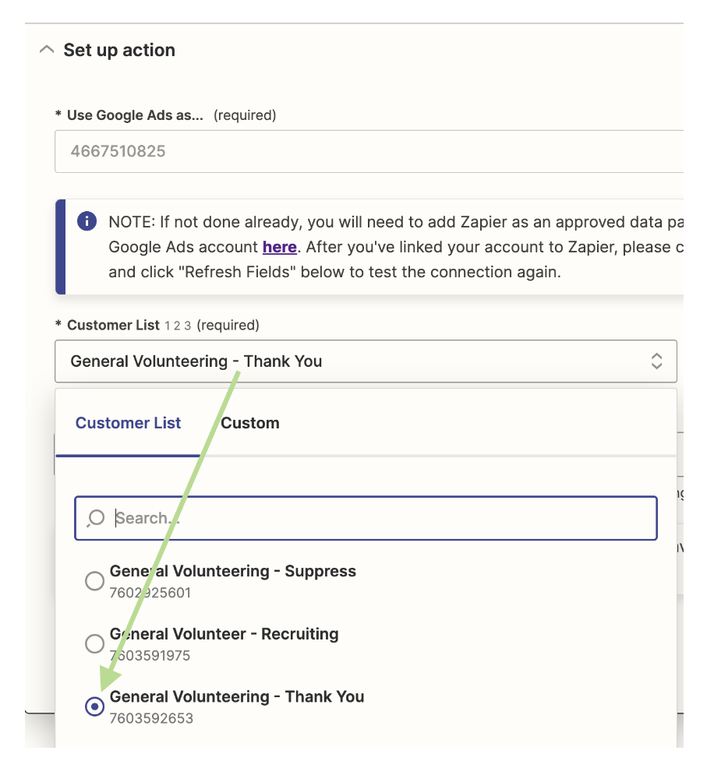 Finally, you'll need to expand the Salesforce Trigger and click the Email field: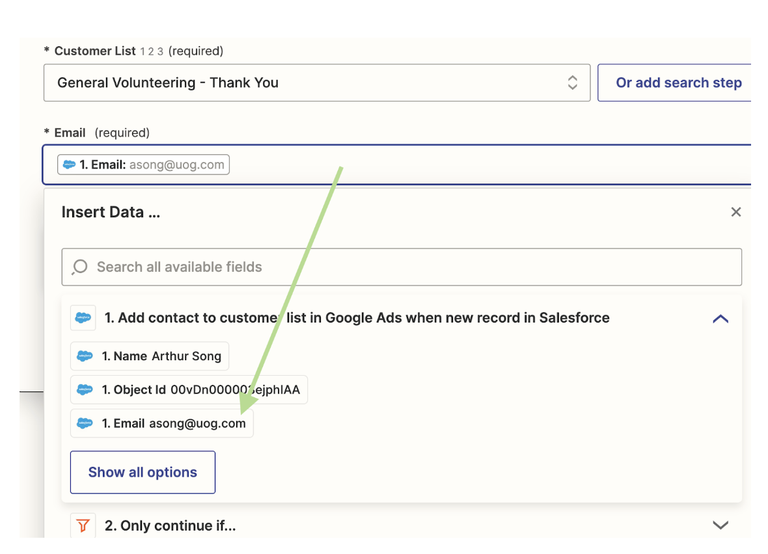 Now you've created an automation to add Campaign Members with a Status of 'Thank' to the 'Thank You' customer list in Google Ads. You can use the customer list to target them with ads thanking them for volunteering!
But we're not exactly done just yet. For this automation to be accurate and evergreen, we'll want to make sure the Campaign Member is also removed from the 'Recruiting' and 'Suppress' customer lists. Click the '+' icon again and select 'Google Ads':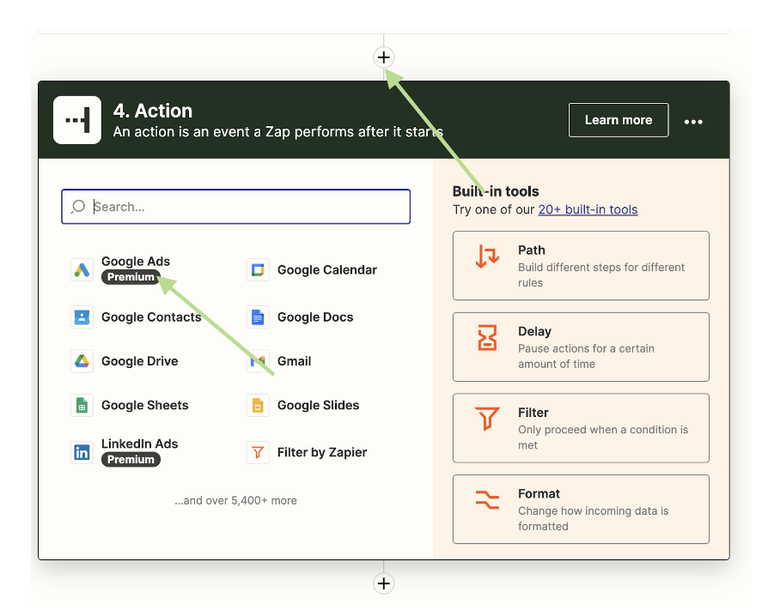 Select 'Remove Contact from Customer List' as the Event: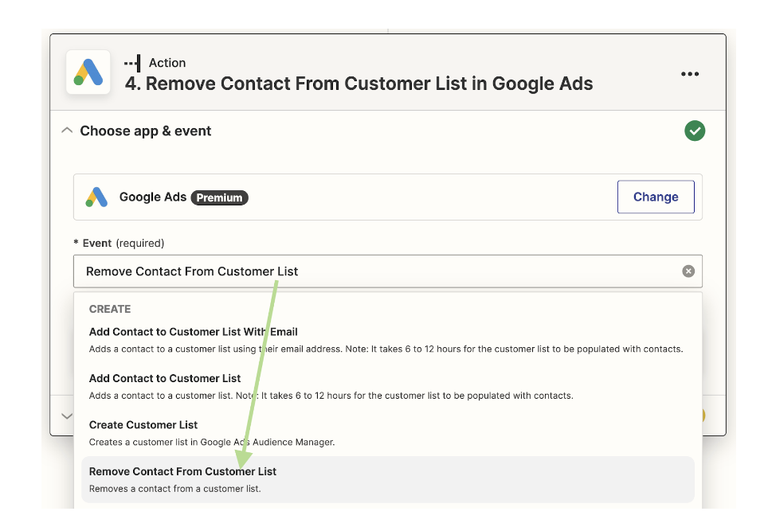 Confirm which Google Ads account to connect with, select the 'Suppress' customer list, and match using their email address – just as we had when setting up the previous Google Ads Action.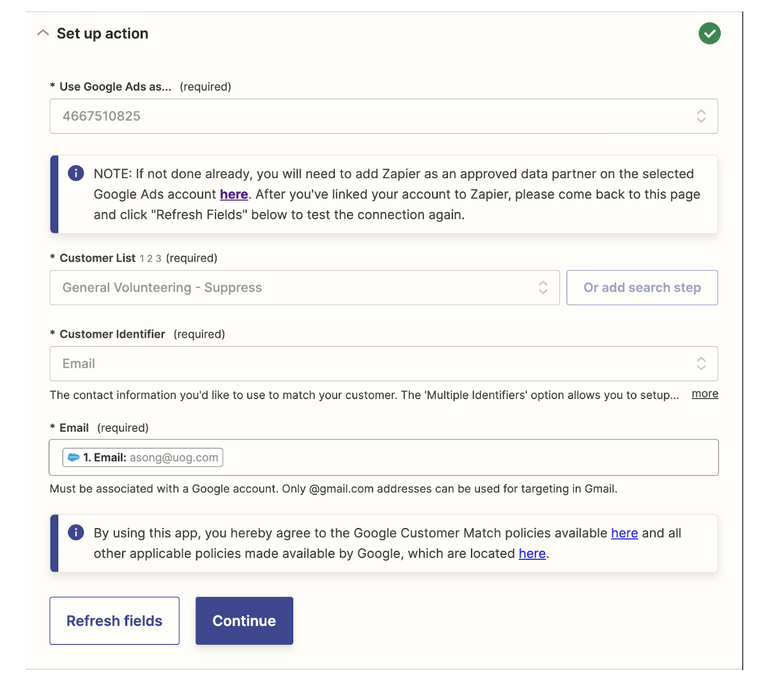 Now test your Action and repeat again for any other customer lists they should be removed from. Publish your Zap when you're finished.
You're going to need to create additional Zaps – one for each customer list you want to add Campaign Members for targeting depending on their Status. In the example above, we would create two more Zaps, one to add Campaign Members to the 'Suppress' customer list and another to add to 'Recruiting' customer list. 
Summary
I warned you it was going to require a lot of clicking – but now your nonprofit has an easy way of targeting constituents with ads encouraging them to take a specific action! The possibilities for integrating targeted ads with your Salesforce data is really endless and can result in more donations and volunteers just like businesses use remarketing to grow. While I used Zapier as an example of what your organization could setup in an afternoon, I would highly recommend working with Arkus to evaluate Marketing Cloud Advertising to scale targeted advertising even more effectively.
Interested in learning more about how digital ad targeting could take your Moves Management to the next level? Talk to Arkus today or reach out to me on LinkedIn. I've helped manage hundreds of digital advertising campaigns on Google and social media to grow lists, raise money, and advocate for causes. I'd love to figure out how to help your nonprofit do the same using its Salesforce and Marketing Cloud data.